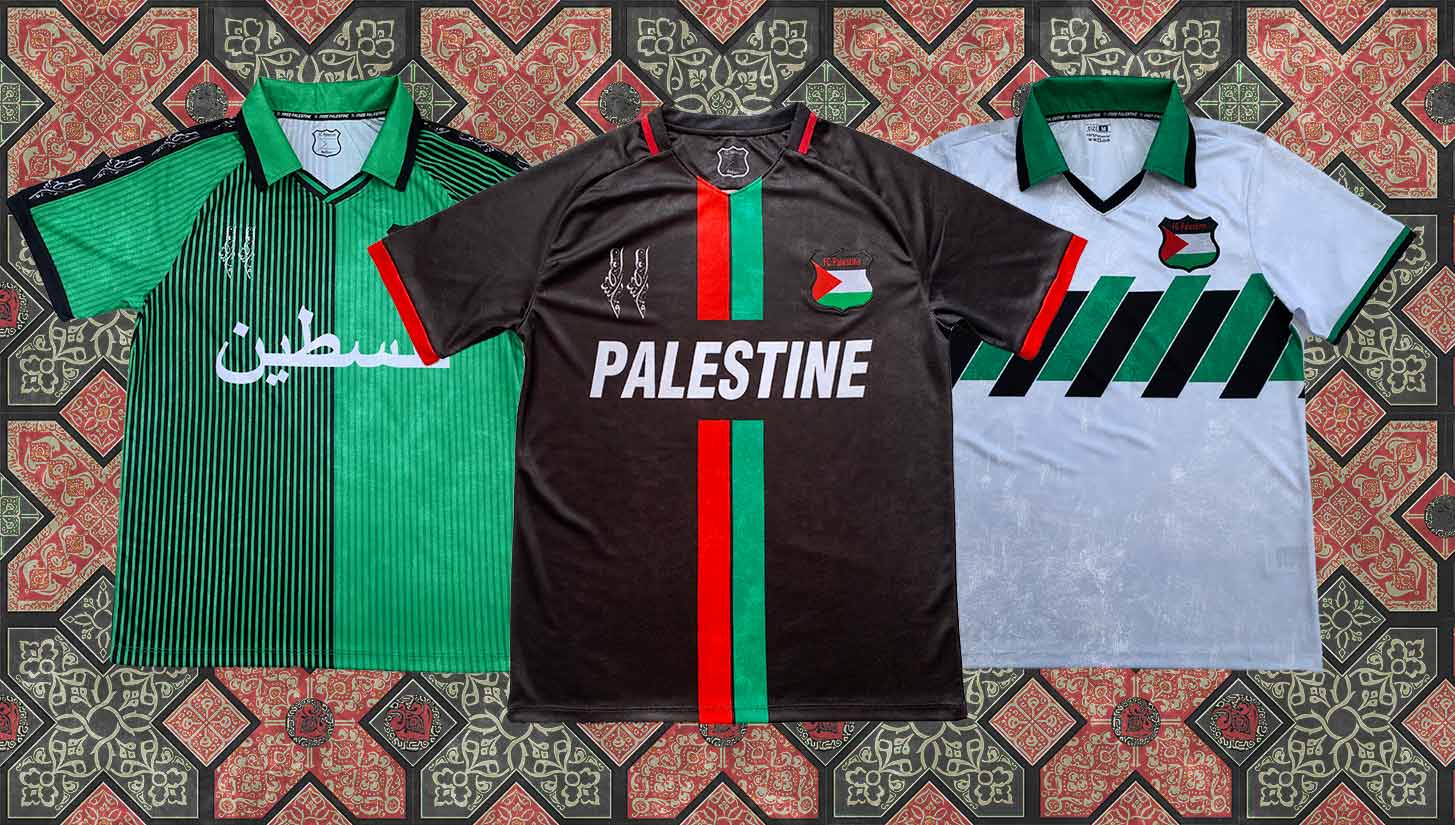 Nowadays it can be challenging to stand out as a small streetwear brand in the soccer fashion space. But FC Palestina manages to do just that with sleek retro-inspired designs in absolutely brilliant colorways. And the shirts bring attention to Palestine by featuring the word in Arabic (pronounced Filastin) on the front. We take a look at how FC Palestina manages to stand out above the rest and how it plans to continue that. 
In soccer and streetwear fashion, certain colorways are so good they're like cheat codes for shirt designers. Take Forward Madison of the USL Championship for example with their almost neon blue and pink colors. Or MLS side Inter Miami with their jet black and neon pink combo. Or Serie A side Inter Milan with their classic black and blue striped look.
UK-based soccer brand FC Palestina's colorway, based on the flag of Palestine, is right up there with the best of them. Combined with the fact that FC Palestina's shirts often feature Arabic logos, something not often seen outside the Middle East in the soccer space, the brand is operating in its own lane.
We explore FC Palestina's origins, the inspirations behind its shirts, and get to know the man behind the brand.
The Origins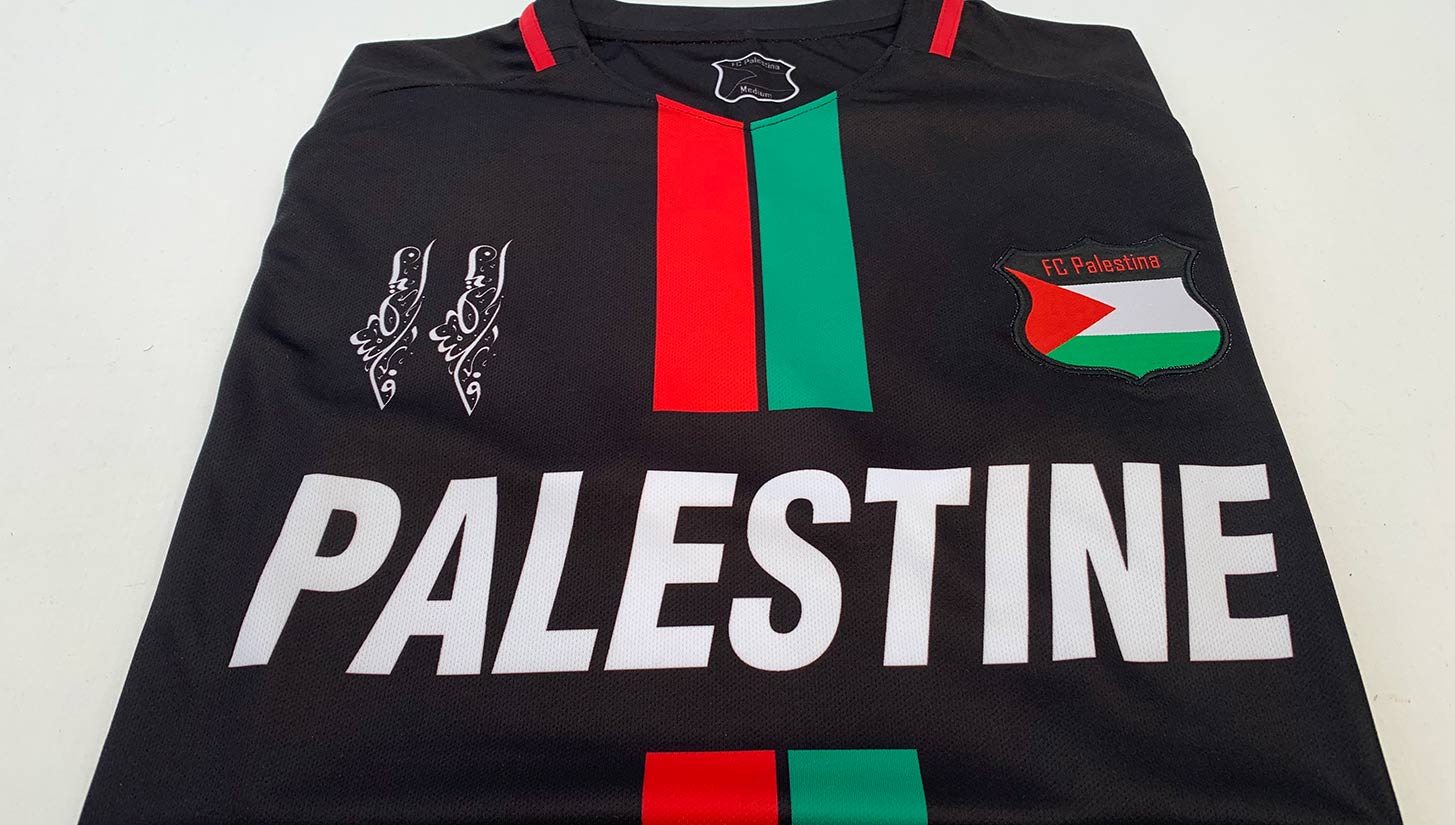 Created in 2015 by Zahid Hayat, FC Palestina started out as a small project and slowly ballooned into what it is today. The brand's origins are rooted in Hayat's love for shirts, particularly Palestine-inspired ones. While he discovered it was a bit difficult to find Palestinian kits, national team or otherwise, he managed to order a lovely shirt from Chilean side Club Deportivo Palestino. CDP was formed by Palestinian immigrants (hence the name), and Chile is home to the largest population of Palestinians outside of the Arab world.
Hayat would continue to hunt for the few Palestine kits out there on the web, and after a while, he began to play around with a few designs of his own. He produced a few and sold them on eBay as well as to friends who also had a passion for the game.
Impressed by the quality of Hayat's shirts, his friends encouraged him to build a website and store and advertise the brand on social media. Almost six years in now, and Hayat has shipped his shirts to a myriad of different places, including the United States, around Europe, Dubai, Brazil, Mexico, Indonesia, Singapore, and Australia.
He's even shipped orders to some rather difficult, unconventional addresses.
"I've had some in Jordan where it says, 'Besides the restaurant, this alley such and such.' And it's like how is that going to reach that destination?" Hayat said.
Hayat elected to put his phone number on that order as a precaution, but luckily it reached the intended destination just fine. This dedication to such a high level of customer service helped Hayat build up a loyal customer base through the years. And it's only set to expand in the future as he continues. However, the brand is still very much a passion project for Hayat, who works full time in IT at the NHS, so he pretty much does it in what precious little free time he has these days.
Trust the Process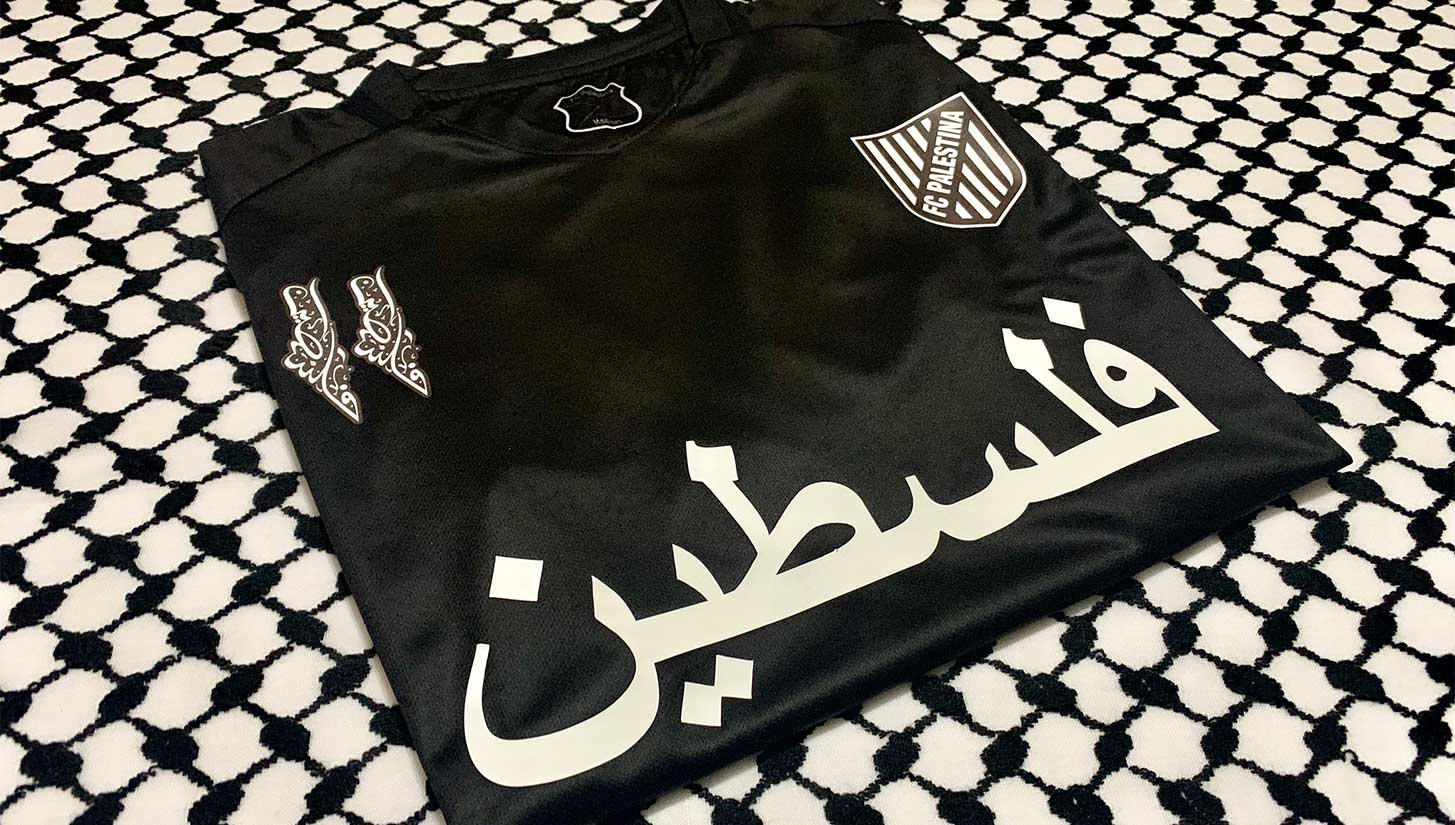 Forty-one years old, Hayat grew up during the golden era of Serie A when the likes of Ronaldo Nazario, Roberto Baggio, and Francesco Totti were banging in goals. While he admired the play on the pitch, he also appreciated something else about that period: the kits. Hayat's own ever-expanding personal collection of 300-plus jerseys is perhaps the starkest evidence of his nostalgia-fueled love of older shirts. So, of course '90s-era Kappa designs and other classic shirts became the inspiration for some of Hayat's early work.
"We've all got fond memories, even through the shirts as well," Hayat said. "It's an era of football for me that's my happiest memory as a child growing up, watching Italian football week in and week out."
Hayat still calls himself an AC Milan supporter to this day, but domestically he does root for Liverpool in the English Premier League.
Over the years Hayat has developed friendships with many supporters from different UK clubs. But he has a special connection to Scottish club Celtic, whose supporters seem to really enjoy his designs. And since he likes to cater to his audience, he's come up with a few shirt designs inspired by Celtic shirts as well.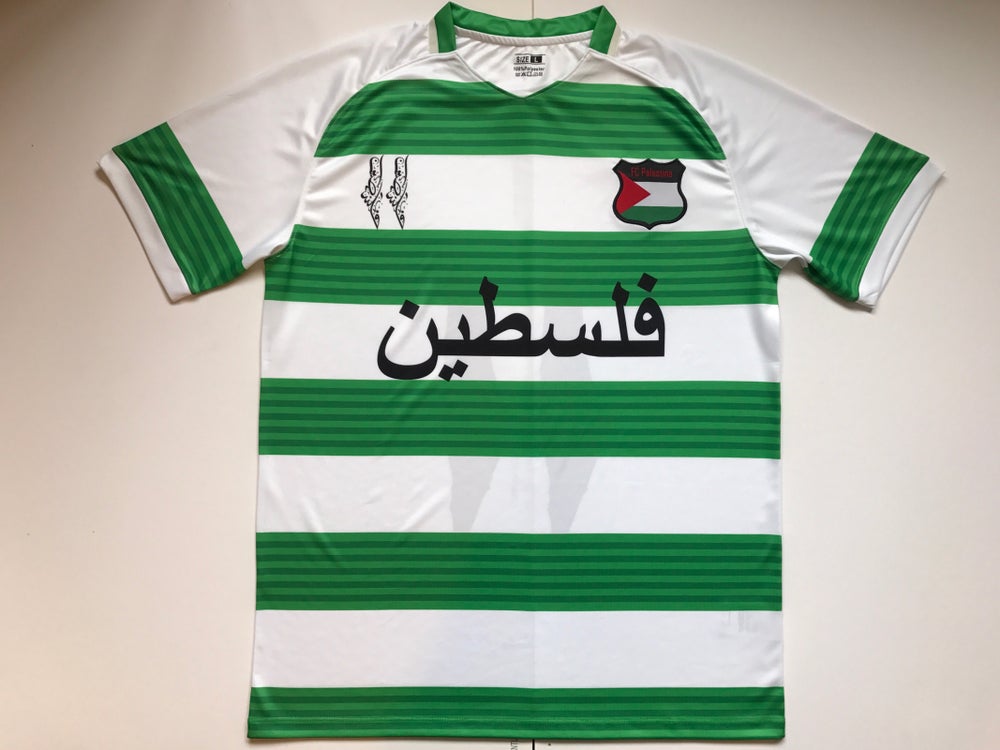 Using Celtic's green and white colors, Hayat used a hooped design that also took design cues from the 2016-17 FC Barcelona home kit that featured darker shaded stripes within the traditional Barcelona stripes.
The result is a kit Celtic supporters can get behind, especially given their long history of supporting the Palestinian cause.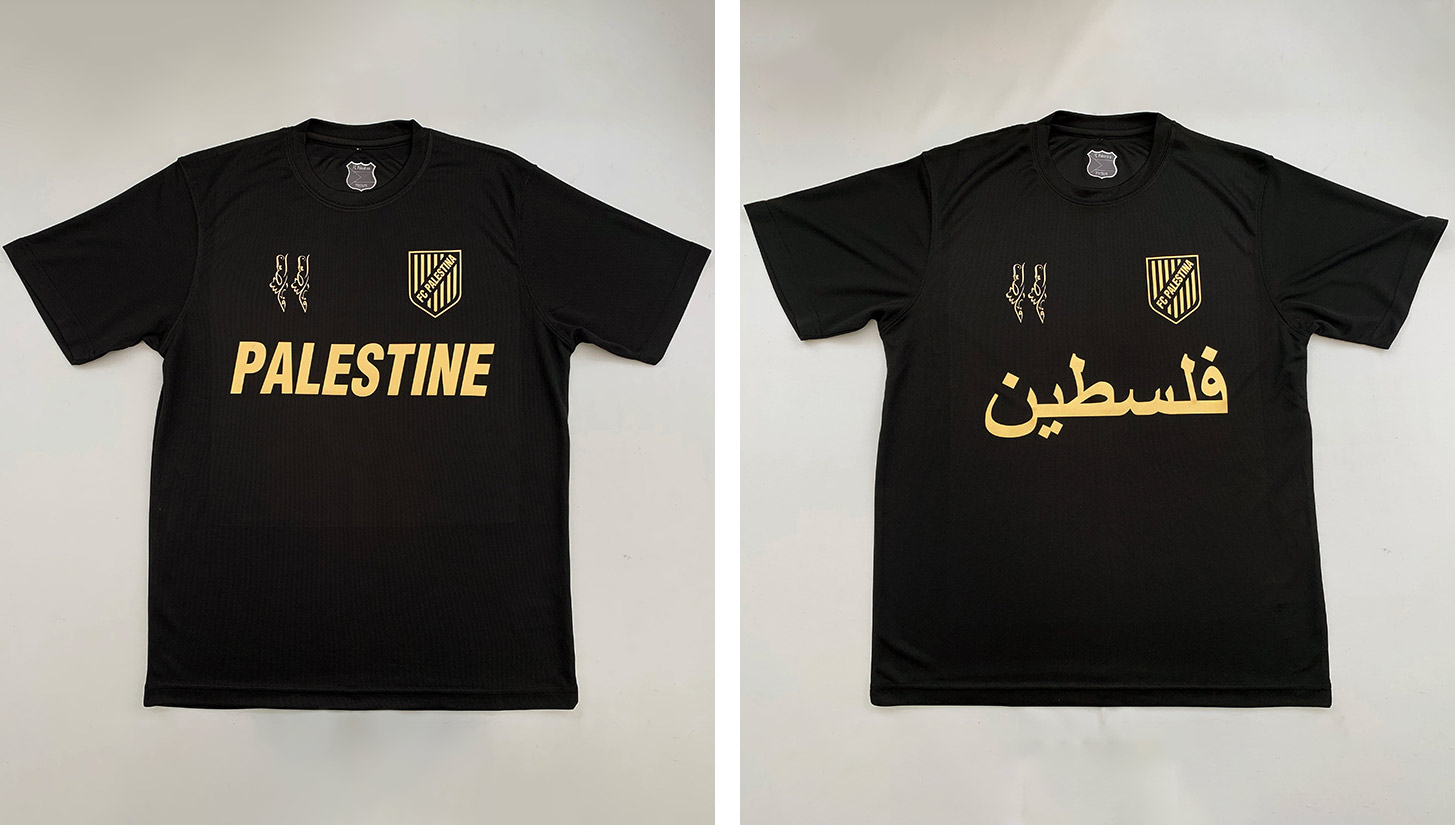 In addition to featuring Palestine in Arabic or English on the front of the shirts, some FC Palestina shirts come printed with the number 11 on the back shaped in the map of Palestine. Hayat also recently dropped a gorgeous five-year anniversary shirt with a black and gold colorway as a nod to his U.S. customers. Other designs in the FC Palestina shop include templates of classic kits, such as Nigeria's 2018 kit, Germany's 1990 kit, and Denmark's famous half and half shirt. The brand's versatile colorway —black, white, red, and green — gives all the template shirts a fresh look.
FC Palestina x HypePeace Collab
View this post on Instagram
Hayat has also dipped his toe in the collab pool by working on a kit with HypePeace, a satirical yet serious streetwear label all about community and social conscience. The shirt, inspired by Celtic's away kits during the 1989-1991 time period, also pays homage to Cristiano Ronaldo with his signature number seven on the back. Ronaldo is another long-time supporter of the Palestinian cause.
"The fade they used, the pattern was beautiful," Hayat said. "And the flag pattern itself, it was just perfect. It's still one of my favorite shirts, it's got everything."
Elevating Palestine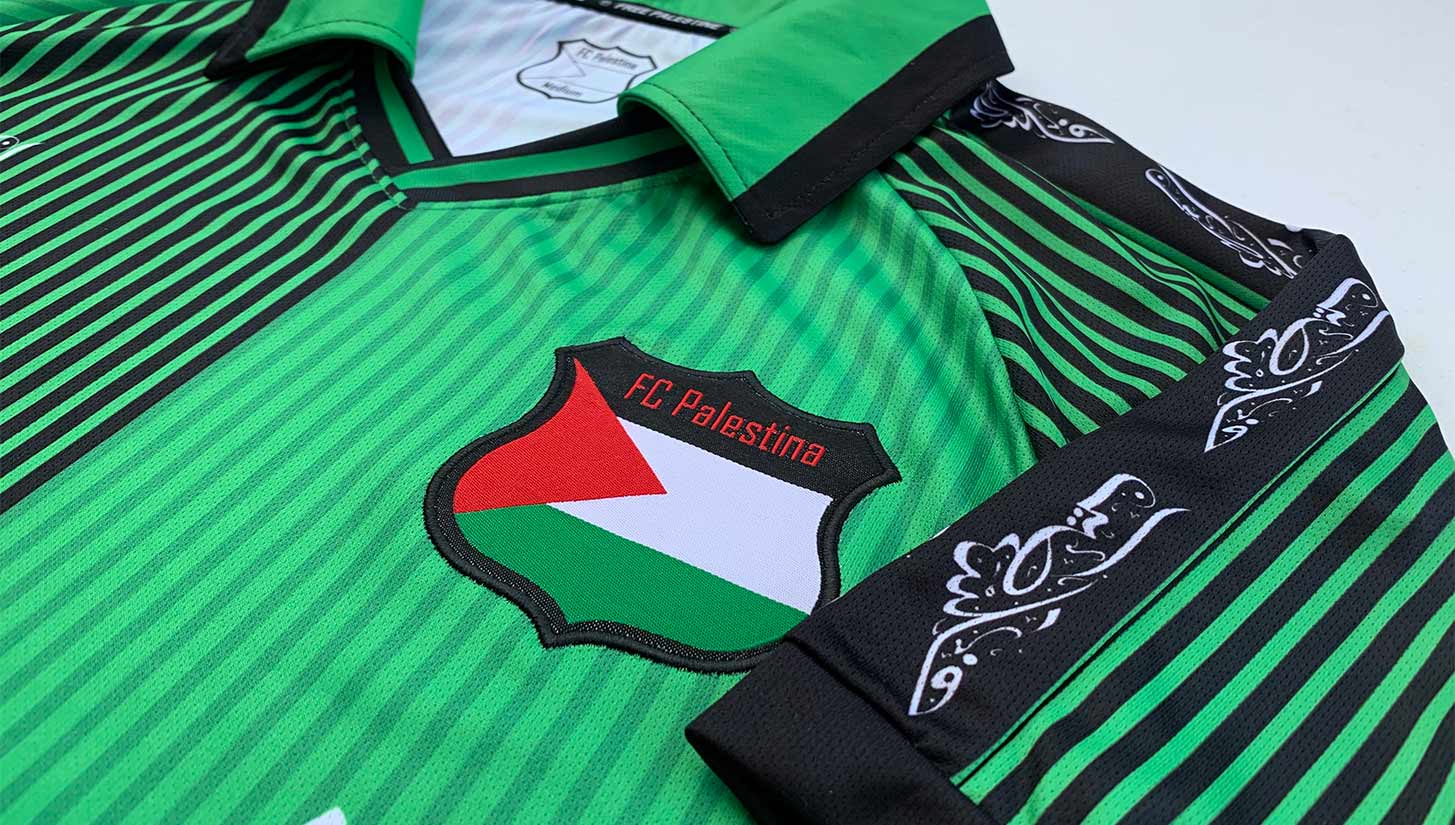 It's been a long journey for Hayat, but it's also been a fulfilling experience he can be proud of when looking back.
"I've probably sold over 4,000 shirts in total," Hayat said. "And you think back to — 4,000 people have got Palestine written on their chest and Palestine colors, and that raises awareness as well for Palestine itself. So, I'm quite happy about it as well."
Because a lot of his customers love posting photos in their shirts on social media and tagging FC Palestina, Hayat has never really had to have a professional photo shoot done.
Instead, he prefers to highlight his customers' photos on the FC Palestina social media feeds because it gives the brand a more authentic and organic feel. Plus, it doesn't hurt that Hayat's kits have occasionally found their way into the hands of some big names, including Belly, musical artists Elyanna and Fredwreck, MMA fighter Zabit Magomedsharipov, marathon runner Mohammed Al-Qadi, and actor/filmmaker Hisham Fageeh.
FC Palestina. Think I have the coolest football strip in the world. pic.twitter.com/huZMnxxj9z

— Zab Mustefa (@ZabMustefa) February 19, 2021
While a minimum of 20% of FC Palestina's profits go to charities and projects that directly support the people of Palestine, Hayat is still humble and very cautious about over-publicizing his charitable contributions through the brand publicly. After all, it is a soccer streetwear brand first and foremost. But that doesn't mean certain causes aren't near and dear to his heart. Take Football for Palestine for example, a UK organization that regularly tours Palestine, playing football in different villages and donating money to livestock, clothing, food, and anything else needed.
"Through them we've got this boy's school with like 100 kids, and they take the shirts out there to them," Hayat said. "That's probably been the best moment for me, seeing the children play football with a football shirt on, because not everyone can afford football shirts — even in the UK — and it takes their mind away from the troubles of the world."
Hayat also makes other contributions, including directly funding food packages to help families during the month of Ramadan, as well as clothing to keep people warm in the colder months.
Looking Ahead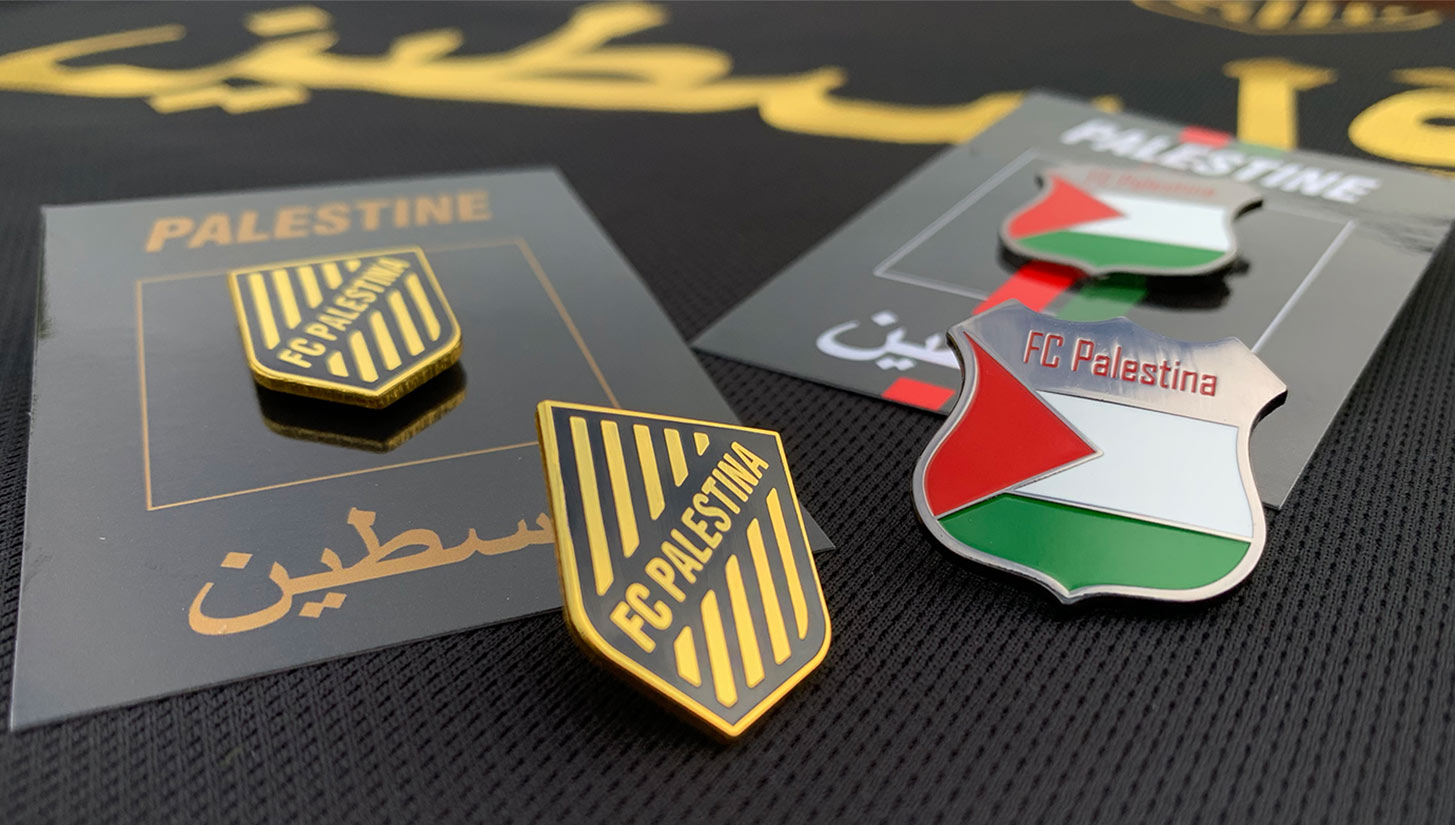 In the immediate future, Hayat is planning on dropping his first kit with a professional designer named Kit Factor. Hayat said the initial design was finalized a few weeks ago, and he's looking forward to a release sometime between April and June.
He's also working on a few other designs at the moment.
"I've got a few tricks up my sleeve as well," Hayat said. "I'm also trying different printed techniques, different vinyls, different combinations, and we'll see how that works. It's picking out the best bits in certain shirts and experimenting."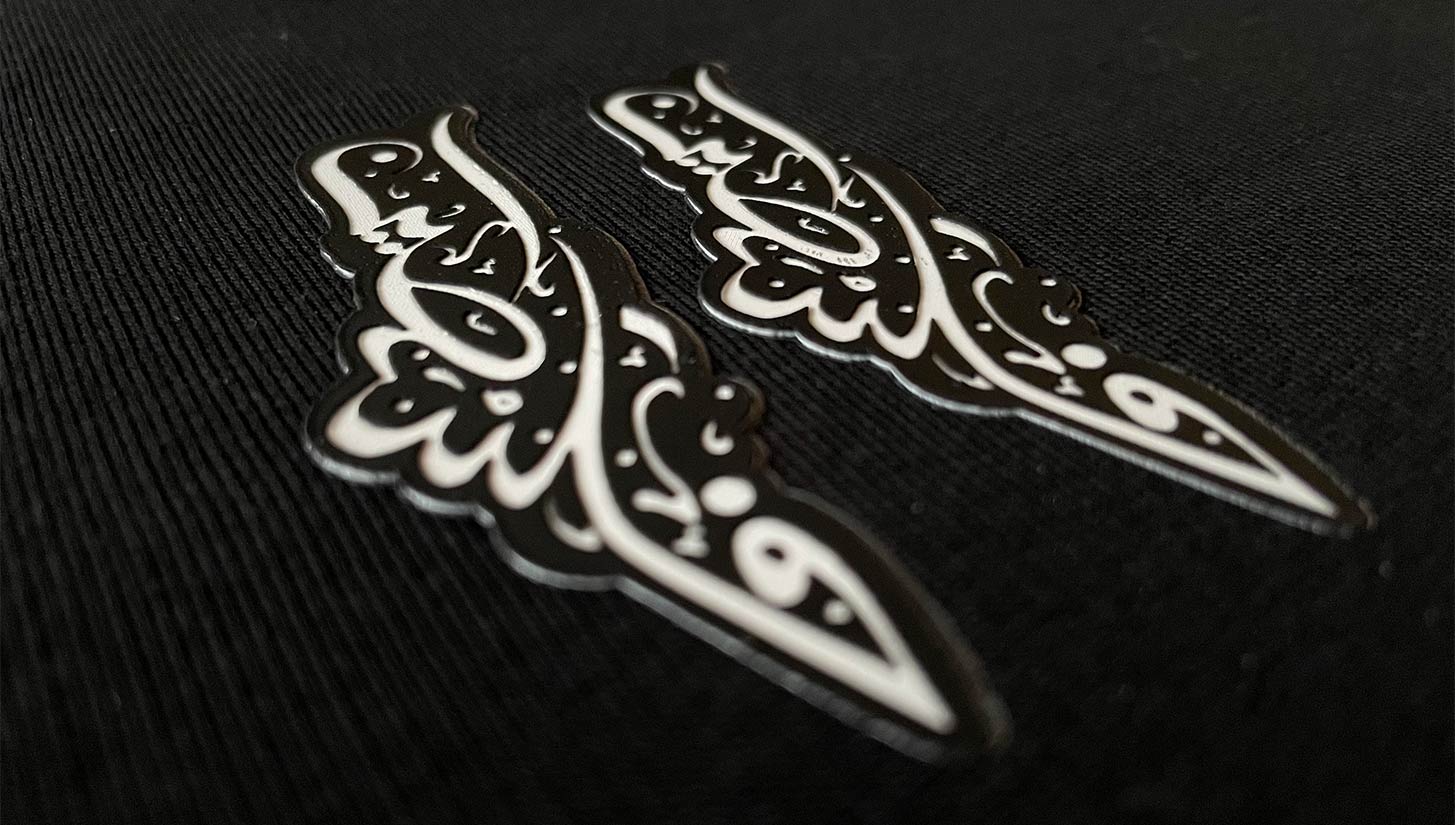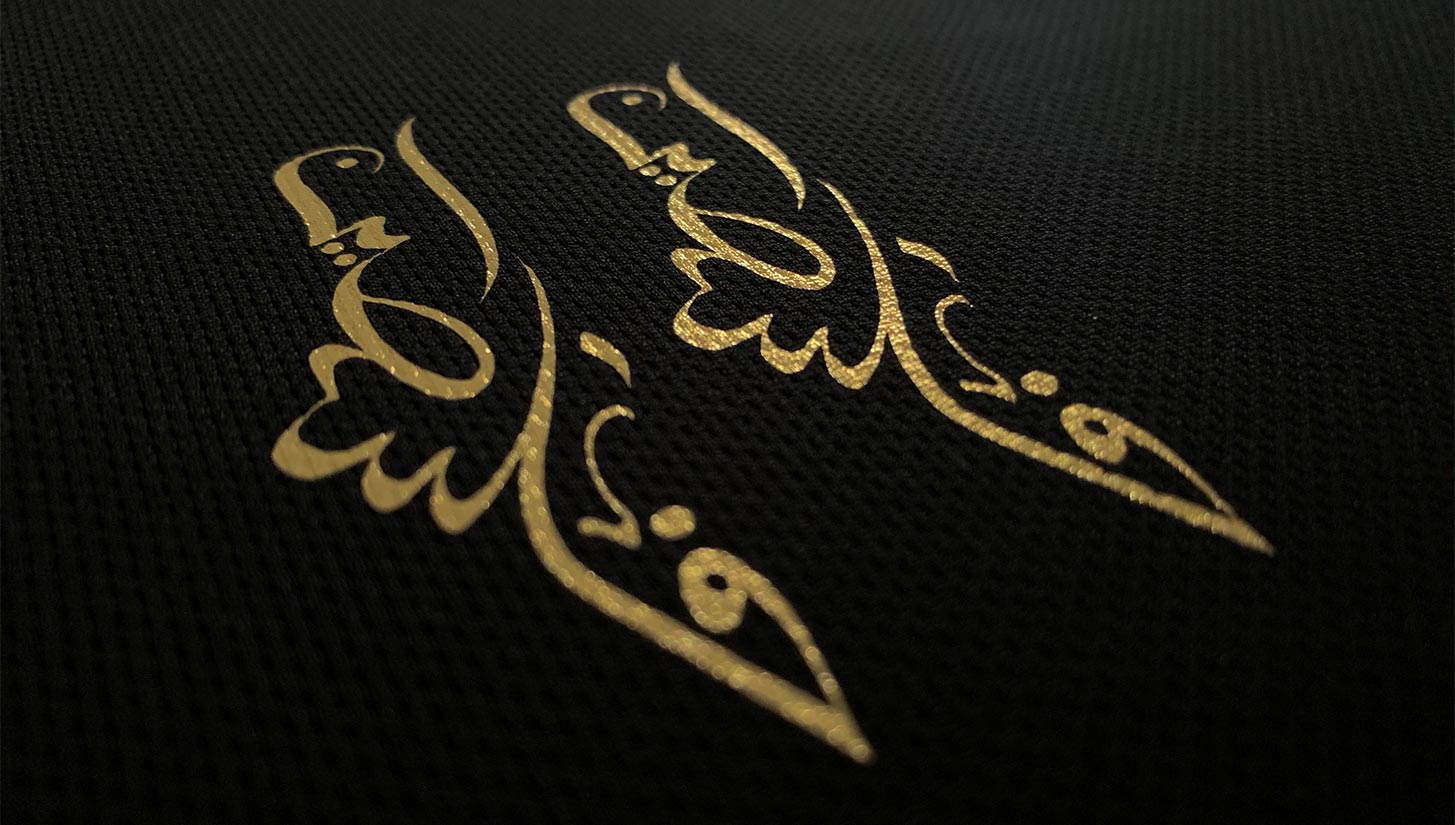 FC Palestina's long term future is a bit murkier with it still being a side project for Hayat. But he admits there's a lot of potential for it to grow one day.
"There's so many products in the back of my mind I want to do like tees, footballs, hoodies, scarves, trainers, track suits, everything," Hayat said. "But, I'm a one-man band at the moment. If I had more people helping out, or if I was doing this as a proper business, the possibilities would be amazing. So, you never know, give it a few years, I might go down that path, but fingers crossed."
Be sure to follow FC Palestina on Twitter and Instagram, and check out its online store as well.