With a jersey history that is as traditional as it is iconic, we take a look at some of the more daring and intriguing FC Barcelona third kits. 
In early September 2021, via a video created by local music group Stay Homas featuring Memphis Depay, Sergiño Dest, Frenkie De Jong, Sergi Roberto, Riqui Puig, and Alexia Putellas, FC Barcelona launched its third kit for the 2021-22 season. As a symbol of sustainability, each was produced using 100% polyester obtained by melting down recycled plastic bottles.
View this post on Instagram
The kit, worn by both the men's team and Barça Femeni in European competition, is meant to emphasize the ties between club and city. It has a vertical design, in a neon interpretation of the traditional Blaugrana stripes, featuring representations of significant architectural and cultural landmarks in five of the city's neighborhoods — Poble-sec, Poble Nou, Gràcia, el Raval and Les Corts — as interpreted by a variety of local young artists.
In addition, the kit, launched as part of the club's 'Mes Que/More Than' campaign, is intended to promote messages of equality and invoke the club's Catalan roots.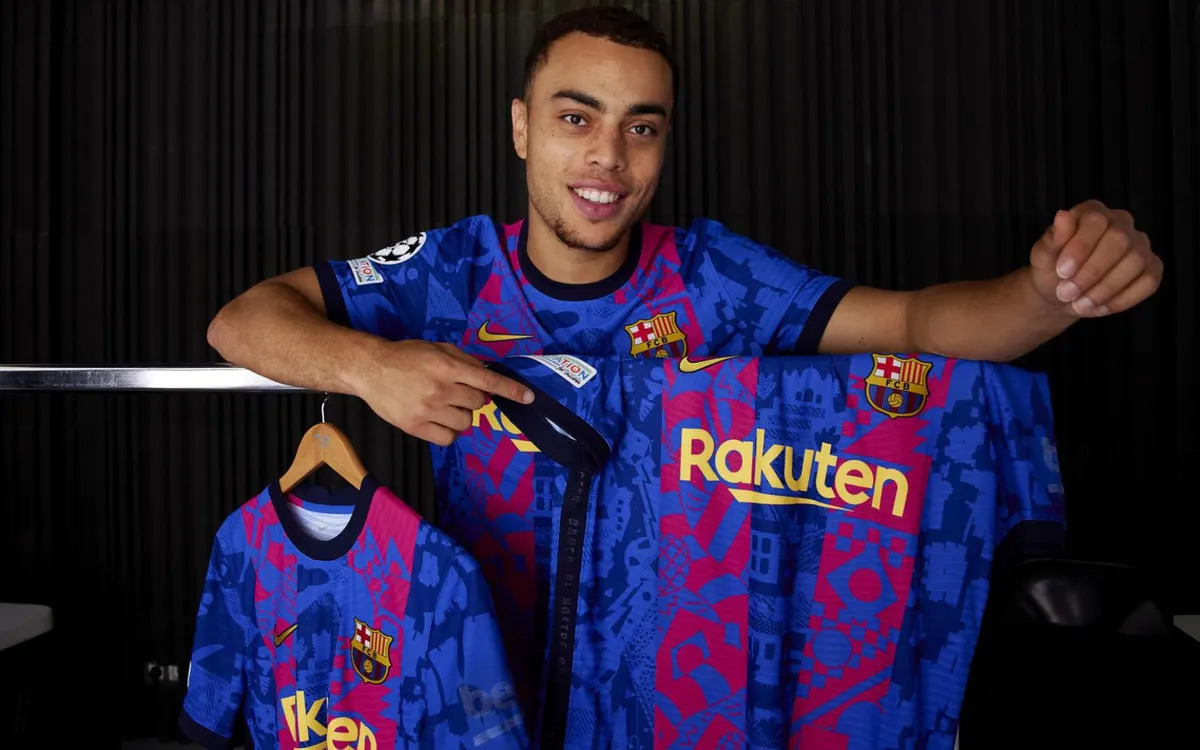 These lofty social aims, the grand stages on which the kit was meant to be worn (the Barça men weren't supposed to fall from the Champions League into the Europa), and its rather distinctive design sparked some questions about alternate Barça kits. Not to mention, this European shirt will also be worn by Barça Femeni in their upcoming Champions League quarterfinal first leg against Real Madrid at Camp Nou, for which some 60,000 will be in attendance.
Each season until the mid-1980s, Barça had two shirts: home and away. In the 1986-87 season, in addition to the traditional home Blaugrana and a light blue (with Blaugrana stripe) away shirt, in selected games Barça wore its first-ever third shirt: a non-striped, all-red number, produced by Meyba. In 1988-89, after a one-year hiatus, during which the club again wore only home and away kits, the third shirt returned, with a Blaugrana stripe.
In the two seasons that followed, Barça once again featured only two shirts. However, the 1991-92 season marked the last season in which club limited itself to just two. I've taken a moment (OK – far too many moments) and combed through three decades of Barça third (or fourth, etc.) kits, and now present the six most interesting ones.
1992-93 European Cup Winners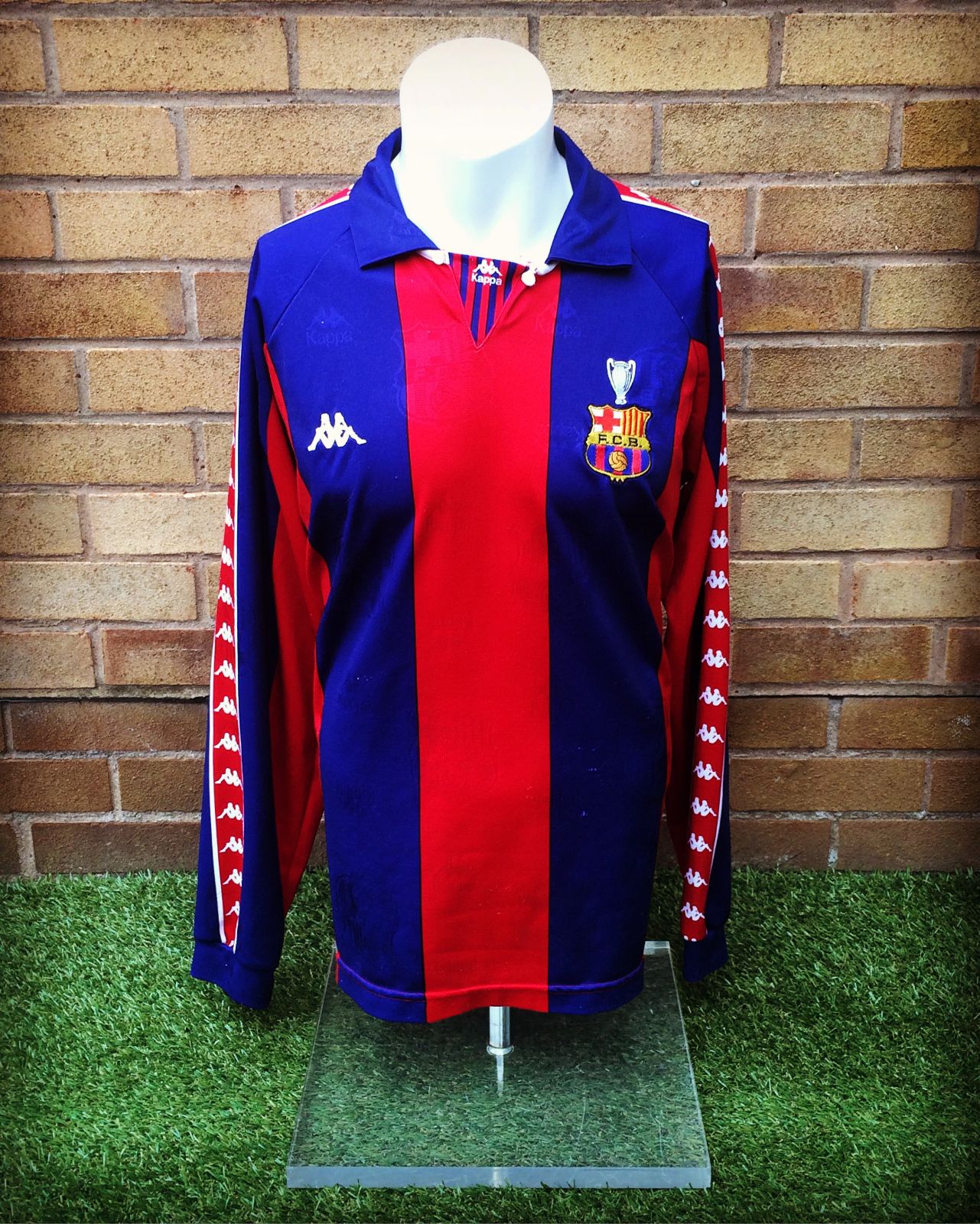 We can debate whether this shirt truly qualifies for this list, as it was only worn twice — in the 1992-93 Intercontinental and European Super Cup finals. You could convincingly argue that the shirts worn in the Champions League the next two seasons were better, but the significance of the achievement it commemorates (the club's first-ever European Cup win in 1992), and the collection of Dream Teamers who wore it (José Mari Bakero, Pep Guardiola, Ronald Koeman, Hristo Stoichkov, Romario, and Michael Laudrup) make it tough to keep this seldom-worn shirt off of this list.
1998-99 European Home and Away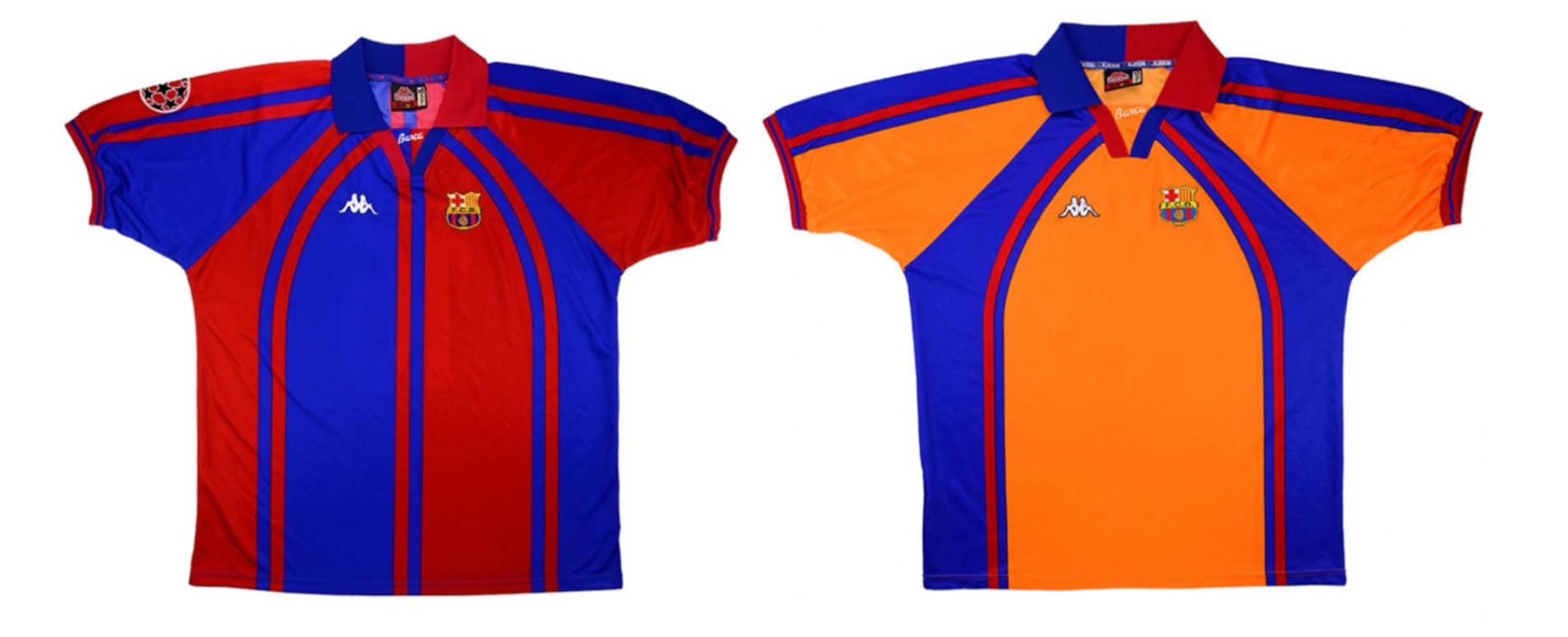 I'll level with you: I never saw these things in action, nor have I ever had a conversation with anyone that was around for these babies. Knowing many Barça fans now, however, I don't imagine these went down well.
I'll freely admit, I don't think these are particularly nice or cool, but they're sufficiently loud and weird — the kind of weird I find tough to quickly move on from. Plus, the away shirt's "wearing a tiny Blaugrana vest over an orange t-shirt" effect is too bizarre to simply gloss over.
From the 2002-03 through 2012-13 seasons, the club used the previous year's away kit as a third kit. This gave me a moment's pause, as these are not purely "third kits." They did, nonetheless, become third kits, so they're fair game. At the same time, I made a point not to lean too heavily on this period.
2004-05 Third (2003-04 Away)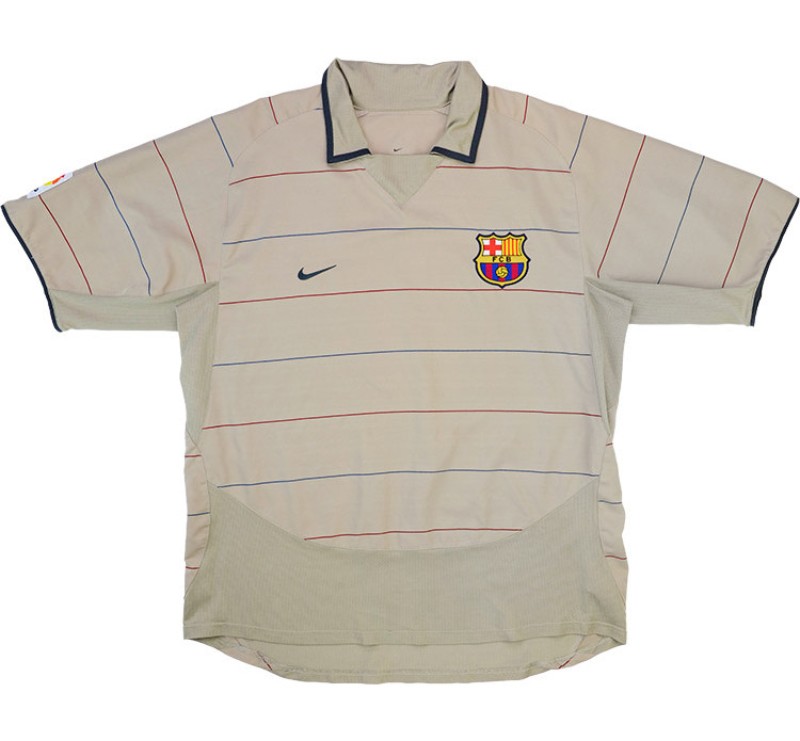 Beige, with subtle striping, a collar…this shirt belongs on a completely interchangeable middle management type at a corporate golf retreat in Scottsdale so much more than it does on Ronaldinho, scoring an iconic Champions League goal…
And yet, there it was at Stamford Bridge, as the ultimate malandro, flat-footed, shimmies and then freezes a top-tier keeper in the world's premier club competition.
2008-09 Third (2007-08 Away)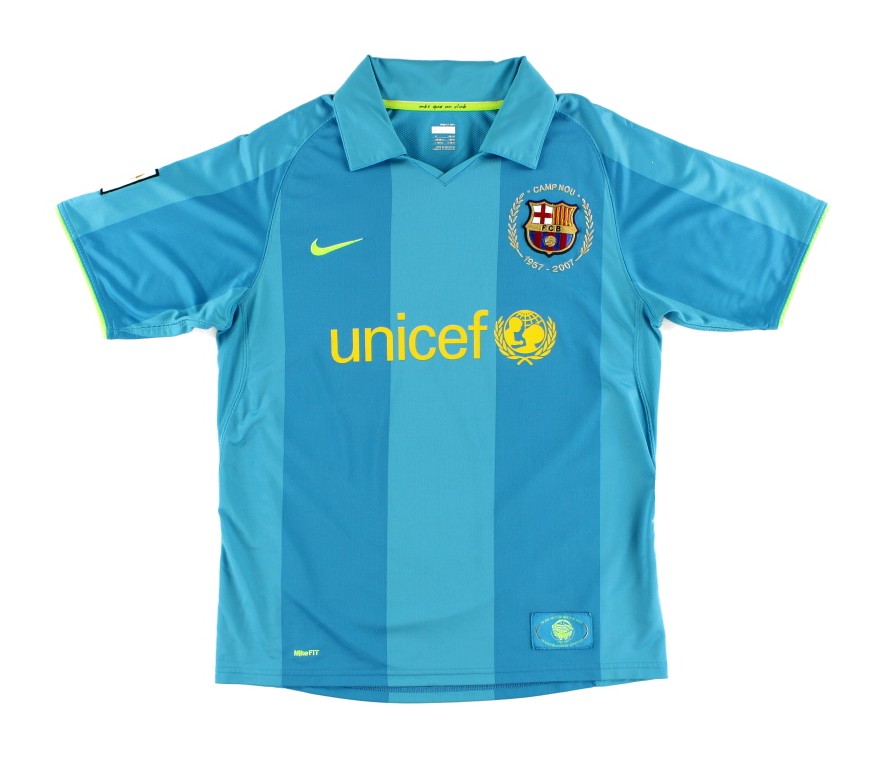 Among the big clubs in Europe, Barcelona went by far the longest without putting a sponsor's logo on the front of the shirt. That changed in the 2007-08 season, though even then, the first non-club, non-shirt-manufacturer logo that Barça put on the front of its shirt was that of… UNICEF!
Obviously decisions were subsequently made to undermine this gesture, but its gravity at the time was significant.
Adding to the allure here — even if you're not a sucker for a collared shirt like I am — is the sense of place. Barcelona, as a city, is not at all short on substance. However, what separates it from other potentially magical cities is that vibes doesn't quite capture it.
It's a sense of pride born of a high quality of life, enjoying in fantastic weather, in an objectively spectacular city, while supporting (historically) Europe's easiest-to-root-for mega-club. And when the club gets that, and gives you a wink and a nod and dedicates a shirt to, simply, the shades of the Mediterranean sea, shimmering off your coast, it's *chef's kiss* perfect.
Speaking of a sense of place…
2018-19 Third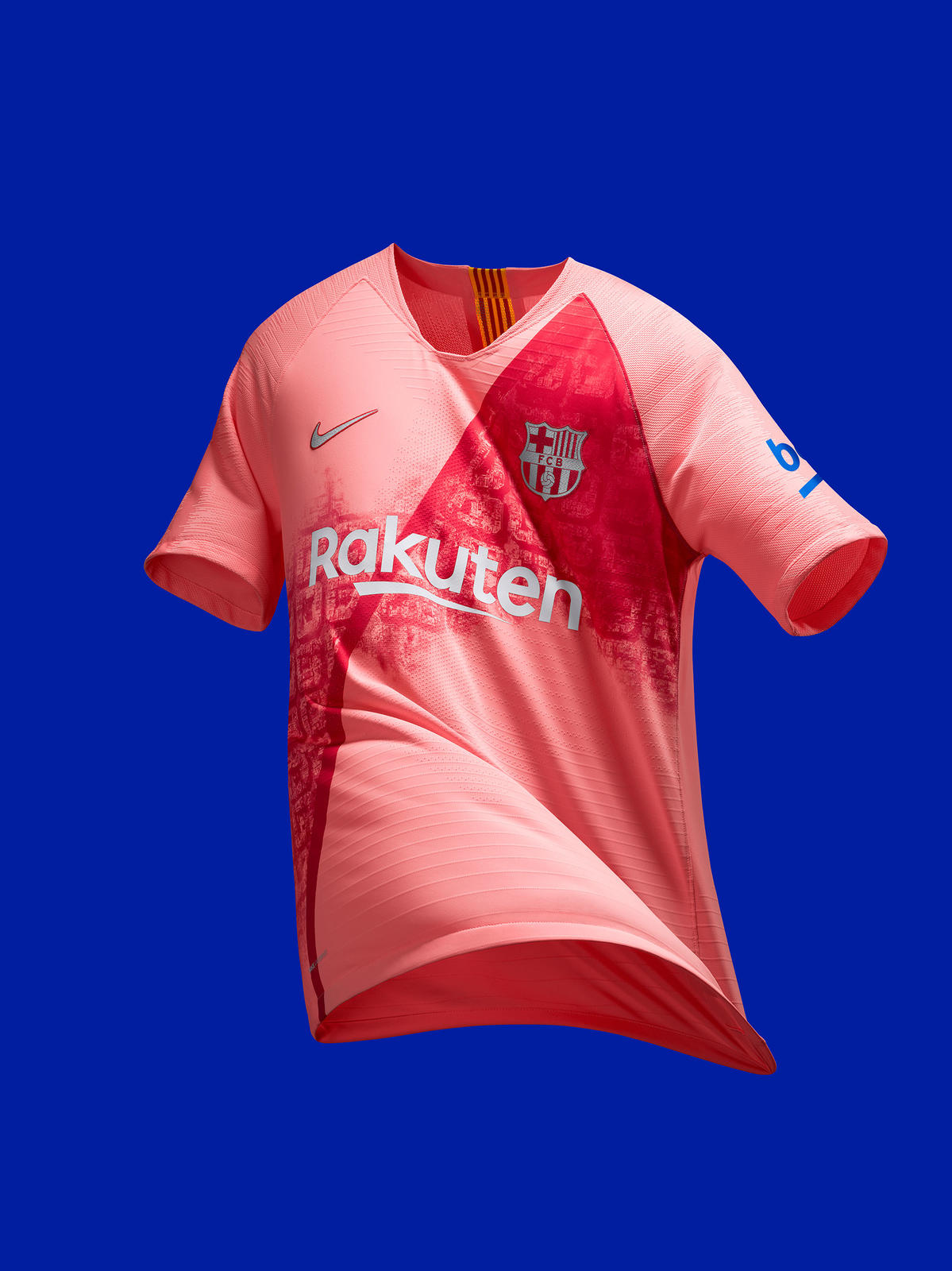 Three years ago, before this season's pan-barrio tribute shirt, Barça donned its first-ever pink (technically probably salmon, but whatever) shirt, with a darker diagonal sash, from which triangles (more or less) emerged, on either side. On closer inspection, this is an aerial view of the city's famous central L'Eixample neighborhood and its distinctive octagonal blocks — from one of which this piece is being written.
2019-20 Catalan Flag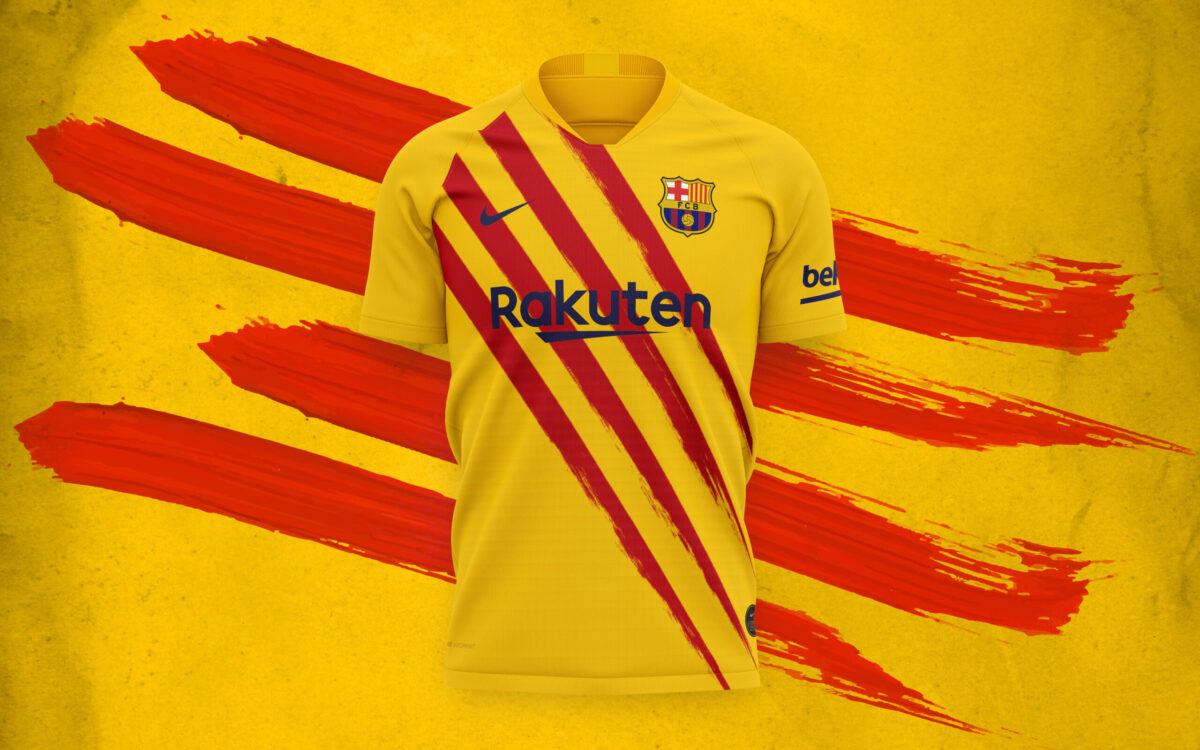 This one probably doesn't need much explaining.
In the conflict between Catalunya and Madrid, FC Barcelona has long served as the Catalans' flag bearer. There are few symbols of local and regional pride more revered than Barça's Blaugrana. The Catalan flag, or Senyera, is indisputably one of these.
The '19-20 season wasn't the first in which a Barça shirt invoked the flag, and your mileage may vary on the "four-pronged paintbrush sash" motif (I'm a fan, but I get it). However, the sponsor logo plastered across the colors of the flag (let's play along and pretend that there should be one at all) is less odious than its predecessor.