Wrexham FC has successfully entered American mainstream sports. And while many Stateside fans are critical of those who support the Welsh club over their local teams, Wrexham has fulfilled a lacking need in American soccer: A true underdog story. 
When the whistle blew and the season ended, the people of Wrexham stampeded the grass of the Racecourse. Some carried smoke bombs, others bum rushed the players which saved their Saturdays with flailing arms. Up in the owner's box, Rob McElhenney and Ryan Reynolds hugged it out, while bars from Wales to Philadelphia celebrated the promotion of a National League club into the EFL.
I walked into a call center the next Monday, just some job which I quit a few days ago. My boss, who spent his lunch breaks gambling and drinking, started talking to me about Wrexham's promotion. Now listen. This man is a suburban Oregonian. An always-washed Ford F-150 Raptor driver. Why should he know anything about the fifth division of English football? Shouldn't he have been worrying about the NFL Draft?
And even if he somehow was a die-hard soccer fan who woke up at 2 a.m. to binge every Premier League Saturday, the promotion of a team into League Two would still be a non-event. Something that might scrawl across a ticker on the bottom of the screen during a match you actually cared about. But here we were at work, having this conversation.
Wrexham came at the perfect time for American media and sport.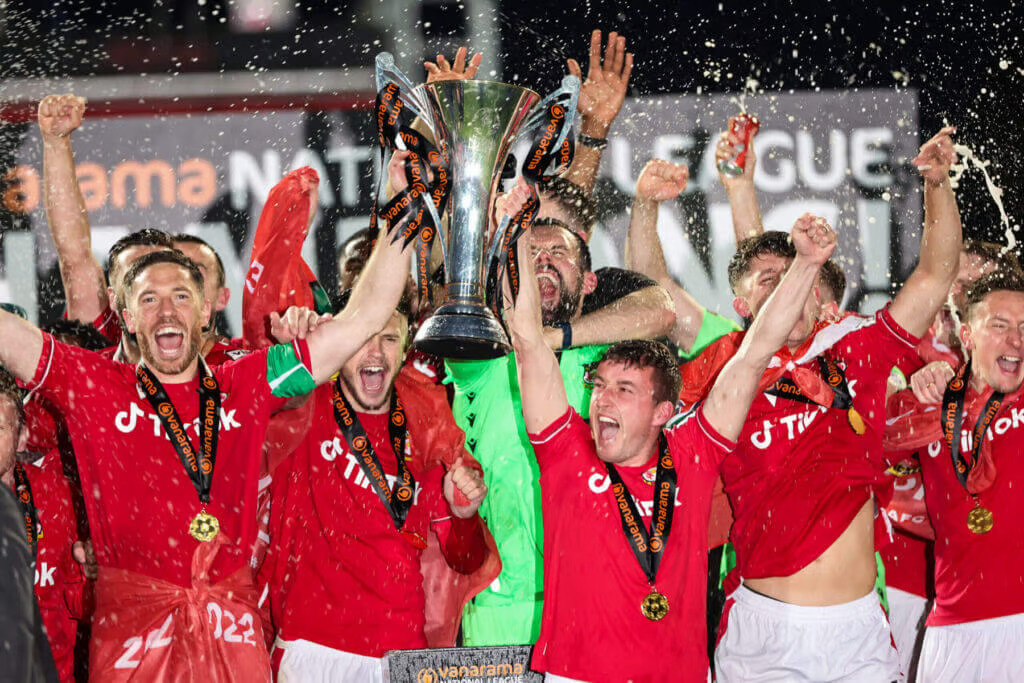 Wrexham AFC is one of the oldest football clubs in the world, certainly the oldest in Wales. Although you probably already knew that. If you watch TV twice a week and have a general understanding of sports, then you've heard of Wrexham. Whether it's through news outlets like CNN and The Washington Post, or through one scroll of Twitter, it's everywhere you look.
For years, Wrexham were FA Cup giant killers. Beating the likes of Tottenham and Arsenal in the past, they've even had some notable European success, beating FC Porto in the first round of the 1985 Cup Winners' Cup. Then some shenanigans happened, which I will go through vaguely and quickly: Wrexham went into financial administration, were given a points deduction, relegated, and were almost expelled from the Football League between 2005 and 2006. Then in 2008, after 87 years in the EFL, they were relegated into the Conference. There Wrexham stayed for another 15 years.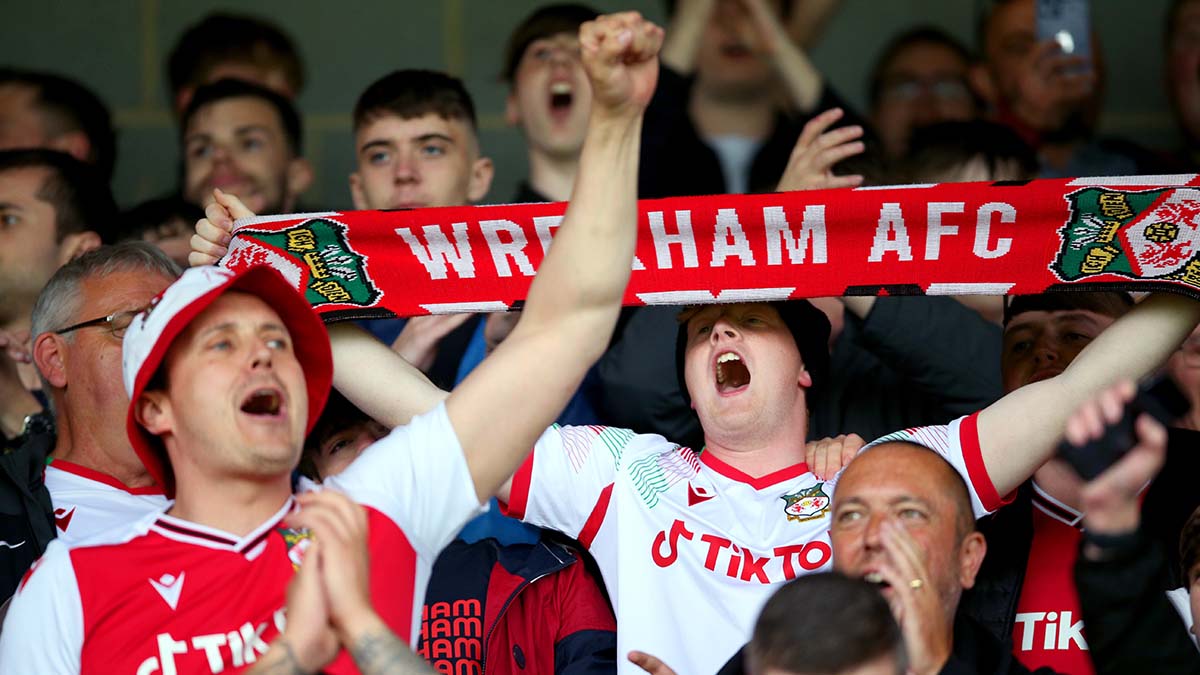 Wrexham supporters are some of the most passionate out there. The went above and beyond to care for and reinforce the club whenever possible during its descent. They did everything from raising over £100,000 to keep the club afloat in 2011, to literally buying their own team as a collective that same year and packing the stadium while in the lower leagues, even before talks of any financial injection.
In steps Hollywood. In 2020, actors Ryan Reynolds and Rob McElhenney did their takeover, and the TV cameras followed. Wrexham got promoted, and many a blog hath been post covering the club.
There's been endless media coverage of Wrexham, and a massive influx of new international fans due to the exposure and storytelling of the team's trials. American audiences who normally viewed sport as a sense of spectacle and circus-like wonder now saw the community aspect that surrounded soccer clubs in different countries, in addition to the joys and mostly miseries that separate soccer from the sports they are accustomed to.
English and Welsh audiences saw an American-led club takeover and somehow felt optimistic on the whole project. It's quite baffling how one club's owners can change not only the trajectory of a team, but of sports perceptions in two different countries.
Now don't get me wrong, Reynolds is a cornball for sure. But what he and McElhenney have done at Wrexham should be used as a blueprint for how club takeovers can be carried out, and how fans should be treated by the clubs they support physically and financially.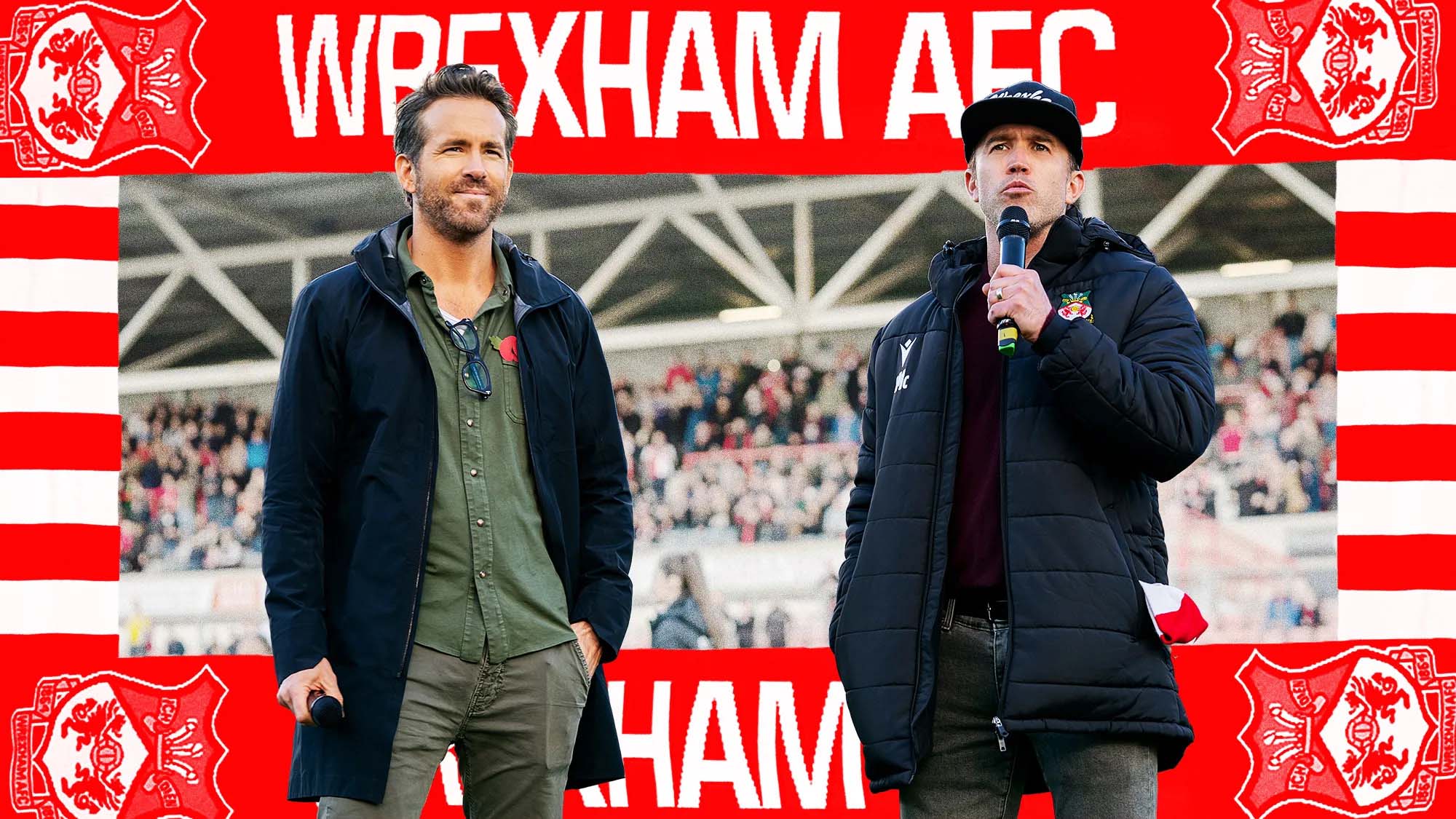 These positive attitudes and marketing efforts of the owners, along with their general popularity have amassed Wrexham many American fans, becoming the second-favorite club of many, or in some cases the only one they follow — even ahead of of local clubs here in the United States. This is something that has been ridiculed often by soccer fans in the country. However it's only natural considering the sports structure within the U.S. and the lack of intrigue generated by the domestic game.
When Joe Schmo in America wants to get into soccer, there are a few pathways and entry points. If it's not a World Cup year, the number one option is Ted Lasso, one of the most prevalent shows in current pop culture. Number two is Wrexham AFC due to the popularity of the owners and the Welcome to Wrexham docu-series, which has taught many Americans the pro/rel system and community aspect of the game.
After that it's the NWSL, MLS, and the U.S. Soccer Federation — a trio of organizations that more often than not are a complete shit show. NWSL with horrible player safety issues, MLS with its rather bland and corporate media presence, and the U.S. Soccer Federation which is something that I cannot put into words.
It's no wonder why Wrexham, for many American fans, is a more compelling alternative for getting into soccer. When wanting community engagement and promoting their product, American teams are still stuck in the 2010s. Having such a high price wall for watching the games in the stadium and on TV doesn't help either, nor does the almost absent interaction between top flight competition and local lower league sides.
What Wrexham provides to fans in the U.S. is consistent media exposure on the team and culture surrounding it, simplified streaming services to either watch their games or the TV show, and a great story that will grow over time.
If you live in Omaha, Nebraska and want a team to support you can choose Union Omaha or Sporting Kansas City. Union Omaha play in a baseball stadium and have no possibility of ever making the top flight, or for achieving any growth at all for that matter. Sporting Kansas City is hundreds of miles away, and the league's media approach is sterile and unappealing. If you wanted to get into the game, how could Wrexham not look attractive in that situation?
People enjoy an underdog story — there's been nine Rocky movies. Fans want to relate to the players who perform for their club every week. Wrexham has provided that to millions of people around the world, and in America even an average F-150 driver knows about their successes. The club is healthier than it's ever been, and its future is brighter than ever.