With a career full of both heartbreaks and redemption, Giuseppe Rossi's journey through football has been a test of will and resilience. He was set to start a new career chapter in Real Salt Lake of MLS in 2020, but this season's indefinite hiatus has put yet another roadblock in his way. Knowing him however, we think he'll find a way around it. 
"Just keep focused man," I said. "I know it seems like you've been through it a lot, but you've done great."
He answered, kindly focusing on what I was trying to convey: "I appreciate it, absolutely. I'm gonna run and catch up with some of the others."
"Yeah bro, be good. Thank you for talking."
I spoke these words to Giuseppe Rossi after his Pepito Cup, a 5v5 tournament he put together in New York City. It was the day before Italian Christmas — aka Christmas Eve — in 2016. Beppe had been delayed by a flight, and I was doing my best to help Bologna's New York club side gain some points. In the end, it was all fun and games, and we were there to support. Leaving Chelsea Piers, I walked in the dark back to Penn Station. The wind was whipping my face on 12th Avenue, as it so often does next to the Hudson River. Putting my headphones in, I thought about how awesome it was to have just met who I believe was the most talented player of his Italian generation. I also thought about his career and what it was becoming.
If you grew up in New Jersey and the surrounding area in the past decade, Rossi was idealized as the kid who made it. It didn't really matter that he chose Italy over the United States — he was one of us. Coached by his father who emigrated from Abruzzo, he grew up in Clifton, which is just about as "normal" and suburban as you can get. In other words, most of us could relate to him. Preceding his rise to stardom, there were voices around town that we had a real player on our hands. One night at Headliners, an infamous club down the Jersey Shore, someone stopped me in my Palermo jersey just to let me know that his brother was friends with the almighty Pepito.
Rossi's choice to play for Italy in 2008 came from a place between two worlds. On one hand, his parents were Italian, he grew up culturally Italian, and he had the attributes of a fantasista and Azzurri No. 10. He even moved there as an adolescent. On the other, he was born in the U.S., his relationships were forged stateside, and there's no question that he would have been a not-so-cult icon for a nation that was begging for a star. Rossi went with his gut, and it seemed a logical choice. In the wake of their success at the 2006 World Cup, he was an obvious talisman for Italy as they were set to begin a new cycle of talent.
At that very same time, Rossi was a reserve player for Manchester United. He'd come over from Parma when he was just 17 in a conspicuous move for the English giants to be scouting a youth player from the humble Italian town. He worked his way in and gained some minutes, but benching Ruud van Nistelrooy, Wayne Rooney, or Cristiano Ronaldo was never in the cards.
The club and player felt it was best he achieved valuable playing time to develop, but the move to Newcastle was a cold autumn start. In hindsight, perhaps it was naive to send a player on a short-term loan to the rugged Northeast and assume that would be of benefit. Rossi was loaned back to Parma, where a little adopted homecare did him well.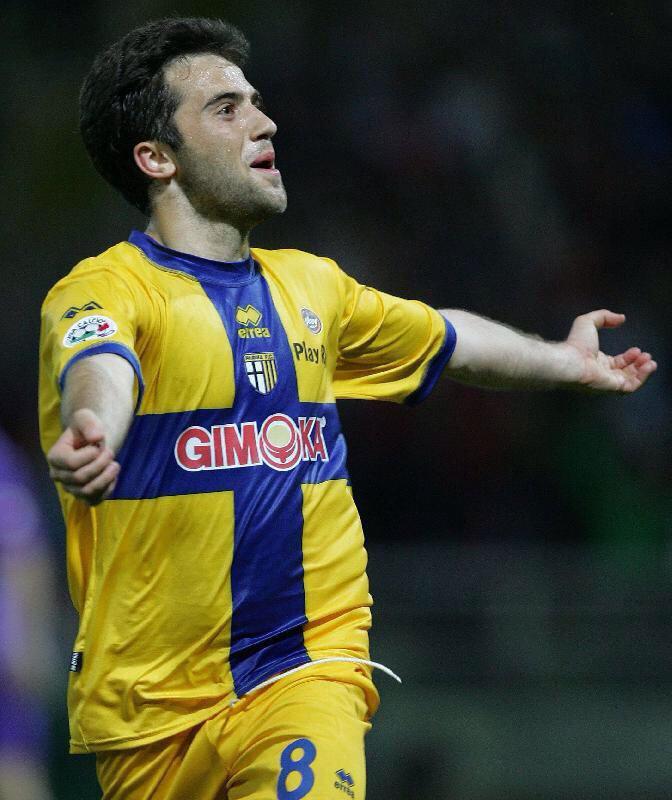 It was during this half-season that Rossi caught the eyes of the Italian mainstream. But how could it be that the nation's most prolific player was actually from New Jersey? While some were loath to accept the American-born Rossi, his takeover of Serie A would quickly win over the doubters. He scored in almost half of the 19 matches he featured in, showing ambidextrous abilities and a fox-like nose for goal. Nevertheless, Manchester United were on their way to becoming the best team in the world, and a dynastic attack. It was the wrong time and place for Rossi, who was just beginning to write his journey.
The flairy, flowing football of Spain's sun-drenched coast became a perfect match for the player. It was almost eerie, as he showed shadows of Roberto Baggio's shifty movement, speed, and touch on the ball. Just as remarkably, he possessed the ability to combine into plays, creating harmonious team play during his breakout season at Villareal. The yellow submarines had a new pilot, and in his first season, he guided them to 13 goals and a second place finish in La Liga — the best in club history.
For the next several years, Rossi was worshipped by El Madrigal's faithful. He was becoming one of, if not the most dynamic attacker in the league. It wasn't just that he scored 82 goals for Villareal, it was the manner in which he did it. From 2007 to 2011, he dominated Spanish and European competition alike, floating in between the lines to receive the ball and become the object of attention to synchronize the rest of his team. It was virtually impossible for the opposition to recognize which flank, zone, or position he would hit them from.
Further, he just seemed to always be getting a piece of the ball — from acrobatic finishing, salsa-styled agility, or even getting stuck in on his opponent. In the 2010-11 season, he scored a career-high 32 goals, leading to Villareal reclaiming qualification for the Champions League, and reaching the Europa League semifinals. His play under the sun became destined for the stars, and a big money move seemed imminent.
It was only at the last minute where negotiations broke down between Villareal and Pep Guardiola's Barcelona. Antonio Conte would have relished him at his Scudetto-winning Juventus, but interest never solidified. The greatest clubs balked over the high transfer demand.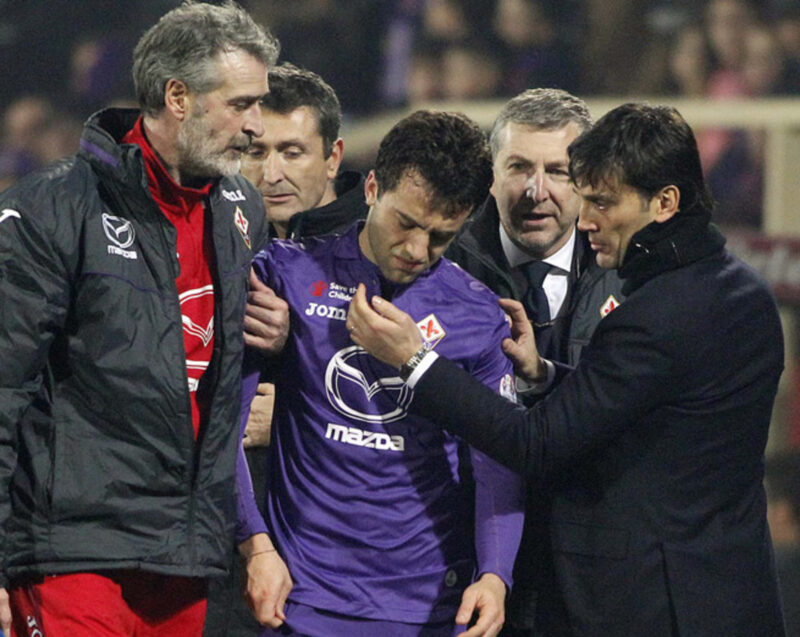 Less than a year after signing his contract extension, Rossi entered into the dark time of his career. His father and life mentor passed in 2010, then in late October of 2011, he tore his ACL. Fate can be so cruel to attack a player at an apex, but Rossi's personal victories were written in the future.
In the winter transfer window of 2013, Rossi joined Fiorentina on a four-year deal, allowing himself and the club to continue their pursuit for success. Fiorentina had qualified for the Champions League the previous season, but Luca Toni was then 36 years old, and there were underlying plans to sell their young star Stevan Jovetic the following summer.
Yes, the commonly known story continues as so: Rossi went on to become one of the league's best, and was the Capocannoniere before a malicious tackle sprained his MCL. He even took a salary cut to compensate the club for his fitness. Over the next several years he became a journeyman, traveling to Levante, then Celta Vigo, and then back to Italy with Genoa, before becoming a free agent. The coup de grace for his career should have been his fifth and most serious knee injury, when he ruptured his left ACL with Celta Vigo.
In the midst of a journey of pain, it is exactly the next story which exemplifies why Rossi will forever be the comeback kid and the hero of his own movie.
He's playing with Fiorentina, and they were taking on the defending Serie A champions Juventus. It was early in the season, yet already the Old Lady was tightening her grip around the league table. It took just 45 minutes before La Viola were down by two in front of their Curva Fiesole. But Florence is not like other towns, and in fact, its fighting spirit could be traced all the way back to the Renaissance. With a self perception as the "New Jerusalem," it was this notion that inspired Donatello and Michelangelo to sculpt their renditions of David conquering Goliath.
Perhaps Beppe was embodied by this very spirit, as it was Fiorentina's most epic comeback in its history. At first a cold-blooded penalty to Gianluigi Buffon's right — then a divine turn, firing at goal with his left from beyond the 18-yard line for his second. A stunning shot. The Florentine faithful can still hear the commentator screaming "Pepito Rossi!" in praise of his namesake, Italian legend Paolo Rossi.
David's slingshot was loaded, and he had Juventus in his crosshairs. When Rossi bursted diagonally inside the box of Conte's fluttering side, the movement opened space for Joaquin, who made no mistake to take the lead. Goliath fell to the floor, nearly dead. With 10 minutes remaining, Rossi decapitated the beast for his hat trick, and the city erupted. Fiorentina had conquered Juventus at home for the first time in 15 years.
I'm excited for Beppe's future. I want to see what he can achieve with Real Salt Lake now. It was important for him to play out his career in the heights of Europe, but it feels like he's home right now. But more importantly, it's a pleasure to see him back on the pitch — fit, healthy, and having fun. While not leaving his mark for either country, he's proved to an entire generation of metropolitan youth that you can achieve footballing dreams, and through that journey, even vanquish your nightmares. It's this mentality that has given him the ability to become a top player, overcome the obstacles and heartache along the way, and make the most of life with the gifts he's been given.
The comeback is always greater than the setback. Thank you Giuseppe Rossi.