Capturing drone photos from around the world, Alejandro Petra is best known for his breathtaking overhead shots of Argentinian cathedrals like La Bombonera and Estadio Monumental. We get insight on Petra's origins, process, and favorite moments as a drone photographer. 
The creativity that Buenos Aires gives you as a photographer is enormous. The different social, urban, and cultural contrasts are unique, and undoubtedly, within the football scene, Argentina is the most privileged country in the world. A sunset, flags, smoke, and fireworks, paired with a neighborhood totally devoted to the stadium makes it the best frame for Alejandro Petra. His aerial photos went viral, and he turned his passion for photography and Buenos Aires into his professional studio.
We sit down with the talented drone photographer, getting to know his favorite parts of capturing overhead stadium shots, and what he'd like to shoot next.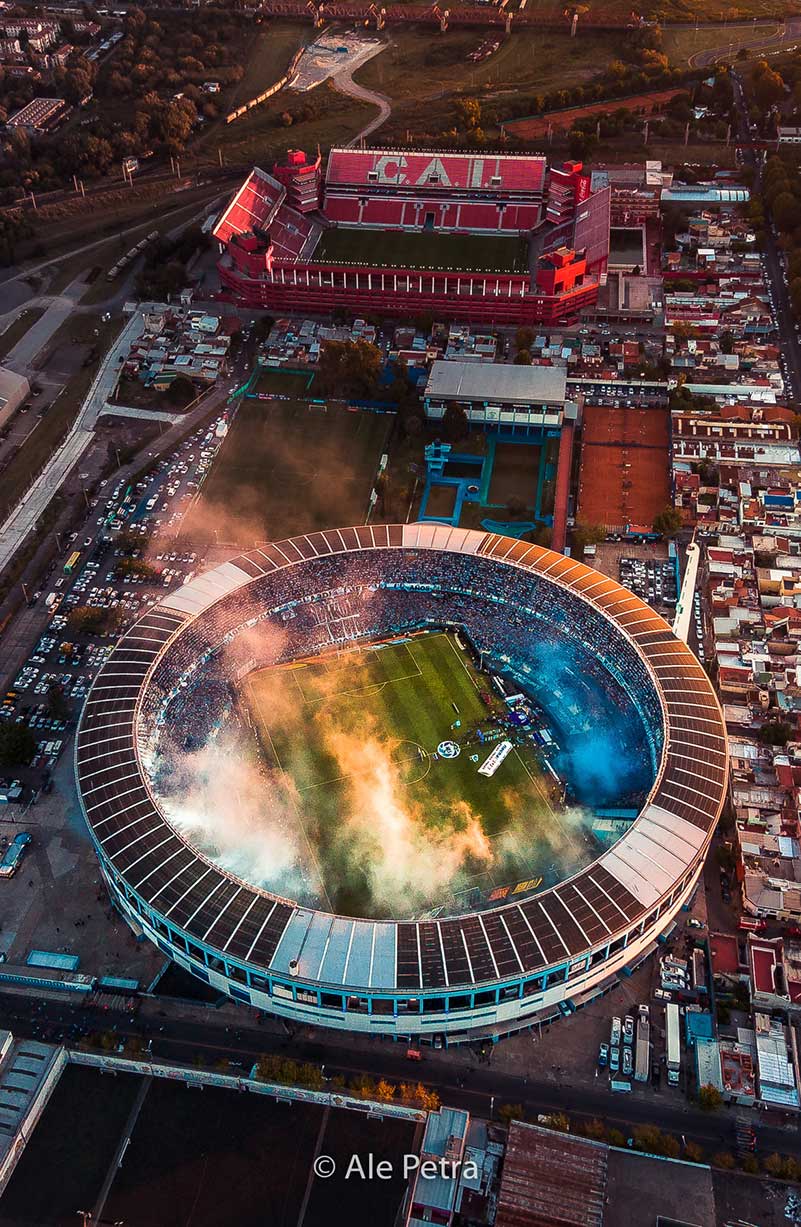 Urban Pitch: It is fair to ask yourself if you feel like an ambassador of Buenos Aires for all the essentials that you manage to capture from unique perspectives?
Alejandro Petra: I don't know if the word is "ambassador." Still, I consider that I was a pioneer showing the city from another point of view. Until then, we hadn't seen too much of Buenos Aires from above. The photos of Buenos Aires went viral worldwide, and my work is better known internationally. Even having taken the pictures just for pleasure and love of art led me to work professionally as an aerial photographer for Buenos Aires' city council. I also remember that Nike asked me to take photos with the drone in the final of Boca Juniors vs. River Plate on the Copa Libertadores.
What's the most fascinating part about a football stadium?
Architecture has always caught my attention. The contrast generated between something vast and monumental and everything that is around it. Football stadiums always caught my attention, suddenly going down a street and coming across something so big, a temple. The place where passion meets, and suddenly you have 60,000 people screaming inside.
I am struck by how far the passion people have for football reaches to build such an imposing structure in its size, and I really like how that immensity contrasts with the rest of the city. I have a photo of Racing where this can be seen perfectly, also a photo of the Camp Nou with Barcelona in the background.
What equipment and what technique have you used to capture the essence of the stadium exploding?
I have used drones from the world-renowned brand DJI which has sponsored me after the photos of the stadiums went viral.
Generally, I analyze the stadium area through Google maps, and I analyze where I am going to deploy the drone. I go a while before the match starts, and I prepare and take the shots. I always try to go in the company of someone to watch my back. Although, I went to Racing Club alone, but I managed to get them out from a friend's private soccer fields that are just next to the stadium.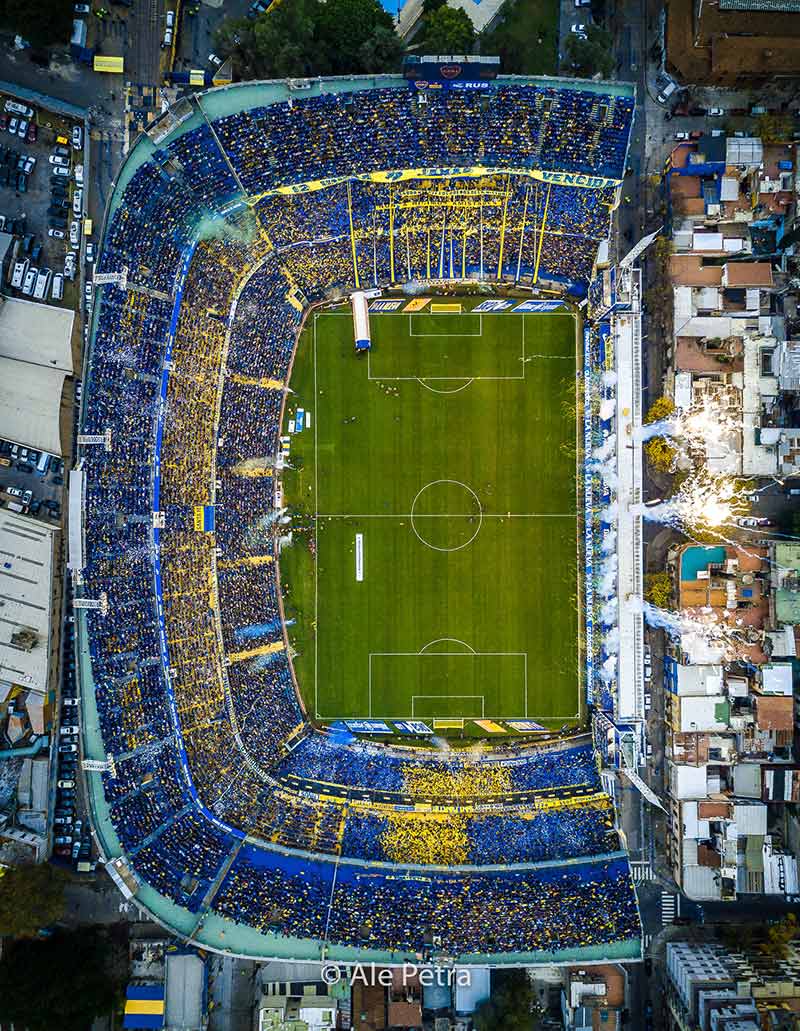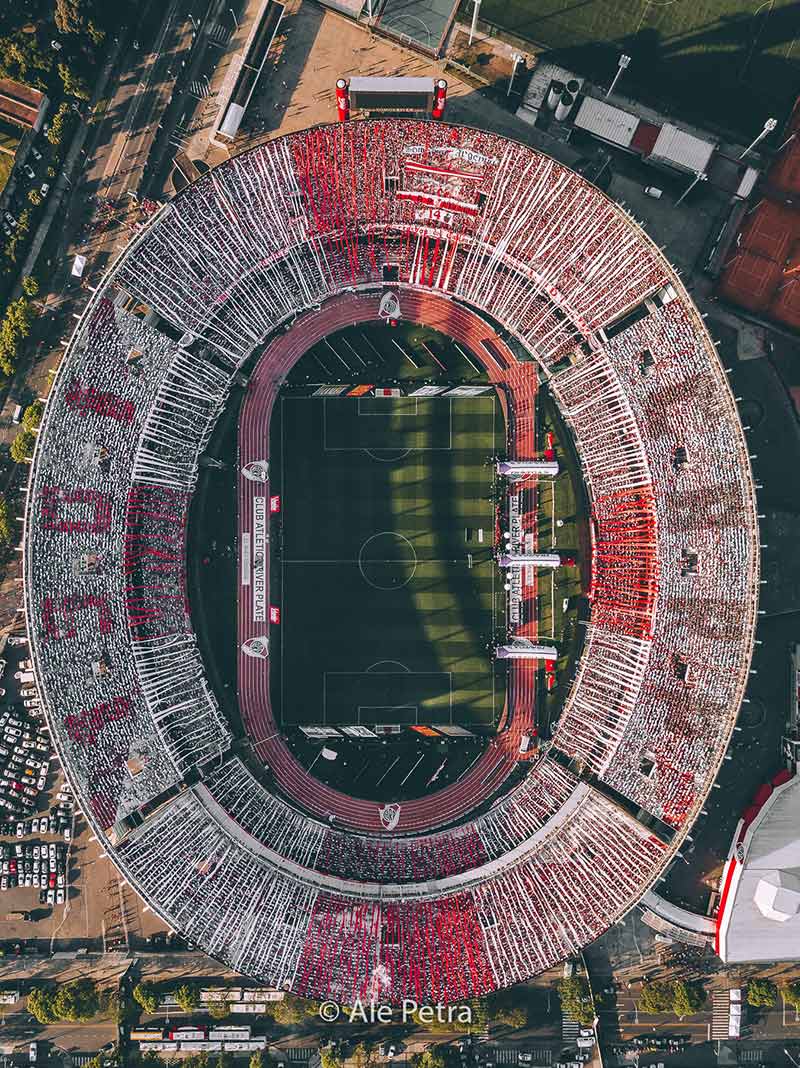 So, how do you prepare to take a picture like this when the whole stadium is roaring and exploding?
The reality is that for both the La Boca and River Plate photos, I was very nervous. Just 300 meters from La Bombonera and it was impressive how you could hear the whole stadium burning with people. Besides, not having a TV next to it, I didn't know when the teams came out. Because in Argentina, kick-off always takes a little longer, especially in the Superclásicos.
I was scared because while I had the drone on the pitch, they started cheering with fireworks, and I thought the drone disintegrated. (Laughs.) I mean, a lot of things are added to you. There was a lot of stress in both cases, but it was worth going through those states because the reward was so enormous.
When was the first time you thought about taking an aerial photograph of a stadium with a drone?
It's very crazy how photos happened to lead to soccer fields. At that time, my aerial photos of Buenos Aires were having a great impact on levels that I had never imagined. That's why my friends started cheering me on, and they told me you have to take a picture in La Bombonera in the Superclásico against River Plate. Anyway, I listened to them, and the photo of Boca Juniors exploded. That's how it started, then I made it to River's Monumental and Racing Club when they were national champions.
Where else would you like to photograph and why?
On the football side, I would love Juventus, Inter Milan, and Manchester City. Secondly, I would love to photograph the pyramids of Egypt and the city of Dubai.
What is the correct and proper situation to start shooting?
A stadium full of people when the teams are introduced, and a sunset that ends up giving an epic background to the scene.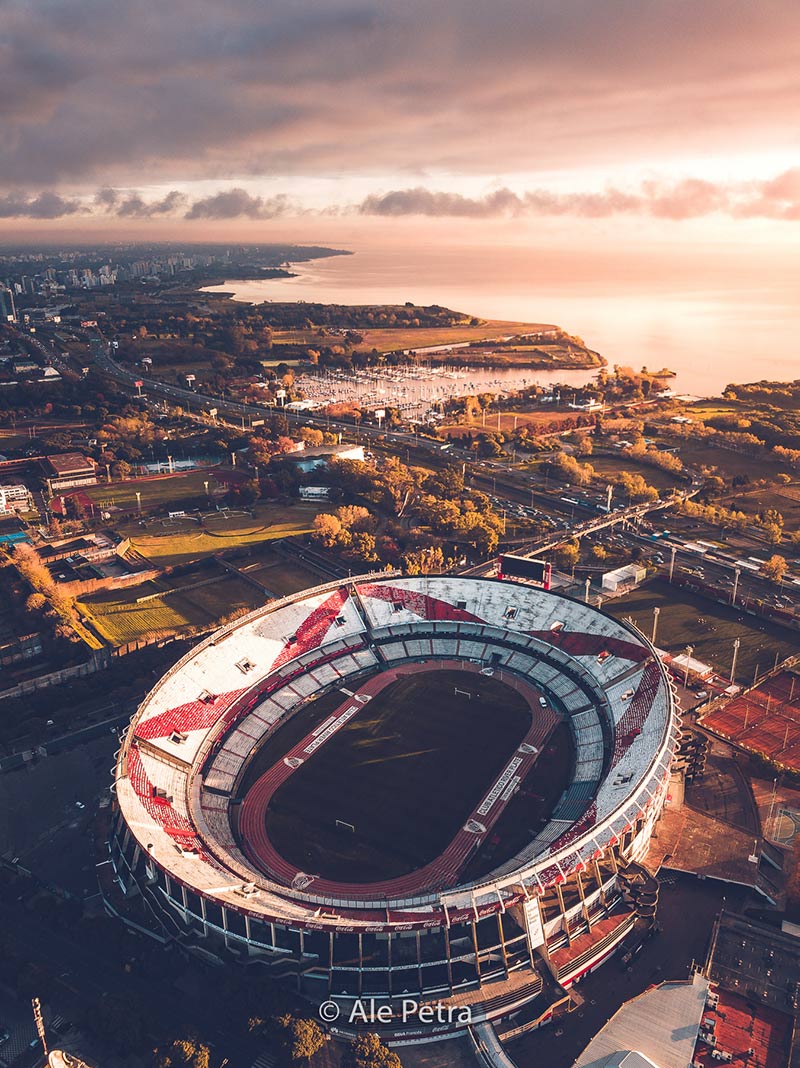 How do you perceive and understand your city as a photographer?
I like to give strength to symmetries. I search a lot on Google Maps for symmetric patterns. In general, I follow the lines or try to find another pattern to locate my object, giving it another importance and another meaning along with the context. Buenos Aires has some of the most extensive avenues in the world, and it is worth showing it in an aerial image due to the depth they generate.
In the case of the photo of the Estadio Monumental at sunrise, the stadium is not centred, but the composition features the river in the background, because it made the photo more epic. In other words, the stadium is not taken from the front, but if it is focused in the image, I want to look for ways to compose the stadium with its surroundings to generate a more harmonic composition.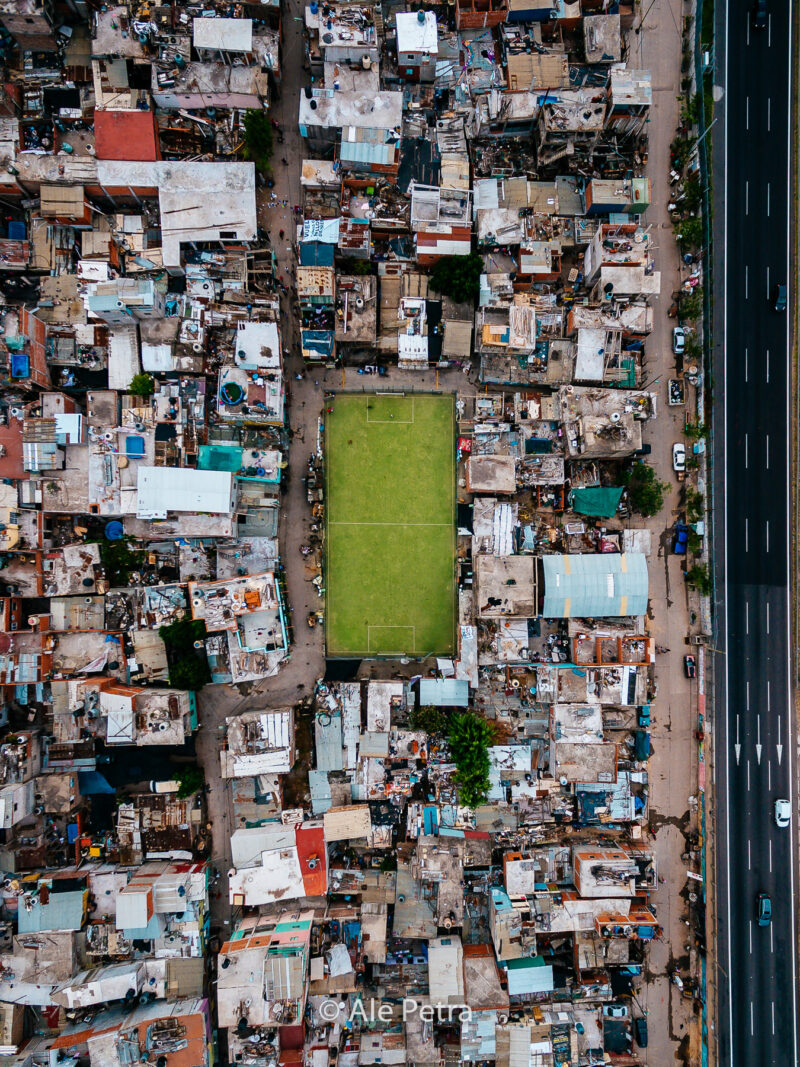 The urban pitch of Villa 31 contrasts with its surroundings. Soccer is more important than everything, that's why the field is centered. How football becomes the most essential element for those who have the least and dream of being the next Carlos Tevez or Diego Maradona. For many, soccer is the only salvation to get out of the villages.
Follow Alejandro Petra on Instagram for more of his breathtaking photos.