The Co-Executive Director of the NWSL Players Association and creator of her own training app Techne, few people in soccer hustled as much as Yael Averbuch-West to begin with. Amidst the ongoing global pandemic, however, things have somehow gotten busier. The extra emphasis on solo training has led to a soar in Techne's popularity, and the NWSL is set to become the first American major pro sports league to return. We sit down with Averbuch-West to discuss Techne's evolution as well as the upcoming NWSL Challenge Cup.
Yael Averbuch-West is no stranger to success.
Back in her playing days, she racked up quite the list of accomplishments, including fastest goal scored in NCAA history, three league championships (two in WPS and one in NWSL), and 26 appearances for the U.S. Women's National Team. Since hanging up her boots at the end of 2018, Averbuch-West's list has grown even more impressive.
She now operates her own personal training app Techne and serves as the NWSL Players Association Co-Executive Director a few years after helping create it.
We caught up with Averbuch-West to discuss how Techne works, the importance of individual training, and how the NWSL became the first major North American sports league to announce its comeback.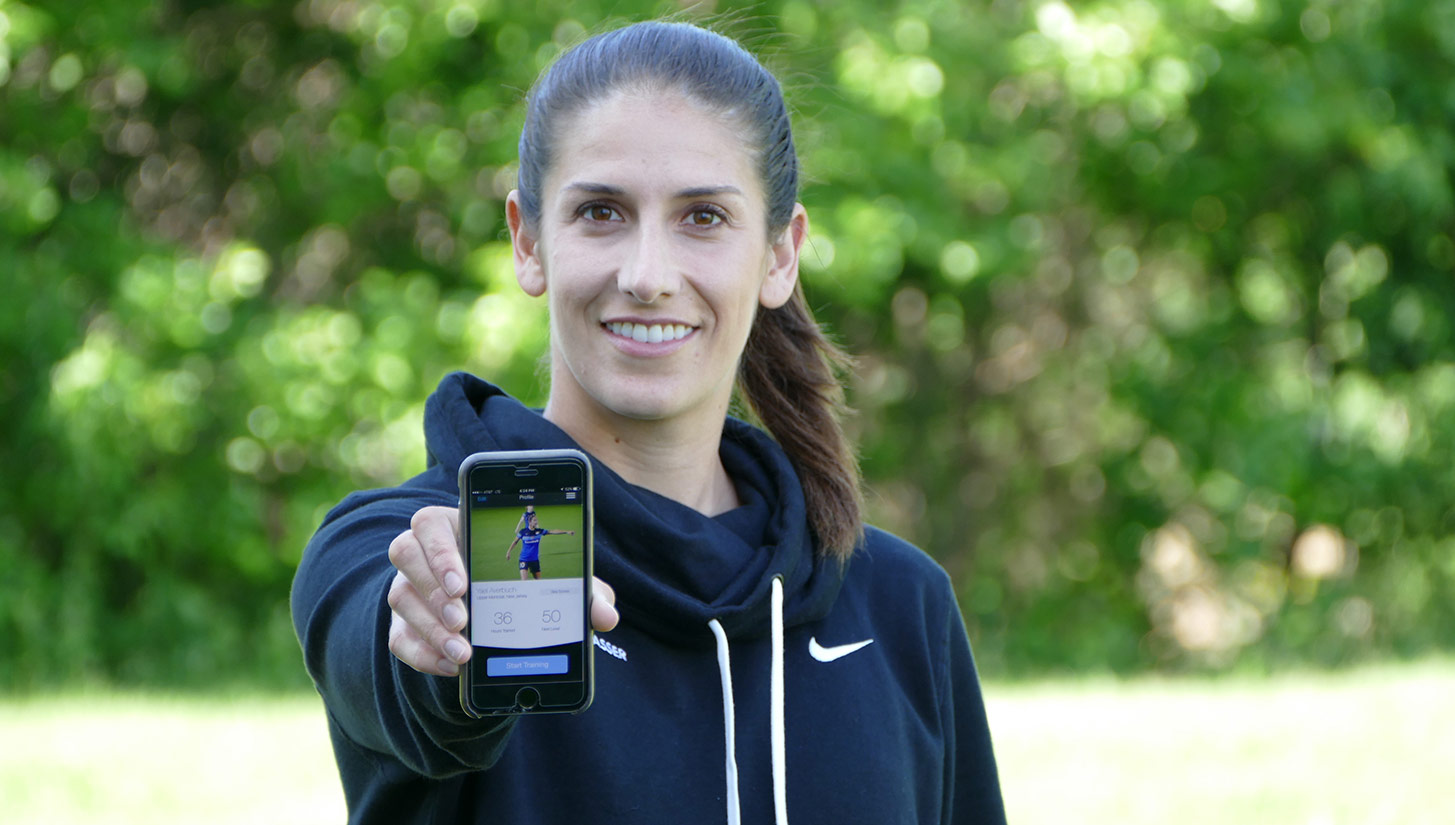 Urban Pitch: Can you tell me about Techne's roots? When did you start this journey and what made you want to create the app?
Yael Averbuch-West: The actual beginning of the journey starts probably when I was about 9, when I had the dream of becoming a professional soccer player. And I had wonderful coaches and mentors over the years who really inspired me to spend a lot of time on my own with the ball.
I really credit my ability to play at the highest level to all of the things I did over the years out at the schoolyard, on my own in the backyard, out at the fields with my bag of soccer balls, whatever it was. So, as a professional player, in order to supplement income and because I just had some time on my hands, I started to share a lot of training ideas and videos on YouTube and social media, and really enjoyed connecting with people.
Not only was I working with players in person and in small group sessions, but I was also sharing things using technology with people around the world. So that was the really long foreshadowing of where Techne came from, and I really started to develop the idea to create something more substantial for players.
I wanted something with an actual blueprint, with training progressions they could follow over time and track their progress, very similarly to how I had done over the years using a training log to keep track of my records on things and all of that. I really wanted to essentially recreate the wonderful experience and process I had over the years of all the extra work I did in the form of an app so that it could be accessed by players all over the world.
The last time you were on our podcast, Techne was in its early days still. Can you give us some background on the app's growth since then? What's it been like scaling that up?
Yeah, when we launched the app it was understood that this is a first version of something that's part of a long-term vision. So, literally from day one I worked with a freelance developer and figured out what we could build just to see what the interest was and test the idea. Since that day it launched in 2016, we have worked every single day, and now I have a team of six and a wonderful business partner who's also a developer who came on board not long after that.
We are working every day on the product itself. Since it wasn't initially in the app store, it didn't offer anywhere close to what it offers now. The product itself, the training content — I started off with a drill library I had filmed in the lead up years to launching the app. But since it launched, I've been working on adding content that's available as well as just connecting and being able to offer more to the people we work with. It started off as a product that was just based on individual players. An individual could download it and start training.
Now we work with many teams and clubs to offer it to their players and also to work with them to make individual training part of the culture of what they offer. So, really we've expanded a lot in terms of what we offer while keeping the same core idea, which is that there's no magic behind becoming the best player you can be. You have to spend that time with the ball. We're trying to find all kinds of ways to continue to motivate players to start and stay on that journey.
During the pandemic you've announced partnership agreements with different youth soccer programs across the nation almost daily. About how many have you signed up since this all started? 
Yeah, I mean certainly starting in March when things got shut down, we had from that time until now literally hundreds of clubs and teams come on board. We saw a huge influx when people weren't allowed to be in groups and do their training. And then our hope now is to continue to work with those groups and others to make this part of what players always do.
Our whole thing is we're really glad we can support people through a very difficult time since it's still going on. We're glad we can provide motivating and fun ways for the players to stay active and for the coaches to stay connected with them. But really the whole idea is these are things players need to be doing and should be doing all the time.
I think the next piece here is the education to make sure players and coaches aren't seeing individual training as something to be done during a global pandemic. This is part of the soccer experience. It was certainly highlighted during the pandemic and we got a ton of people who came on board and found us because of that. But our hope is that our relationships with them are going to be ongoing past this.
You just touched on this a little bit, but in what ways does a program such as yours help soccer players who already attend team practices? 
Well before this time period we were already working with a number of clubs. And the whole idea is training on your own is a supplement to what you do with your team. And so if you have team training two, three, four times a week, a game on the weekends, you have other days and other times when, especially for the more serious soccer players, you need to be continuing the development.
We work with the clubs on their messaging surrounding that to make sure the parents, players, and coaches all see the enormous value in time spent on your own. And the reality is there's a few really important things that come out of that. One, the coaches don't have time to spend with the players on all the basics they can be doing on their own. Team training time, especially now, is so coveted because people haven't had it. Team training time really shouldn't be spent on individual repetition of things the players can and should be doing on their own. Additionally, I think it's well known that to really improve at something, you have to be doing it consistently. You have to be doing it in an environment where you can make mistakes, you can be free to try and fail and try again, and work on the individual things you need to do that a team training session can't accomplish for you as a player.
On the player side of things, it's a necessity. It's something all the top players talk about — striking the ball against the wall or whatever it is. Also I think, importantly, now we have a youth sports culture in this country of when players get dropped off, it's all set up for them. They show up at the game, it's all set up, the ref is there, they do their thing, they leave.
But what's the player's part in all of this? The parents are paying money, they're driving them, the coaches have it set up, they have a lesson plan, but in an ideal world the player has their own relationship with the sport they play or whatever it is they're doing even outside sports. And I think training and developing that relationship with the ball on your own is a really important part of the player's connection to the sport. Not the parents, not the coaches, it's their individual relationship.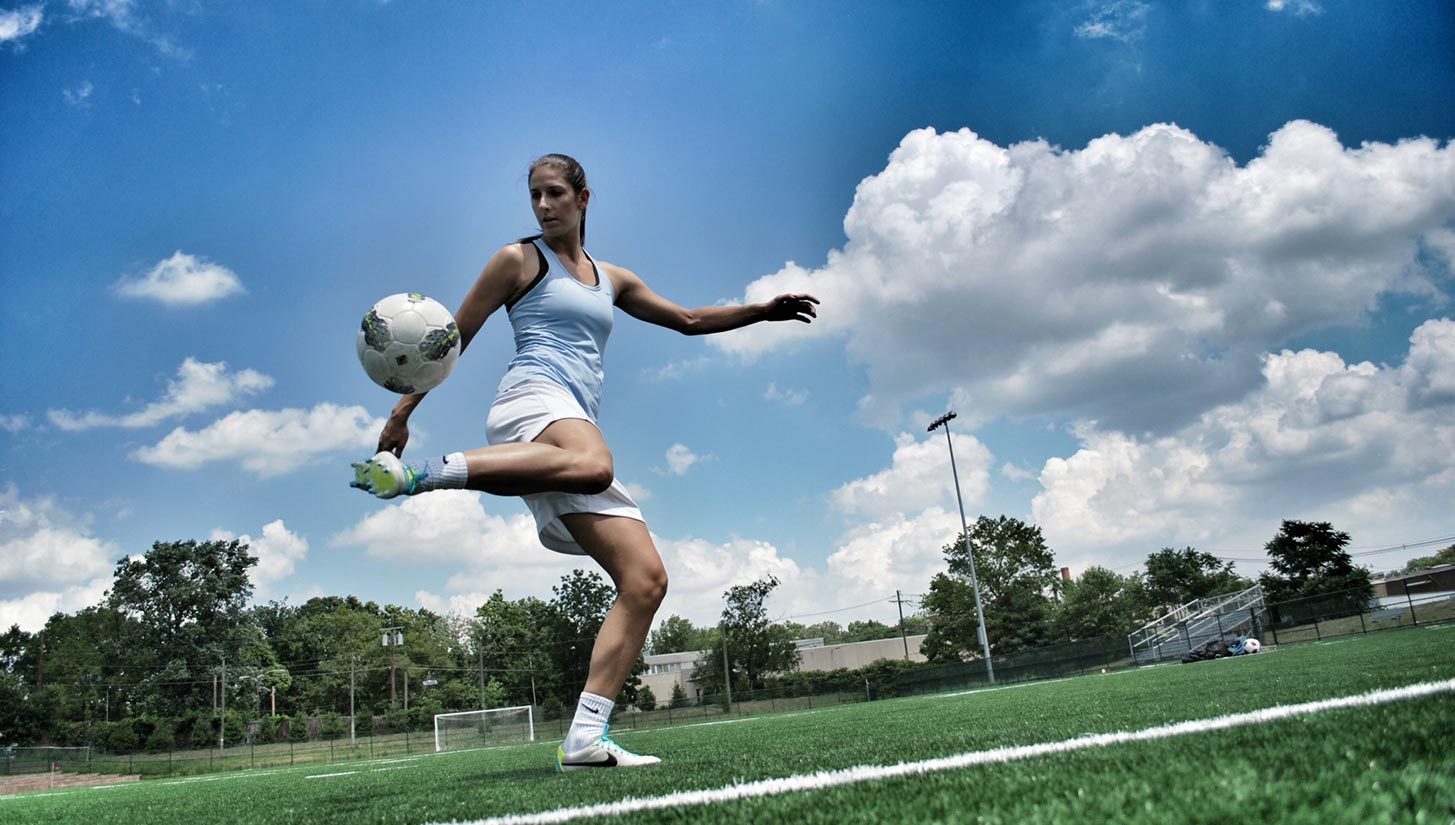 You mentioned you built up quite a library of training exercises to implement once you started the app. How do you decide which training exercises to put in your program?
All of the things in the app are based on either things I did over the years myself, or things other pro players or coaches from all over the world have shown me. None of it is magic. None of it is anything I made up. I always make that very clear, I'm not reinventing the wheel here.
This is all stuff that the best of the best recommends and have done themselves. Really it was about putting out all of the ideas and all of the things I've been shown and this mental drill library and getting it actually physically done. Getting the demonstrations filmed, writing a description for every drill, and creating this library. And we continually add to it when we see cool training ideas from players all over.
I think that's one cool thing about social media these days, is you see all kinds of training ideas, on how players can be working on various elements of the game that typically you wouldn't do on your own. Like how do you practice a jumping header, or how do you practice turning with awareness looking behind you? All of these things can be done on your own, but it takes a level of creativity and coming up with ways to replicate game situations.
We have stuff players can literally do in their living room barefoot if they want. But from the drill library, the main piece of the app, what's very exciting for players, is I create a new training session each week.
I'm not going out and filming anything new each week for that session. I'm using things from the drill library and it's almost as if I was at the field with the player on any given week. And I would say, "OK, here's the progression we're going to do with juggling. OK, let's set up a dribbling thing here, the different ones you're going to do here, and then this is the wall work, the passing and the shooting we're going to do." So, I literally imagine I was at the fields with the player, and from this drill library curate a session based on the training progression.
What's your personal favorite drill to do and why?
I love striking the ball against a wall, alternating feet. Simple and effective!
I saw Techne has a tiered sock system akin to the belt system in martial arts. How did you come up with that idea, and has anyone reached the black socks yet? Also, what level is your husband Aaron stuck at?
(Laughs.) Well I will say my husband, to start with that one, has not logged much time, so he is still on the white sock level. But that idea actually came from a friend and mentor of mine when I was living in the Washington, D.C. area, whose daughter actually now has been a Techne subscriber since day one, and has been crushing it using the app.
She had the idea for the sock system, and I'm so thankful for that because I think it's one of the coolest things about our program. No one has yet to reach the black sock level. The whole idea with the sock system is we want to reward consistency and longevity. We have some players who get in the app and they log a ton of time for a few weeks or short period of time. And the reality is, the way to succeed in anything and especially with soccer, is to do a reasonable amount of training literally every day, but over a long period of time.
Throughout my career people have asked, "How much did you train?" as if I did six hours a day or something crazy. And no, I never did anything crazy. I did 30 minutes, 45 minutes, an hour, maybe an hour-and-a-half, every day for 25 years. It adds up. The idea of the sock system is to allow players to be rewarded and to see the benefit of the longevity of training. So, it's certainly fun, but it also represents something really important about the mindset needed to strive for greatness.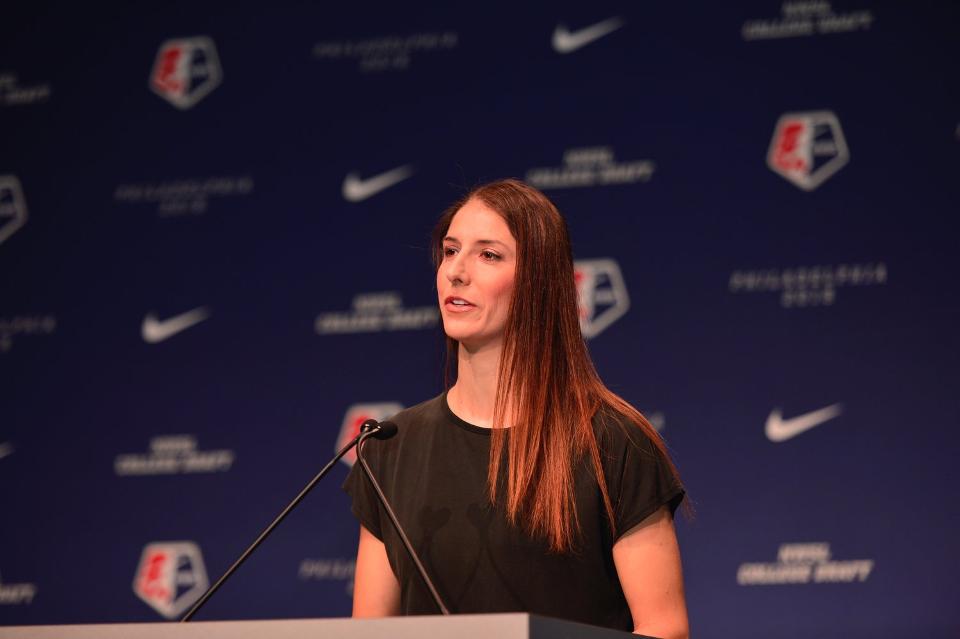 Switching gears, you're the Co-Executive Director of the NWSLPA, who recently agreed to return to playing at the Challenge Cup next week. How did it all come together so quickly and efficiently?
Well to be honest, it didn't take long, but it took an enormous amount of work, especially on the league's part. I can't even begin to estimate how many hours the league office has spent on working on this in calls with medical professionals and medical task forces. There was an enormous amount of work that went into planning this even before we really were too in depth in our conversations with them.
To summarize, we thought from the beginning that the Challenge Cup was amazing idea, but really just needed to make sure our players would be taken care of and be put in an environment that was safe and secure not only during the tournament, but for the rest of the year afterwards. And the league very much from the beginning was on the same page as us and wanted to do those things, so I think that's part of what made the process work pretty smoothly, and made us able to move forward and to announce the tournament.
We're really thankful for the work the league has done to plan this and the ongoing work they're doing to plan every little detail of it to make it safe and possible to happen. And also the work of our players and our team player representatives to gather player concerns, player questions, and relay information back to the players. It's a huge amount of work that's still going on to make sure everything is done in the best possible way.
What were you looking for from the league going into those negotiations, and did you get everything you wanted out of it?
I think first and foremost, we wanted to make sure the proper medical and safety protocols were in place for the players. I mean, the league would not have wanted to move forward should that have not been the case anyway. I think we're on the same page with that.
Number one is we need to understand the protocol, the processes there, and make sure we're part of those conversations. Which we have been. Secondly, it was really important to us to ensure the players' pay, their housing, and their health insurance would be secured through the end of this year. The last thing we wanted was for a player to participate in this tournament, move away from home for a month or two and take this risk, and then leave and be left without a place to live and health insurance and a paycheck.
So for us, working with the league to ensure that was a huge deal. And they have ensured players' contracts will be honored through 2020. And another thing was we have players in our league with children. And so to make sure those players are taken care of and their children can be there with them in Utah for a month, and that it's safe and there's the proper support there for them was really important as well.
And then the last big picture piece here was having to do with health insurance. We're obviously hoping everybody stays healthy, but in the event somebody should get sick or get injured, we wanted to make sure players will be taken care of when it comes to health insurance. These were things the league wanted to work with us on, and did work with us on, but we needed 100 percent assurance they would be taken care of.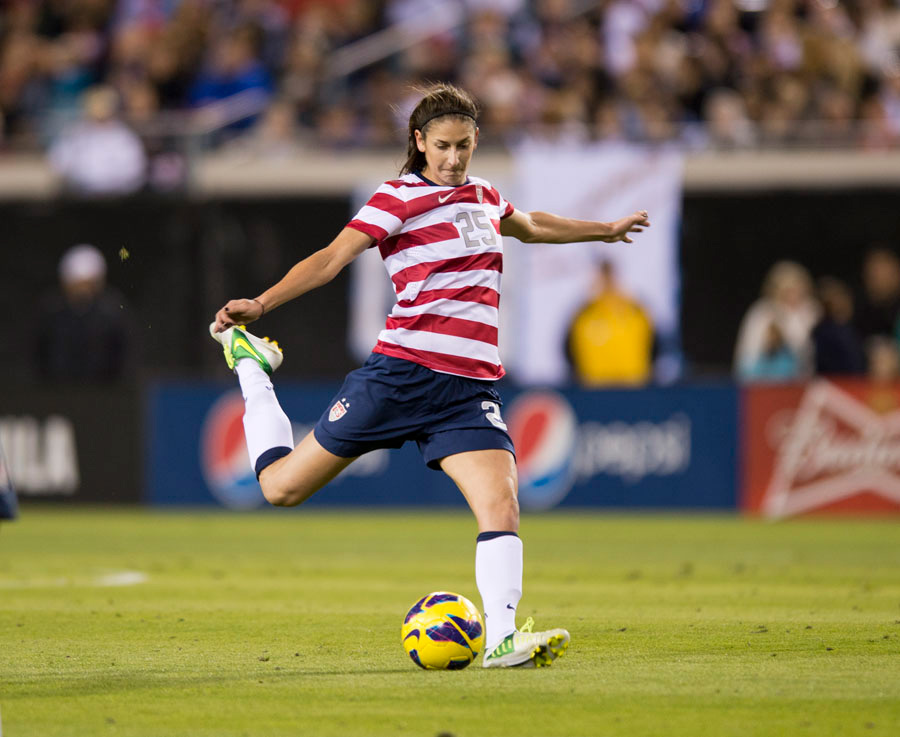 Just to close things out, do you have any advice for cooped up soccer players and fans during these tough times?
Oh man, yeah. It's tough, but I think the really cool thing is technology allows us to engage and to share training ideas and video clips to watch. Soccer will be back soon enough for everyone to participate in, in addition to watching as fans.
But in the meantime I think there's so many creative resources out there, whether it's webinars you can join to learn, or blog posts you can read that people — I would say coaches especially — have put in an enormous amount of work to keep people engaged and create fun training challenges and Zoom meetings and all these things for the soccer community. So, I think whether it's listening to a new podcast on soccer or watching some highlights that have been put together, whatever it is, there's so many ways to engage, to certainly take advantage of all the wonderful resources out there people have created for this time. But really, I think it could be the new way of dealing with training and the game in general — using technology to connect.
Be sure to follow Yael Averbuch-West on Instagram and Twitter to stay up to date with her latest moves. 
Images courtesy of Yael Averbuch-West. Interview edited for clarity and brevity.