Three journalists from different parts of the Americas weigh in on the UEFA Champions League final, and how North and South America can learn from UEFA's top club competition.
Liverpool and Real Madrid are set to face off on May 28 in the Stade de France for the title of top club team in European soccer. Real Madrid are the top dogs of the UEFA Champions League with 13 titles, while Liverpool have won the big prize on six occasions.
Millions of soccer fans from around the world will be tuning in and cheering for their team of choice, and they won't be short of stars with Karim Benzema, Luka Modrić, Federico Valverde, and Vinícius Júnior on one side, and Mohamed Salah, Sadio Mané, Luis Díaz, and Thiago Alcântara on the other.
For soccer journalists Niko Moreno (United States), Rosario Pompizzi (Argentina), and Martin Charquero (Uruguay), the Champions League is a celebration of the sport while also a reminder of how far North and South America still have to go to catch up to the excitement, revenue, and prestige of the UEFA Champions League.
We caught up with the trio to get their perspectives on the upcoming final.
Who's going to win?
View this post on Instagram
Rosario Pompizzi works for ESPN Argentina as a producer and covers the Premier League by researching and preparing television broadcasts. The 33-year-old is a huge Liverpool fan and even has three Liverpool tattoos. For an Argentine to have ink of an English soccer team is extremely rare, but for Pompizzi it's the most normal thing in the world — her fan roots run deep, dating back to her teenage years.
When it comes to this season, Pompizzi thinks Liverpool has really grown as a team.
"It has been a season of constant evolution both individually and as a group," she said. "Liverpool kept growing throughout the season and the team's function has grown as well. They played every game possible this season and that is an amazing feat.
"In January, Liverpool made a big leap after losing to Leicester and drawing with Chelsea. That was the point of reflection. The knockout stage of the Champions League also taught the team a lesson. Against Villarreal, Liverpool was able to impose themselves in adverse situations."
View this post on Instagram
For long time Seattle Sounders beat reporter Niko Moreno, all roads lead to Anfield as well.
"I believe The Reds' speed in the flanks and quality in the final third will make the difference in this one," Moreno said. "Despite some of the woes at the back line Klopp's side has shown at times, I don't see Liverpool continuing to make those type of mistakes and I believe they are built to deny Karim service and minimize the effect Los Merengues' full backs have in this one. Luis Díaz has been an absolute game changer and I think the Colombian along with Salah will both be huge factors that will decide this game, eventually giving Liverpool the win."
View this post on Instagram
On the other hand, Uruguayan sports commentator Martin Charquero believes Real Madrid is the favorite.
"I think Real Madrid is two steps above when it comes to confidence," Charquero said. "A team that believes in themselves even when they are down, (Real Madrid) was able to win series that were un-winnable, and they are a team that you can't count out ever."
What's the biggest storyline heading into the final?
For Pompizzi, she is hoping it is not the end of the Mané-Salah combo.
"I can't imagine Liverpool without Sadio Mané or Mo Salah," Pompizzi said. "The speculation (on the transfer of both) is on red alert. If one were to leave, I would not be that surprised."
Moreno's focus will be on Real Madrid manager Carlo Ancelotti, who is close to winning his sixth Champions League title as a coach.
"I think Ancelotti is absolutely brilliant, a coach that knows how to win titles," Moreno said. "He is not only a great tactician, but also a true motivator who can get the full potential of just about any player. Another attribute that makes Ancelotti special is his talent to read situations and adapt to the games beyond his initial plans, whether it is through substitutions or tactical adjustments. Carlo has the tendency to immediately impact clubs he has managed, and today's version of Real Madrid is not the exception."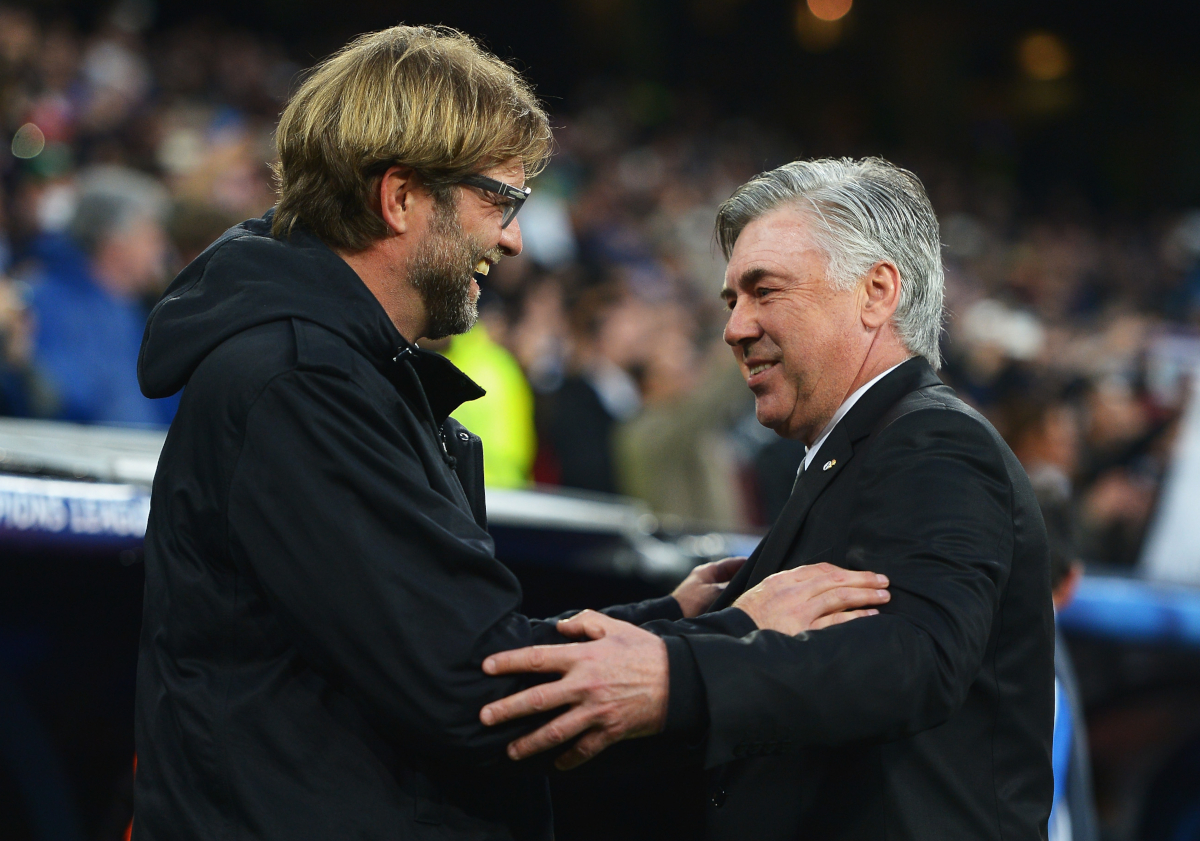 Charquero is also intrigued by the managerial aspect of the match, but for him it's the clash of styles between Klopp and Ancelotti.
"Of course Klopp's style seduces more, but in a tight final at this stage of the game you need to get a result and (Ancelotti) has gotten results and taken big risks," Charquero said. "But if I need to pick a style to play from the first matchday no question it's Klopp's."
Charquero also believes Real Madrid has the best player of the tournament and maybe in the world at the moment.
"(Karim Benzema) is not only the best striker in the world but the best player," he said. "The Champions League is the most important club tournament in the world, and no one has come up as big as Benzema."
Just how far is CONCACAF and CONMEBOL from the sights and sounds of the UEFA Champions League?
Kings of Cascadia.
Rulers of MLS.
Next: CONCACAF #Sounders #SCCL22 #SEAvPUM @WeAreECS pic.twitter.com/U0ENiyVLsW

— Sounder At Heart (@sounderatheart) May 5, 2022
Moreno, who just saw the Seattle Sounders win the CONCACAF Champions League, believes the Sounders' chance of playing the winner of this UEFA Champions League is very much real. Moreno covered the CCL final and was ecstatic of the fact that his Sounders are off to the Club World Cup.
"Even before game day there was a hype felt around the city even larger than there was prior to the 2019 MLS Cup Final," Moreno said. "The Emerald City Supporters' march to the stadium prior to kick off set the tempo of what you would see inside Lumen Field. Chants, excitement, rave green smoke, and the whole nine yards was just the start of a phenomenal atmosphere later followed by the 68,741 in attendance that night."
The CCL in a way proved that if the right teams make the final, it can have a UEFA Champions League atmosphere. CONCACAF is trying to make their tournaments more meaningful, but it will take a lot of baby steps to reach the importance of even the Copa Libertadores.
Pompizzi on the other hand does not believe there is much to learn from Europe when it comes to South America.
"There really isn't anything to learn from Europe, for the simple reasons of realities — cultural, structural, etcetera — each continent is different and from there different formats are adopted," Pompizzi said.
The Copa Libertadores in recent years has changed formats in a way. Additions include a knockout round like the Champions League play-ins and a final held in one city, with last year's being held in Montevideo, Uruguay.
Charquero sees a change in the way CONMEBOL has historically done things.
"The front office members of CONMEBOL have invested a lot in prize money and in hiring staff members that know how to make these events major sporting attractions," Charquero said. "There are still issues with the Copa Libertadores to have a more linear style of broadcasting the games live like the Champions League and that needs to be adjusted.
"The Champions League has its own style for television broadcasts. For a one-game final like we had here in Montevideo for the Copa Libertadores, it was a resounding success. CONMEBOL has been able to make Copa Libertadores much more than just a final between two clubs and has turned it into an event."
While the UEFA Champions League is the pinnacle of club soccer competitions, the Copa Libertadores and CONCACAF Champions League are making great strides to catch up. The UEFA Champions League is a blueprint for success, although Charquero is wary of the format changes the competition will go through in the years to come.