The most prominent American managers today can all trace their lineage back to one man — Manfred Schellscheidt. The Voice of the Game, the latest documentary from Soccertown Media, is an equally informative and entertaining look at Schellscheidt's life and impact on the game that is certainly worth its hour-long runtime. 
United States Soccer is at a crossroads. Both the men's and women's teams looked less than spectacular in their recent World Cups, with the managers taking the brunt of the criticism from fans and pundits alike. On the women's side, Vlatko Andonovski recently stepped down, while Gregg Berhlater was brought back for what appears to be another cycle, much to the chagrin of his naysayers.
Here is Gregg Berhalter's mugshot for his crimes against football. pic.twitter.com/vVtVp4Ivvb

— Travis (@usmnt_historian) August 25, 2023
The best nations have identities and a way of playing. Coaches from those countries generally reflect that style or at least "school of thought." For the U.S., there doesn't seem to be an adopted methodology other than "athleticism," which isn't really a style of play for American managers to implement.
However, there is a central figure, at least on the men's side of the game, that can be considered the godfather of American coaching — Manfred "Manny" Schellscheidt. His coaching tree includes the most significant American managers in recent years — Berhalter, Bob Bradley, Bruce Arena, and Jesse Marsch. Except for Arena, they all also played for Schellscheidt as well.
However, Schellscheidt's name isn't as ubiquitous amongst USMNT fans as his disciples. Voice of the Game, the latest film from Soccertown Media, looks to change that.
The same team that brought us the fantastic 2019 documentary Soccertown USA, including co-directors, writers, and producers Tom McCabe and Kirk Rudell, gives us an intriguing look into the life of Schellscheidt and his impact on U.S. Soccer.
The film doesn't seek to answer "what is the American style of soccer?" in a direct sense. You don't hear from Schellscheidt himself giving his thoughts on the question.
Instead, most of his screen time is spent reflecting on growing up in Germany or a life lesson… or defending pick up soccer cheating accusations. Through stories you learn about the coach that everyone calls "Manny." In a tribute to his way of coaching, the film gives you the pieces, but as the viewer you have to go find it, like a midfielder finding the game.
Youth soccer in the U.S. has the stereotype of being tactically rigid, but Schellscheidt is the opposite. You hear stories about him teaching USSF classes and telling the coaches to not follow the manual. He talks about feel, and living in the moment — you could replace soccer with life in most of his quotes and they still make sense.
Schellscheidt is a historic figure despite not coaching in MLS and having a short stint at the helm of the USMNT. Pretty much any national team player out of the East Coast or Region I from the ODP days played for or against Schellscheidt. He's an accomplished player, winning two U.S. Open Cups and an NASL title.
His USSF A license number is literally No. 1. He truly is the first for us as a country. In a fitting manner he also isn't American. An immigrant from West Germany, he used soccer to escape farm life and move up economically in the world. A story that rings true with the American dream.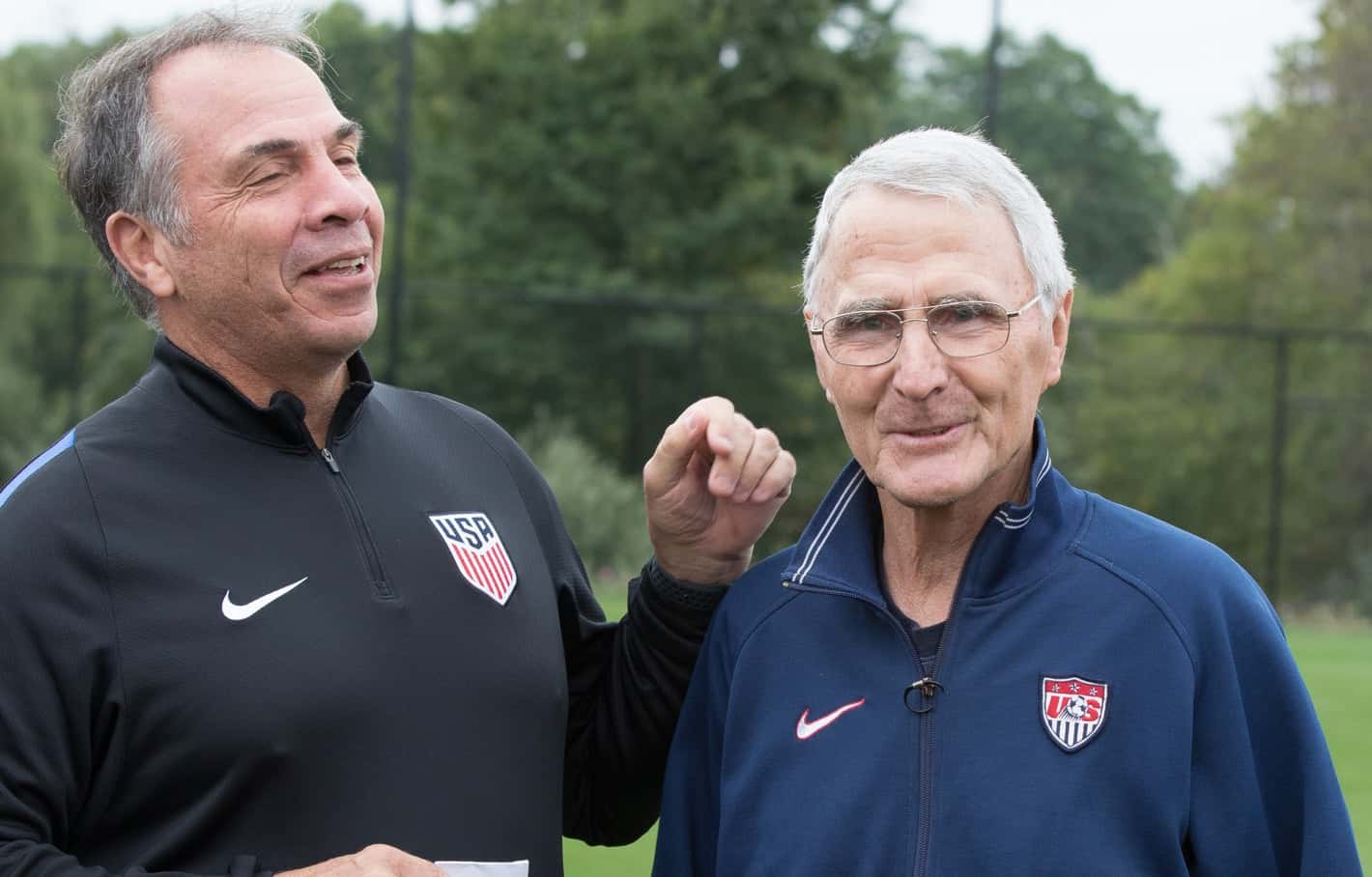 The film is divided into sections that correlate with his life and lessons he teaches. Talking head interviews require a true knowledge of the subject from the creators and that's no problem with Soccertown Media. At times the film is a reflection on the game through the biggest names in U.S. Soccer, and other times it's a life lesson woven with Schellscheidt's life itself.
"I don't create pupils, I create learning situations for my players," is a quote that perfectly captures his style and approach.
In the grand scheme of world soccer, the U.S. is late to the game. As a country and federation we are behind, but quickly catching up. There's a double-edged sword that comes with that, however. We have the ability to pick and choose from the proven strategies and styles, but we'll always be compared to the best version of them.
After watching this film it makes sense to see Marsch and Berhalter coach in such different styles, yet both can attribute them to Schellscheidt. They're playing the way that speaks to them. There isn't a right way or a wrong way, just the way you want to do it.
Voice of the Game is an exploration of the sport just as much as it is a biographical documentary. Its ability to switch keeps it engaging through the 60-minute run time. A must watch for young players to hear about the game in a big picture and equally as interesting for older fans who want to see how the sausage is made for the current, former, and potentially future USMNT managers.
It's a solid way to spend an hour for anyone with an interest in American soccer and its history.
Voice of the Game is available on Soccertown Media's YouTube channel.