For our latest episode of The Tailgate Experience, we headed to Championship Stadium in Irvine, California to take in the vibes at one of the most unique soccer matchups of the year. 
It isn't every day that a NISA club gets to take on one from MLS, much less at its home stadium. But that's exactly what happened in the U.S. Open Cup round of 32 showdown between the LA Galaxy and Cal United Strikers.
Hosted at Cal United's Championship Stadium, which is just under 40 miles south of Dignity Health Sports Park and also home to the USL's Orange County SC, the game had a much different feel than a typical Galaxy match. The 5,000-seat stadium is a fraction of the size of the 20,000-plus-capacity venues the club is used to playing in front of, but what it lacks in stature it makes up for in its intimate atmosphere.
No matter where you're seated you're getting front-row action, and in the south end of the stadium there's a picnic-like area with a bevy of local food trucks and drink options. This plus the familial environment makes up what has to be one of Southern California's most underrated soccer venues.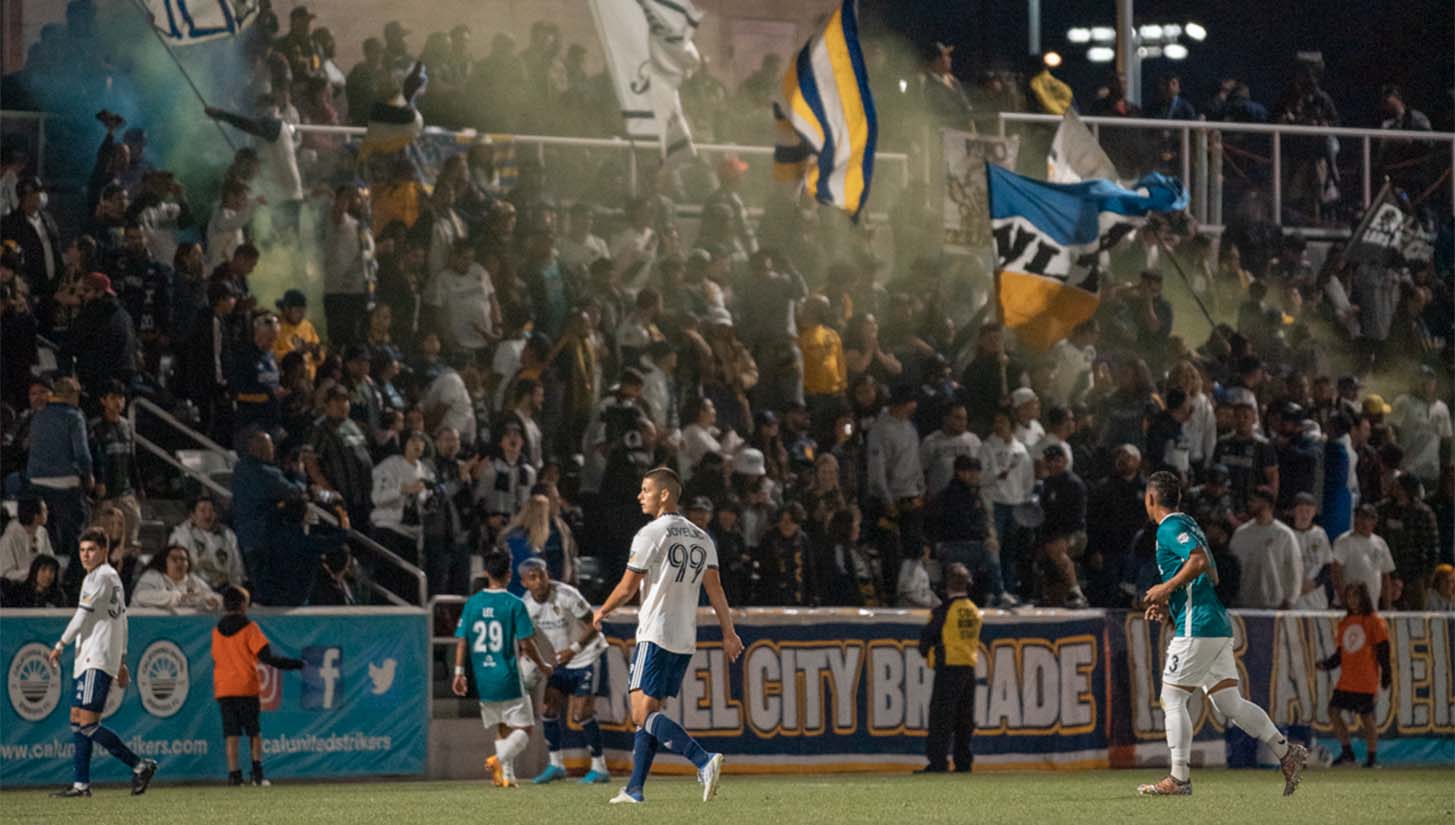 As you'd expect, plenty of Galaxy fans made the short (yet surely traffic-heavy) away days trip to Irvine, with members of the Angel City Brigade supporters' group providing the trademark chants and smoke flares throughout the 90 minutes.
The game itself was a bit of a shocker. Talking to several fans before the match, many (even those supporting the Strikers) predicted a blowout win in favor of the Galaxy. After all, they were taking on a much younger club two rungs lower in the American soccer pyramid. But Cal United had other ideas.
The club struck first in the 19th minute, and would've taken a lead into halftime had it not been for a contentious penalty call in the 45th which sapped most of the momentum Cal United had generated. But you have to credit the Strikers — despite eventually going down 3-1 the club continued to fight and cut the lead to one after an 87th-minute strike from Kevin Garcia-Lopez off of a fantastic ball from Felipe Liborio Jr.
However, the Galaxy were able to hold off an equalizer, and advanced to the round of 16 with a 3-2 win.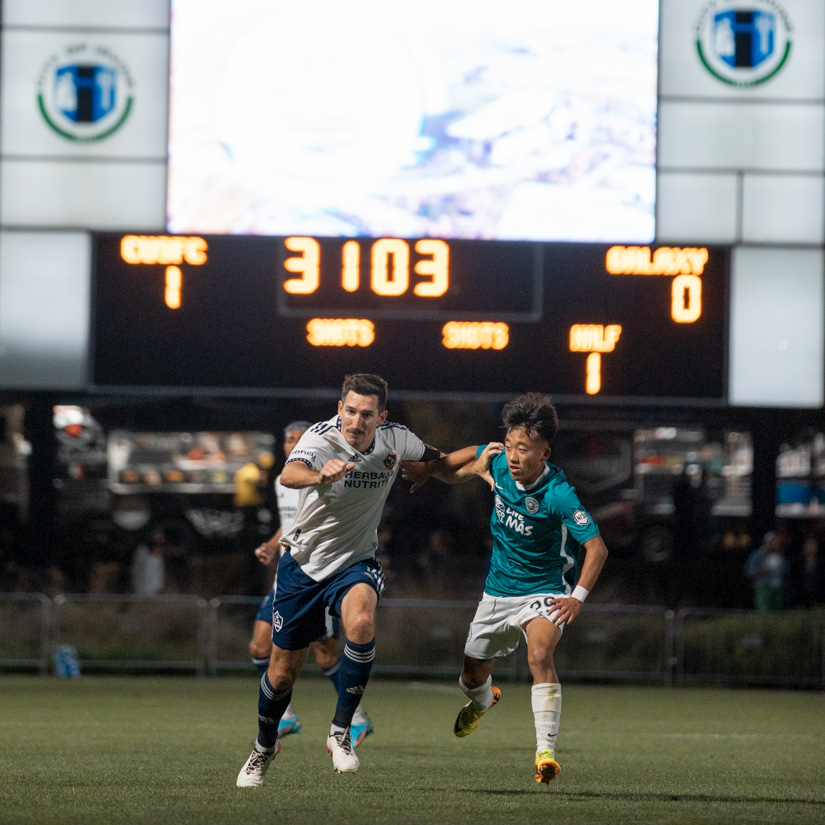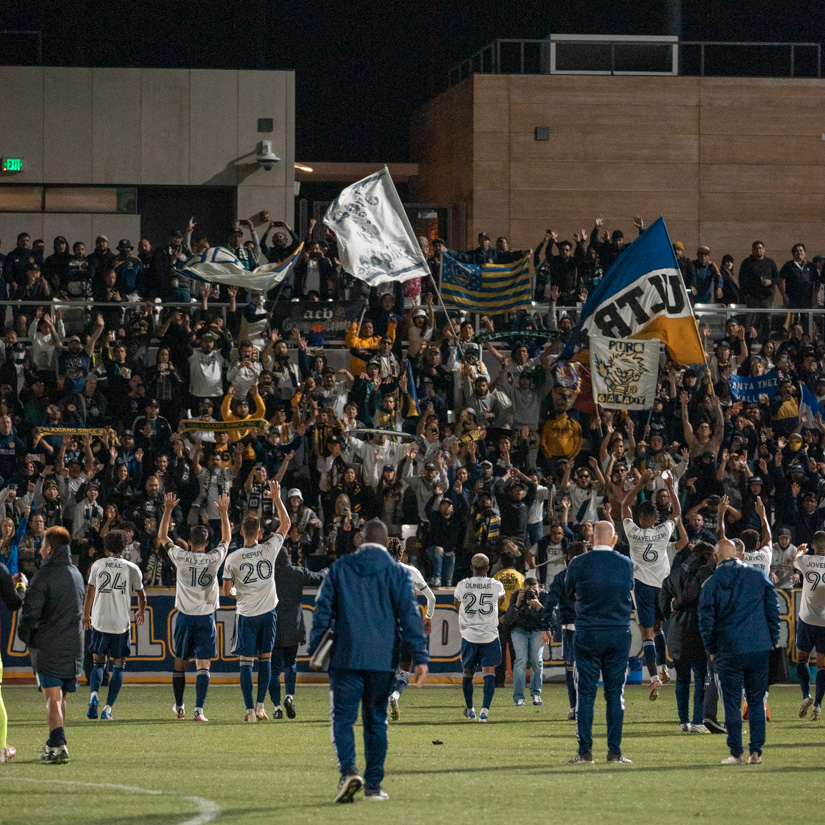 In what was one of the more entertaining match experiences we've had all year, our biggest lesson learned from this is: Don't sleep on Cal United Strikers or Championship Stadium. It was definitely worth the drive.
Photography by Roy Cho for Urban Pitch.