It's fair to say social media has been a catalyst for the rise of freestyle football in recent years, the chief culprit being everyone's favourite photo/video sharing app, Instagram. Every day, countless new freestyle clips and photos are uploaded, so much so that at times it can feel like it's hard to stand out.
One guy who is cutting through the noise and making himself known among the sea of respectable combos, mediocre sunset snaps, and the tragic "kicking a ball into a bin" trope is German freestyler and creative Jannis Gasser.
The 20-year-old is well-known within the freestyle community for his powerful lower combos but also for showing off the more beautiful side of our sport with captured images that are nothing short of stunning. Elegantly combining freestyle moves with creative camera and editing tricks, as well as jaw-dropping shots of his current city of Hamburg, his content appeals to even non-freestylers who can appreciate Gasser's immaculate attention to detail.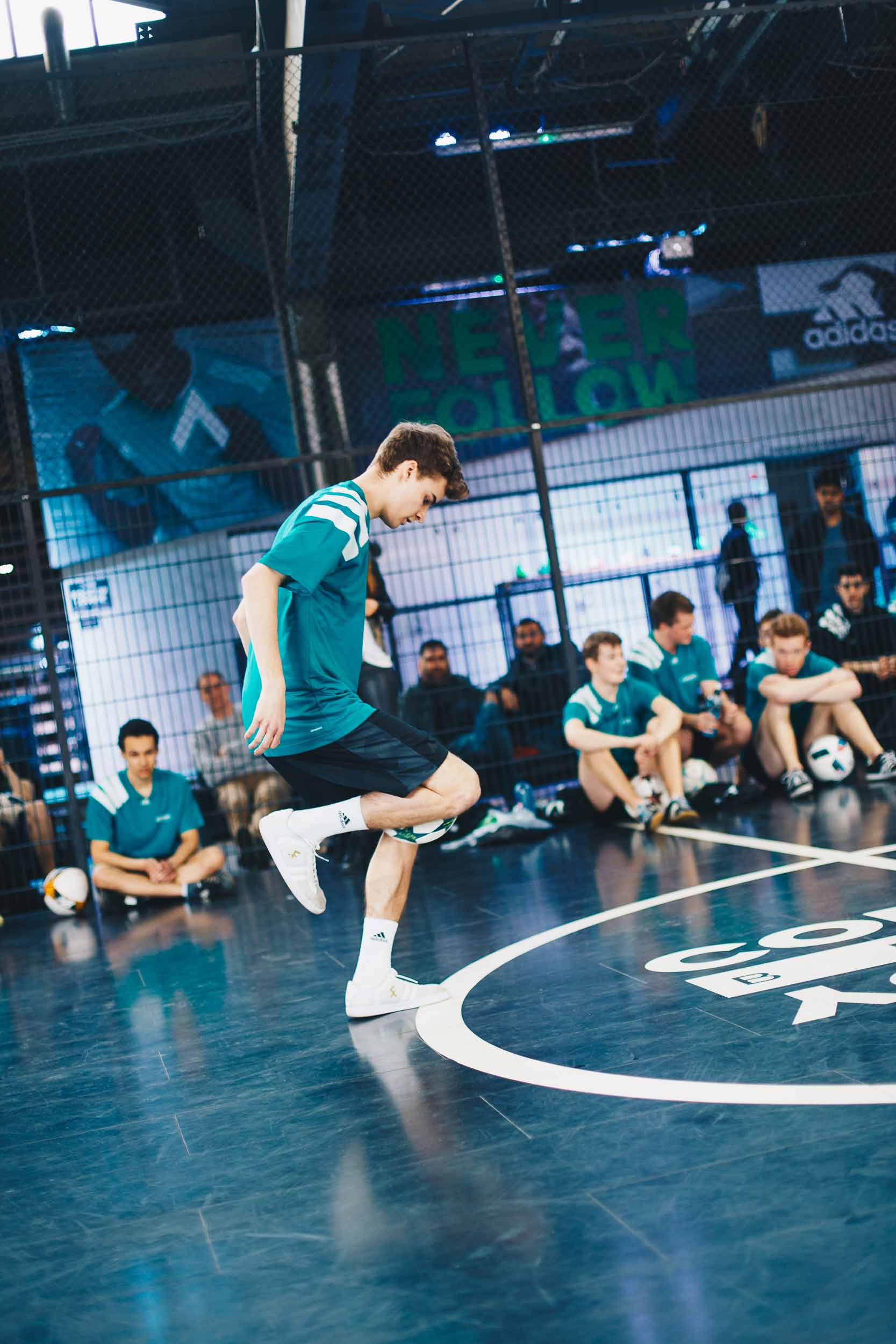 I had the chance to get to know a little bit more about the man behind the camera—someone who if you couldn't already tell I'm a huge fan of myself—about his recent third-place finish in Germany's Karstadt Sports Freestyle Championship, and the creative inspiration behind the handle.
Urban Pitch: It's a bit of a cliché question but how did you get into freestyle or what are your earliest memories of freestyle?
Jannis Gasser: I guess my earliest memories would just be the pure joy from doing weird tricks with a football and annoying my parents because my room where I used to train a lot was upstairs. Freestyle was always something just for myself. Nobody was allowed to interrupt my sessions and even today. In fact I normally never even told anyone about what I was doing, I never felt like it. Don't get me wrong, I love talking to people about freestyle and having people watch me sometimes and especially love meeting other freestylers, but as selfish as it might sound I like freestyle as just my thing and nobody else's.
It's what I love doing when I'm sad, it's what I love doing when I'm happy. I think it's the same with every freestyler. My freestyle is my own thing and nobody changes anything about it.
You are currently at university as well, yes? Are you enjoying it? How has it developed your production side of things and how do you manage to balance university with freestyle?
Yes I am studying. Many people probably don't know but I am actually studying film. It was for sure the best decision I ever made and I'm really fortunate to have this opportunity. So university and what I do outside of it go hand in hand really well because it's pretty much the same. A lot of the content I am producing is for uni, but I try to incorporate as many tasks as possible back to freestyle.
You live in Hamburg, Germany. What's it like living there and is there anything in particular you like/dislike about it?
I was born and raised in a small village in south Germany so pretty much the complete opposite of Hamburg. I used to hate the village I lived in, it was boring, quiet, and annoying. It was like sitting in a small room the whole day and not being able to see anything of the world outside.
On the other side, Hamburg is very big but very beautiful more importantly. Really diverse with much variety. For someone like me who enjoys walking around for hours, seeing new stuff and taking photos and making videos is just perfect. A fun fact as well, Hamburg has more bridges than London and Venice put together!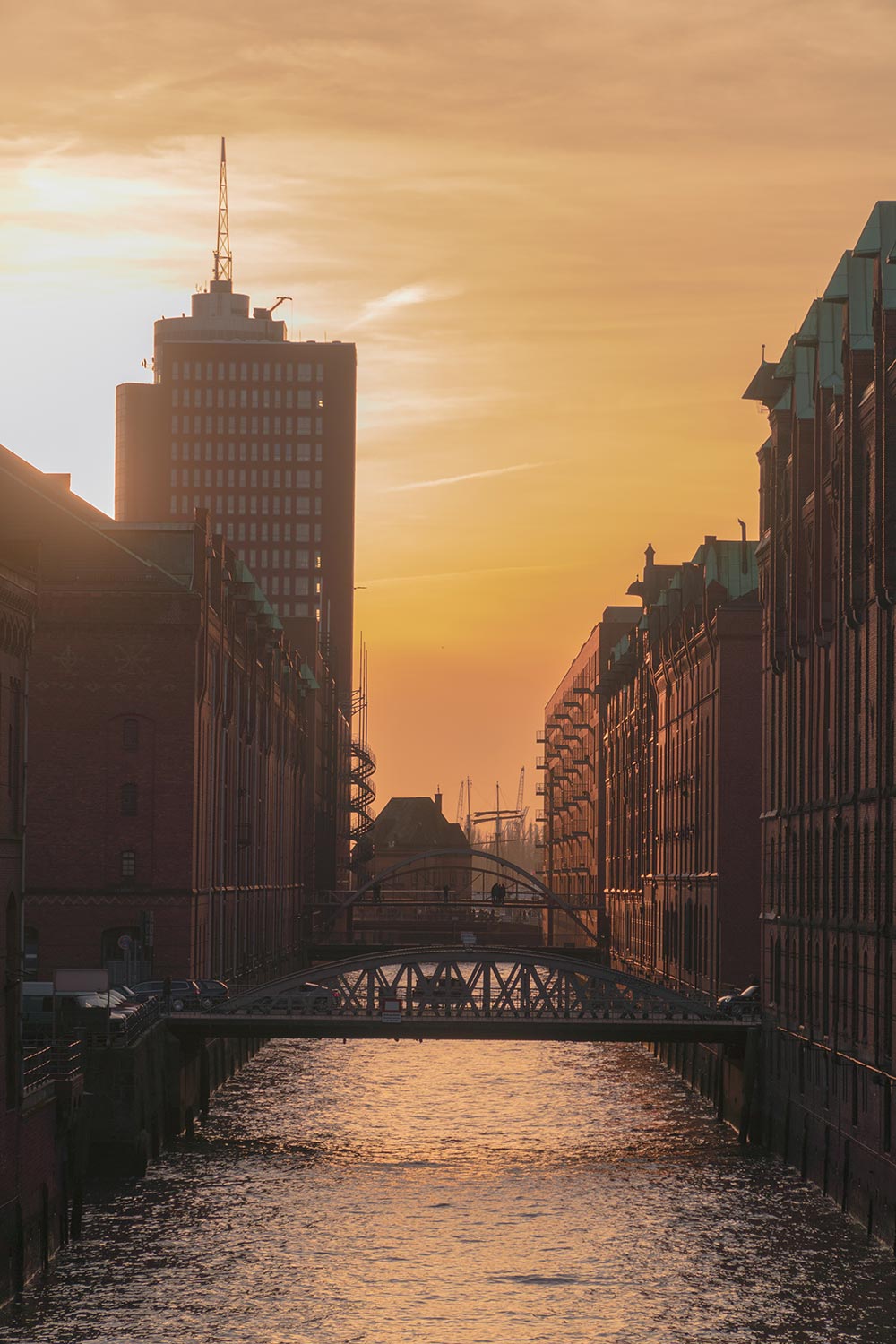 Your content on Instagram is amazing in my opinion. How hard is it to get the "perfect shot" or edit for you and what lengths do you have to go to sometimes for them?
Thanks! Well, first of all, Instagram is the greatest app ever invented in my opinion. So much good content being uploaded every second. It's crazy. But this is also negative and I see it a lot in freestyle where they are just uploading trash. Often they think, "Oh I haven't uploaded something for three days, better upload something," and it's an old photo of themselves with #tbt. I mean, I don't care, if they have a big audience I understand why they might do this, but personally it's something I dislike and definitely don't want to do myself.
I really do enjoy sharing my stuff on IG but I only upload what I like and because I want to share it. I spend hours to get my content, shooting and editing. Often I spend a whole day for a small one-minute long edit. I go out, train, and then sit on my computer for five, six, seven hours editing. But I love making these videos and photos so that's the main thing.
Also there is so much stuff you can do, especially with the editing software like Premiere, After Effects, Photoshop or even Blender. I just love the process of exploring those software with my camera and new stuff that hasn't been done before.
Do you think that freestyle football is something that naturally always makes for great pictures and content?
Which leads me to this question haha, yes, freestyle is amazing for content like this! Especially because freestyle is still quite young, there are still a lot of things that haven't been done. I guess for me this is perfect. For me this is something I'm trying to do, be different with my content rather than just posting pictures or the same freestyle tricks. Just like freestylers trying to be creative with the ball.
How would you describe your Instagram to someone who didn't know about you?
Haha I probably wouldn't describe my Instagram at all. But I guess anyone who enjoys freestyle and filmmaking and photography would enjoy my content on there. I am just trying to connect so-called "hardcore freestyle" with filmmaking and always trying to come up with and create new ideas.
What camera(s) are you currently using these days and why?
I am using the Sony a6500 camera mostly with an 18-105mm f/4 lens. I am super happy with it. It's a great camera and I could sit here and talk about the technical specifications but I won't. Sony is doing a really good job at the moment and in my opinion they are cameras that are really good for learning about how to take pictures/videos and edit them. But of course, there is more to it than just having a good camera.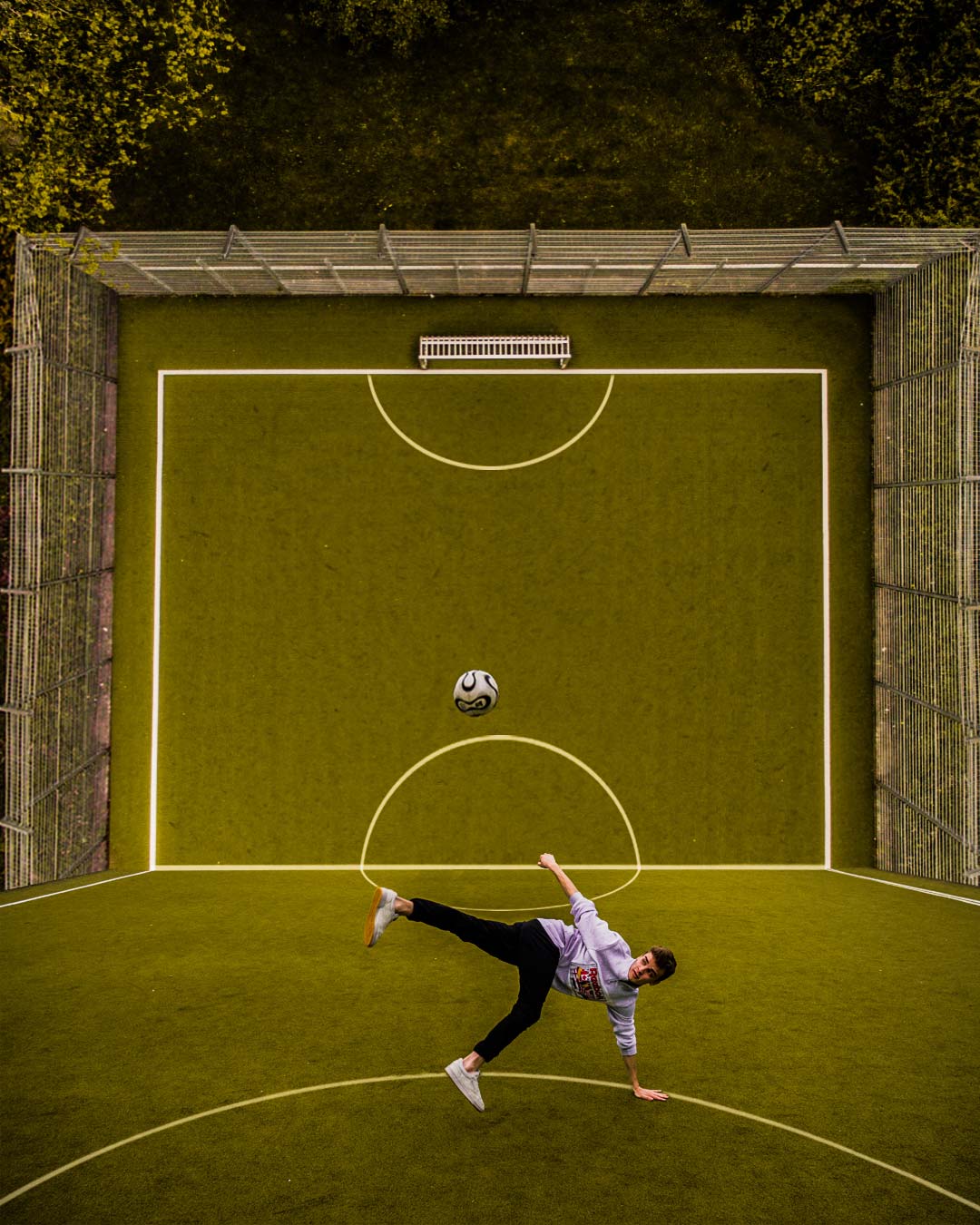 What are your future ambitions both in terms of freestyle and photography/filmmaking?
To be honest I don't have any ambitions other than to continue doing what I like and push myself. Even if I don't get anything for doing something "new" every day I want to do it. Also it would be great to be able to live off what I am doing. So I would like to connect freestyle football with filmmaking and want to be able to somehow call this my job one day.
Are there any freestylers, videographers, photographers, filmmakers, etc., that inspire you a lot?
Actually there are a lot yes! I pretty much get all my inspiration from Instagram. Out of the roughly 800 people [I follow] I think about 500 are related to photography or filmmaking. I'll leave some of my favourites here so you can go have your minds blown yourself! @asenseofhuber, @rizkiw_, @eye.c, @pangea.
Also in terms of freestylers I really enjoy @sebbthealien, @ronilappalainen, and @christiaanfreestyle. Everyone should follow these guys, in my opinion they are killing it!
Will I be seeing you at Super Ball this year?
Haha YES! I really want to go again to Super Ball this year. So yeah, most likely will do so if it works out with uni and all that but I'm pretty sure it will.
Check out more from Jannis Gasser on his Instagram.
This interview has been edited for length.