After another early exit in the UEFA Champions League with PSG, and with rumors swirling around a possible departure following this season, we take a look at Neymar's storied yet oft-maligned career, and what could be in the cards for his future. 
Once heralded as football's rising prince, the last half-decade of Neymar's career has added a handful of twists to what looked to be an unimpeachable legacy. Since leaving Barcelona for PSG, the prodigious talent has faced numerous challenges and setbacks both on and off the pitch, all of which have made him one the most complex and confounding figures in all of sports.
However, Neymar's trials and tribulations are eerily reminiscent of those experienced by another athlete, albeit in the world of basketball — Kyrie Irving. The similarities between the two players' career graphs are both striking and well-documented, with Irving even comparing himself to the Brazilian forward in 2017.
Born a little more than a month apart, the two are blessed with precocious talent that quickly lurched them into the upper echelons of their respective sports. In 2012, Neymar was voted the Best South American Player of the Year, and Irving won the NBA's Rookie of the Year Award. They moved up a rung the following year — Neymar secured a record-breaking transfer to Barcelona, and Irving was named NBA All-Star Game MVP.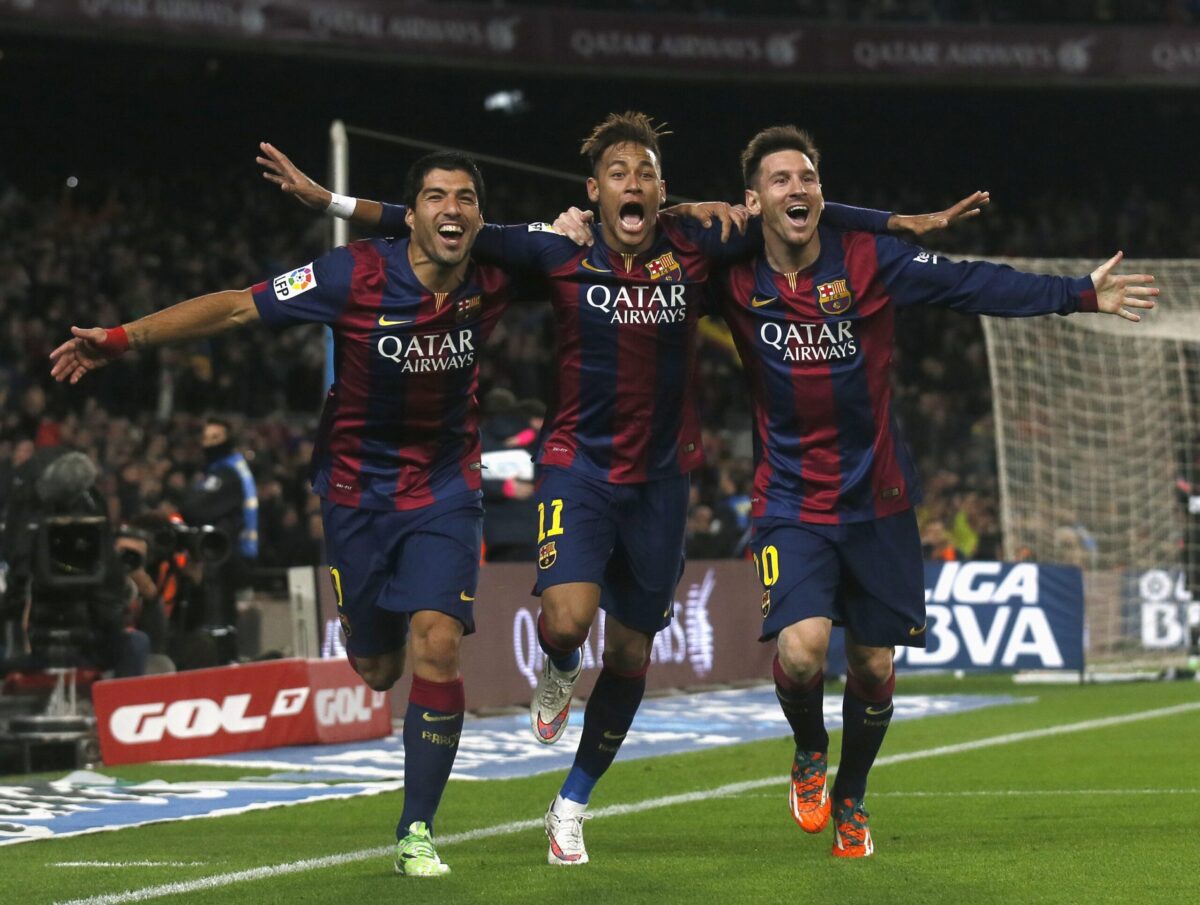 The defining period of their careers came alongside all-time greats —Neymar with Lionel Messi and Irving with LeBron James. They both went on to form championship-level big threes, with with Luis Suarez and Kevin Love fitting in as the final pieces of these triumvirates. For Neymar and Irving, these years at Barça and the Cavaliers respectively would be the inflection point of their careers.
Irving was an All-Star in each of the three years he spent with James, and in 2015 he received his first All-NBA nomination. The Cavs reached the Finals in each of those three seasons, with Irving averaging a phenomenal 27.7 points, 4.2 assists, and 4.2 rebounds across 13 Finals games. The crowning glory came in 2016, when he helped script the Cavs' historic comeback from a three-games-to-one deficit. The 3-pointer over Steph Curry in Game 7 will go down as one of the most decisive NBA plays of all time. It was the shot that decided the series and to date, defines Irving's legacy.
Neymar encountered a sharp learning curve in his first year in Catalunya, but really found his feet the following season. He scored 39 goals in all competitions in the 2014-15 season, as Barça romped to a historic treble. The MSN partnership of Messi, Suarez, and Neymar produced numbers that defy belief; from the beginning of the 2014-15 season, they scored 355 goals in 443 games, averaging 0.8 goals a game. It was a spectacle.
Despite scoring in the 2015 Champions League final, Neymar's greatest moment as a Barcelona player came in the 2017 Round of 16 second leg against PSG. In the game's direst moment, he stood up while heads around him drooped and by sheer force of personality helped overturn a 4-0 deficit from the first leg, with two goals and an all-important assist for the sixth goal.
Now, here's where it gets interesting. Irving's game-winner in 2016's Game 7 and Neymar's display against PSG were historic performances, yet they were both overshadowed by their GOAT teammates. The defining images of these games is James' block of Andre Iguodala, and the regal shot of Messi being lifted by fans. That night against PSG was when Neymar realized that no matter what he achieves at Camp Nou, for the foreseeable future he will remain in Messi's shadow. It's common speculation that that was the night he decided to leave Barcelona.
Irving's frustrations in the shadow festered over time before he too eventually left the Cavs in 2018 after growing tired of playing Robin to James' Batman. There's a common thread that runs through their departures — it came from a place of wanting to be the team alpha, and the desire to sculpt a team in their persona.
It's fair to say that both Neymar and Irving have realized how difficult being that alpha on a championship-level team is. Once destined for greatness, the two have floundered in the past few years, and slipped so far down the hierarchy that they've become near peripheral figures. This may seem like hyperbole, but think back to the recent Champions League Round of 16 matchup between PSG and Real Madrid. All the pre-game buzz was dominated by Kylian Mbappe and Karim Benzema. Neymar seemed to be an afterthought, a prima donna in the eyes of many who no longer drew audiences the way he once did.
Irving, who was traded to the Boston Celtics in 2017, never really fit in with his new team, and after two tumultuous, injury-wrought years, he signed with the Brooklyn Nets in free agency.
While there have been bumps along the way (see: vaccination), Irving seems to have finally found a home with the Nets. His time in Boston highlighted the deficiencies he had as a leader — the C's playoff run to the 2018 Conference Finals, where a young team played arguably their best basketball (notably without Irving) all season, was a massive critique of his leadership style. Teaming up with Kevin Durant in Brooklyn seems to be a move driven out of self awareness after the Boston debacle.
Neymar's search for belonging is more nuanced. He's currently in his fifth year with PSG, but the relationship he shares with fans is vitriolic. While he arrived with much fanfare as the messiah to legitimize PSG's claims of European supremacy, the bond with the club has soured. His non-performances in crunch Champions League games, questionable injury records, reports of excessive partying, and constant airing of his desire to return to Barcelona have made the relationship fraught with tension.
Many cite Neymar's exit from Barcelona as the sliding doors moment of his career. It's something he alludes to as well in his Netflix docuseries. But, the biggest what-if moment for Neymar's career remains the 2020 Champions League final loss against Bayern Munich. We wouldn't be having a discussion about his legacy if PSG had overcome Bayern that night.
It had been a tough season for Neymar. He'd spent the entire summer publicly pushing for a move to Barcelona, but once that proved untenable for the club, he was reintegrated into the squad after missing the first five games of the season. On his return against Strasbourg, he was booed all through the game by vociferous PSG fans who had even put out a banner in an earlier home game asking him to "get lost." Neymar, to his credit, seemed buoyed by the anger in the stands and scored a stupendous overhead kick to win the game for PSG.
It was the knockout Champions League tournament in August 2020 that Neymar stepped up his game. He was PSG's best player in their run to the final and was the architect behind their every move. He got crucial assists in the quarterfinal and semifinal, and was playing with a flair that had for so long been lacking from his game. The performances were so superlative that it even won over the staunchest of PSG supporters.
The loss to Bayern in the final felt anti-climatic. A Champions League triumph scripted by Neymar would have erased all the unpleasantness that came in the years prior. What was supposed to have been the pinnacle of his time at PSG, proved only to be a flicker of what could have been. It's been all downhill since. He scored a measly 17 goals in 31 games across all competitions last season, including a dismal showing in the Champions League semifinal. It was a performance that earned him a 3/10 rating in the esteemed French paper, L'Equipe. Neymar went one better the following year, with his performance in the second leg against Real Madrid earning him a 2/10 score.
Time is running out for Neymar to redeem his legacy. If the rumors are to be believed, he's expected to be culled from the PSG squad in the wholesale changes at the end of the season. Given the nature of the relationship between club and player, it doesn't seem like a bad idea. It's an association that hasn't worked out for both parties, and a parting of ways is a few years belated. The question is, where does he go next?
A return to Barça has been mooted, but a player of his ilk doesn't fit into the team Xavi is building. His age, wages, and declining returns are all stumbling blocks for potential suitors. Is there a final act for Neymar's career, or has he taken his final bow?