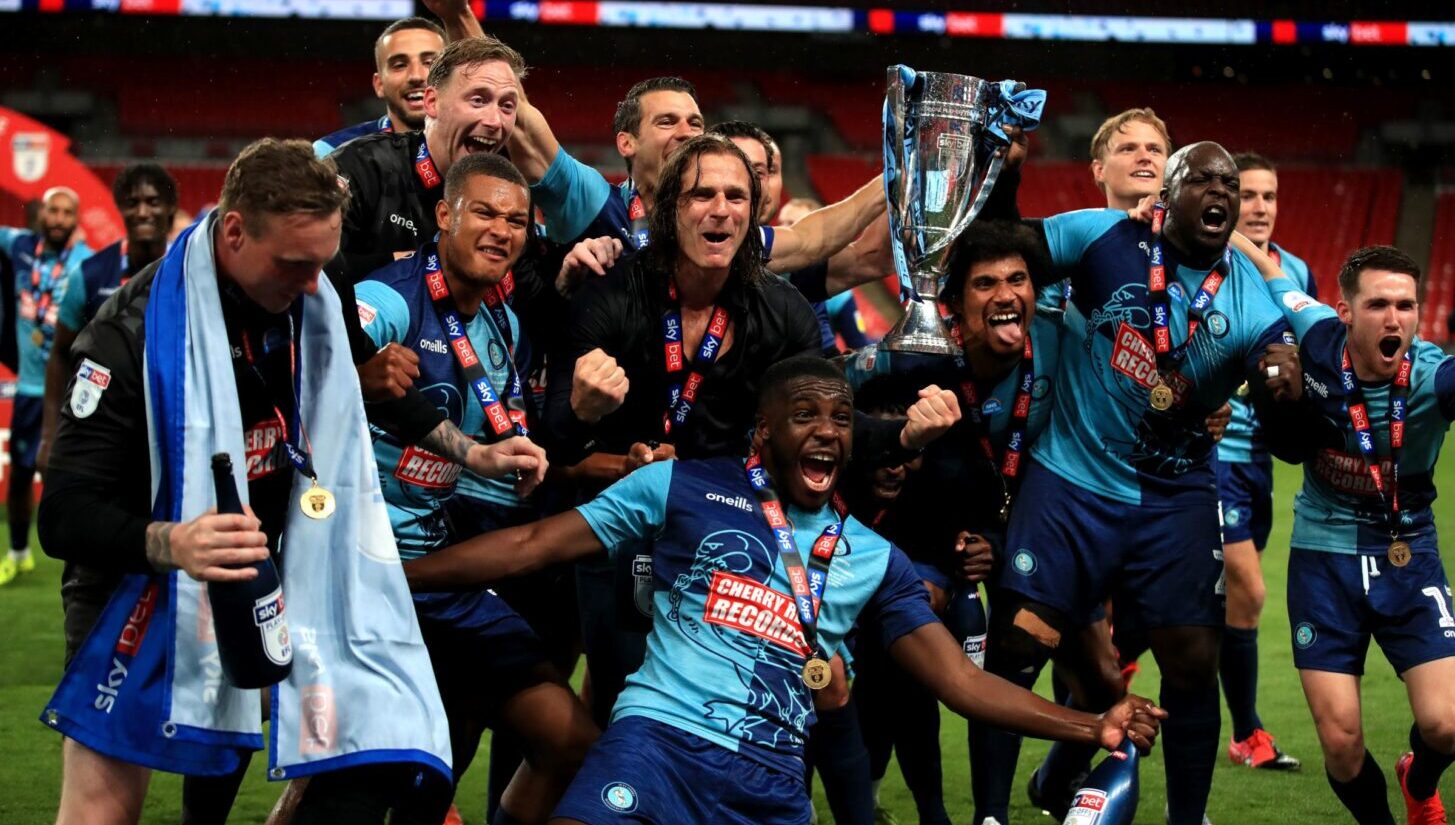 Despite everything that's happened in 2020 so far, no one could've seen Wycombe Wanderers earning promotion to the EFL Championship. Steve Gray (a die-hard Wanderers supporter) recounts the club's journey from nearly slipping out of the EFL six years ago, to their triumphant victory at Wembley last week. 
"Wycombe Wanderers are the biggest little club in the world."
These are the words of Wanderers CFO Pete Couhig, which echoed across Twitter after the tiny Buckinghamshire club defied the odds and secured promotion to the EFL Championship for the first time in its history.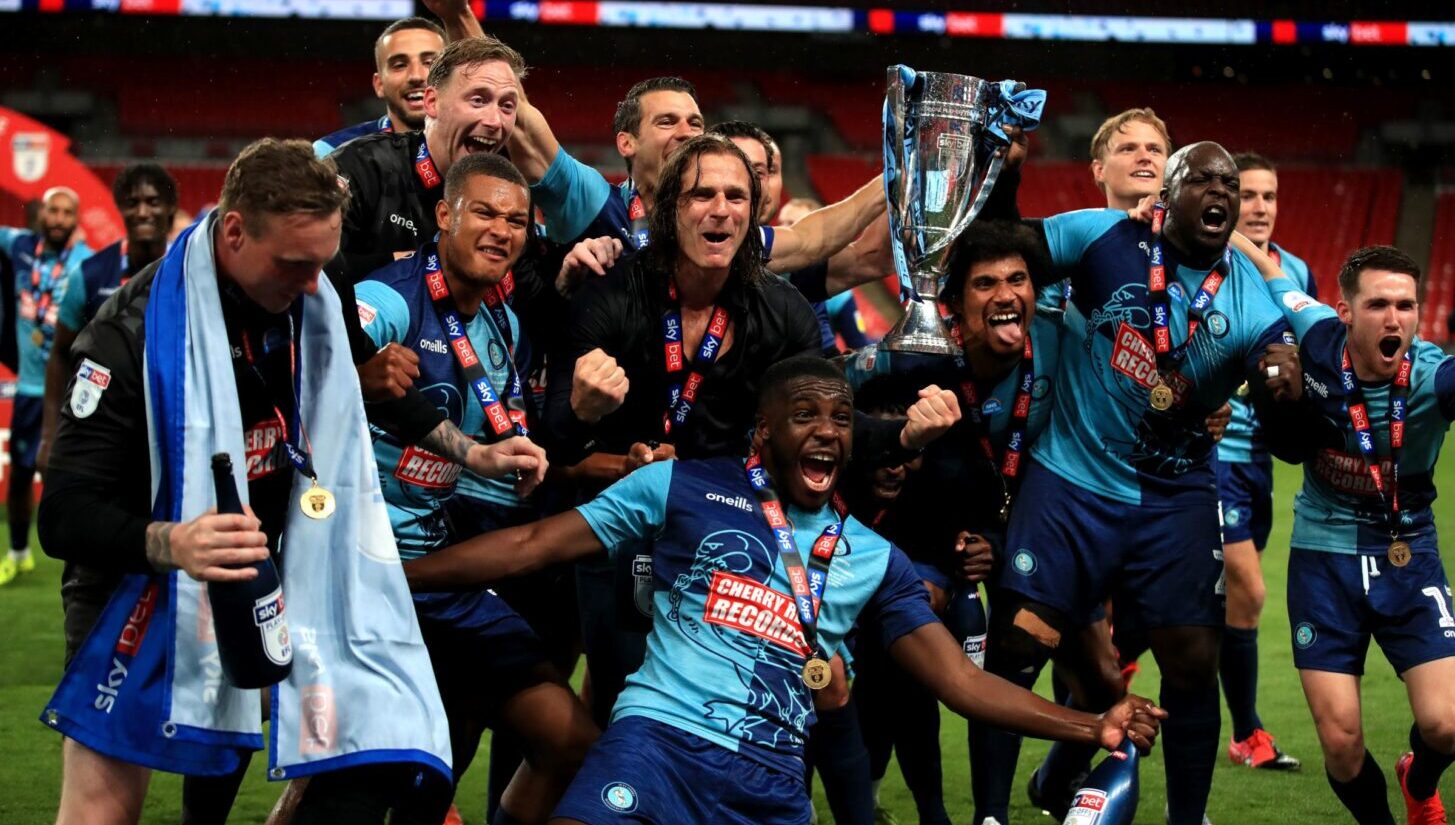 As a Chairboys fan myself, it has certainly been a roller coaster of crazy highs and gut-wrenching lows over the recent years. The improbable 2-1 victory over Oxford United in last Monday's League One playoff final has proven to be the golden light at the end of the tunnel that's made it all worth it.
Just six years ago, Wycombe narrowly avoided slipping into non-league football with a 3-0 victory over Torquay and very fortunate outside results on a dramatic last day of the season. Had the ball rolled the other way, the financial implications of being relegated would have almost inevitably resulted in the club going bust. We've come a long way since then.
Back in 2014, Gareth Ainsworth was player-manager for Wycombe. He's since stayed on as gaffer (while also moonlighting as the lead singer of rock band The Cold Blooded Hearts), and he's implemented a unique approach to football management. He utilizes tools like yoga, team bonding days, and has instilled a hard-nosed work ethic amongst the squad. The Wycombe way is simply to outwork the opponent and make it as hard as possible to play against us.
This rock 'n' roll football has led the club from the dregs of League Two to The Championship, something not even we as fans could've dreamt of. We were among the favorites to be relegated at the beginning of the season, and with one of the smallest budgets in all of the EFL, we only had nine registered players on day one of preseason. Two of those nine were on a trial.
So how was all this possible for tiny Wycombe Wanderers? It starts at the top.
In February 2020, we transitioned from a fan-owned club to a new owner, American lawyer and businessman Rob Couhig. The takeover and new influx of capital allowed the club to clear the debt associated with its reported losses of £600,000 per year, while also freeing up some space to acquire some quality players on loan. This led to a flying start that saw Wycombe spend a significant amount of time at the summit of League One.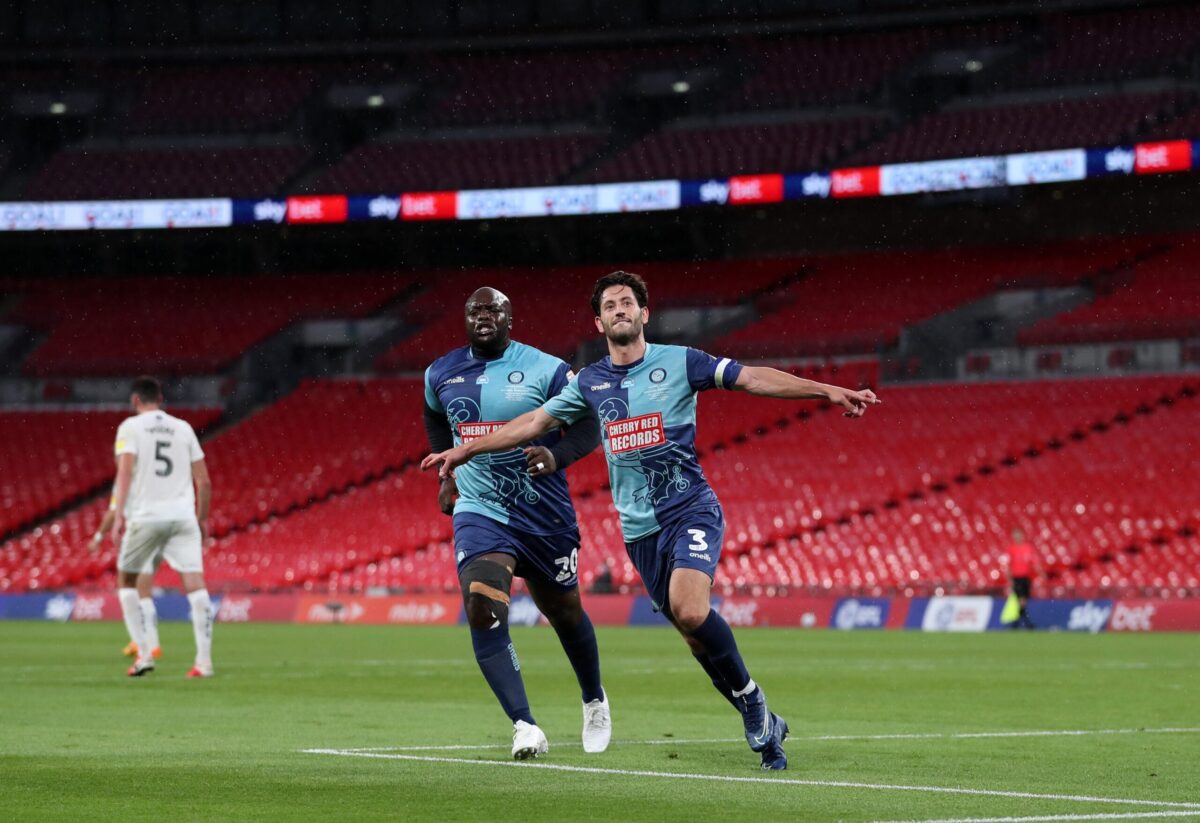 But while the new players helped, it was the established club stalwarts that led the way.
Left back Joe Jacobson, a Chairboy since 2014, really made a name for himself this season as the club's leading scorer and a set piece sniper. Perhaps his most memorable game was his hat trick against Lincoln, in which he netted two of his goals directly from the corner spot.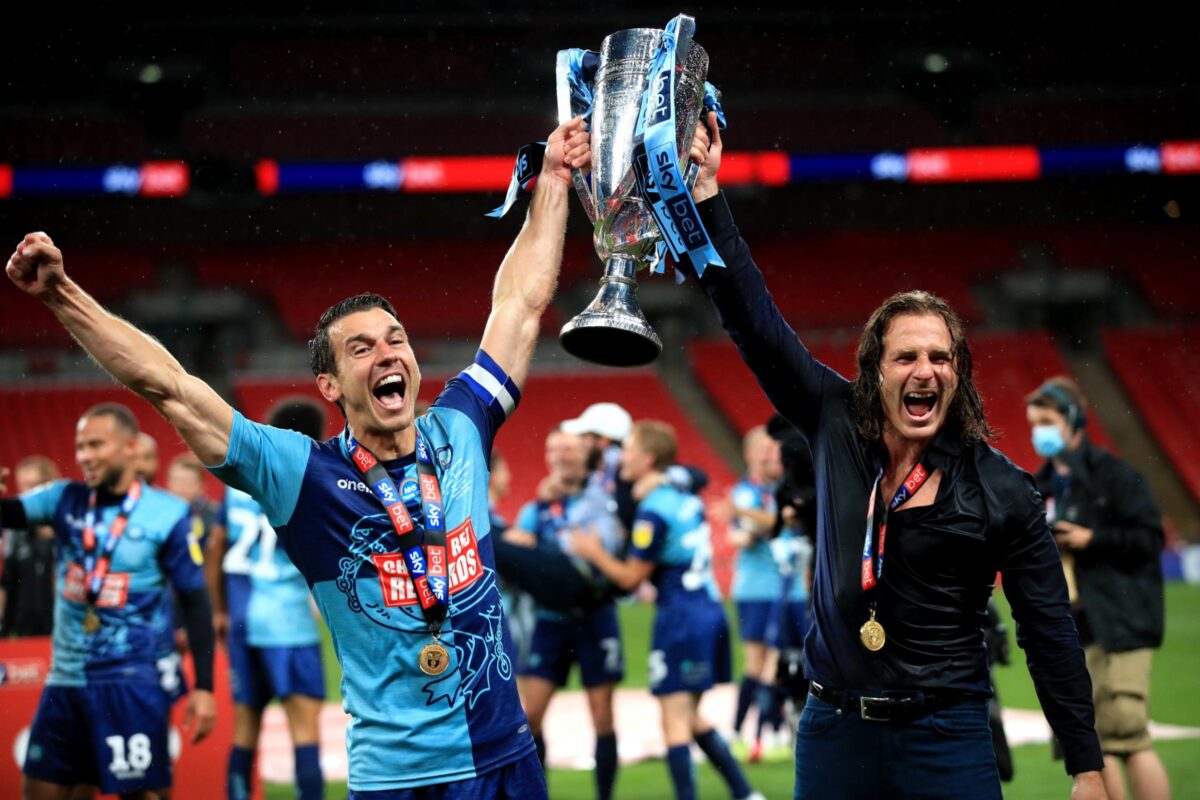 We then have Matt Bloomfield, aka Mr. Wycombe himself. His 17 seasons with the club has seen him suit up over 400 times, and he's established himself as the pinnacle of professionalism and hard work. Wycombe's promotion wouldn't have meant more to anyone else.
And then of course there's Adebayo Akinfenwa. "The Beast" has certainly put this club on the map too. His massive frame has garnered a cult following on social media (over 1 million of them on Instagram), but more importantly Akinfenwa has been a huge motivator in the dressing room as well as being simply unplayable when it comes to the direct long ball approach. Netting 10 goals throughout the 2019-20 campaign, 'Bayo certainly played his part.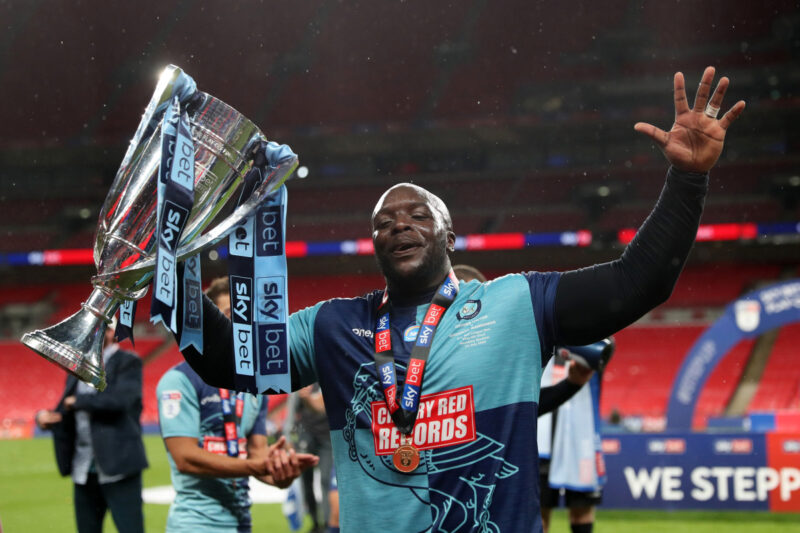 Four years ago, after winning promotion to League One with Wimbledon, Akinfenwa revealed that he was being released in his now legendary post match interview. He implored any coach watching to hit him up on WhatsApp. That's exactly what Ainsworth did, and it proved to be a brilliant addition.
Akinfenwa gave yet another charismatic and hilarious post match interview after last week's victory, saying that the only person that could hit him up on WhatsApp is Liverpool manager Jurgen Klopp. And lo and behold, he actually did send the target man a congratulatory video message.
All three players have signed contract extensions after the victory at Wembley, and will look for continued success in the Championship.
Like everything about the Wanderers' 2019-20 season, their playoff run was quite a shock. At the time the League One season was cancelled in February, Wycombe's points-per-game average allowed them to leapfrog bigger clubs like Peterborough, Sunderland, and Ipswich into the playoffs. The financial hit we took meant that we could not afford to keep one or two players on loan for the playoffs, but we just had to focus on the task at hand.
Despite being the lower seed, many predicted Fleetwood Town to defeat Wycombe in the first playoff matchup. A wild 4-1 first leg in favor of Wycombe was enough to belay the tense 2-2 second leg, in which Fleetwood had most of the possession, to secure a date with Wembley.
The last time Wycombe reached Wembley was a cruel occasion that I struggle to forget — a League Two playoff final defeat in penalties to Southend, which saw their opponent net a 120th-minute equalizer.
In a way I was quite glad I wasn't underneath the famous arch for this occasion, but watching from my living room here in Manchester, draped in the famous light and dark blue colors, didn't make for any less stressful viewing. There were no crowd noises either for this game, so you could literally hear all the swearing and everything. This meant so much to the players and staff.
After we scored an early goal with Anthony Stewart's header, as suspected, it was sit back, defend, and just pray that we can see it out. Oxford scored the flukiest of equalizers with a cross (definitely 100 percent was not a shot) that looped over our goalkeeper and in. From then on it was just backs against the wall as Oxford had all the possession.
Then suddenly out of nowhere, a long kick upfield resulted in a dodgy bounce that left Wycombe winger Fred Onyedinma racing onto the ball and beating the goalkeeper to it and getting absolutely clattered inside the box.
Up steps Jacobson for the biggest penalty in Wycombe Wanderers history, and he cooly fired it down the middle. I went on to somewhat lose my voice in jubilant celebrations, and probably worsened my relationship with my neighbors (as if all of the freestyling I do in this flat isn't bad enough).
Despite the mounting Oxford pressure, Wycombe see out the game and spark scenes of unrivaled joy for all those associated with the Chairboys. Amongst the uncontainable energy in his now viral post match interview, Akinfenwa made a truly poignant point: "The only opinion that matters is the opinion you have about yourself."
This is so true for football, sport, and life in general. There will always be doubters but you've already lost if you let their opinion win.
So one final time just a huge thank you from myself to Gareth Ainsworth for becoming the greatest manager in Wycombe Wanderers history. Let this tale keep going, let the naysayers keep writing us off, and let us overachieve just that little bit more. Bring on the Championship!