Few and far between in the United States, hosting significant matches at a neutral site adds a new sense of intrigue and vibe. But is MLS fandom nationwide enough to support non-local venues?
I jaywalked across Burnside in search of a Trader Joe's like Washington crossed the Delaware. It was a shopping trip centered on booze and frozen chicken, but also an excuse to get a nice summer walk in. In the frozen aisle, I came across someone wearing a New England Revolution jersey.
If the Revs of all teams can have representation in the Pacific Northwest, then what does this wild shirt encounter make as a measurement for MLS's nationwide popularity? Probably nothing at all, however it did remind me of how many experiences I want to have traveling and watching soccer in this country. The opportunity to see my team, the Portland Timbers, on big stages, in interesting venues, standing in the visiting section.
Live sport is best seen in the atmosphere of a carnival. When you think of amazing athletic events what comes to mind? The World Cup, Olympics, Champions League Final, Super Bowl, FA Cup, etc. These are all events dedicated to the best of what sport has to offer. The atmosphere is electric, and the stadiums are triumphant. American sports has a long history of neutral venue events — think of the various college football bowls and March Madness, in addition to the aforementioned Super Bowl. These games and tournaments have long lasting appeal, and have grown to be unique sport traditions.
In American soccer, however there is no current competition or recurring fixture which replicates this sporting tradition. That needs to change.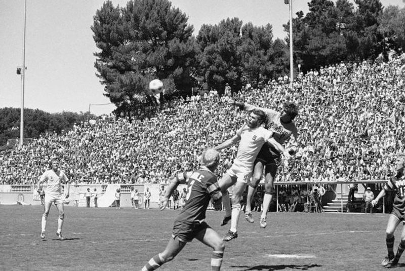 There is a blueprint for both success and failure in how American soccer has dealt with neutral site games. The NASL Soccer Bowls from 1975-83 were neutral site league finals.
In all those years, (minus the 1978 Soccer Bowl when New York Cosmos were the de facto home team), average attendance across all the neutral venues was 37,000, a respectable figure at face value. However, compared to the size of the stadiums, the venues were at best at three-quarters capacity. More often than not, they were less than half full.
Expecting to have a vibrant neutral site atmosphere for soccer during this time period was impossible, with the notable exception of Pele's last match at Civic Stadium for Soccer Bowl '77. Obviously during a period in which knowledge of the game and club support is so young, there was no way that a neutral site match between Toronto Metros-Croatia and the Minnesota Kicks in Seattle would sell. The NASL of course self-destructed under its own budgets and lack of interest in the 1980s.
But damn it if MLS wouldn't try to make the same mistakes with having neutral site championships, which it employed from 1996-2012. However, with the league arriving after the 1994 World Cup on home soil, American audiences had a little bit more of an appetite for the spectacle of an MLS Cup Final.
Throughout the lifespan of neutral site MLS Cups, the large NFL stadiums where they mostly took place were hardly jam-packed. However, the numbers were somewhat encouraging, averaging 35,424 fans compared to an average stadium capacity of 44,103.
Soccer-specific stadiums looked better on TV for neutral sites, but league and club support in the U.S. were still too juvenile for such a spectacle in massive 60,000-plus arenas. MLS's pivot towards points leaders hosting the Cup Final was a great move to supply an improved atmosphere for fans. But since this move, there has not been another neutral site club match in the United States until the 2022 Leagues Cup Showcase in Los Angeles.
That series of matches between LA Galaxy and Chivas and LAFC and Club America in SoFi Stadium was nuts, at least from my perspective as a non-attendee. The supporters' sections were incredibly vibrant, the stadium was packed, and the matches felt well paced and fluid. Of course, you have to take into account that LAFC and LA Galaxy had the luxury of playing in their home cities, and Southern California is home to a large amount of Chivas and Club America fans as well.
Nevertheless, this was a good visual of what soccer in North America could be if pushed the right way. A festival of soccer with amazing support and passion. Flares, smoke, noise, and movement. Watching this I felt some pride in how far the game has come, but mostly I felt envy and jealousy that I couldn't watch my team play in a neutral site competition like that.
Clearly this would be a difficult thing to replicate for other clubs in a similar environment. If Chicago Fire played FC Juarez at MetLife Stadium there wouldn't be a single bit of razzmatazz, glitz, moxy, or pomp and circumstance in that arena. But as the culmination of a larger event (say a single-city Leagues Cup Tournament or soccer festival), it would still be a party nevertheless.
The recent Rose Bowl match between LAFC and LA Galaxy was a triumph for American soccer as well, and here's to hoping it becomes a marquee event every season. An attendance of 82,000 for an MLS regular season match is absolutely bonkers. Most nations around the world have a neutral site cup final, or significant derby held in a 50/50 split arena. The American game is fast approaching that level of growth, but with a country so massive any neutral site match would be a tough sell. Especially after past attempts.
But times are quickly changing, people are traveling for their team, supporting from near and far. All it takes is an idea and a dream. Then maybe someday I could travel with my friends and see my club play in the Rose Bowl.