In one of the most unexpected starts by an MLS team ever, St. Louis City SC has hit the ground running, playing without fear, and going right at opponents. 
The newest club in MLS, St. Louis City SC is in a situation no one expected it to be. The club currently sits in first place in the Western Conference, and despite finally losing its first game over the weekend, still is atop the MLS Supporters' Shield race after getting off to one of the the hottest starts in MLS history.
Pundits in MLS and across American soccer have been scratching their heads. Granted, it's been a small sample size and City has received a few lucky breaks, but how could a team that on paper was not even close to being one of the best in the league be the current top dog?
The answer lies in the club's approach. It doesn't have a Thiago Almada-like DP, or a squad that has been together for years like the Seattle Sounders prior to their entry to MLS. Instead, St. Louis City's approach is in its tactics, and taking advantage of one thing every other MLS team has in common — some pretty shaky defenses.
It's All in the Press
When you have nothing to lose, the best way to go about your business is going for broke, and that is exactly what head coach Bradley Carnell has done, implementing the now famous Red Bull press. Carnell, a former South Africa international defender, was an assistant with the New York Red Bulls from 2017-2021, and the Red Bulls' way of doing things lies in the pressing style.
For club Sporting Director Lutz Pfannenstiel, being a whipping boy was never an option for the new club.
"Usually expansion teams get kicked around the first year," Pfannenstiel said before the season. "But we are not a typical expansion team. We want to be in charge, teams should hate playing in St. Louis because we're gonna be all over them."
Truer words were never spoken.
In its first five matches, the club upset a disappointing Austin FC, routed Charlotte FC, beat an ailing Timbers side, defeated the Earthquakes, and totally destroyed Real Salt Lake. A 1-0 loss to Minnesota United on Saturday may have temporarily brought St. Louis back down to earth, but it doesn't take anything away from the club's previous performances.
One of the main reasons for the team's streak has been its press and forcing dubious MLS defenses to think fast, something even the best teams in the league have difficulty doing. The result has been silly turnover goals that have resulted in big wins for the club.
When one examines St. Louis City, there is nothing too fancy about its set up. A traditional 4-4-2, the team covers its defense and tightens the midfield, but also presses in the front using its two forwards as the first point of attack by challenging teams who are not defensively sound.
Against Real Salt Lake, CITY's first two goals came from an opposing defensive shape that was caught napping twice. An expansion team that needs wins fast will eat those up every day.
What has been even more striking is that the club has been gifted three turnover goals against three different opponents, as teams were not able to defend against St. Louis in the opening five weeks.
"Right now, we're playing with house money and just enjoying the process," Carnell said after the huge win against RSL.
A Record-Breaking Start
That house money for an expansion team in such a streaky league like MLS could see the team in the playoffs, especially in the expanded format. Few teams get on a five-game winning streak, or even manage to accrue five total wins through 10 matches for that matter.
St. Louis City's winning streak at the start of the season could be the difference between the playoffs or staying home come postseason time.
Some accomplishments during the streak:
Sixth team in MLS history to open a season with multiple goals in each of the first five games
11-goal differential through five games is the best start in MLS history
City SC's 15 goals through five matches was the most by any team in that stretch
First team since Sporting Kansas City in 2012 to win all five opening games
How Long Can It Last?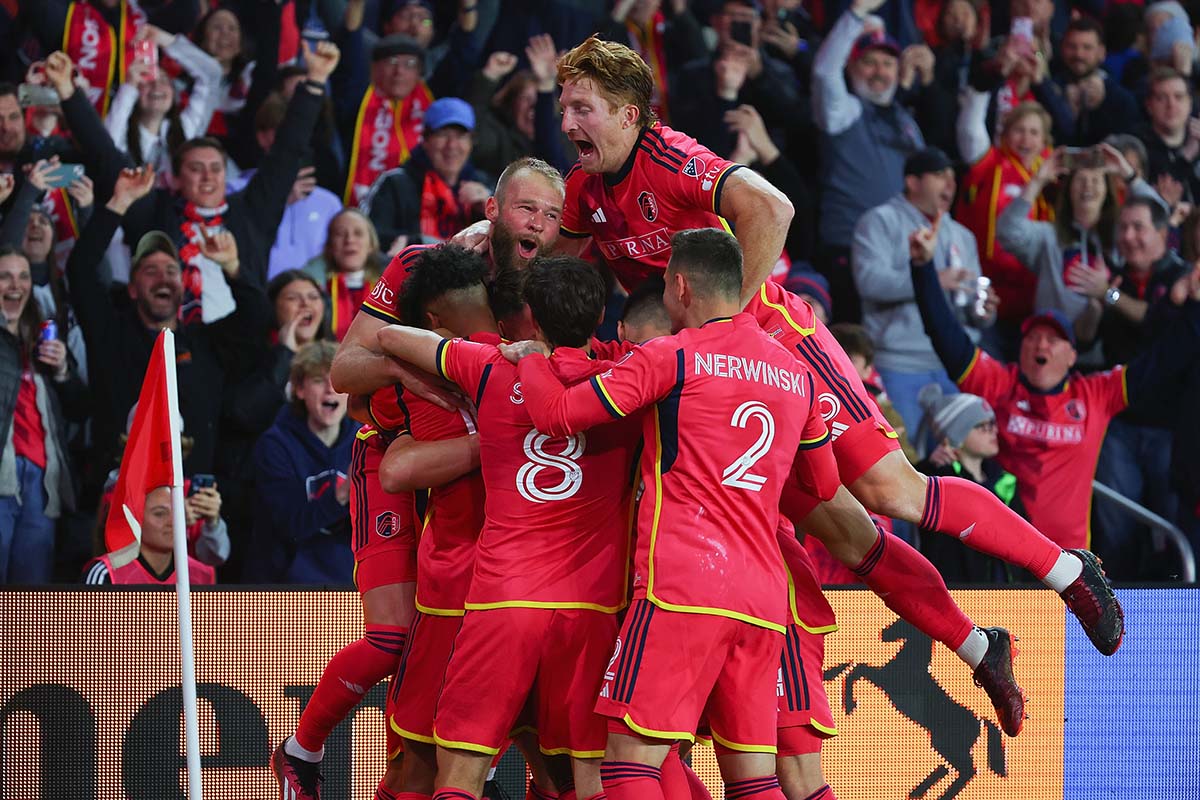 The big question now is, who can stop St. Louis City SC? Yet to play the big guns of MLS, Seattle, Cincinnati, LAFC, and Nashville are all due up in the next two months. For once, an MLS team is begging the rest of the league to be mindful of their defensive lapses. Few MLS coaches are known for having their teams in a proper defensive shape, sometimes even seeing a defender make the same mistake two to three times a month.
It was only a matter of time before St. Louis City lost a game — in MLS no one stays undefeated for long. The bigger question and what has haunted teams that press so well, is how long until they are figured out.
Jesse Marsch's pressing system was easily contained in the Bundesliga while coaching a talented RB Leipzig, and was woefully implemented in his time at Leeds United where he won 11 matches out of 37 games.
Maybe the best implementor of a press system is Marcelo Bielsa, whose famous Argentina team went to the 2002 World Cup having wiped the floor with opponents until his team was figured out by England and Sweden. Later on in the Premier League, injuries and equally as savvy head coaches began to counter Bielsa's press with much more closed down and compact defending.
In MLS, that is a major issue for teams that oftentimes play wide open, and many players frequently need two to three touches on the ball before they make a decision. For St. Louis the growing pains are on their opponents and not them. For now, the expansion club is in the driver's seat and is asking every MLS team, who has the savvy to stop us? In a league known for defensive mishaps, City may very well continue to milk an excess of points early in the MLS season.