With sports-inspired streetwear that's also wearable on the playing field/court, Durham, North Carolina-based Runaway Clothing blends the city's grittiness with its creative flair. 
It's been a wild year for most of us and an even wilder one for Gabe Eng-Goetz. Founder of Runaway Clothes, a fashion and lifestyle brand based in Durham, North Carolina, he's worked tirelessly for many years to get his company off the ground.
As most North Carolina kids do, Eng-Goetz started out as a soccer player, but he was always passionate about art too. While a pro soccer career wasn't in the cards, his creative eye has allowed his fashion label to take off in recent years.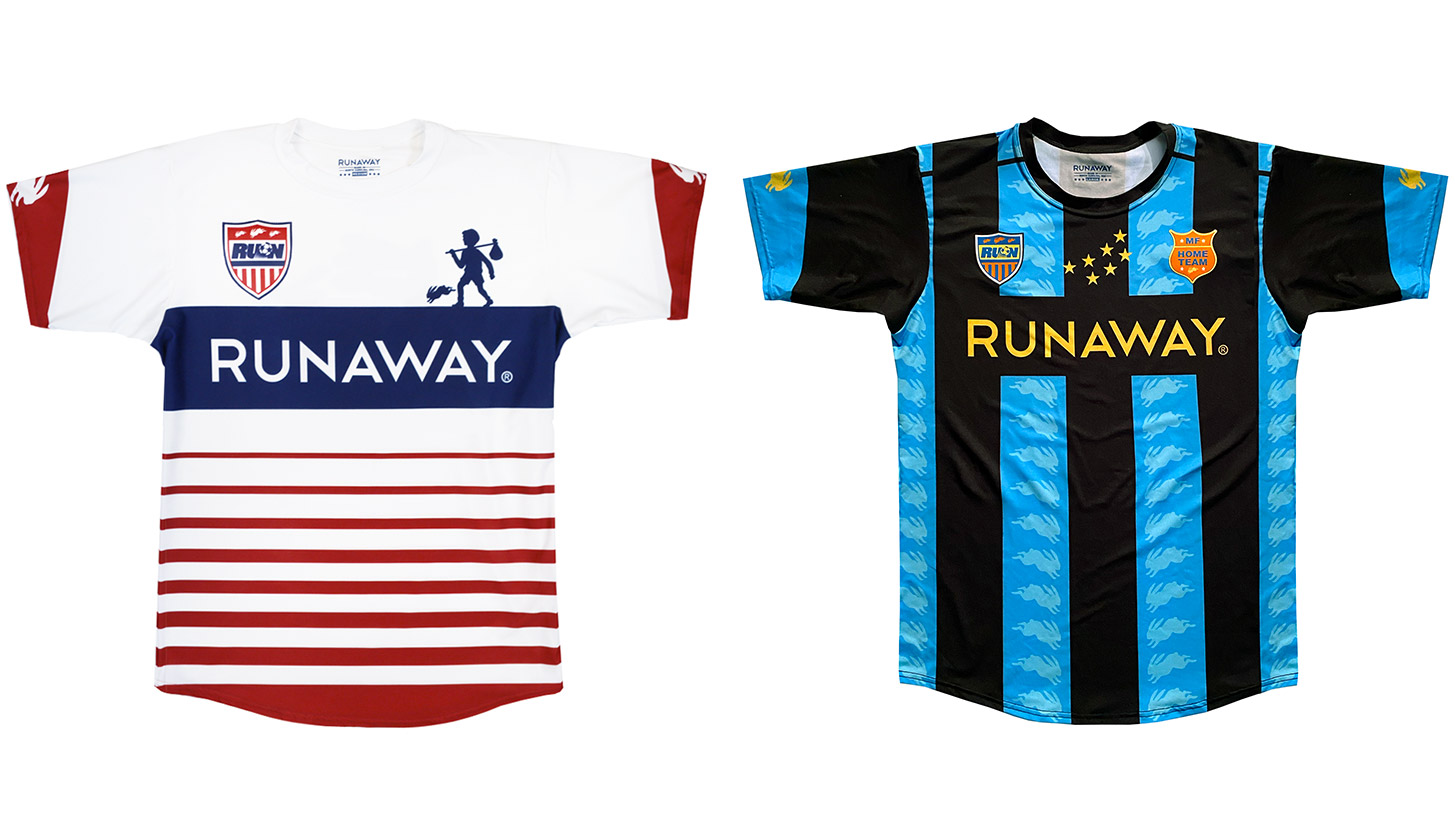 He's always kept an eye on soccer and new trends within the game, and an early successful Runaway release was a sort of faux-replica of the United States men's national team jersey. It instantly sold out, and he's recently designed his second jersey, an "away version" of the initial kit. 
The jersey isn't connected to any particular team or theme other than representing the brand's vision and being both visually cool and practically comfortable. And as always — it shows local pride.

Eng-Goetz and Runaway initially gained traction with some hot-selling designs that found an intersection between Durham's grittiness and comfortable streetwear. With the success of his initial DURM designs (locals know it's pronounced "DURM" not "dur-HAM"), he was able to open up a brick and mortar store right in the middle of downtown.
The store brought a much-needed youthful hipness to the area, but after a few years Eng-Goetz realized he needed a change — the responsibilities of maintaining the shop was stifling his creative output. So he closed the store in the name of creative freedom, and at the beginning of 2020 he left North Carolina to travel the country and world. (Cue dramatic suspenseful music.)
His cross-country tour brought him to LA (where we caught a Freddie Gibbs show together), and then all the way up the West Coast to Washington. He then left the country to go to Nicaragua, and what started as an eye-opening adventure that included drawing and painting murals, took a sharp turn towards an unexpected detour.
The COVID-19 pandemic hit in the middle of his trip, and he was stranded in Nicaragua for months longer than he had anticipated. He eventually took an expensive repatriation charter flight to get home to the U.S. — far from the blissful ride home that he had intended for.
I had a chance to catch up with Eng-Goetz and talk about all things soccer jerseys and life in North Carolina. As a creative who has experience both designing and manufacturing his own jerseys, his place in the industry is a unique one. The conversation is edited for clarity below.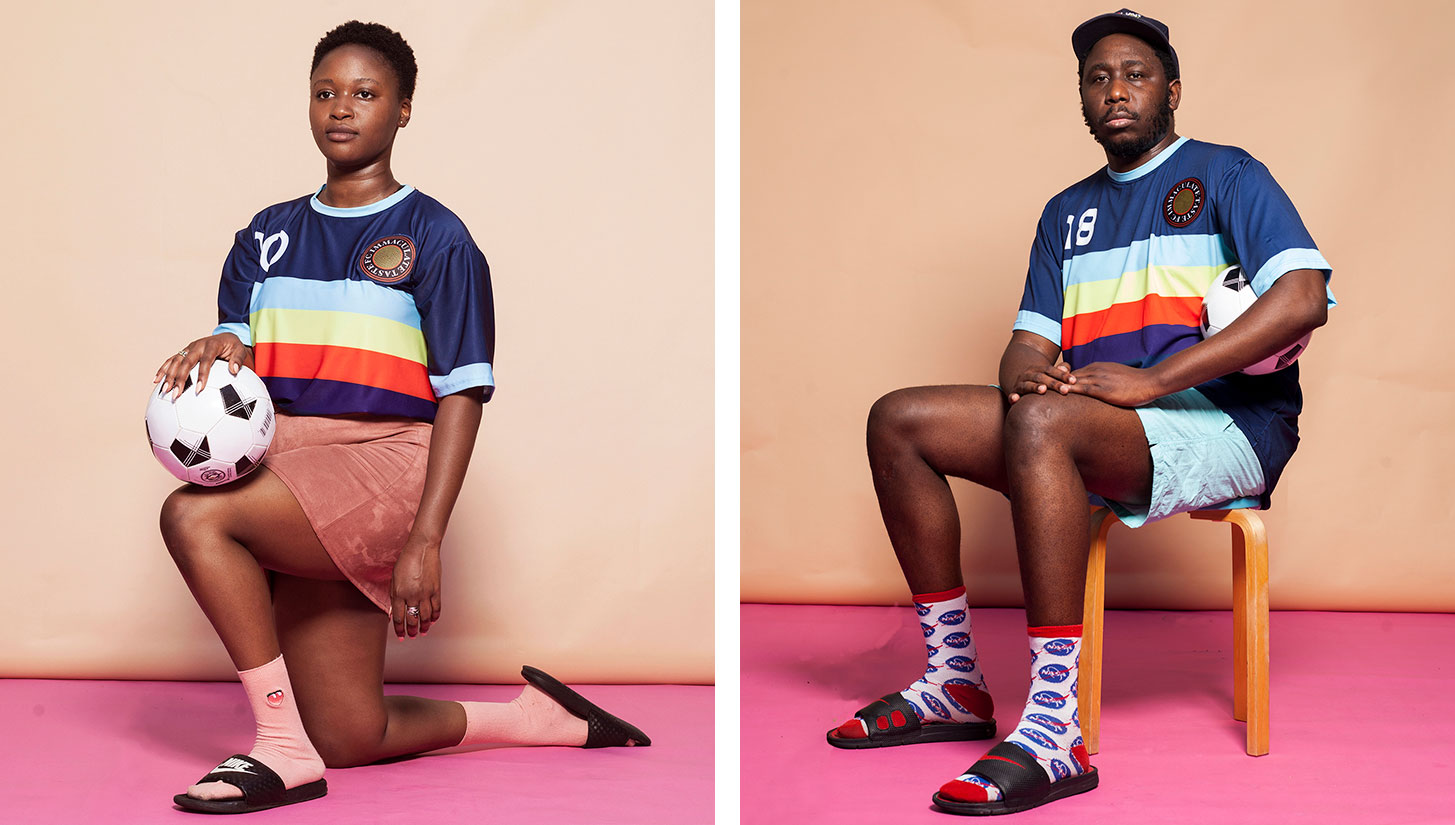 Urban Pitch: So how did Nicaragua come about? Was there a lot of soccer playing down there?

Gabe Eng-Goetz: I had the opportunity to go to Nicaragua for however long I wanted through a family friend, so I had my own crib out there — it was a pretty crazy experience. I was supposed to be there for six weeks and ended up being there for four months, which was pretty insane, and just watching the U.S. burn from afar was weird to say the least.

The Nicaraguan president was a total COVID-denier, so there were no restrictions or shut downs at all. Their soccer league never stopped so when there was no sports, Nicaraguan soccer was getting the most viewership and gambling interest in its whole history. (Laughs.) 

What was the sports culture like?
Interestingly enough, baseball is the national sport there. Baseball games were rowdy as shit. You wanna talk about drunk sports fans, that was on another level. I saw so many brawls, dogs in the stands, just blasting reggaeton. It's just a nonstop party.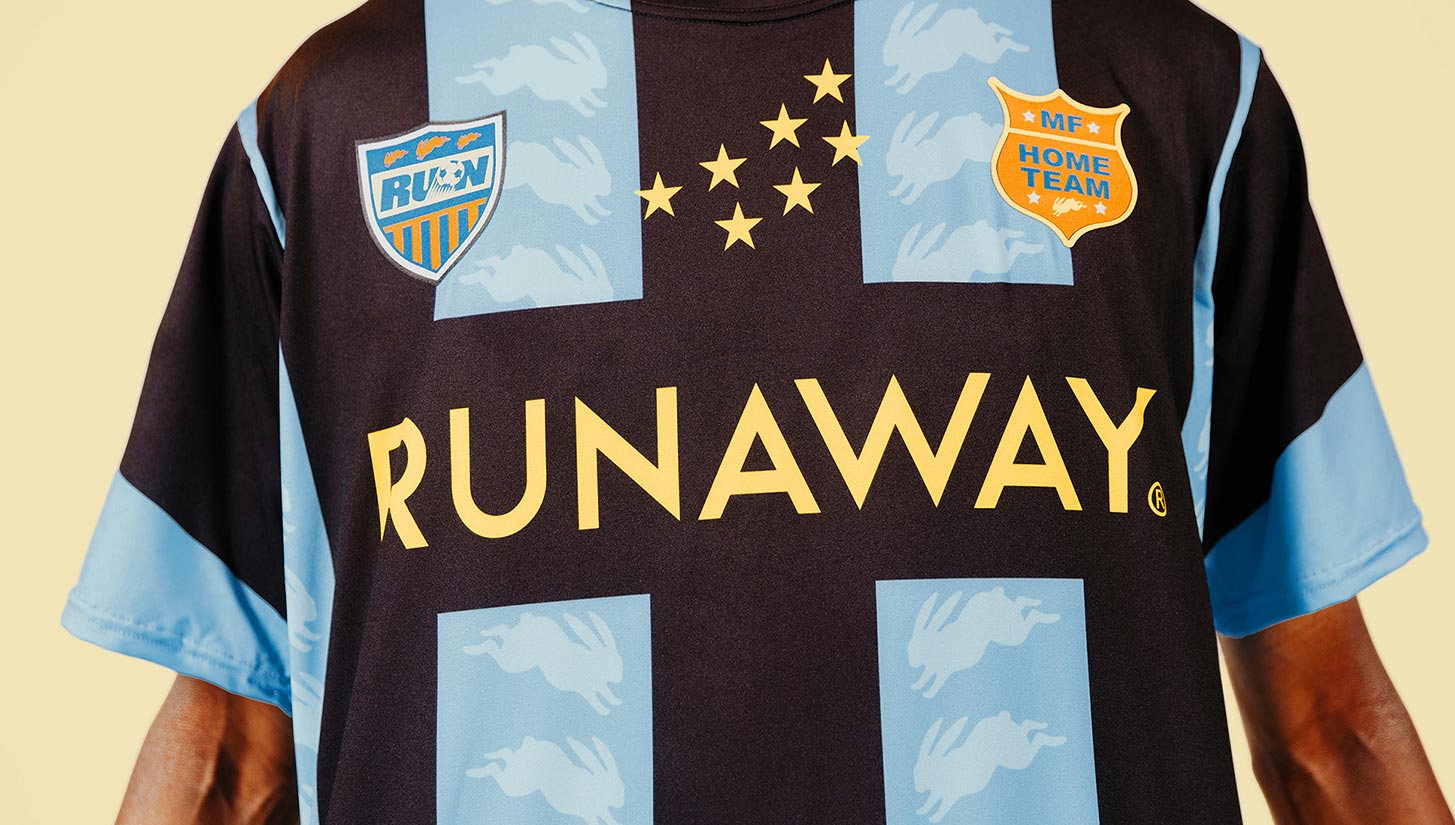 Let's talk about the brand. Can you explain the origin of Runaway Clothing?
It was the idea of there's a lot of cool shit and creative culture in Durham that was not being highlighted or showcased. Durham always had this "hood" reputation and when I came back from Syracuse in '08 I wanted to make some interesting fashion and art but also create a platform to showcase other artists — whether it be art shows, music showcases, or collaborations with like-minded companies and artists.
But really it was just a way of uplifting the area. Clothing was always the model we could make money with, and then fund all these other initiatives to uplift the creative community. As it grew in popularity it was cool to see other organizations like the Durham Bulls reach out to collaborating with us because I think they saw that we tapped into this whole audience that maybe wasn't interested in baseball — parts of the city they weren't reaching.
Their die-hard fans are older white men and Runaway's audience is young and diverse. Once they reached out about collaborating, that's when I realized, "Man, we really offer something to people in the area, a way to connect with a younger diverse creative crowd." The Durham Bulls are the largest sports team that Durham has, the most popular minor league sports team in the area, so that started to connect us with sports, and that got me into designing jerseys and doing collaborations with sports teams.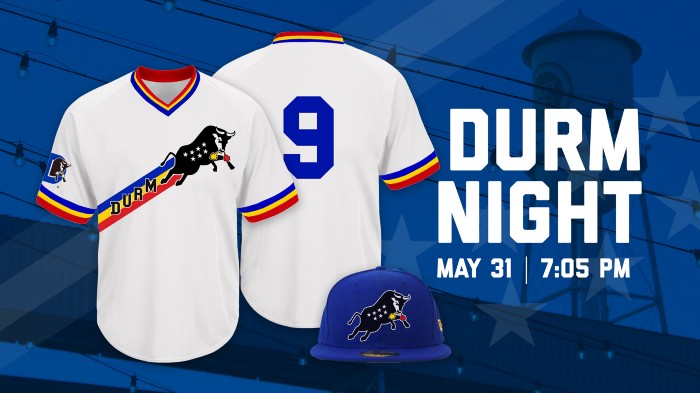 Because of that collaboration, we did DURM night for three years, designing those jerseys for the players to wear and selling replicas. Doing additional collaborations through their merchandising was a huge step for us, and that led to collaborating with the Carolina Hurricanes as well which was really cool.
I did poster designs, but we also did a bunch of limited edition merch for their in-arena store. Obviously I was pitching them on doing jerseys, but their deal with adidas was limiting their ability to do that, at least that's what they told me. I did get to kick it with the Storm Squad which was cool, and with Stormy the mascot too. Before that I had no idea hockey had cheerleaders.

So no custom jerseys for the 'Canes?

I pitched them on a bunch of ideas including hockey jerseys, but I also mocked up some soccer and basketball jersey designs inspired by the 'Canes.
In the moment I knew it maybe didn't make a ton of sense, but I thought the fans would think it's dope. Because when you wear a hockey jersey — yeah, some people can pull it off — but it's so oversized and bulky, can you really wear that during the summer? It's not very casual, it's such a big sports thing. But a soccer jersey, especially an understated one, you can just pull it off with jeans kicking it anywhere. It was fun to try to get them to think outside the box, unfortunately it never went anywhere.

Jerseys have become such a part of street fashion, and it's not just now — you look back to the 2000s when everyone was rocking an oversized NBA jersey overtop of a tee. That was such an era, that Mitchell & Ness era.
I feel like now the soccer jersey as a casual item is still strong. A lot of the kits now for the World Cup get a lot of hype and a lot of them are being marketed as more of a lifestyle item and I think that's really cool. It's much more high fashion, as street wear crosses into high fashion, and this line is blurred. I think that's the same thing for sports as well and I think Runaway was born in the perfect time to pursue those collaborations.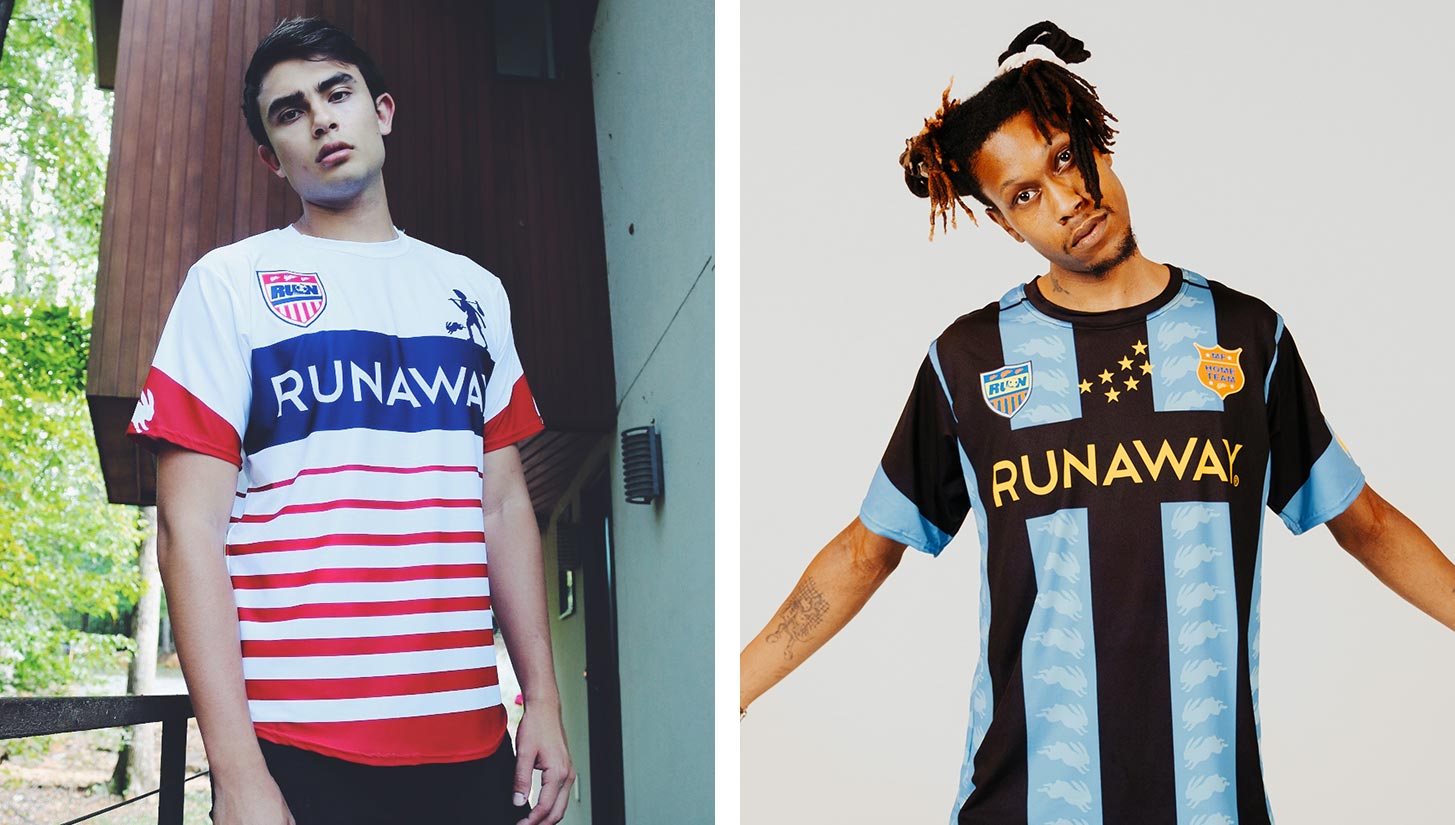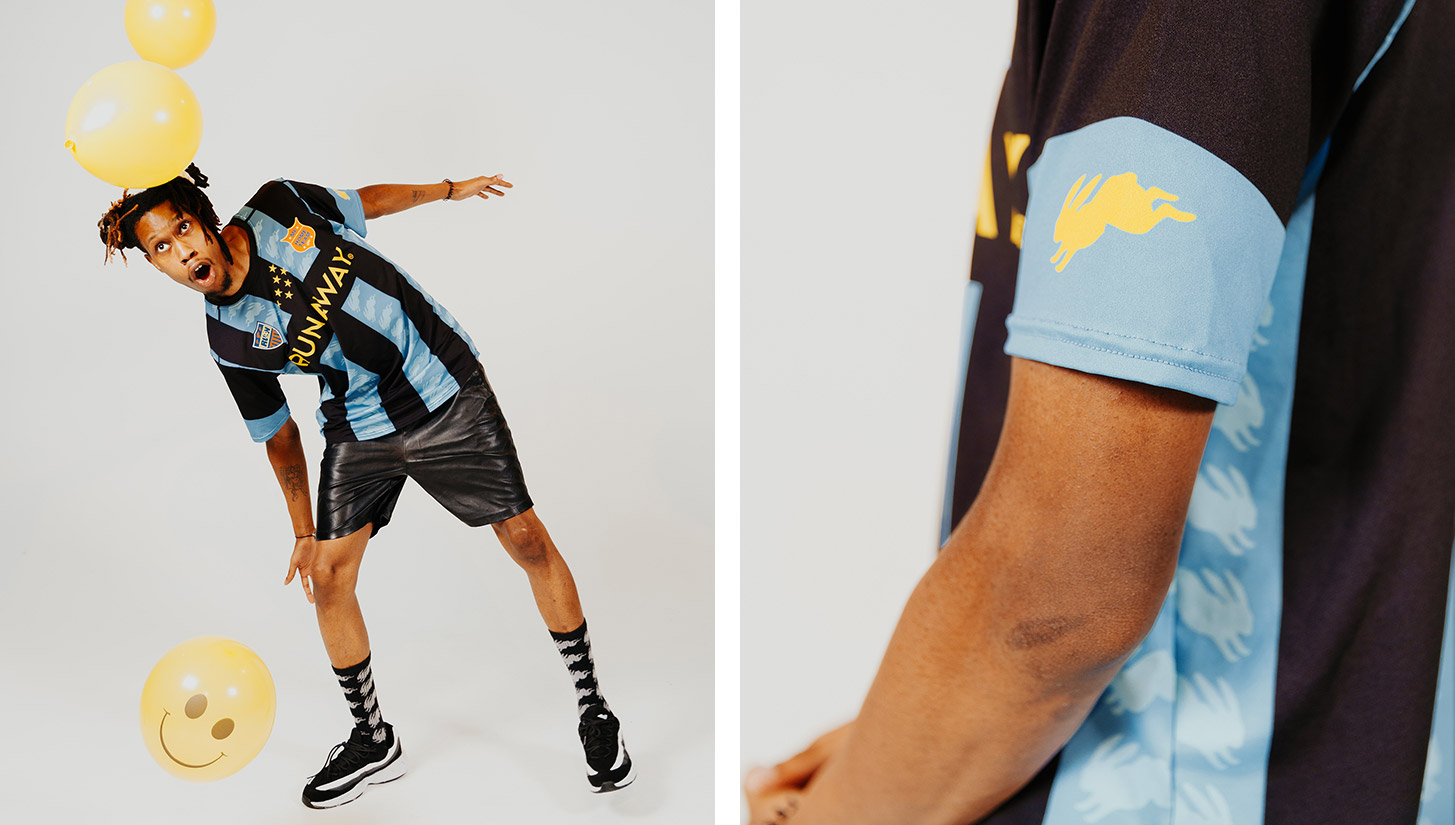 Can you describe your soccer jersey designs?

It's like the late '90s U.S. kit spinoff, because it has the shield design with the little ball flying through the air. As my first one, that was like the home jersey, this one I put out now we titled it The Away Jersey because it has darker colors, just switching it up.
I work with a sportswear company here in NC out of Burlington that makes minor league jerseys for hockey and baseball. They're big in the minor league sports arena and they're the ones who we collaborated with to manufacture the Durham Bulls jerseys. Just going through their catalog of different products that we can make, I worked with them to do the soccer jersey and do the custom shorts that we just put out.
So basically any kind of sportswear is all being made in Burlington. In weird times with overseas manufacturing and shady politics it's nice to try and bring it back home, especially in NC where the history of textiles just goes back so deep. And hopefully U.S. manufacturing, especially NC, can kind of get back on track. But it sucks man, because I was talking to them the other day and I know they are struggling hard. Pretty much all minor league sports got cancelled for the year, so they had to resort to just producing masks and doing weird one-off projects to stay alive. Hopefully they can make it out of this shit.

What are your thoughts on current soccer jerseys, which are trending towards more original designs and textures?
I feel like it's always been about the details. Now more than ever, people appreciate little customizations like that. Looking at the new kits coming out now, the imagery and the subtle graphics are just crazy.

Have you seen the new Man United zebra jersey? I just feel bad for them because the Chevy logo looks like shit on the front. That's difficult with soccer jerseys, the corporate sponsor has to be such a big part of the jersey. I like the way the NBA does it with a little patch on the side, but you know it's just selling the real estate.
My favorite soccer designs were always the old school Jorge Campos goalie kits that he would wear. You remember that? He had the wildest '90s designs — super loud, lots of color.
They don't make them like Jorge Campos anymore. The 5'7" Mexican goalkeeper also played as a striker and designed his own jerseys.

He was capped 130 times by Mexico and scored 34 goals during his club career. pic.twitter.com/THnY6sBeQe

— 32Red (@32Red) January 10, 2019
When I was playing soccer I was playing keeper, and Campos and Oliver Khan were my favorite players. I got signed Khan gloves because my brother-in-law used to work for Bayern Munich back in the day, but the Campos kits are so fire to me. Unfortunately producing those as a product would be tough to sell. I've never seen anyone casually rocking a keeper kit which maybe we should try to pioneer, but just those patterns I love. I remember Campos playing so well, he was always undersized but had the craziest leaping ability, and would make these incredible saves. I think the '94 World Cup was the first time I saw him, but I'll never forget him.
You're pretty tapped in to the NC community. What is the general consensus and hype around the new Charlotte MLS team?
I guess they made the announcement pre-COVID and there was a lot of hype around it. I really wish Raleigh had gotten it. But I understand the move with sharing the Panthers' stadium and Charlotte being a bigger market. I think it would've been awesome to have a team in Raleigh. I know Durham wasn't in the mix but maybe we'll get a pro sport one day. (Laughs.)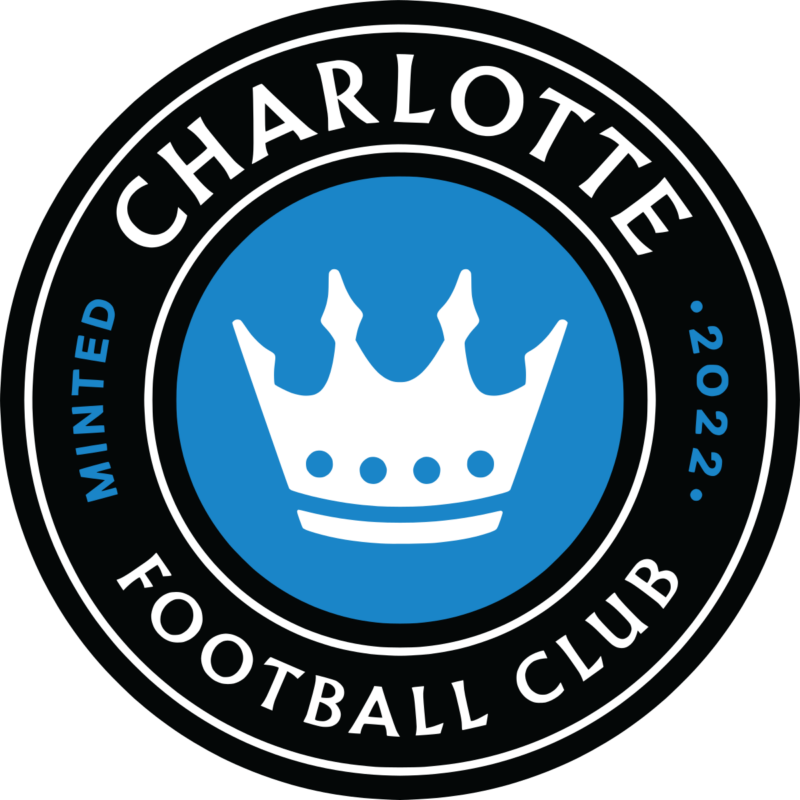 For the color combo, obviously they're tying it with the Panthers, I'm sure that was a move just to keep everything synced with the stadium and the branding of the city of Charlotte and everything. The black and blue colorway, I'm not hating on that, I like that a lot, I just thought they could've done more with the branding.
I think the crown is such an obvious move but I get it. Especially as a new team and MLS' push to be a major competitor and pulling these top caliber players, I think it would've been cool to think a little more outside the box. But you know it's good to see how everything moves along because it's so new. It would be a dream come true if I could somehow get a deal with them to do something similar to what we did with the Durham Bulls. Even doing a merch collab would be cool.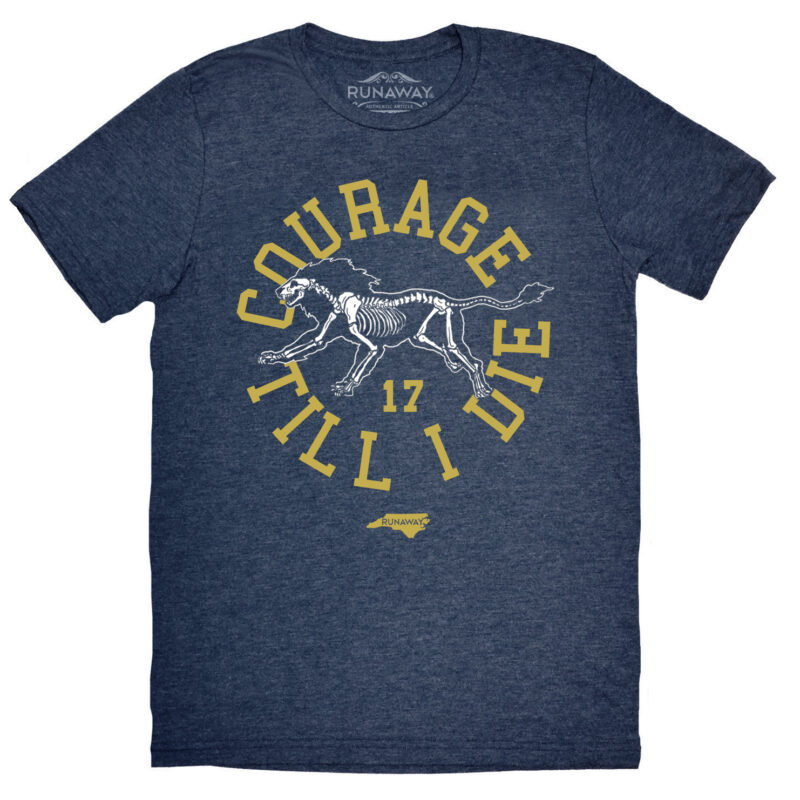 The Railhawks, they reached out and I had a meeting with them and they wanted to do a whole merch collaboration and we were talking about doing a kit with them, but that was right around the time they turned in to NCFC and they were kind of hinting that might happen and so I shied away from the deal. I didn't want to put in a whole bunch of work on Railhawks gear only to have it be obsolete in like like a year. Sure enough that happened so I'm glad I didn't do it.
But NCFC, I have a lot of respect for that club, I haven't reached back out to them since they switched. I respect them because I think their branding is better than the Charlotte team.

What are you looking forward to next? Or is it too hard to anticipate these days?

I'm trying to be optimistic about MLS. I know you've had your qualms, but if you look at what happened in ATL, granted they have great sports culture and a lot of history there already, but they just hit the ground running. They were immediately selling out games and the atmosphere looked crazy. I would love for that to happen in Charlotte. If they're good I would definitely make a trip down there to check it out, but if they're trash probably not. I honestly don't hear a lot of buzz about the team, but I've been traveling and it's weird times. I don't think a lot of people are thinking about attending sports games right now.

I'm just trying to keep it interesting for myself. That's part of the reason I shut the store down was to have less things restricting what I was doing. To be able to focus more on other art projects, to be able to get out for a while. With Runaway I'm just doing it when it feels right and taking more risks and having fun. Just doing more off the wall shit.
Follow Runaway Clothing on Instagram and check out their entire collection via their online shop.