We were in (virtual) attendance for the PUMA x AC Milan 2021-22 kit reveal, and what stood out more than the new take on the classic kit was the way in which it was announced — through the women's team. 
The ESPN SportsCenter chime can have a Pavlovian effect on you — you just need to check your phone when you hear it. But this alert wasn't an in-game update, transfer news, or injury report. It was history being made.
AC Milan were getting ready to unveil their new 2021-22 kit by PUMA in a way we hadn't seen before. Held in secret, this presentation wasn't a TikTok or edgy short clip, but the first time a club's kit would be debuted by its women's team.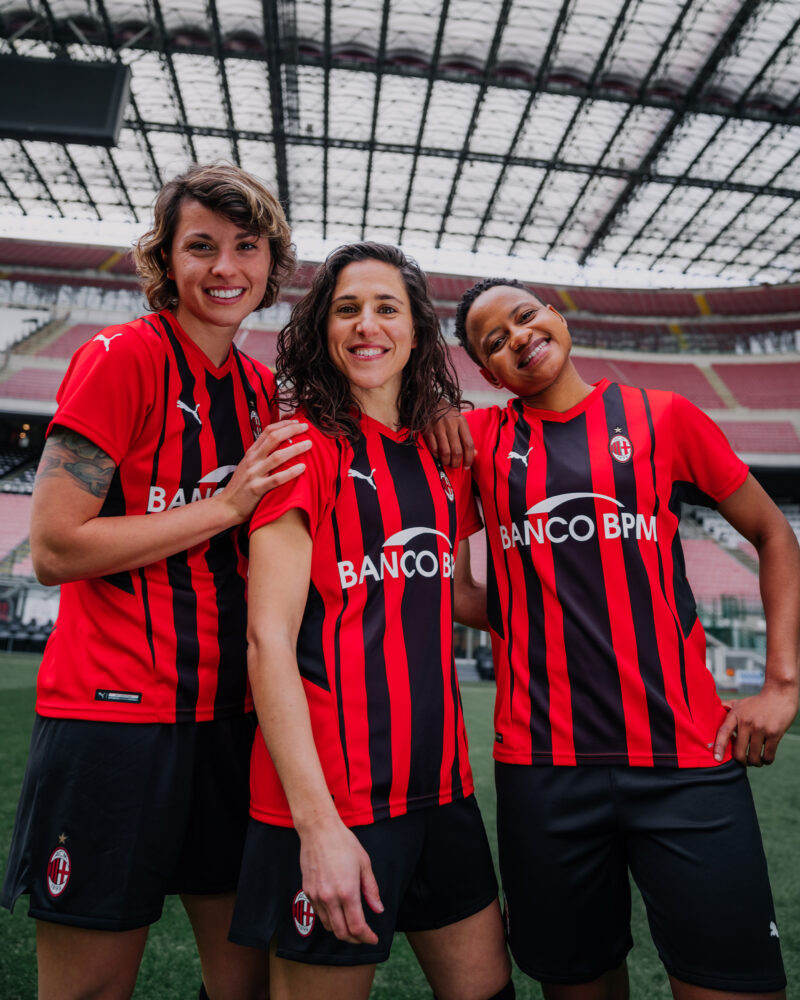 An all-female panel conducted a roundtable discussion at Casa Milan Studios, which is the club's in-house media production studio. In attendance was Francesca Scarpa, the brand manager of Milan, the infamous Spanish veteran Veronica Boquete, who recently joined the club, Italian international Laura Fusetti, who wears the iconic No. 6 of Baresi, and on video call was Agnesa Hoxha, PUMA's product manager. She was the first to have a word, focusing on the essence of storytelling.
"We've been working really closely with the club in development to make something really meaningful," Hoxha said. "[We needed] to find an authentic story that resonated with the fans, so Milan was perfect for this story.
"Overall the jersey is a result of months of hard work. Seeing it come to life and having Milan fans wear it is truly a great feeling."
Scarpa advocated for Milan, adding, "It's the end of a very long journey that started with brainstorming. We always ask PUMA to work on the story, and it has to integrate perfectly with the club's positioning and values. These jerseys are created to be worn by teams, but [also] to be worn by our supporters. We want them to be proud to wear it all year long.
"It started over a year-and-a-half ago because we needed to match our story with the needs and requests of PUMA. There always has to be storytelling…it has to tell about PUMA and the club, while fitting into the brand positioning."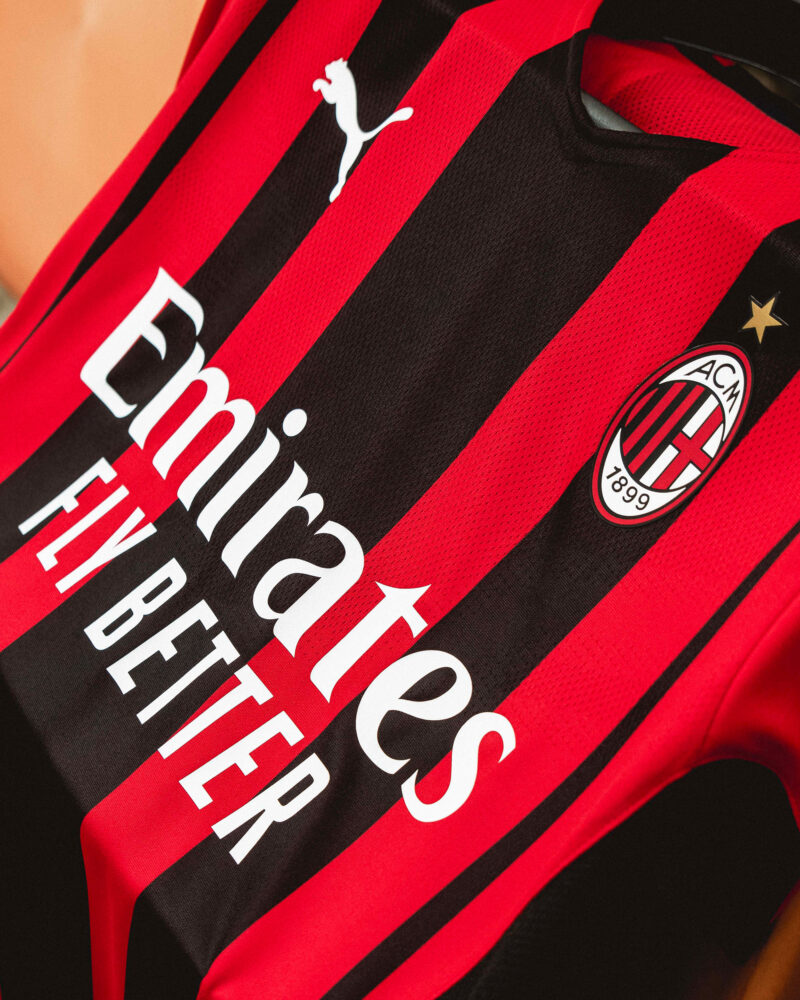 The kit has bold black striping through the center, counterbalanced by the historic red the club is internationally known for. Playing off the city's ethos, the kit's catchphrase is to "Move like Milan," and it reflects the trademark creativity, style, and culture of the fashion capital of the world. For a club that could be stereotyped with the classic values of the Italian football of yesteryear, Milan has shown a surprisingly human and progressive side.
The kit itself adopts cutting edge technology known as "dryCell thermoregulation," which is made with 100% recycled polyester, ensuring that it coincides with contemporary values and business behaviors. The impact is felt throughout the community, as the club partnered with three different fashion and design universities to give workshops and design classes hosted by PUMA creatives.
The result is a refreshing kit that has a cutting edge feel while also maintaining a sense of tradition and connection to its historic club.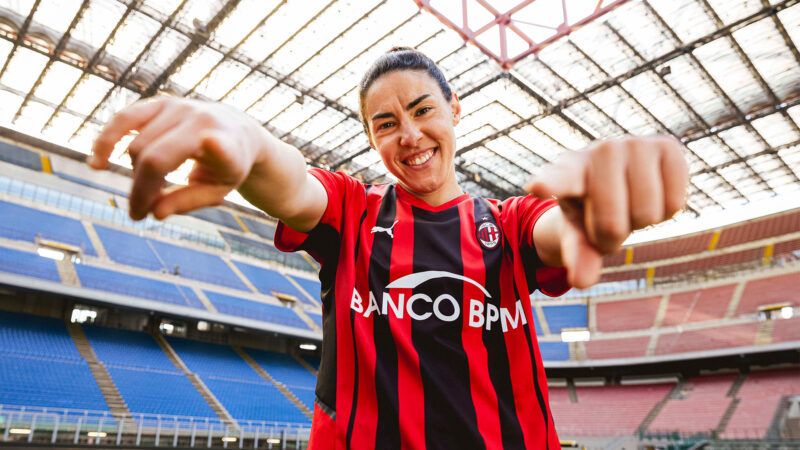 "In respect to tradition as well as a commitment to innovation, 'Move like Milan' is to move with a passion, an elegance, striving to be more than just a football club," Hoxha said.
Fusetti, who's been a mainstay in the Milan backfield since the club was founded in 2018, jumped in, appreciating the intimidation factor the new kit brings.
"Black is an elegant color like the club, but also aggressive so we can fight and give our opponent fear," she said. "Red and black to invoke fear. I like that in this kit there exists the past, but also the future with the new style."
In regards to looking to the future, the kit and its rollout plays into PUMA's #SheMovesUs campaign, which looks to emphasize and empower women in the world of sports. Scarpa spoke about the impact she plans for Milan and PUMA to have on women's sport, and how this coincided with the club's direction.
"We want to treat footballers equally," Scarpa said. "We want to do something concrete to show you that what we are saying is what is happening every day. We are simply giving the chance to our girls to be treated in the same way that our boys are every day. So why shouldn't we reveal the jersey during our match [on Saturday before the men's]?"
Fusetti seemed particularly keen on the decision. She held a proudness in her tone, which reverberated throughout the panel. It made one feel that something truly was changing in the dynamics of sport.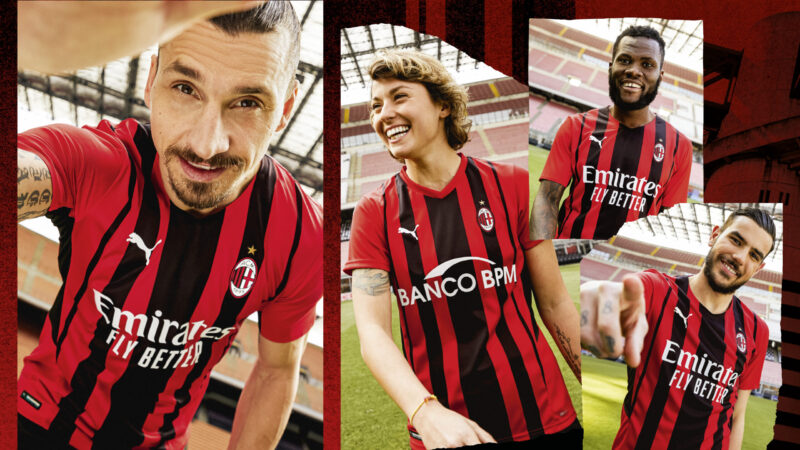 Before concluding, Agnese addressed why the shorts did not match the shirt — a move which could have agitated a few of the Milan faithful.
"It comes from past players, specifically [Paolo] Maldini who loved to play in the black short-black sock combination," she said. "We feel it really works for this season."
Expect training and leisure lines to support the women's players as equally as the men's, according to Agnese. When asked about tradition or modernity, she mentioned that the home kit signifies tradition, but the newness brings a modernity that will help encourage the athletes to have something to be proud of, and maybe that can even help them push through in their respective seasons.
Milan's women's side is just in its infancy, yet it is being brought to the forefront of the club. As a club, Milan has an evolving identity matched with PUMA's #SheMovesUs initiative, which brings attention to how sport can and has changed the lives of women throughout the world, by empowering them, instilling confidence, and charging for their rights. It's a global initiative.
You can shop the AC Milan 2021-22 kit via PUMA.