In addition to sharing his love and appreciation for football kits, Taylor Shull explores club and sport history through his TikTok account, SoccerKitTok. We sit down with Shull to get a better idea of his kit collection and soccer fandom origins. 
Taylor Shull has 201 soccer kits. He knows because he keeps a detailed spreadsheet of the club, size, year, and whether it's replica or authentic. His impressive collection is now more than just a fun fact to bring up at a party — it's the inspiration behind his quickly growing TikTok account, SoccerKitTok. It's been exactly one month since he posted his first video, and Shull has nearly 10,000 followers and hundreds of thousands of views.
In each video, he selects one of the kits and breaks down the team's colors, history, important games, and fan groups. He engages with people asking questions and breaks a few hearts when he declares his allegiances in certain rivalries. And not every video is based on a single kit, but some of them break down specific topics, like what the elements of a crest are. He's quite the encyclopedia.
For Shull, SoccerKitTok is a fun educational tool, but also a great way to build community and camaraderie. He's from Erie, Colorado, a city just north of Denver and is a recent season-ticket holder to the Colorado Rapids. But his passion for the beautiful game spans across the globe as he's also a Manchester City fan and has unique stories from other countries that all tie back to his kits.
We recently sat down at soccer bar British Bulldog with Shull to discuss the creation of SoccerKitTok, his personal love for football, and how kits aren't the only thing he collects.
The conversation has been edited for length and clarity.
Urban Pitch: What made you decide to start SoccerKitTok?
Taylor Shull: It was actually an idea from my wife. She was like, "You have an incredible selection of kits and you love soccer." She thought it would be a cool way to share what I know about soccer and then also to show off this collection of kits that I wear and use from time to time. So that was the idea and I just thought, "Eh, I have some time, let me see if people want this."
Did you and your wife follow TikTok before?
No, actually neither of us were on TikTok before and now we both are. She started her own for her business, which is an acupuncturist. So I think it just got us both into TikTok, just the random idea to give this a try.
It seems from the comments you're getting die-hard fans who want more and more, in addition to some people who are genuinely curious to get the education.
Yeah, I hadn't expected die-hard fans, but it's cool to see them. So it's nice to have a little bit of column A of people who know everything and column B of people who are just starting to learn something.
One of your big posts recently was when you revealed you're a Manchester City fan. You said you've liked the team since you were a kid, what got you into them?
My dad was teaching in England when I was a little kid and he brought me and my mom over for a little bit, and I just happened to catch them on TV in one of our most famous matches of all-time [the second division playoff final comeback win over Gillingham], and there were grown men crying and beer flying because of this comeback, and I was like, "I have to be a part of this." It was kind of hard in the first couple years to follow because it was reading in the newspapers or internet because they weren't on TV here really much yet. So I'd catch a game here or there or replays, and fell in love with them through all of that. It's nice now having success.
Have you been able to attend games overseas?
Yeah, I've been able to get to a couple. I've been to two City matches overseas and then they played in the ICC, so a preseason maybe five years ago. I went down to Houston for that. But whenever I'm in Europe I try and go to a match. Went to Bayern against Augsburg last time I was there and that was really fun, loud, raucous. It's a good stadium, good fans.
I saw in the comments that Manchester United fans were brokenhearted you were a City fan. Were you laughing at their reactions?
I was laughing a little bit at that because I knew I'm going to probably lose some followers that are United fans. And I did, which is fine. You can't have it all ways. It's something you get a bit of a stick as a City fan. I've been a City fan for a while, it's fine now. I don't really care about people making fun of us a bit. We're successful now and we have a lot of history.
Well, they're in the Champions League semifinals.
Barely. I'm really glad because like a couple of seasons ago, we probably wouldn't have won that match. We wouldn't stick it out with a team trying to bully us, drag us down to their level. I'm just glad we got through. I'm excited. Real's a good team to play and I got a couple fans that are Real fans, so it's going to be some good trash talk between us. I think we can do it.
Do you remember what your first kit was?
Yeah! Well I guess the first one I bought for myself was a City kit from about 2004. Then the first one I ever got, my grandmother got me. She took a trip to Turin and her tour guide was a Juventus fan and made her buy me a Juventus kit, which was to here [points at knees]. It was like a sleep shirt. And it got lost in a move, so I don't have that one anymore. I actually don't have the City kit anymore. I lost it in a shuffle in a bet with a United fan.
Oh no!
No, it's a good thing. We beat them in a derby a couple years back. Me and this friend had a bet of whoever loses has to wear the other team's jersey for an entire weekend. So United lost and he had to wear this kit for an entire weekend, which really made him pretty salty. But it got lost in a shuffle between him and a friend who took it back to me and didn't get it back. Yeah, I'm kinda sad about that. It was sentimental. But seeing him wear it for a whole weekend kind of makes up for it.
Do you have a kit you've always wanted that you haven't gotten yet?
A real one I would want would be the kit that City were wearing the first time I saw them, because it's this black and kind of obnoxiously neon green striped kit. It's this iconic kit for us. I have a replica of it, but the real one, if I find it somewhere, I'd probably spend a good deal of money on it. That would be a good sentimental one to have. Maybe I'll find it someday.
Jerseys have so many stories behind them, which you show through your videos. But for you personally, why kits?
Kits, just because I have them and wanted to share and show them off. Everybody in my friend group knows I do this, so I get made fun of a little bit for it, but it's a talking point and I thought it would be a great place to share more about soccer, kind of a jumping off point.
As far as why do I collect them? I don't know. I've collected things throughout my life, one thing or another. I love collecting vinyl. It just kind of popped up as a thing I did. All of a sudden, I got a couple kits and felt, yeah it would be another thing to collect and just have fun with and use it as a way to learn about clubs, learn about soccer when I was younger. Now, it's more of a pick up something that's cool or because of a memorable match that team was in or I talk to somebody for a while about their club and I'm like, "That's pretty interesting." I want to learn more and it's kind of a physical way to learn more about their club.
You collect vinyls too, do you have a few favorites that you're really proud of?
Yeah, I love this label called Hyperdub, kind of underground electronic music. They're based out of London. Pretty much any time one of their artists named Burial puts out an album or record, I immediately grab that. But yeah, I grew up with my parents' vinyl collection, so Grateful Dead, The Clash, my mom was a screamer for The Beatles — so a lot of Beatles records — Rolling Stones. I grew up through post-punk, garage-rock, all kinds of stuff. So it's another eclectic collection of mine I guess.
I love how sport and music intersect so much too.
It's true! There's a following to both. My love of Manchester City led me to our kind of most famous fans, Oasis. That's how I got into Oasis. I kept seeing their names in relation to the club and I'm like OK, I'll listen to this music and now they're one of my favorite bands of all time. So that's a little circle.
Are you a fan of MLS? I know some people think it's not real soccer or turn their nose up at it.
No, I'd say it's real soccer, it's just soccer that's growing. It's making some pretty good strides. My wife and I have season tickets for the Rapids as of just this year. It's just getting out to the pitch and seeing a club. I like the Rapids, they're actually a really solid team. They've got some good youthful players that are growing. One of the defenders is moving to Arsenal this summer, Auston Trusty, so it feels like something is growing and it's just fun to be out there. We've become Rapids fans in the last couple seasons.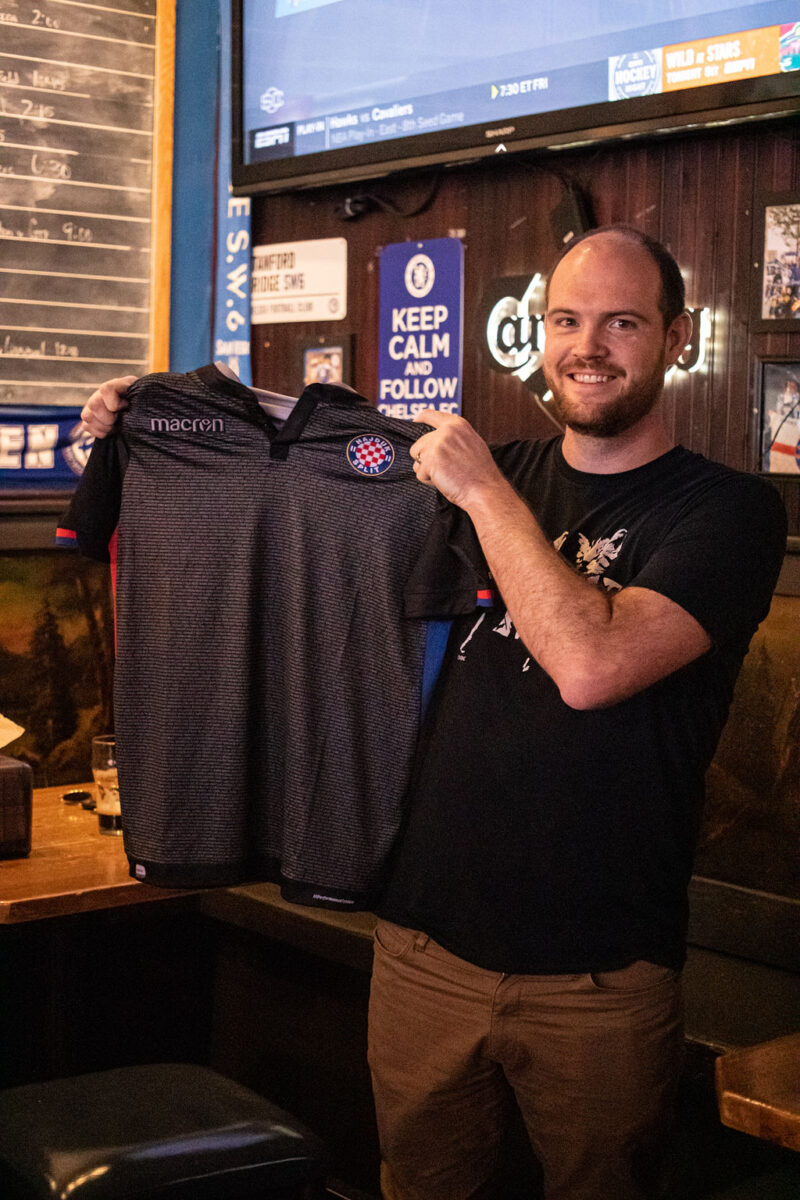 Is there anything else you'd like to share or talk about?
Yeah, I actually brought a jersey with me. I haven't done a video on it yet. These guys are called Hadjuk Split from Croatia in a little — well, not little — the second biggest city in the country. One of the few I got to actually get in Europe at the stadium. It's one of the ones I want to talk about at some point. The idea's been to talk about big clubs and then talk about clubs who don't get a lot of limelight here. This one's from 2018 and I really like it because it's their third kit, they made it special and all the little lines are actually names of fans of their club. They got to write in and they just printed it on all these jerseys.
That's amazing. Did they say how many fans are on the kit?
I think it's something like 6,000 names. They're on the back too. I like those little touches, little things that clubs do. Their colors are red and white from the Croatian flag, the checkers. Their home colors are all white, though. Most Croatian clubs keep to that kind of style.
Did you get to see them play while you were there?
No, they were playing an away match the week I was there, which is a bummer, but I got to walk around their stadium, which is a beautiful kind of clamshell-shaped stadium.
Did you get to talk to any fans?
Yeah, we took a trip out to an island that's close by called Hvar. We're walking through the streets there in the little city and I'd been wearing this jersey because it's oppressively hot there, it's very humid. This guy stops in an alley and looks stunned at me. He beckoned us over, me and my friends. He's like, "This is my club." He pointed at the badge — "This is my club. You've got to sit down, you've got to talk to me, where are you from?"
He was obsessed with the fact that somebody from somewhere else was interested in his club. It turns out he's a part of their largest fan group, which is called Torcida, they're a really old supporters' group from like the '50s. I think we sat there for an hour, just strangers getting to know each other, talking about a soccer club. He and his buddy had just gotten back from the away match the previous day, so he told me about it and what it was like and showed me some pictures. They were good dudes.
It's neat how soccer brings people together.
That's the biggest thing I like about soccer is it's like this little microcosm for the macrocosm of what the world's like. There's all good lessons, there's community, there's everything that makes the world the way it is. You can kind of reflect through soccer. I really like that. It just brings people together.
Follow Taylor on TikTok and Instagram to keep up with his latest posts.