Founded in 2011, Live Breathe Futbol is a passion project turned full-fledged brand. Through co-founder and CEO Ebun Olaloye, we get a look at how LBF has become a trend setter in a space in which it's becoming increasingly difficult to stand out. 
For Ebun Olaloye, soccer is an obsession. It originated in his childhood in Nigeria, where he grew up regularly playing the game and watching the Nigerian national team. Around the same time he became an Arsenal fan, and by the time he moved to the United States at 10 years old, he was fully engulfed in the world of soccer.
He'd go on to play throughout high school, and while college soccer wasn't in his plans, he still wanted to remain involved in the sport somehow. He just didn't know what that meant at the time.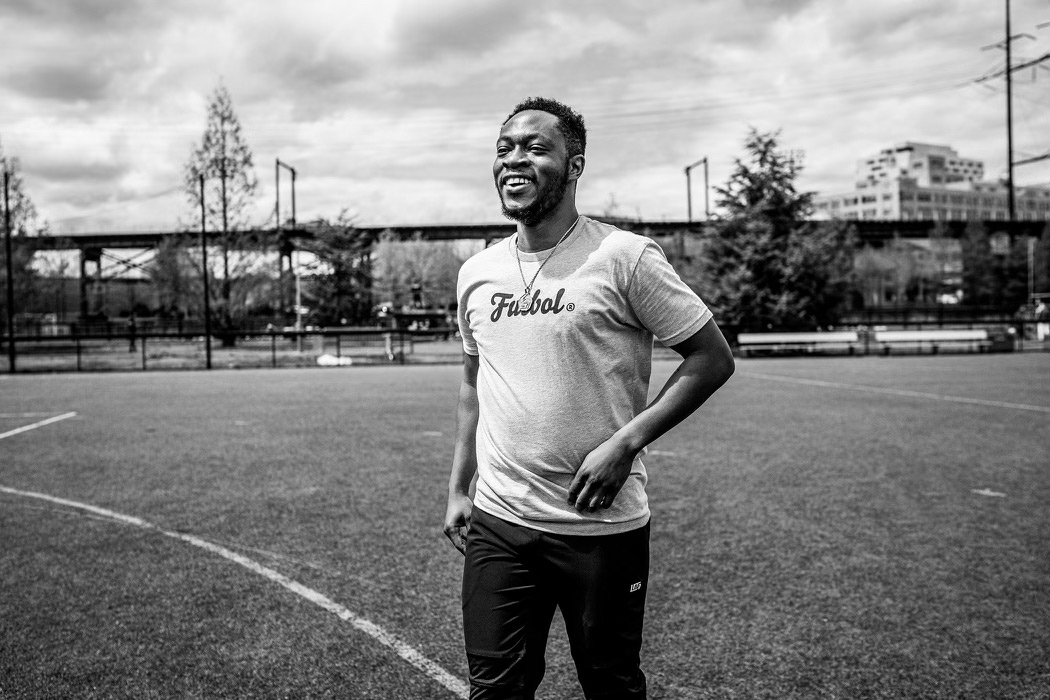 In addition to soccer, Olaloye also had a heavy interest in fashion. When he began making t-shirts in high school, he decided he eventually wanted to create a clothing line. But combining the two interests into one brand concept never crossed his mind until he enrolled at Temple University, where he'd play pickup five-a-side just about every day.
"Sometimes we'd play at 8 p.m., sometimes we'd play at 1 a.m. and then wake up at 6 a.m. the next day," Olaloye said. "From an academic perspective it was quite irresponsible, but for me I felt like I had found myself, I had found my tribe of people."
The Origins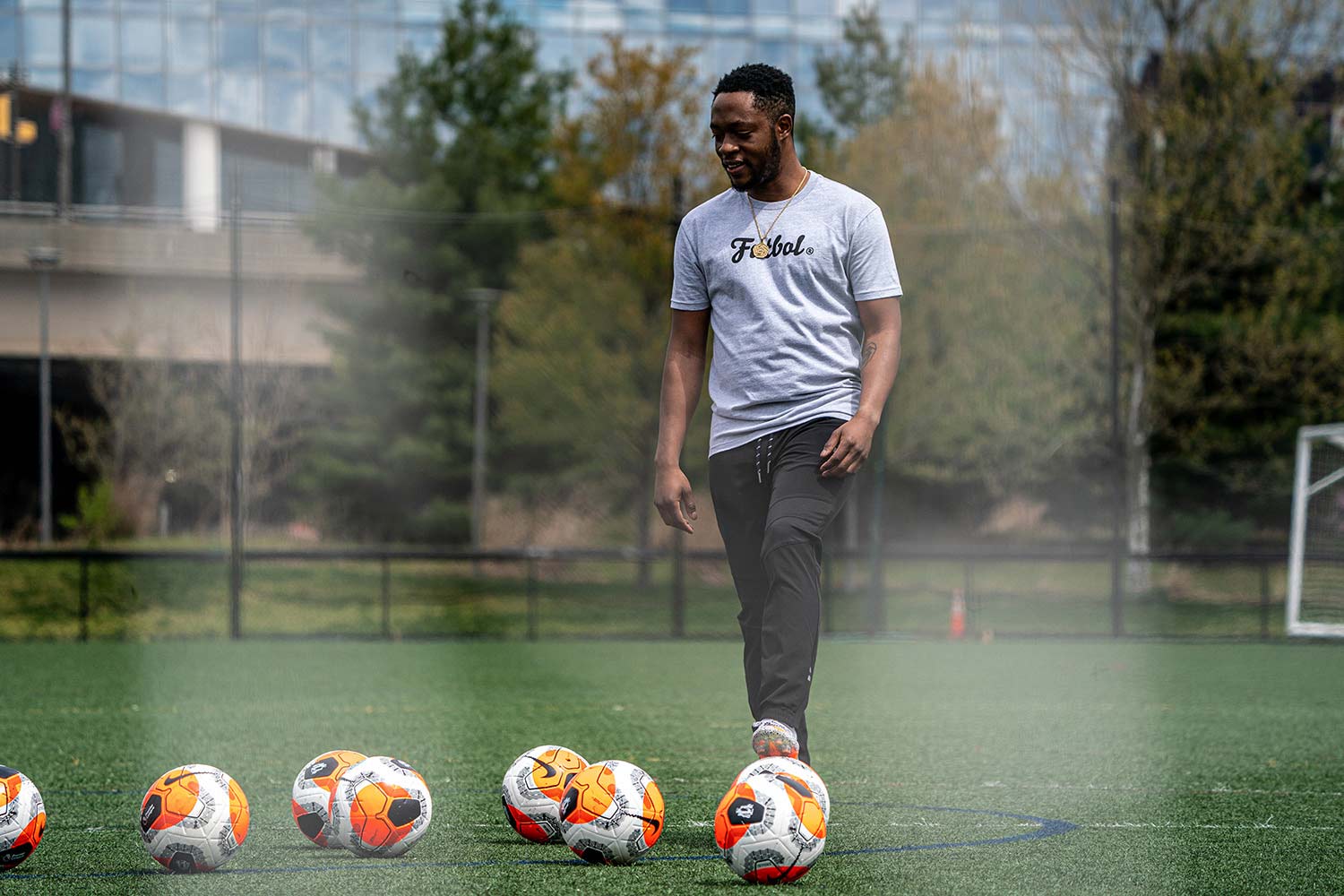 Olaloye met many of his friends, including LBF co-founder Domenick Cucinotta, at those pickup sessions. His constant exposure to the game at such a formative time inspired him to make some soccer-inspired shirts, and early versions were hand-pained tees with some of his favorite footballers including Cristiano Ronaldo, Lionel Messi, Kaka, and Thierry Henry.
But on his 21st birthday things changed. Like many college students, Olaloye wanted to spend the momentous occasion by going out, not making shirts. So, for the current batch he was working on, he opted to save time by trying out screen prints for the first time. He made a quick mock up, a simple black shirt that had "Live Breathe Futbol" printed on the front.
He added the shirts to an e-commerce site, posted a link to them on social media, and went out to celebrate his birthday. By the time he came back, all 21 shirts were purchased.
He quickly had more shirts made, and those sold out too. The fact that a bunch of strangers on the internet wanted to buy something Olaloye made blew him away. Previously, his base of support consisted only of classmates, friends, and family. It gave Olaloye a sense of confidence, but it wouldn't be until after he graduated that Live Breathe Futbol would expand as a brand.
Of course, there were a few signs along the way that LBF could be more than just some way for a college student to earn a little extra cash.
"I remember in the first year someone from Singapore ordered a shirt and I was like, 'How the hell?'" Olaloye said. "I had to figure out international shipping and all the logistics, but it let me know at that time that people find this product interesting enough to spend their hard-earned money on it."
Olaloye decided that he wanted to explore his t-shirt venture more. Seeing all the real feedback his work received gave him a great sense of joy and fulfillment. It only made him more passionate and inspired him to invest more time and effort into the business.
"To experience so much of what it's like to create something from nothing and then see how people respond to it, that really spoke to me," Olaloye said.
Growth Phase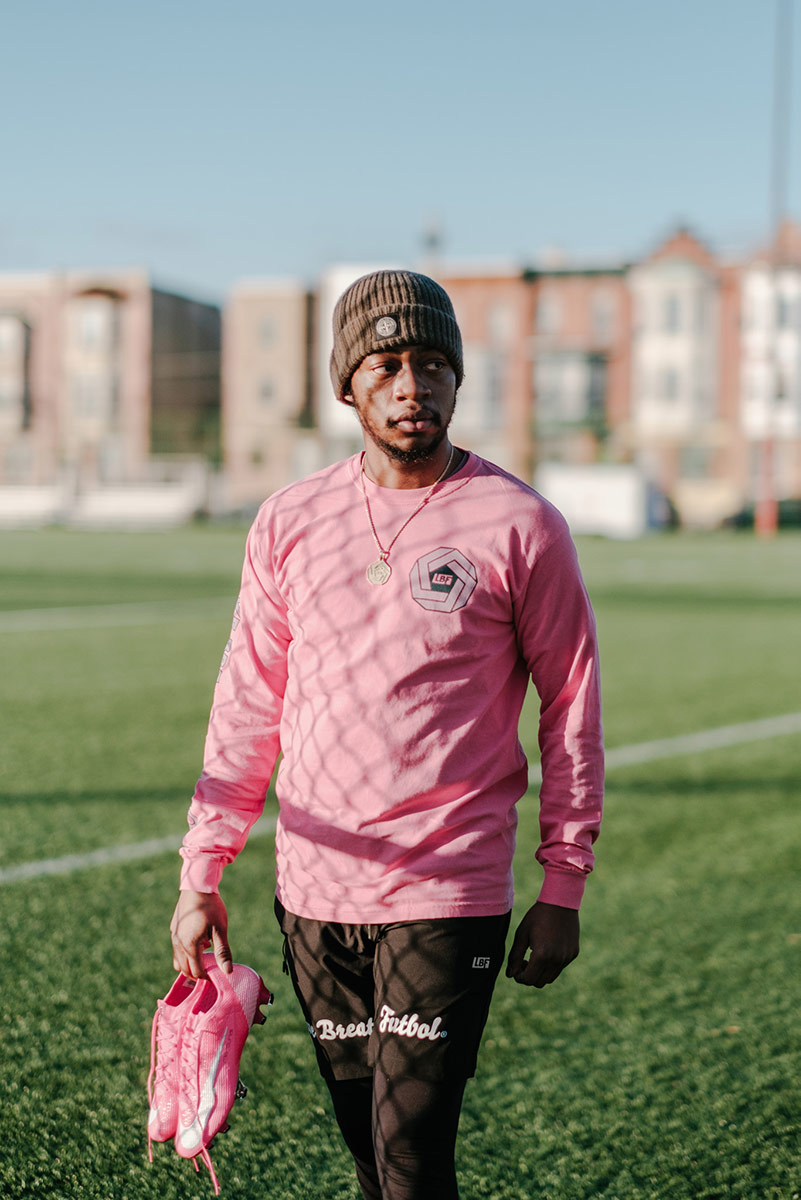 After graduating from Temple in 2012, Olaloye dropped LBF's first ever collection, titled "LBF Is Forever," that fall. It featured a scarf, crewneck sweater, hoodie, t-shirt, and a track jacket. The collection received rave reviews, and the brand's momentum began to swell.
In 2013, LBF won one of five grants in a FedEx Small Business Grant competition. LBF's seemingly meteoric rise then inspired a feature in The Philadelphia Inquirer, which greatly increased the brand's reputation locally. Later that year, Comcast Sportsnet did a feature on Olaloye in honor of Black History Month.
Another significant collection came in 2014, when they released a World Cup-inspired line. Riding the World Cup wave of popularity, LBF partnered with Unisport, who became the first European retailer to carry LBF products. Sports Illustrated and Forbes then also ran articles on the brand.
With the impressive amount of press coverage, Live Breathe Futbol had officially made it. But for Olaloye, the moment he realized his project had become a legitimate thing came a few years later. In 2017, LBF collaborated with Sporting Kansas City and Major League Soccer on a unique lifestyle collection with a checkered flag motif in honor of the nearby Kansas City Speedway. Olaloye said that seeing the players in the items his brand created was a remarkable milestone. It was a stamp of legitimacy that only inspired him to take the brand even further.
View this post on Instagram
And further it went. Following the Sporting KC x MLS collaboration, adidas tapped LBF to put together an experience at a coaches convention in Philadelphia.
"It's one thing to make your own products and tell your own story," Olaloye explained. "It's another thing for a brand as big as adidas to rubber stamp you in that way. That was pretty cool."
LBF's Core Philosophies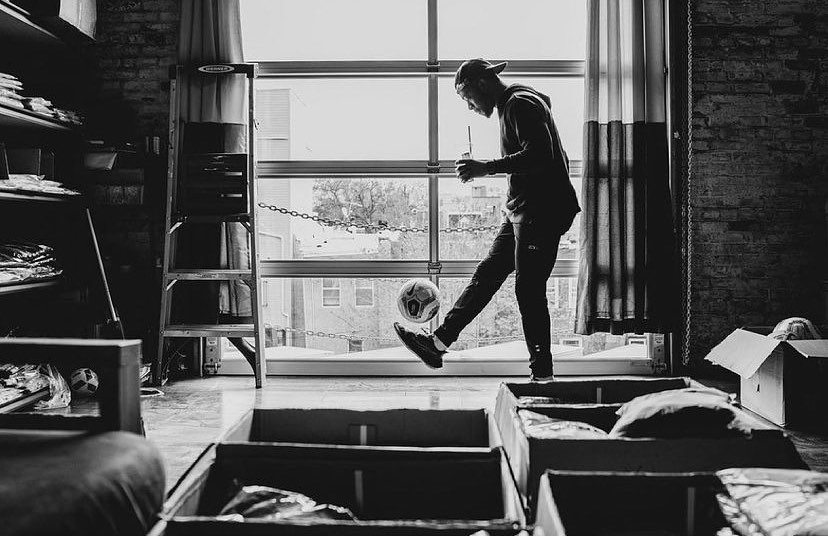 Since the adidas and MLS collaboration, Live Breathe Futbol has only continued to grow. And as the COVID-19 pandemic continues, Olaloye is constantly learning and acting as necessary.
"How do you manage all the expectations, all the people wanting more products — how do you try to keep them engaged with the brand?" Olaloye said. "How do you tell them new and expanded stories without making the same things over and over again?"
While these questions continue to fuel Olaloye's drive, he has seemingly already solved a few of them with the help of two guiding principles he has practiced since LBF's early days.
Connecting With the Audience
The majority of Live Breathe Futbol's business is direct to consumer, as the brand currently only has one retailer, Canada-based Passion Soccer. The DTC strategy allows Olaloye to place a point of emphasis on forming a personal connection with customers, something he's actually been doing since the very beginning.
Back when he was still packing and shipping shirts out of his dorm room, he included personal handwritten thank you notes in each order.
"The brand doesn't get to where it is today, it doesn't survive 10 years without those customers that have stuck with us over the last 10 years," Olaloye said. "They didn't have to buy LBF, they could've bought any number of other brands. That support early on helped us build a lot of momentum, and because of them we were able to get to this position today."
But with LBF experiencing such a high rate of growth, writing personal handwritten notes proved an impossible model to scale up. So, Olaloye shifted to emailing, setting it up so customers receive an email from his personal account after placing orders. He also sometimes hops on Twitter or Instagram to talk soccer with customers. By being so open and approachable, Olaloye has managed to build a loyal customer base.
"It doesn't matter how big you get, ultimately the customers are the lifeblood of our business and any business," Olaloye said. "Whether it's 50,000 or 100,000 customers, I'll still know you guys live and breathe futbol. We have that connection."
An Organic Creative Process
The other driving force for Olaloye and LBF is an organic creative process. And it all stems from Olaloye's unorthodox background as a creative director.
"I studied architecture at Temple, that was my major," Olaloye said. "So, in that sense I have some design background, even though it's not so apparel focused."
View this post on Instagram
Thanks to his lifelong interest in fashion and storytelling though, Olaloye feels he's been training to be a creative director his entire life in a way. Dating back to his early, hand-painted shirts of his favorite players, Olaloye's process has always been organic. He just makes things that interest and appeal to him. And because he never knows when an idea will hit him, Olaloye always carries around a notebook.
For Olaloye and his staff however, there's no better creative space than their headquarters, aptly nicknamed La Catedral. The office, which LBF moved into in 2016, is a rehabbed warehouse located in Philadelphia's Brewerytown neighborhood.
View this post on Instagram
View this post on Instagram
Featuring exposed brick on the interior, sleek wooden floors, and a big open space with wooden beams and air ducts, it's a fitting home that breeds creativity. It's essentially a monument to Live Breathe Futbol and the brand's ethos.
Olaloye even brought in artist Geoff Gouveia to create an LBF mural. Games of FIFA are a regular occurrence there, as is soccer tennis. And there's also a Meg Board to keep track of who has the most nutmegs in the office. Anything to get the creative juices flowing.
Recent Drops and Collabs
It's been quite a year for Olaloye and Live Breathe Futbol so far. They've released a range of new pieces to general fanfare, but perhaps the brand's biggest boost came from a celebrity spotted in some LBF gear.
Maestro Turbo Shorts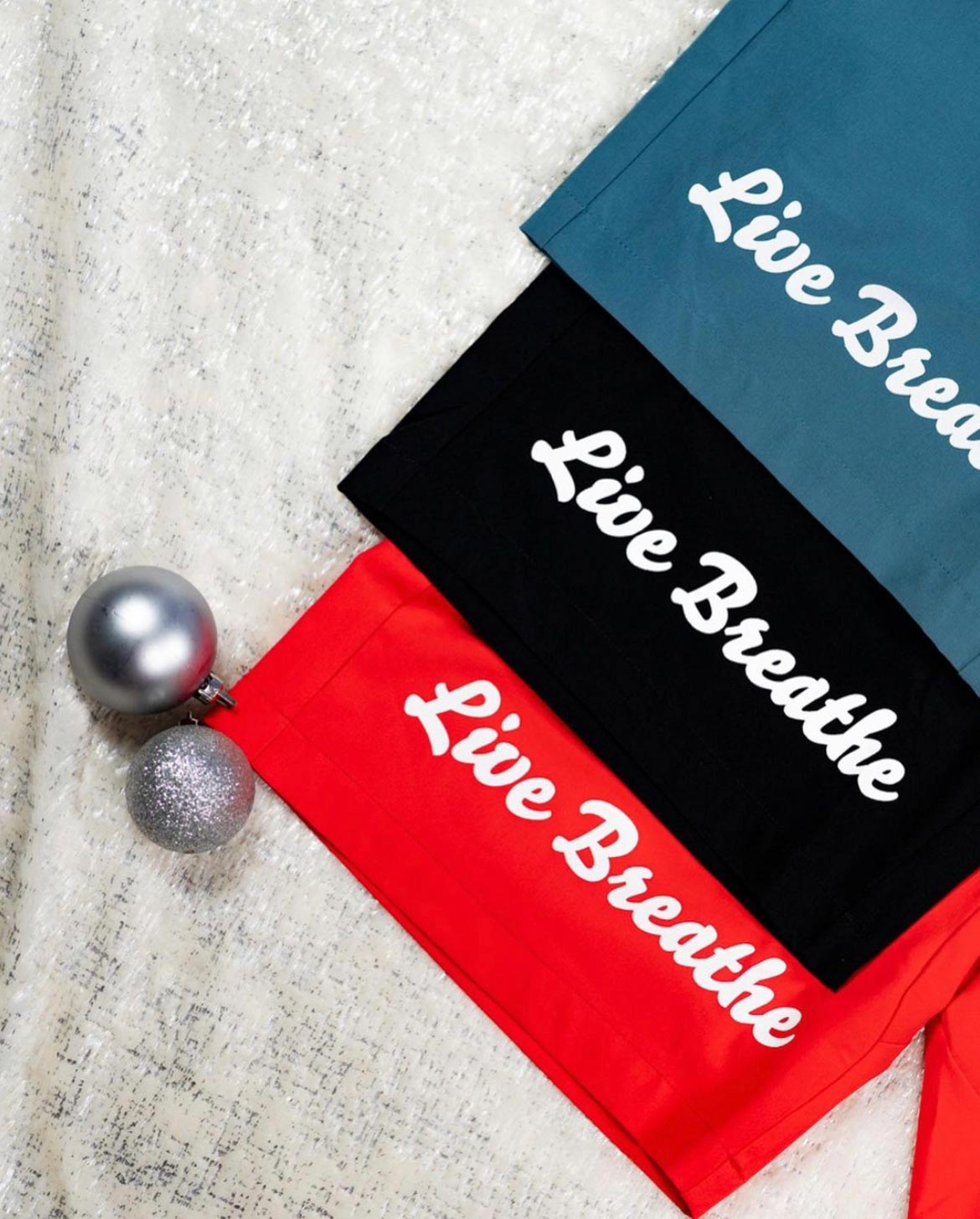 In the past, footballers both domestic and international such as David Luiz and Alexandre Pato have worn Live Breathe Futbol, so it's not too surprising for the brand to get a co-sign from a high profile athlete. But earlier this spring, NBA legend and newly appointed host of The Cube Dwyane Wade posted a photo in LBF's new Turbo shorts, which ignited a new fire underneath the brand.
"That day I think we sold another few hundred pairs of shorts," Olaloye said. "For Dwyane Wade to wear it, it just lets me know the brand has crossover potential and appeal because he's a multimillionaire, he's a fashionista, he gets sent a bunch of products all the time. The fact he chose to wear those shorts that day, he chose to post on Instagram that day, those are all things that were deliberate choices he made."
View this post on Instagram
Thanks to D-Wade, we can now refer to the Turbos as those shorts. Probably the most popular item in LBF's shop right now, they've temporarily sold out multiple times this summer. LBF offers them in a variety of colorways including black, Baggio blue, oranje, volt, and red fury.
For Olaloye, the Turbo shorts were a sort of happy accident he took advantage of.
"We've had the Maestro pants for a few years and it has been one of our most popular product lines," Olaloye said. "So, we were thinking, 'Well we need to make a pair of shorts.' And the Maestro shorts — it's the same exact fabric [as the Maestro pants], the fit and everything is the same."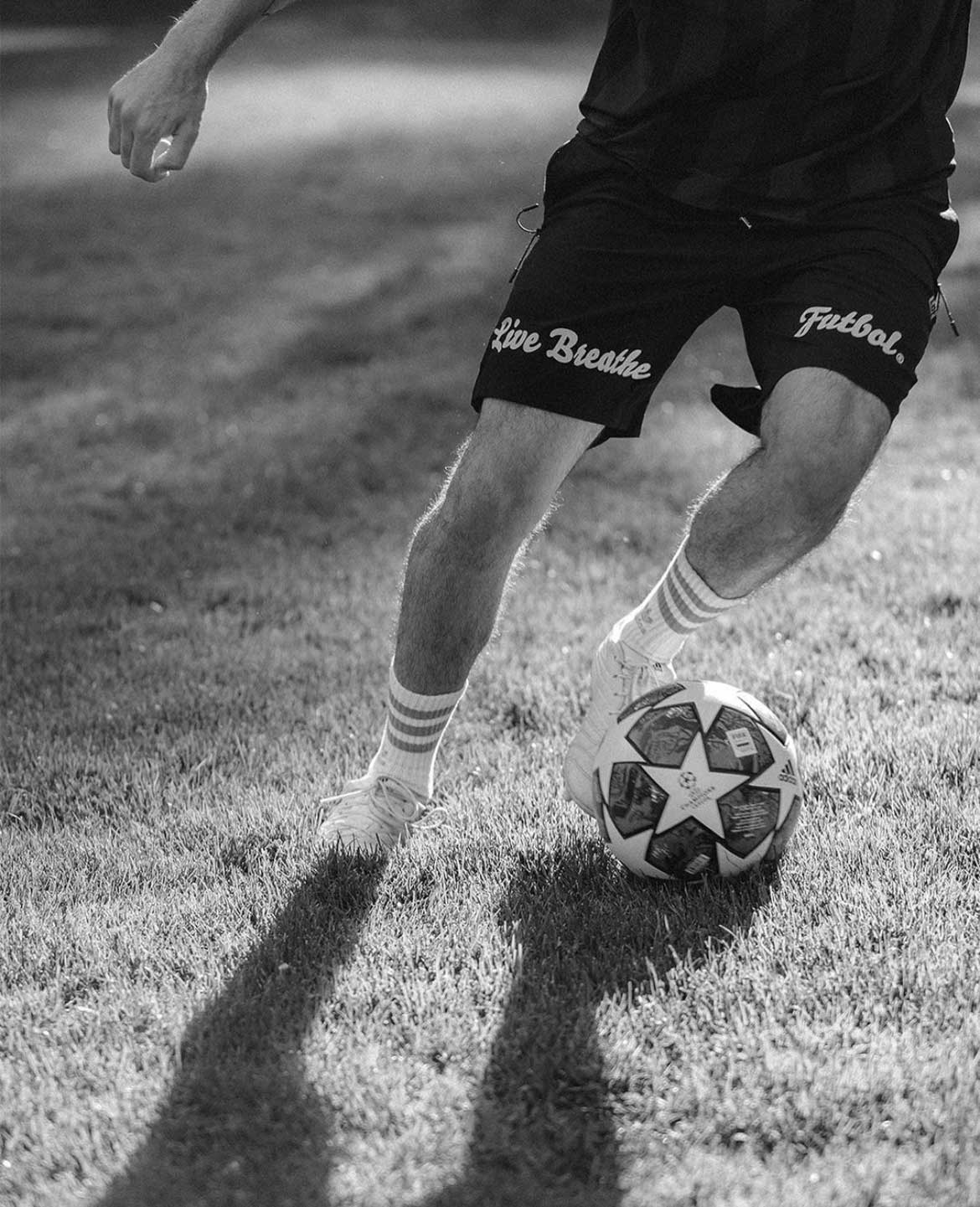 The Maestro shorts launched in spring 2020, but without any lettering on them. The letters came later, during a particularly stir-crazy day at the office during the pandemic. Looking to flex his creative muscles to keep his sanity, Olaloye played around with some graphics on the shorts using the company's heat press. He ended up printing "Live Breathe" on one leg of the shorts, and "Futbol" on the other leg. Eventually it became clear he had something.
"I took a picture of myself wearing them and posted on Instagram, and literally that day 50 people go 'Oh, I want those shorts,'" Olaloye said. "So, I was literally in the office pressing letters on 50 shorts."
With the popularity of the Turbo shorts, Olaloye is planning to expand LBF's entire bottoms category. We can expect new colorways and designs to drop soon, because everyone needs a good pair of versatile shorts in their wardrobe.
LBF x Bleacher Report BLM Kit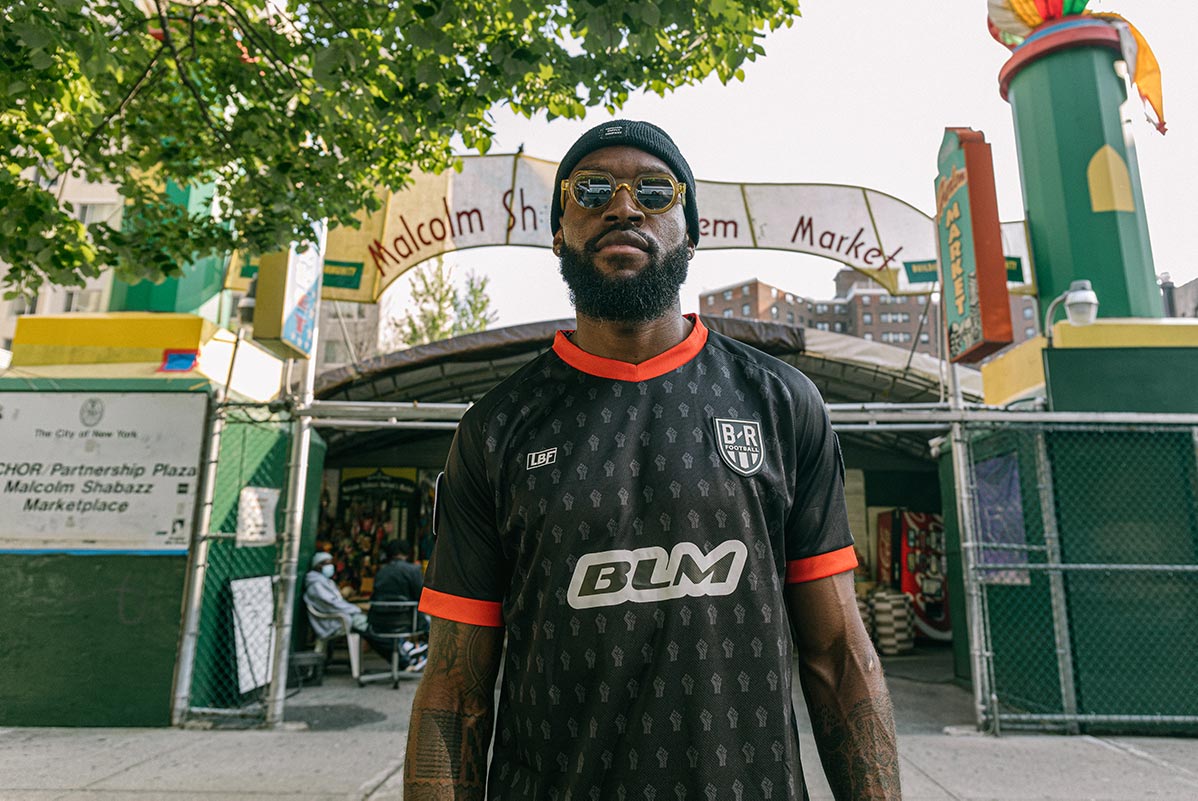 If the Turbo shorts were LBF's drop of the year in 2020, the brand has outdone itself yet again in 2021. Collaborating with Bleacher Report Football, Live Breathe Futbol created a jersey in support of Black Lives Matter and the ongoing fight against racism in football and society at large. The black kit features the Black Power fist in a repeating sublimated pattern, and BLM appears where an ad sponsor would traditionally go. It also has velcro areas on the sleeves to swap on five interchangeable patches, and a vinyl patch on the back where wearers can write a message with erasable marker. Proceeds from the kit are donated to The Social Change Fund.
"Like most things at LBF it happened organically," Olaloye said. "It was just a conversation that naturally happened and then one thing led to another. I have a relationship with someone at Bleacher Report who I'd known for years and then last summer, unfortunately when George Floyd passed and everything was happening, we'd been having conversations about that. We came up with the idea of a BLM kit, and we thought that was interesting because no one had ever done an anti-racism jersey sort of redesigned from the ground up in that way."
The Future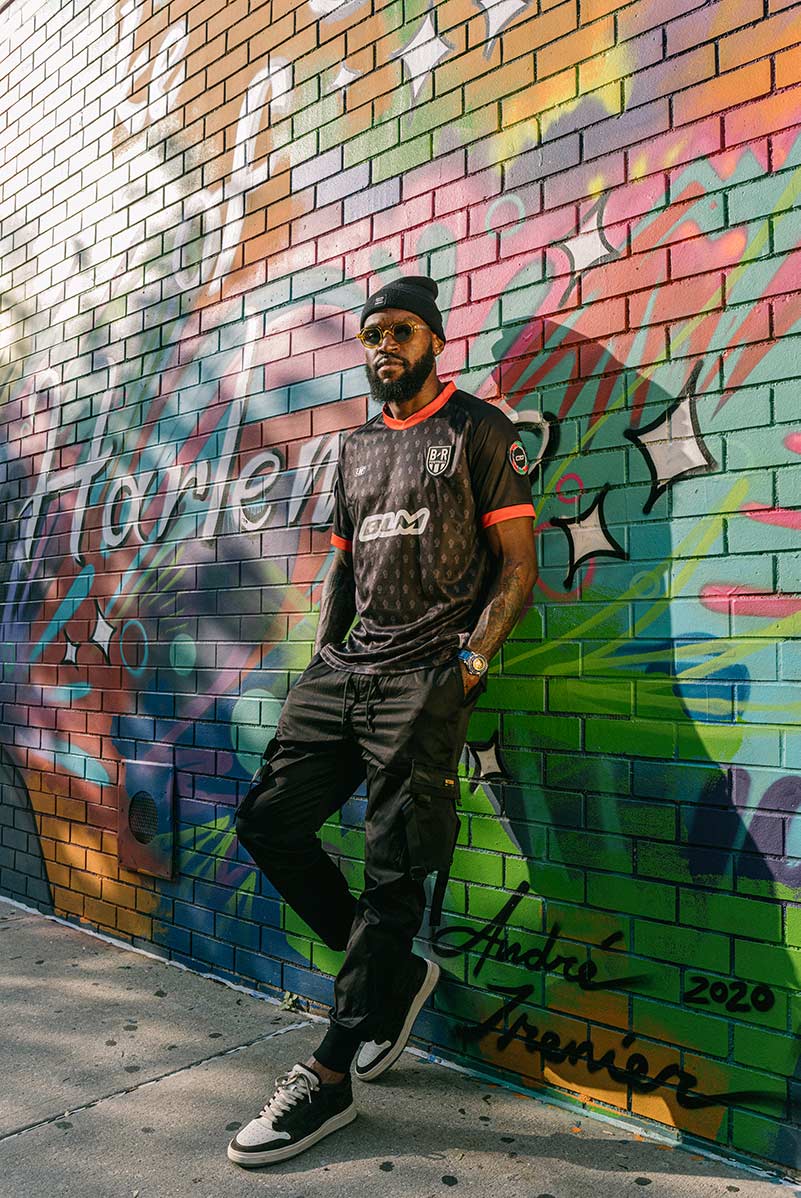 Nowadays Olaloye, who features anywhere on the front line, still plays pickup two to three times a week.
"I try to play as much as I can," Olaloye said. "Because again it's Live Breathe Futbol, it's not just a brand, it's an actual lifestyle."
At age 31, Olaloye now makes his more aggressive moves off the pitch with his LBF brand, but he'll always continue playing. And like a seasoned vet, Olaloye changed his game so he could remain just as effective. Instead of taking defenders on with his pace every time, he now prefers to drop deep, pick the ball up, and play passes through the lines to his teammates.
If Olaloye's ability to adjust and evolve his game on the pitch is any indication, he'll be able to take LBF to even greater heights in the future off it. In fact, later this year Olaloye is planning an aggressive expansion into a new market.
A women's collection is in the works — and while the brand offered women's sizes in the past, this will be the first one designed for them from the ground up. And if that wasn't enough of a heat check, Olaloye's also planning on taking a little victory lap this year with a 10-year anniversary collection, complete with storytelling around the brand's history so far.
If one thing's clear, the brand isn't looking to stay stagnant, and Olaloye is working to continue his upward trajectory.
"What I love about it most is every day's different, every year's a new challenge," Olaloye said. "Every year there's new growth, new opportunities, and that makes me stay sharp. It's like being a footballer, you're in the academy and then you're in the first team, and now all of a sudden everyone's expecting you to score 25 goals a season. Each stage of development is quite different in terms of commitment, training, and mental focus."
Images courtesy of Live Breathe Futbol.
Shop the entire Live Breathe Futbol catalog on its official online shop, and follow the brand on Instagram and Twitter to stay up to date with new drops.