Forget PSG — Calcetto Eleganza may very well be the world's most stylish team. Headquartered in the fashion capital of the world, the club is more haute couture than joga bonito, but who says you can't do both?
You may think your squad is fresh — whether it's your on-pitch skills or your off-pitch drip — but you've probably got a ways to go if you want to be on Calcetto Eleganza's level. Truly dedicated to style, the club once forfeited a match to attend a Nike Air Max 97 release party. Are you that committed?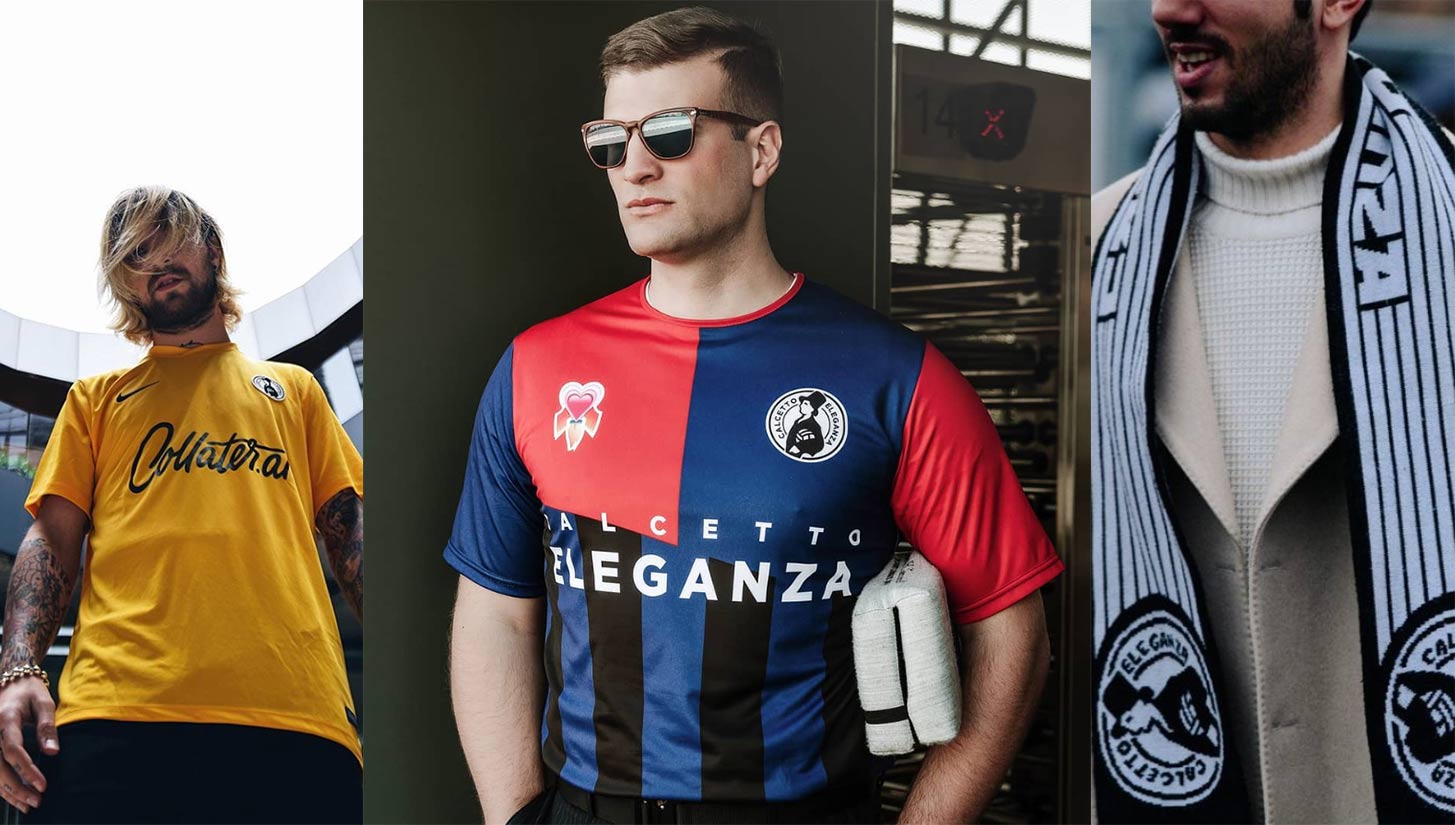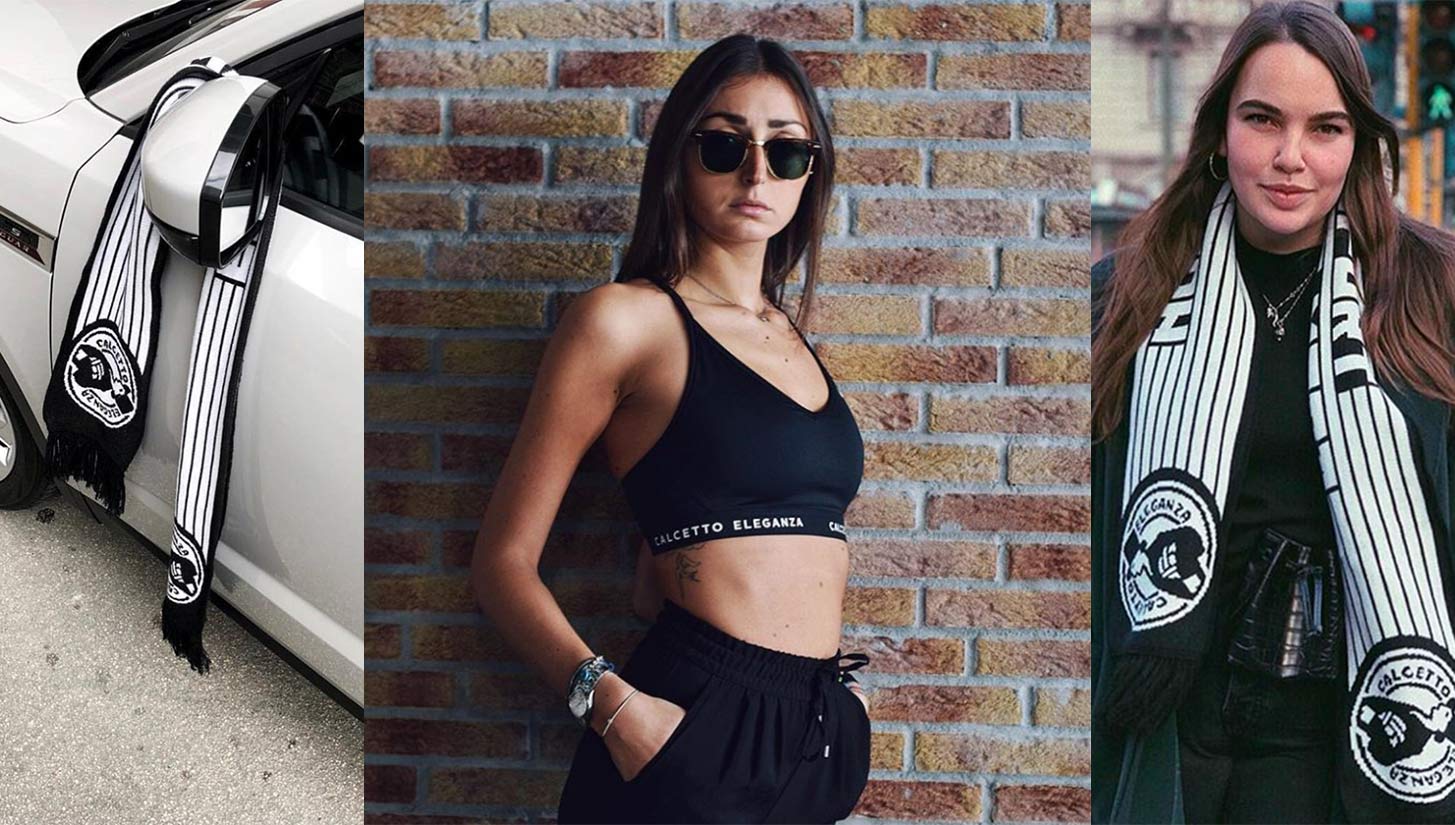 To get a better idea of just who the suave collective is, we recently caught up with Calcetto Eleganza co-founder Nicolo Riggio to discuss their origins, collaborations, and ventures outside of football.
The Foundation
Started in 2014 by Riggio and Marco Gardenale, Calcetto Eleganza was formed as a way for their group of friends to merge their two favorite interests. As the founders recall, the group of 10-odd people, which included designers, artists, and marketing professionals, would all hang out in Milan, bonded together by their affinities for cutting-edge fashion and the beautiful game.
Calcetto refers to the popular five-a-side game played in streets, alleys, and proper courts worldwide, while Eleganza depicts the club's fondness for aesthetics — be it clothing or style of play. We couldn't think of a more apt name.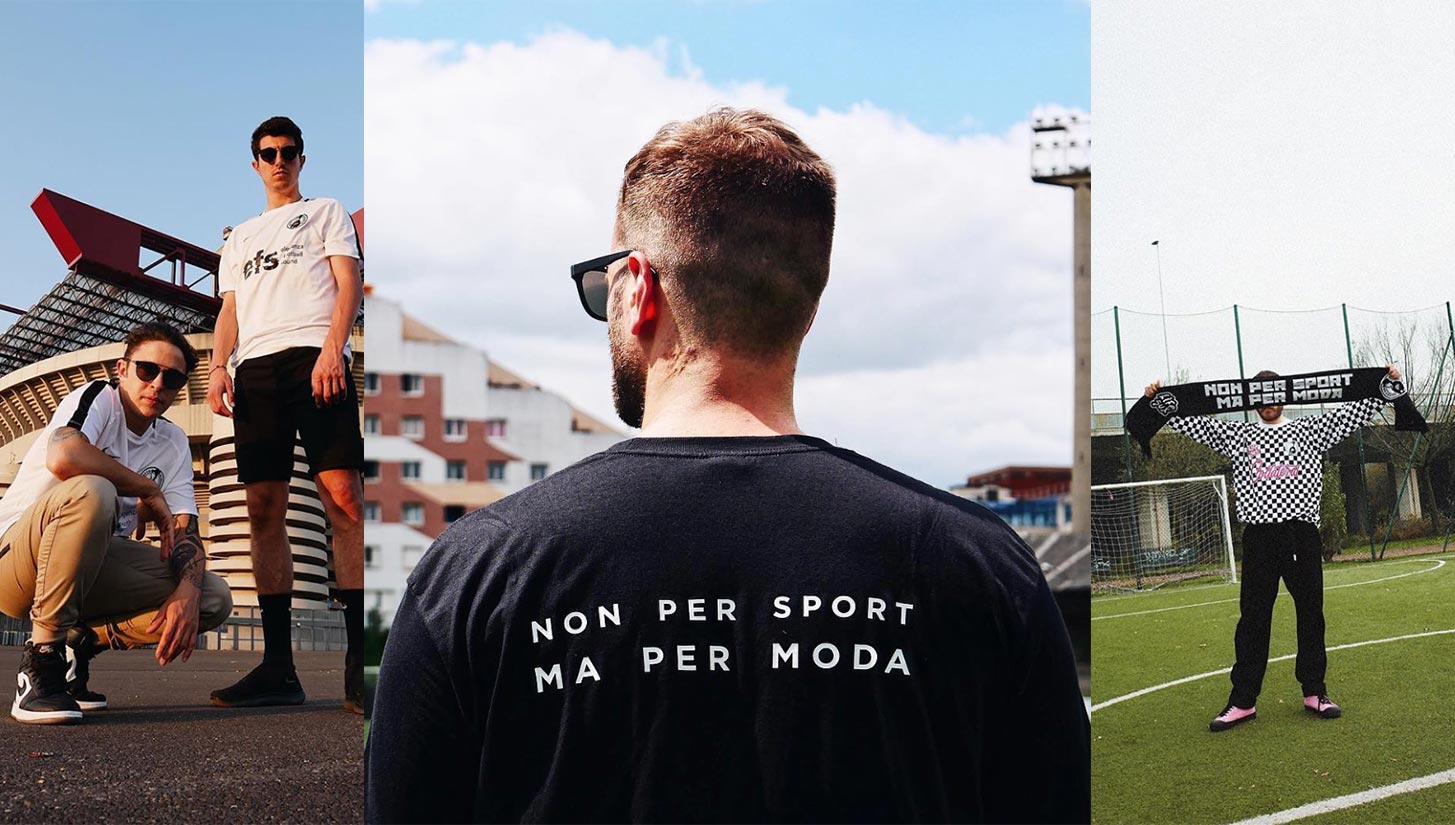 The collective's tagline is Non per sport ma per moda, or, "Not for sport, but for fashion." The motto is of course draped in irony, but accurately and concisely sums up the their ethos. The club is a true reflection of Milan, a city rich in footballing history but also the style capital of the world.
In their beginning stages, Calcetto Eleganza was simply an amateur football club. They continue to field a competitive team, reaching the semifinals of the most recent winter season of the Zona Goal tournament in Milan. But as they progressed, they ventured into other aspects adjacent to the game, including music, art, and of course, fashion.
Calcetto Eleganza Football Sound
As Calcetto's popularity skyrocketed, people began traveling to Milan just to play with them and hang out and party afterwards, which gave them an idea to help expand their reach.
"We all love music, and we all love parties after the games, which is the best way to spread the message," Riggio said. "And that was also the year when people started wearing football t-shirts in the clubs, so it was the perfect moment to kick start this thing and to deliver our message beyond the pitch and into the clubs."
With the help of a member of Italian electro-pop group Power Francers and with Gardenale as the project's artistic director, the collective began to DJ and collaborate with some of the most prominent clubs in Milan. And thus Calcetto Eleganza Football Sound was born. After catching fire in the clubs and even playing a few festivals throughout Italy, the collective began a new musical endeavor, a full Italian music program called Italia Uno. Like almost everything else Calcetto does, Italia Uno is an ironic music program playing everything from '60s and '70s pop and soft rock icon Lucio Battisti to today's biggest rap and trap stars.
"It's kind of a mashup of cool Italian music, and all the crowd is really supporting it," Riggio said. "We wanted to create excitement. Not to propose super high-end music, but just to create that same excitement that you have when you go to the stadium. That you're just excited, and you want to sing, you want to yell, you want to hug people."
Collabs and Merch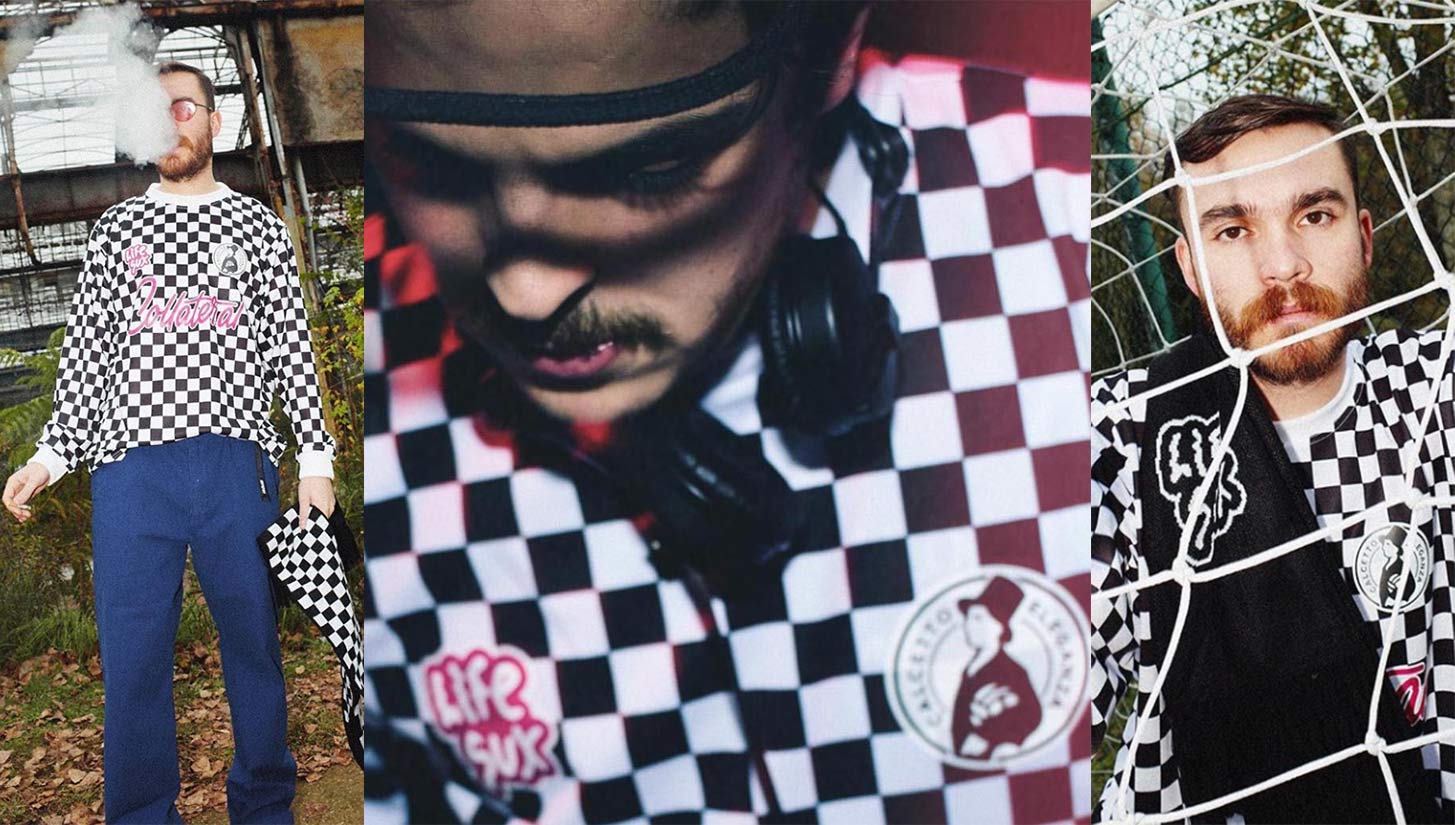 Both Riggio and Gardenale cite the collective's capsule collection with Italian handmade streetwear brand Life Sux as their favorite collab they've done so far. Life Sux is based out of Marche, a region in Eastern Italy known for craftsmanship and footwear. The idea for a partnership came up after Life Sux reached out through one of the collective members.
Life Sux had a desire to tap into the football scene, and Calcetto was the perfect vehicle given their laid-back lifestyle and attitude. And from Calcetto's side it gave them an in into the fashion world, providing an opportunity to flex their design skills. The two teamed up to create a special edition scarf and t-shirt, which featured a dope checkered pattern and script colored with Life Sux's iconic neon pink. The two commemorated the release of the super limited-edition capsule collection with a dope shoot on a football pitch.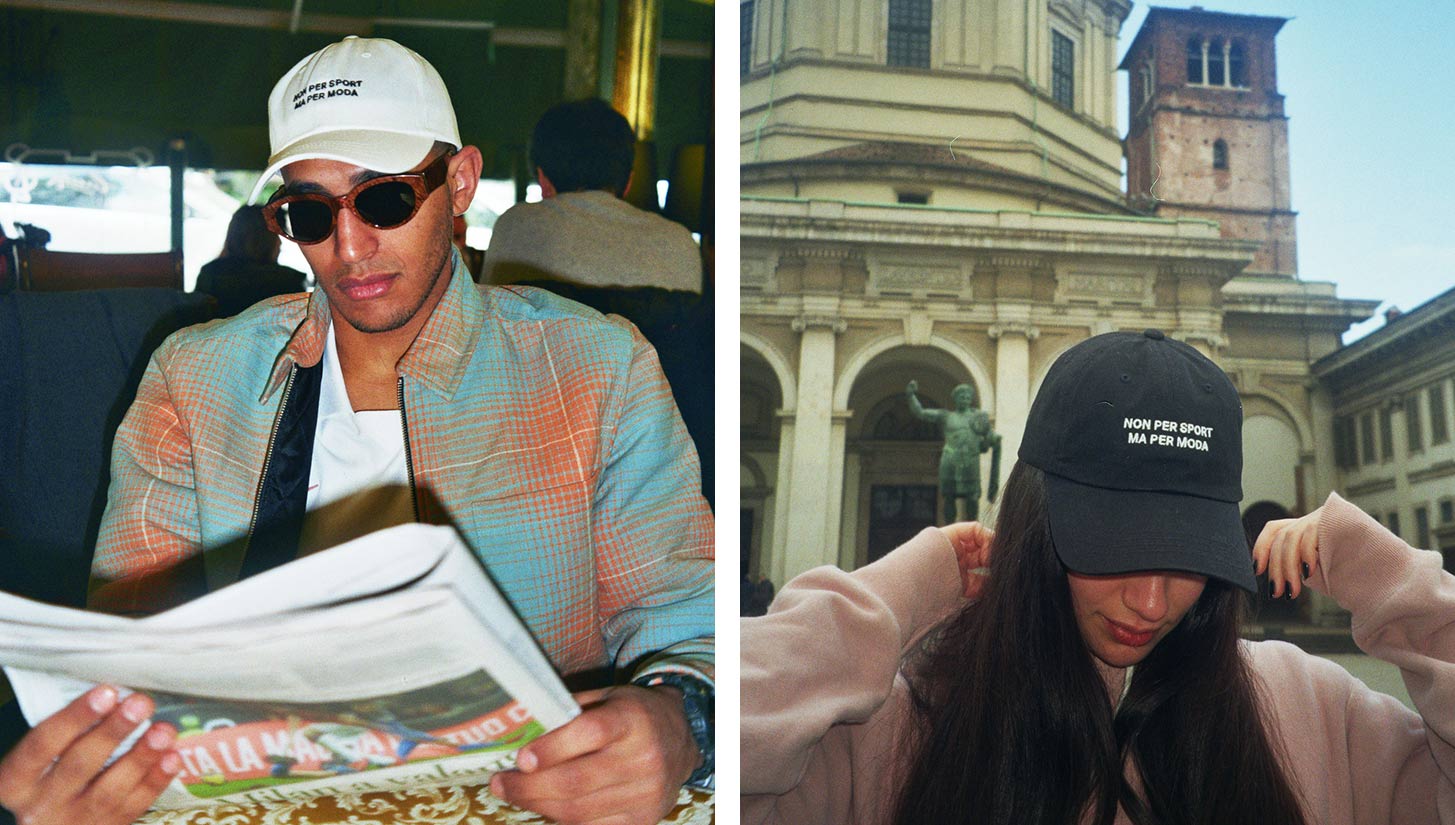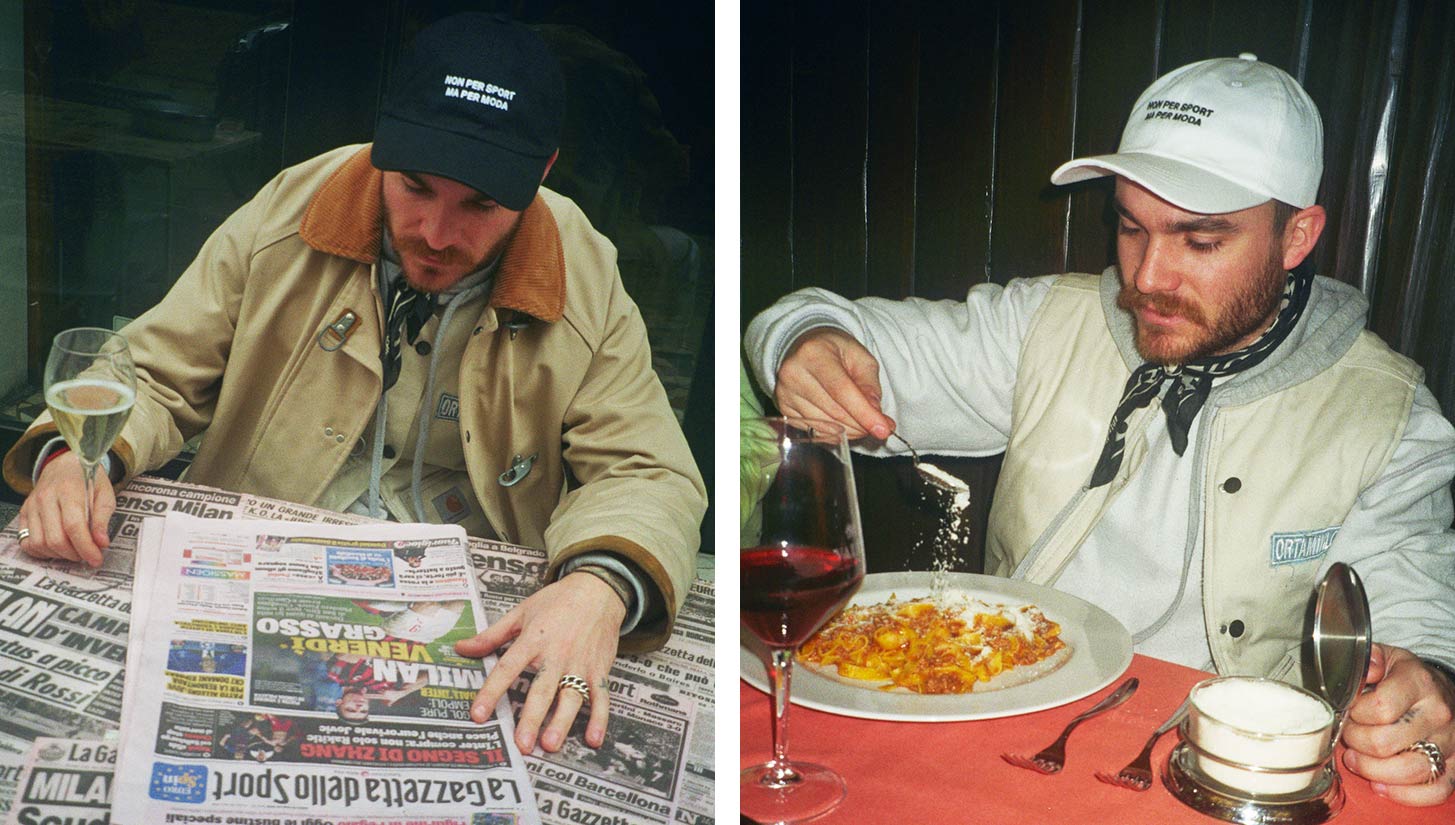 Calcetto also makes merch of their own, with Riggio and Gardenale citing their "Not for Sport, But for Fashion" dad hat as one of their favorites. They also came out with some powerful, poignant visuals to accompany the release, highlighting the most important figures in a football club who may be invisible to most, but are crucial to the everyday functions of the club.
They definitely have many more exciting collabs in the works, and some of their merch should be more widely available for purchase soon.
Calcetto Eleganza Ladies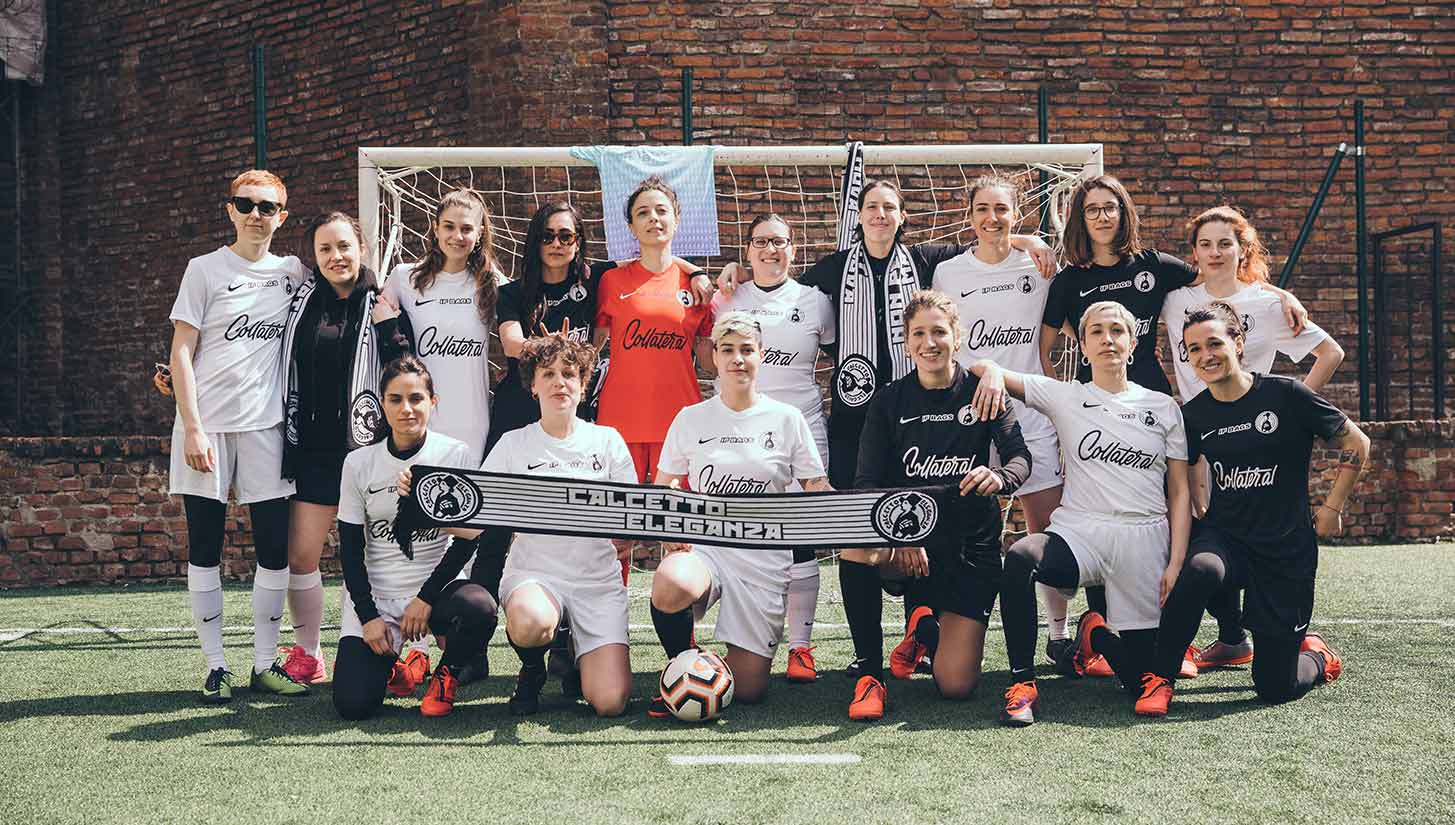 The collective's most recent project is perhaps their most ambitious yet. With the help of Nike as a partner they've founded the Calcetto Eleganza Ladies brand. The project couldn't have come at a more perfect time in soccer, with support for women's Serie A reaching a crescendo in Italy after finally being officially recognized by the FIGC, and with the most competitive Women's World Cup in history underway.
"What we wanted to do was first validate the concept that there is no distinction between men's and women's football, so more underlining the performance," Riggio said. "Now after that, we want to emphasize also the lifestyle component of it. If I'm a girl, I'm cool because I'm playing football. And not something or someone strange, or someone isolated, or someone who resembles a man instead of a woman. No, I'm so f—ing cool at doing that. And we want to emphasize this."
In addition to fielding a team and coming out with a selection of women's products, Calcetto Eleganza recently hosted the International Women's Football Experience in Milan during design week. The experience consisted of teams from Paris and London joining Calcetto and playing football, drinking beers, and chatting about values of sports beyond the court in Milan for three days.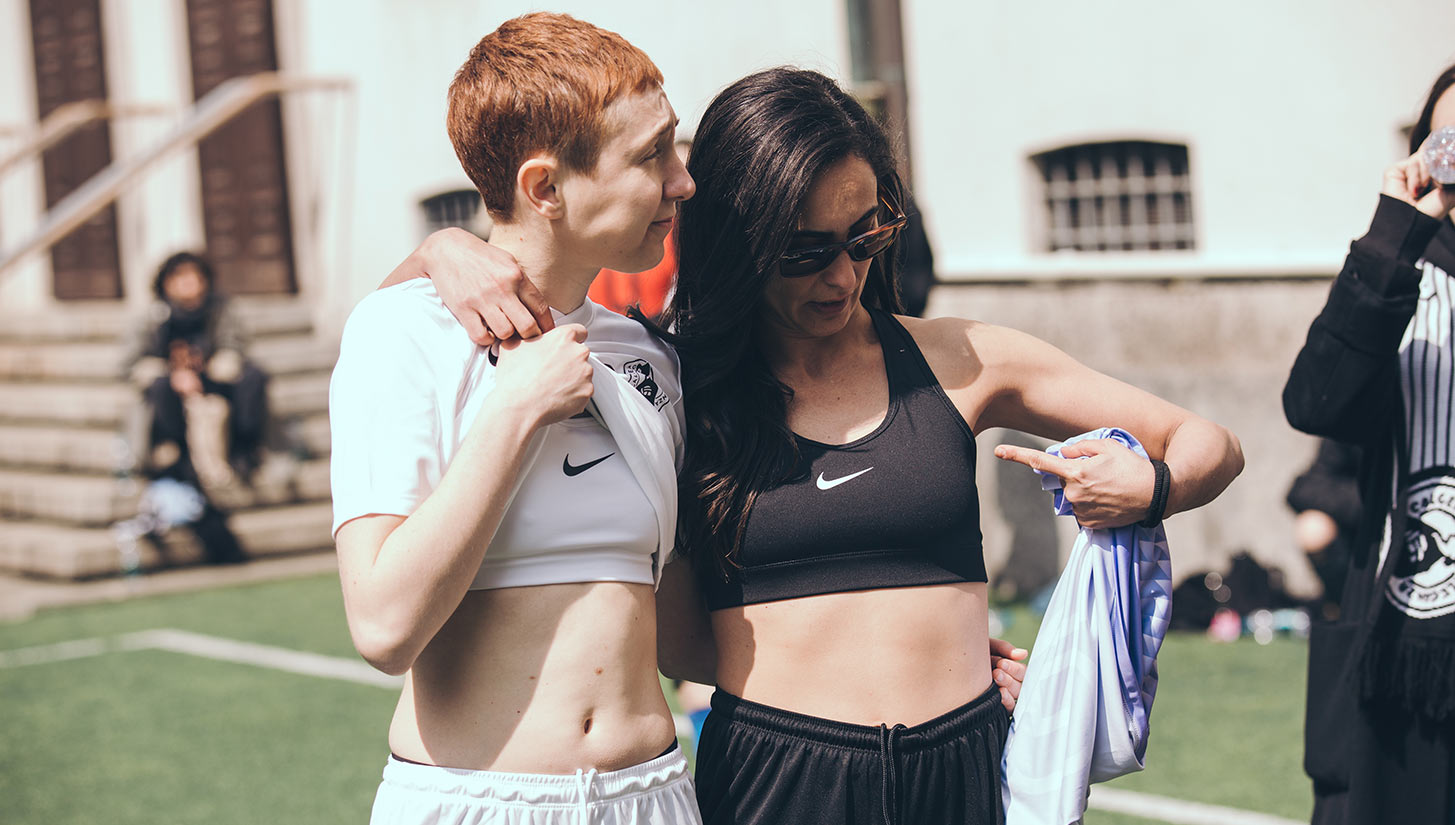 "It was really a cool moment to emphasize all the values that more than in male soccer, you share in the women's scene," Riggio said. "Because they're all caught up with this thing of community, with these things called values, pride, beyond sports that we really marry 100 percent in full. It was really intense, it was really a great three days of sports and values."
Easily one of the coolest football clubs/collecties you'll ever come across, Calcetto is and continues to be a picture perfect product of their environment.
You can keep up with Calcetto Eleganza's latest releases by following them on Instagram.
All photos courtesy of Calcetto Eleganza.