With the top flight Spanish league back after a World Cup sabbatical, we take a look at which La Liga clubs entered and exited the break in the best shape.
On the heels of a seven-week World Cup/holiday break, La Liga returned to action, with a full slate of matches between December 29-31.
In all, some 83 players from 18 Spanish top flight teams (everyone except Girona and Elche) made the trip to Qatar for the first-ever in-season (for Europe) World Cup. Unsurprisingly, La Liga's "big three" of FC Barcelona, Real Madrid, and Atlético de Madrid are home to a disproportionate chunk (48.2%, or 40 players) of the league's World Cup-bound talent. Of the remaining 43 players, nearly a quarter (10) ply their trade at club level for Sevilla, while another five apiece suit up professionally for crosstown rivals, Real Betis, and a pair of Valencia-based sides, Valencia and Villarreal.
This first round of post-World Cup matches — each team's 15th of the season — offered a first glimpse at which teams seem to have maintained (or found) their rhythm over the past 50-ish days, just how beneficial it is (beyond the obvious benefit of employing good players) to have had a significant contingent present at the World Cup, and where the line can be drawn between enough action to maintain match fitness and how much is too much.
Though it's far too early to draw any definitive conclusions, it's certainly worthwhile to tally up these early returns, and see what hints we can draw about what the final two-thirds of the 2022-23 La Liga season may have in store.
The Top Two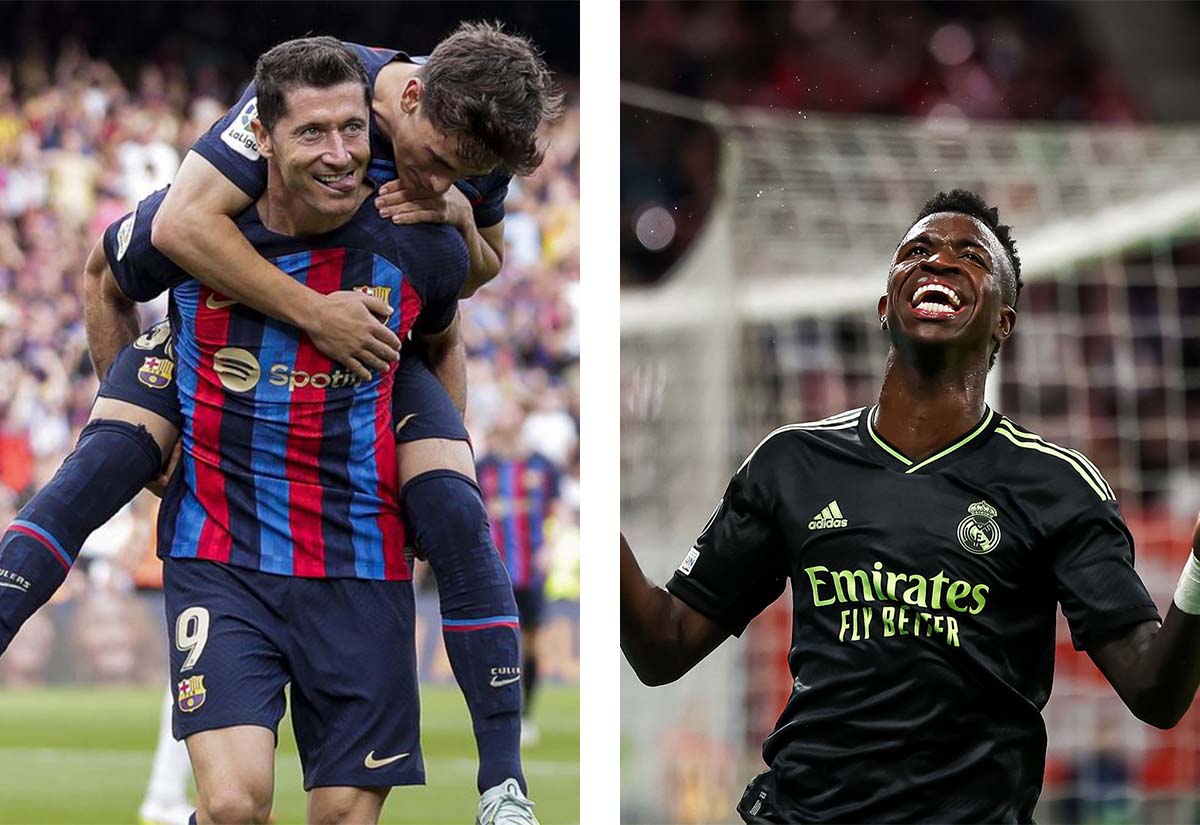 Less than three months into the 2022-23 season, the field in the race for the La Liga title had been whittled down to two very usual suspects. To be sure, "eternal rivals" and unsurprisingly the two best-represented Spanish sides in Qatar are poised for one hell of a title chase. However, thanks to the odd misstep from every other top half team, combined with Sevilla's collapse (a bit more on this later), Barcelona and Real Madrid found themselves 11 and nine points clear, respectively, of their nearest competition by the time La Liga hit the pause button on November 10.
Barcelona went into the World Cup break two points clear of Real Madrid, and winners of 12 of 13 in La Liga since a disappointing goalless draw at home in their season opener against Rayo Vallecano. The lone blemish? A 3-1 defeat at the Bernabéu in an October 16 Clásico.
Of the incredible 16 players they'd sent to the World Cup, only two saw action in Qatar after December 9 — center back Jules Koundé and winger Ousmane Dembélé of France.
Of the 13 other Barça players, quarterfinalists Raphinha (of Brazil) and Memphis Depay and Frenkie de Jong (Netherlands) wrapped up on December 9, while superstar striker Robert Lewandowski (Poland) and the sizable Spanish contingent (Pedri, Gavi, Ansu Fati, Jordi Alba, Sergio Busquets, Ferran Torres, and Eric García) all had nearly four weeks of downtime. And, in a stroke of luck, star center back Ronald Araújo, who's been sidelined since late September with a thigh injury, got to enjoy the honor of inclusion in Uruguay's squad, but saw no action in his nation's group stage exit.
Thus, the Blaugrana went into Friday afternoon's contest against relegation-threatened crosstown rivals Espanyol ideally positioned to hit the ground running after the midseason break. On paper, at least.
This initially went to script on New Year's Eve at Camp Nou, as a Marcos Alonso header put the Blaugrana up after just seven minutes. For the next hour-plus, Barça controlled the game, with nearly 80% of all possession and shots.
At that point, emboldened by the opportunity to flash his proprietary brew of narcissism on the world stage, referee Antonio Mateu Lahoz put the finishing touches on a characteristically oafish performance. After awarding a (fair, it must be said) penalty to Espanyol in the 73rd minute (which Joselu converted), Lahoz, who is never not feeling the hell out of himself, began booking anything that moved, to the tune of 13 yellow cards, and sending off Jordi Alba and Espanyol's Vinicius Souza in the 78th and 80th minutes.
All of that said, the game should still have been there for Barça's taking — or put away beforehand. That they failed (as they have somewhat regularly this season) to finish off chances in key moments will be infuriating to manager Xavi.
Heading into (and out of) the World Cup, the story was similar for Los Blancos. Of the dozen Real Madrid players (excluding the injured Karim Benzema) in action in Qatar, all avoided injury, only two (France's Aurélien Tchouaméni and Eduardo Camavinga) played in the final, a third (Germany's Antonio Rüdiger, Uruguay's Fede Valverde, and Thibaut Courtois and Eden Hazard of Belgium) got to shut it down after the group stage.
Five of eight who did make the knockouts — Spain's Marco Asensio and Dani Carvajal and Brazil's Vinícius Júnior, Rodrygo and Éder Militão – were also done by December 9.
One notable exception, of course, as he seemingly always is, is Luka Modrić. Four years and change after leading Croatia to the World Cup final, Modrić once again played the maximum number of World Cup games. This time, rather than the final, Croatia wound up in the third place match after a semifinal loss to Argentina. Naturally, the ageless wonder not only suited up for that contest, but played 90 minutes in the 2-1 win over Morocco.
Like Barça, Madrid returned to action away to Real Valladolid as heavy favorites. Unlike Barça, despite looking the better side throughout the match, Madrid struggled to gain an advantage, and found themselves in a goalless struggle until an 81st-minute VAR decision awarded a penalty, which Benzema converted. Six minutes later, it was Benzema again, this time off of a Camavinga pass, with the finishing touch on a victory that was not as straightforward as the 2-0 score would suggest. But, as Barça will attest, three points are three points.
There will be plenty of twists and turns in the coming mano a mano duel between Barça and Real Madrid on March 19. As Barça showed during the first third of the season, they've got the depth and quality on hand to once again claim the top spot in Spain. However, that they, in an ideal post-World Cup scenario, immediately squandered their advantage in the league table — especially with battles against Atlético de Madrid and Real Betis looming in the next couple of weeks — is cause for concern.
The Race for Europe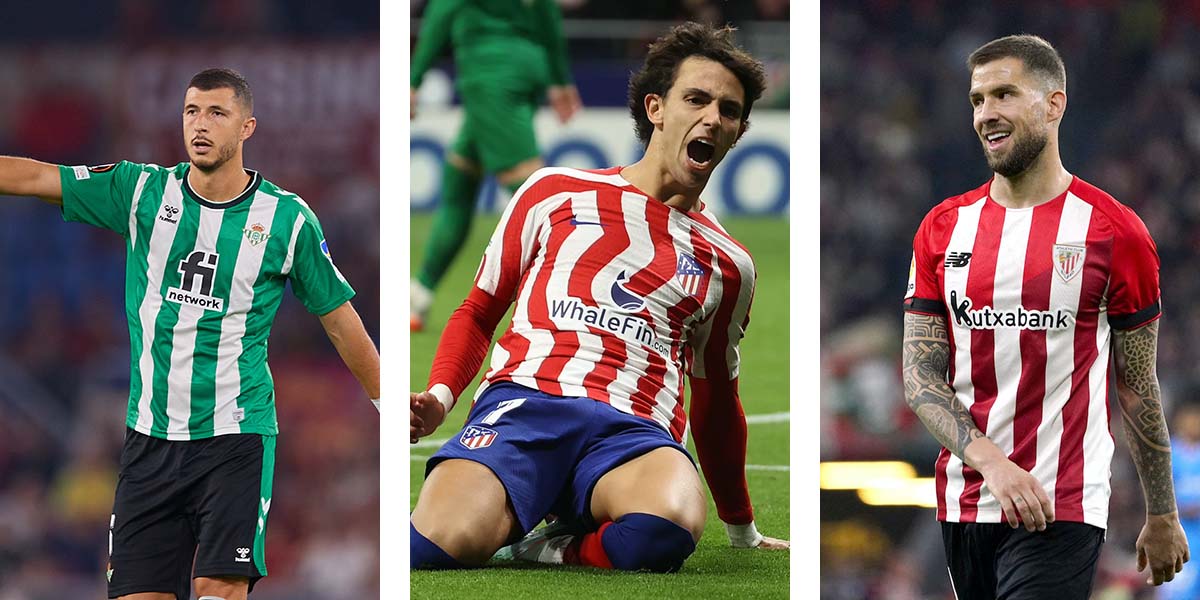 In terms of both headcount and marquee names, the third member of Spain's "big three," Atlético de Madrid, are not far behind the top two. Atleti welcome back a pair of now-World Cup champions in Nahuel Molina and Rodrigo De Paul, second-time finalist and one of the tournament's very best players, Antoine Griezmann, and a third-place finisher in Croatia's Ivo Grbić.
Beyond that quartet, returning to action for Atleti are a trio whose tournament ended with the group stage — Uruguay's José Giménez and Axel Witsel and Yannick Carrasco of Belgium — a trio of Spaniards (Koke, Álvaro Morata, Marcos Llorente) whose tournament ended in the round of 16, and Portugal's João Félix, who was done after the quarters.
Unfortunately, a rough start to the season, including a last-place finish in the Champions League group stage, which ended their European campaign, has the lone non-Barça-Real Madrid club to win La Liga since 2004 in a potentially high-downside battle of its own. Despite a solid return to domestic action, in which a pair of second half strikes from Morata and Félix (who reportedly may not be in Madrid much longer), both assisted by Griezmann, Diego Simeone's side finds itself in fourth place with just 27 points from its first 15 matches. That has it not only a distant 10 points back of first, but in a top-half dogfight that could just as easily land them in the Europa or Conference Leagues — or even out in the cold altogether — as in one of La Liga's final two Champions League spots.
On Atleti's heels are a pair of clubs whose respective post-World Cup campaigns kicked off with a head-to-head battle.
On Wednesday night in Sevilla, Real Betis and Athletic Club de Bilbao — both sitting on 24 points and occupying Spain's two final European spots — squared off at the Estadio Benito Villamarín. For some, Betis were probably surprisingly well-represented in Qatar, as the club sent two eventual champions (Germán Pezzella and Guido Rodríguez), William Carvalho of Portugal, Senegal's Youssouf Sabaly, and Mexico's Andrés Guardado. Athletic Club, meanwhile, welcomed back Spain's starting goalkeeper, Unai Simón, and 20-year-old striker Nico Williams, as well as his older brother Iñaki, who suited up for Ghana.
On either side of as fun and heartwarming a toy drive as you're ever going to see, the sides battled to a more or less fair goalless draw in which the hosts were probably the better side. There was a potential concern looming for Betis, as striker Borja Iglesias, who's got eight league goals thus far this season, was rumored to be on for a move to Atleti as a replacement for Félix. However, that talk was quickly put to rest, by both club and player. Hanging on to Iglesias will be vital for Betis, who've been spectacular defensively, with just 12 goals allowed in 15 matches, but struggled nearly as much to put the ball in the net, with just 17 goals of their own.
Betis and Athletic Club each have their shortcomings, and neither is anyone's idea of a genuine powerhouse. That being said, however, these are two high-quality clubs, each with the top-end talent, depth, cohesion, and coaching to like their chances of holding off the next three clubs in the standings — Villarreal, Rayo Vallecano, and Osasuna — to secure European football for next year.
Who's On Third?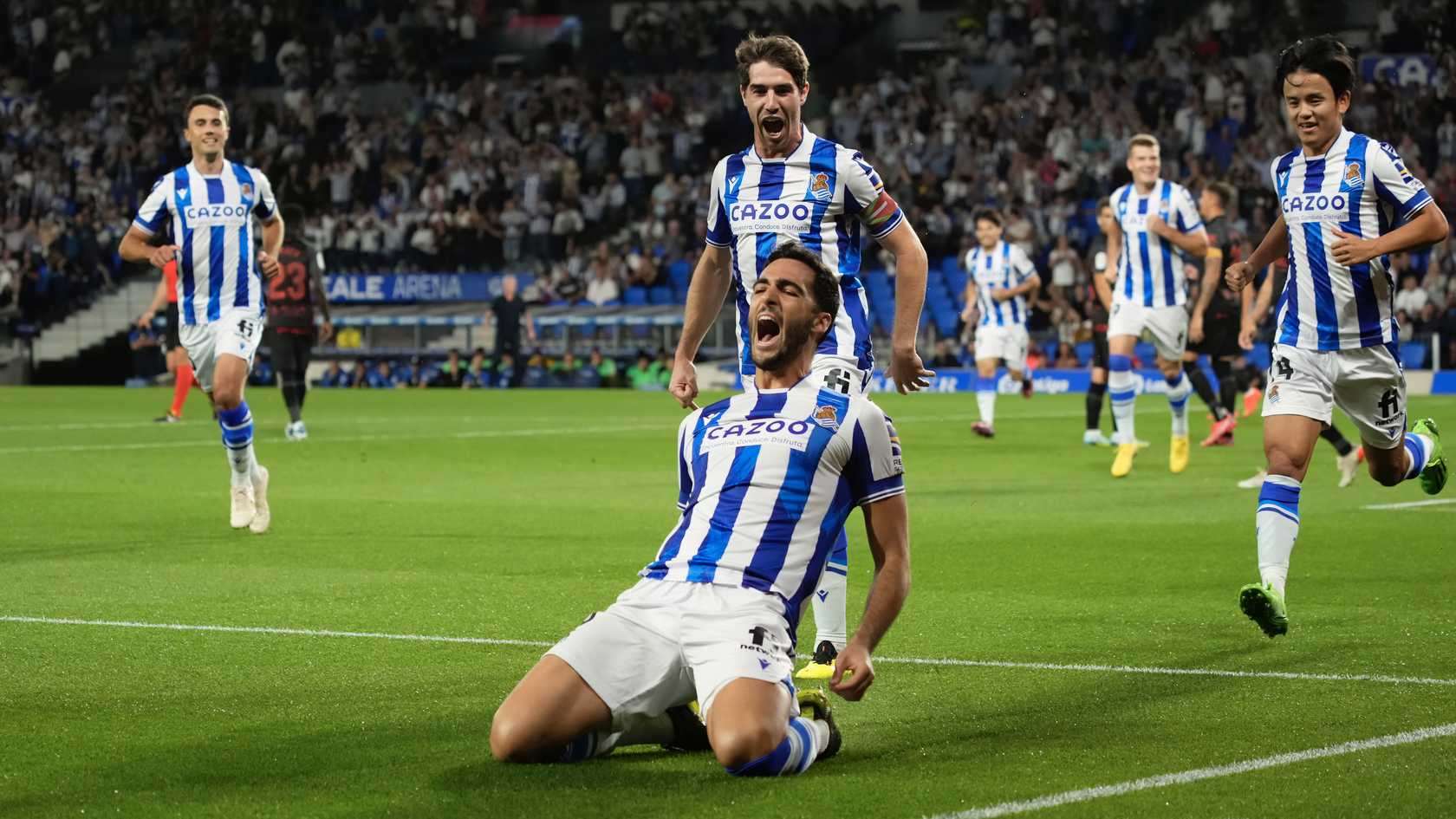 I imagine that a few of you, without looking, would need a minute and a couple of guesses to name the side that currently sits third in La Liga, in Spain's third Champions League spot.
I mean, if you're a fan of a clean blue and white shirt, this isn't you… is it?
Say hello to Real Sociedad. The only team within 10 points of the top two, and two points clear of fourth place.
To be fair, La Real have been somewhat easy to overlook this season. They don't always play the most eventful of games, with a respectable-but-otherwise-unremarkable total of 38 goals in 15 matches. Their +4 goal difference certainly doesn't jump off the page. Neither were they on an attention-grabbing pre-World Cup hot streak either — they lost two and drew one of their last four matches before the break. And, for good measure, not only does the roster not feature star power anywhere close to that of Barça and the two big Madrid sides, it actually boasts fewer household names than the likes of Betis, Sevilla, and Athletic Club.
Case in point: in the 2022 World Cup, La Real were represented only by 21-year-old Japanese striker Take Kubo. That, of course, is a misleading reflection of this team's quality.
Any of the midfield trio of Mikel Merino, Martín Zubimendi, and (especially) Brais Méndez would have been worthy selections for the Spanish team. Also, a healthy version of somehow-still-only-25-year-old star forward Mikel Oyarzabal would almost certainly have made Luis Enrique's squad had he not been on the shelf with the ACL injury he suffered last March. The same could be said of Alexander Sorloth, who'd have been a virtual lock had Norway's Erling Haaland-led side made its way into the field of 32.
What's particularly exciting for La Real — who are eight points off the top — is that, on every one of these fronts, there's cause for optimism. The dynamic Kubo is a rising star who started in Japan's group stage wins over Spain and Germany. Oyarzabal is back. And the midfield trio mentioned above is playing phenomenally, and powered the team to a 2-0 win over Osasuna in their post-World Cup return, with Méndez opening the scoring in the first half, and then setting up Sorloth for the second just after the hour mark.
The race for the other European positions is shaping up to be one of the most interesting in years. Sevilla and Atletico Madrid have tended to join the "big two" as Spain's Champions League representatives in recent years but there appears to be at least one UCL spot up for grabs this season with the Andalusians currently languishing in the relegation zone.
Odds and Ends From the Rest of the Table
A couple of things before we call it a day here:
First — and what this actually means we'll only know in the future — but, of seven teams in La Liga represented at the World Cup by no more than one player, six — 19th-placed Cádiz, 16th-placed Espanyol, 13th-placed Almería, and 12th-placed Girona, along with Osasuna and Real Sociedad (eighth and third) — managed results.
Again, it's way too early to make any serious declarations, but for this many teams who've struggled basically all season to come back from such a massive layoff and get something (even laughably-awful Elche's 2-0 loss to Atleti probably exceeded expectations) suggests that maybe this extended period of rest could offer a small advantage for lesser sides.
Finally, what if I told you that there's a team in La Liga that features three newly-crowned World Cup winners (Gonzalo Montiel, Marcos Acuña, Papu Gómez), two of the stars from the tournament's Cinderella, Morocco (Youssef En-Nesyri and talismanic goalkeeper Bono), and two members each of the Danish and Serbian teams, plus Alex Telles from Brazil's Seleção?
Given all we just discussed, it's obviously not one of the top six. Maybe it's seventh-placed Villarreal… or Osasuna? Valencia? They're off the pace, but still 10th. Is it one of them?
Nope. We're talking about Sevilla.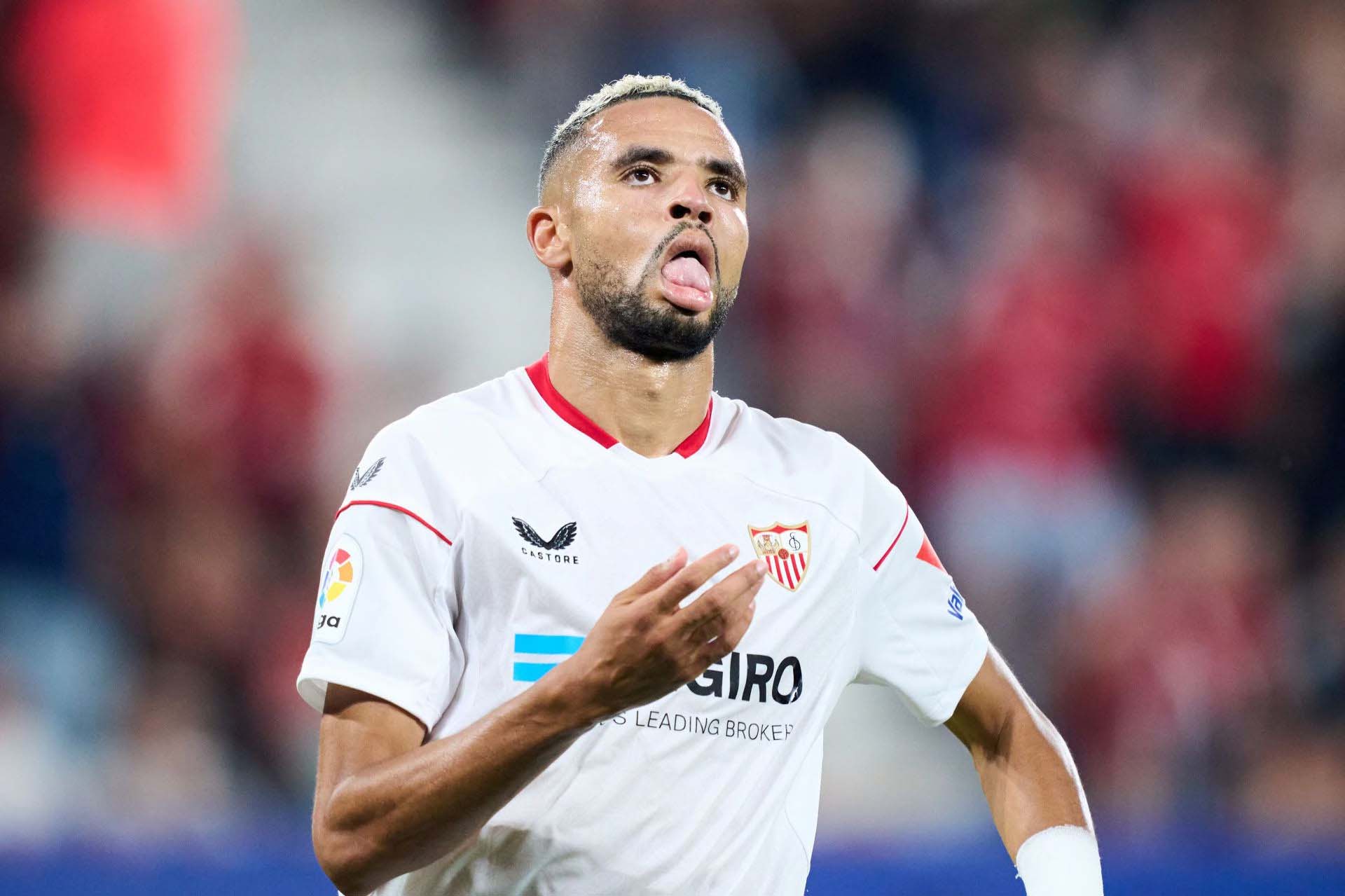 Of course, right?
Sevilla! Perennial top-four finishers, and La Liga's non-Barcelona/Madrid powerhouse. Always bursting at the seams with high-quality players and, with some frequency, out-and-out stars. Of course…
This year, with a roster that, on paper, suggests that nothing has dramatically changed, under the guidance of former Chile and Argentina boss Jorge Sampaoli, a third of the way through the season, Sevilla sit in the relegation zone, on 12 points (about what they deserve, with their 14 goals scored and 23 conceded), in a four-way fight with Cádiz, Espanyol, and Celta de Vigo to avoid the last two sports in the drop zone (Elche are gone).
Given the sheer volume of talent on this team, it's likely that Sevilla finds something resembling competence in the coming weeks, and crawls to a deeply disappointing middle-third finish. Probably. And that's the best-case scenario.
But then, when the alternative is a cataclysm, that doesn't sound half bad.