After emerging victorious at the 2014 World Cup, the German men's national team has struggled in nearly every major tournament since. We take a look at the nation's struggles, and how the once dominant country has become merely average at best. 
Stephanie Frappart's final whistle in Qatar sealed Germany's fate. The four-time World Champions would exit consecutive World Cups at the Group Stage.
Thanks to underwhelming performances in their three games, Hansi Flick's first tournament in charge of Die Mannschaft continued the disappointing form that plagued the end of Joachim Low's reign.
Few had predicted Germany to exit the 2022 World Cup with such a whimper, with the DFB chalking it up as an unlucky accident. But that perception has only become less and less prominent as Germany's form has only gotten worse.
With EURO 2024 less than a year away, the host nation needs something drastic to reclaim its position as a footballing powerhouse before they welcome the continent's best. The German men's national team has played five fixtures so far in 2023, winning only once — a 2-0 victory over Peru in its first match of the year.
Since, Flick's side only has a 3-3 draw against Ukraine to show for itself, with losses against Belgium, Poland, and Colombia heightening the fan's anger towards the performances.
In the back-to-back losses to Poland and Colombia, Germany was held scoreless, starved of any ideas in front of goal. Flick's slow, methodical system seems to be wearing thin on his players and fails to utilize the creativity of Leroy Sané, Jamal Musiala, and Julian Brandt, while deploying other players out of position.
Kai Havertz has been more or less lost as a false nine, Ilkay Gungodan — who ended the treble-winning season for Manchester City on a tear — was ineffective in an attacking position on the inside-left, and defensive midfielder Emre Can at the center of a three-back formation added confusion all around.
Gungodan's struggles in particular is evident of Flick's failed experiments, and highlights the contrasting styles of Pep Guardiola's free-flowing football and Flick's uninspired tactics.
If there was one crumb of hope for German fans, it was the inclusion of Malick Thiaw. The 21-year-old didn't look out of place in the senior side, hinting at some optimism for the future. However, poor results at the U19 level and an extremely disappointing exit from the U21 European Championships sent any hope into a puff of smoke.
The U19 squad has won only one of its four games in 2023, while the U21s have won 0 in five, which might be the most damning indictment of the current state of German football.
Germany arrived at the U21 EUROS as defending champions, yet confidence wasn't all that high, with the lack of a creative midfielder providing the most worry.
The Germans have dominant No. 10s at their disposal at the U21 level, but neither Bayern's Musiala nor Leverkusen's Florian Wirtz made the trip to Georgia. Those fears were realized in game one against Israel as the reigning title holders struggled to offer strikers Youssoufa Moukoko or Kevin Schade anything to work with.
Despite playing against 10-man Israel for an entire half, Antonio Di Salvo's side only mustered a 1-1 draw.
Tactical tweaks offered no improvement in their second game, as they lost 2-1 to Czechia, all but sealing their elimination. Their final game on Wednesday compounded their misery as group winners and eventual champions England rolled them over, despite not needing a result.
Several players in Germany's U21 squad will be vying for spots in the senior side for next summer's European Championships, but this disappointing exit will not have done them any favors.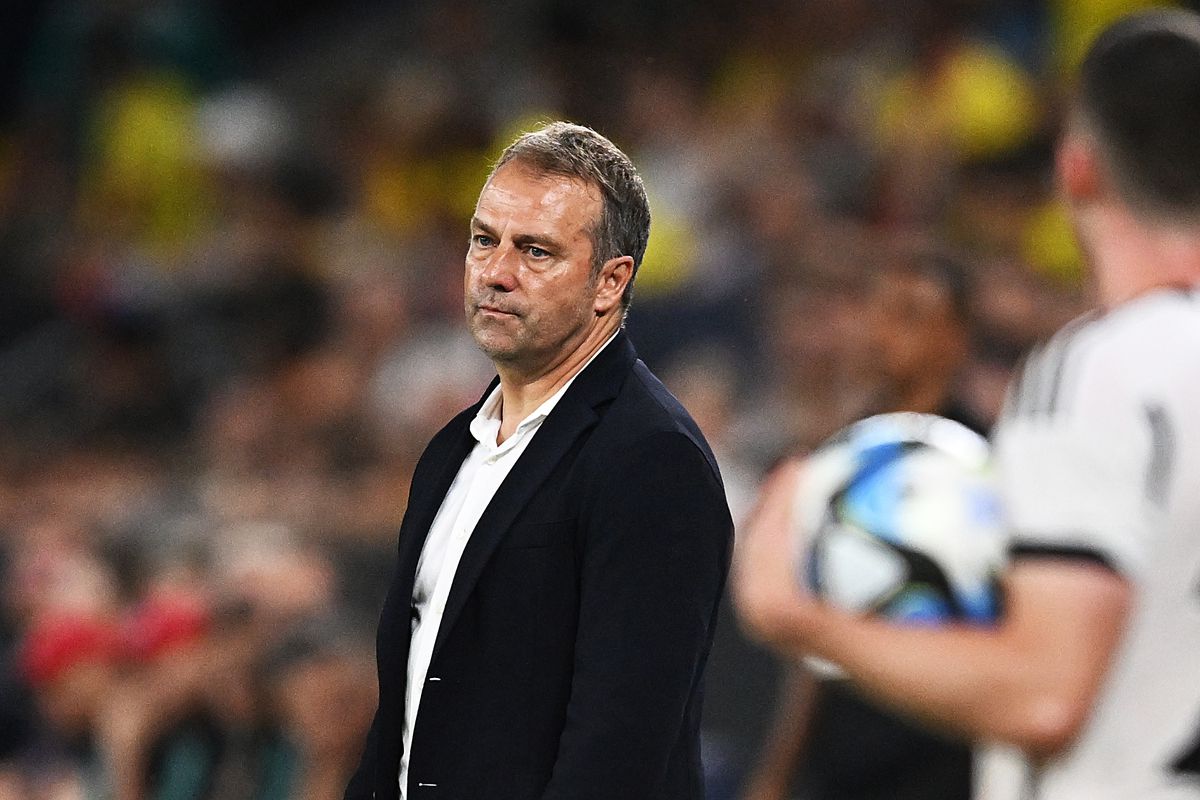 The low confidence across German international football is a damning indictment of the DFB's recruitment during this cycle. Flick's poor run in 2023 has left him with the second-worst record in German national team history, and some unsurprisingly calling for his removal, instead preferring Sporting Director Rudi Voller to take temporary charge.
The former coach led Germany to the World Cup final in 2002 but hasn't taken a managerial role since 2005. The 63-year-old attempted to shift the blame away from Flick, instead calling out a lack of player quality.
However, many don't share the Sporting Director's sentiments, highlighting the array of talent Flick has at his disposal. Fans have grown tired of Flick's uninspiring football, and rumors of a long-term replacement are circulating.
Some have clamored for Julian Nagelsmann, with the 35-year-old out of work since his exit from Bayern in March. Nagelsmann coincidently replaced Flick at the helm in Munich and has been rumored for several managerial roles since.
But a move to international management seems unlikely at this stage of his career. However, DFB vice president Hans-Joachim Watzke has sounded Jürgen Klopp as a preferred alternative.
It isn't outside the realms of possibility that the Liverpool boss could step in to try and rescue his nation from another tournament humiliation. However, he is yet to express any public desire to do so. Flick will remain in charge for the foreseeable future, albeit under severe pressure.
With the next international games in September, the boss has three months to try and mastermind a dramatic turnaround in form to save his job. But continued uninspiring performances and poor results will make Flick's position untenable.
As the DFB prepare to welcome the rest of Europe next year, they find themselves in a mess. Something must change at all levels of German international football if they want to avoid what could be their most significant tournament humiliation yet.