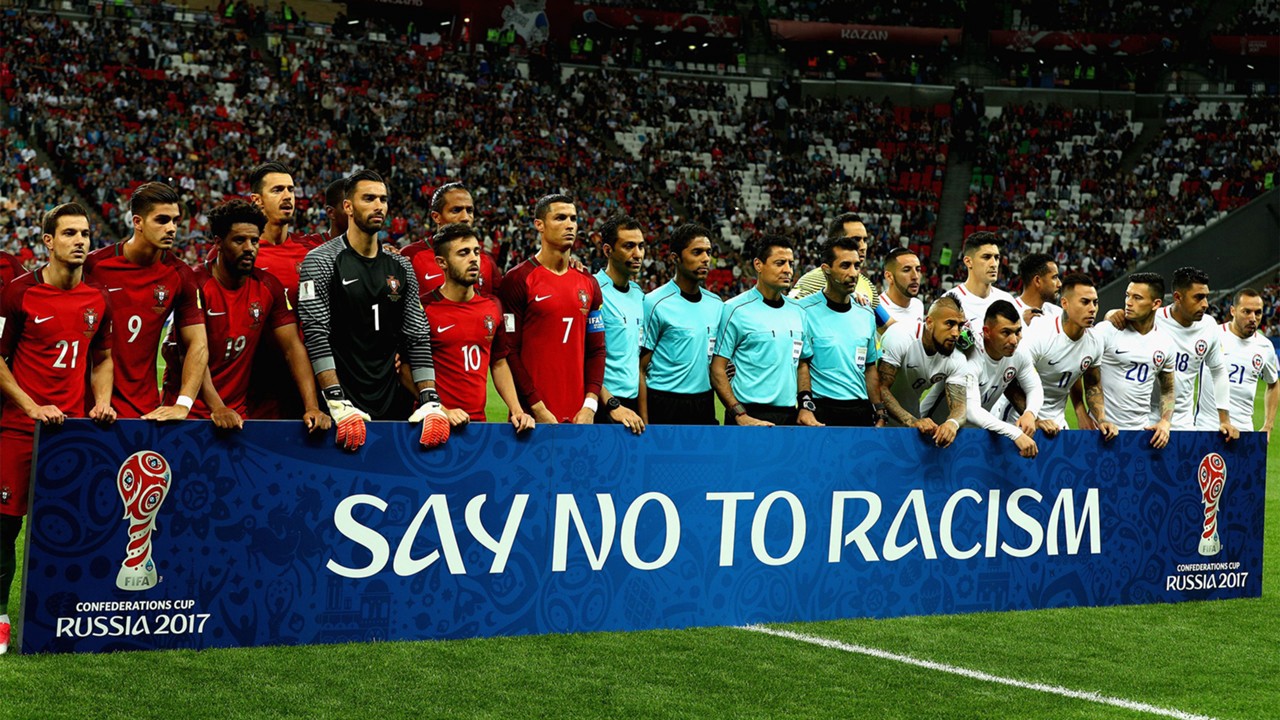 Several recent incidents of racism in some of the world's biggest football leagues has led to plenty of discussion regarding the prejudice and bigotry that has marred football's history, both current and past. Though governing institutions, football associations, and professional clubs are all working to combat racism in the beautiful game, the reality is that it starts with the fans. 
Call me an extremist, but I see football as a game powerful enough to mend most of our world's wounds. Watch Anfield sing "You'll Never Walk Alone" on a balmy night in Liverpool, or revisit July of 1998 when France won its first World Cup and you will get a glimpse of this vision — unity, love, and peace born of a simple and humble game. Take a brief look at the closing moments of 2018, however, and you'll see the opposite. Violence, hatred, and bigotry are still revoltingly prevalent in our beloved game. It's time for that to end. It's time for us, the football fans of the world, to set the example for our society, to be proactive, and to stand up to discrimination in full force.
What's Happening Now?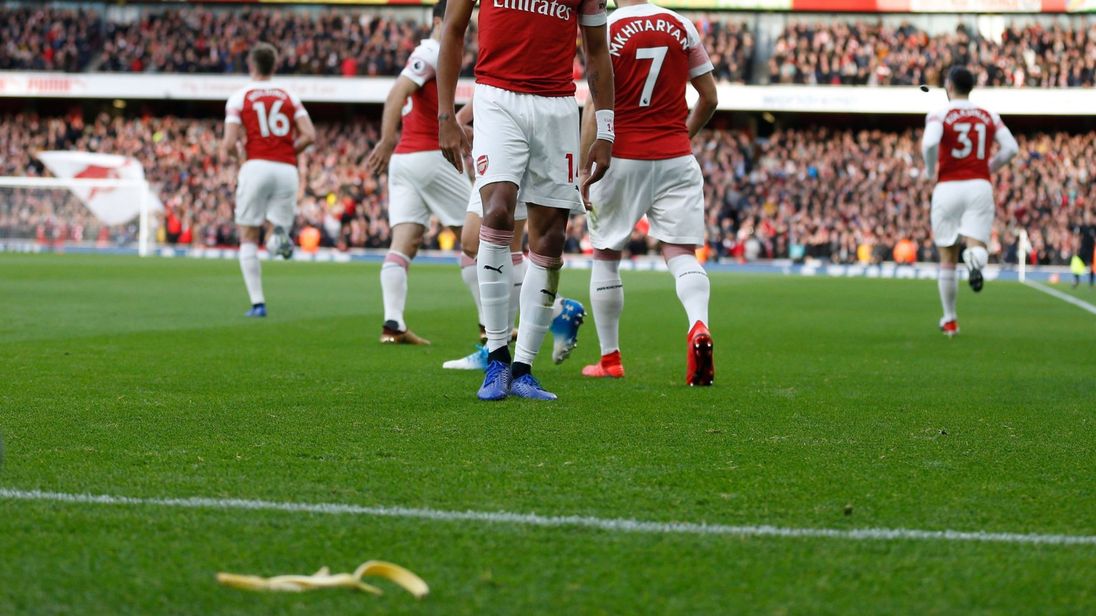 It's near impossible to combat something when some consider it invisible, so here it is — racism is alive in football. Not just in obscure, insular communities in far corners of the globe, but in the biggest and most prestigious leagues on the planet. It's being sung in hallowed stadiums across Europe, screamed and hurled at household names pitch-side.
In the last month alone, both Italy's fabled Serie A and the commercial juggernaut that is the Premier League have been marred by racist chants emanating from the stands. The victims, Kalidou Koulibaly and Raheem Sterling, are only anomalies because of their stature as high profile, world-class talents. Lesser players face this treatment on and off pitches with alarming and undocumented frequency. In fact, we hardly even hear about the large scale anti-discrimination sanctions that empty stadiums across Europe, with Lyon being the most recent recipient of a quiet two-year UEFA ban for racism and fan violence. Now that the jersey-wearing, face-painted bigots have singled out top players, however, racism's ugly presence is more noticeable than ever in our game.
It's important to remember (and outspoken players like Sterling have reminded us) that racism can be more subtle and less overt than crowd jeering. Club scouting policies, skewed media coverage, even in-game commentators play a role in perpetuating discriminatory rhetoric that casts a cloud of injustice over the game. However, I only want to focus on racism in stadiums because tribunals can and should be governed by those inside them. Though we cannot respond directly and in real time to some of these more covert forms of discrimination, we can confront our fellow fans sitting just a few rows away. So what is being done to fight racism in the stands?
Who is Fighting Back (and How)?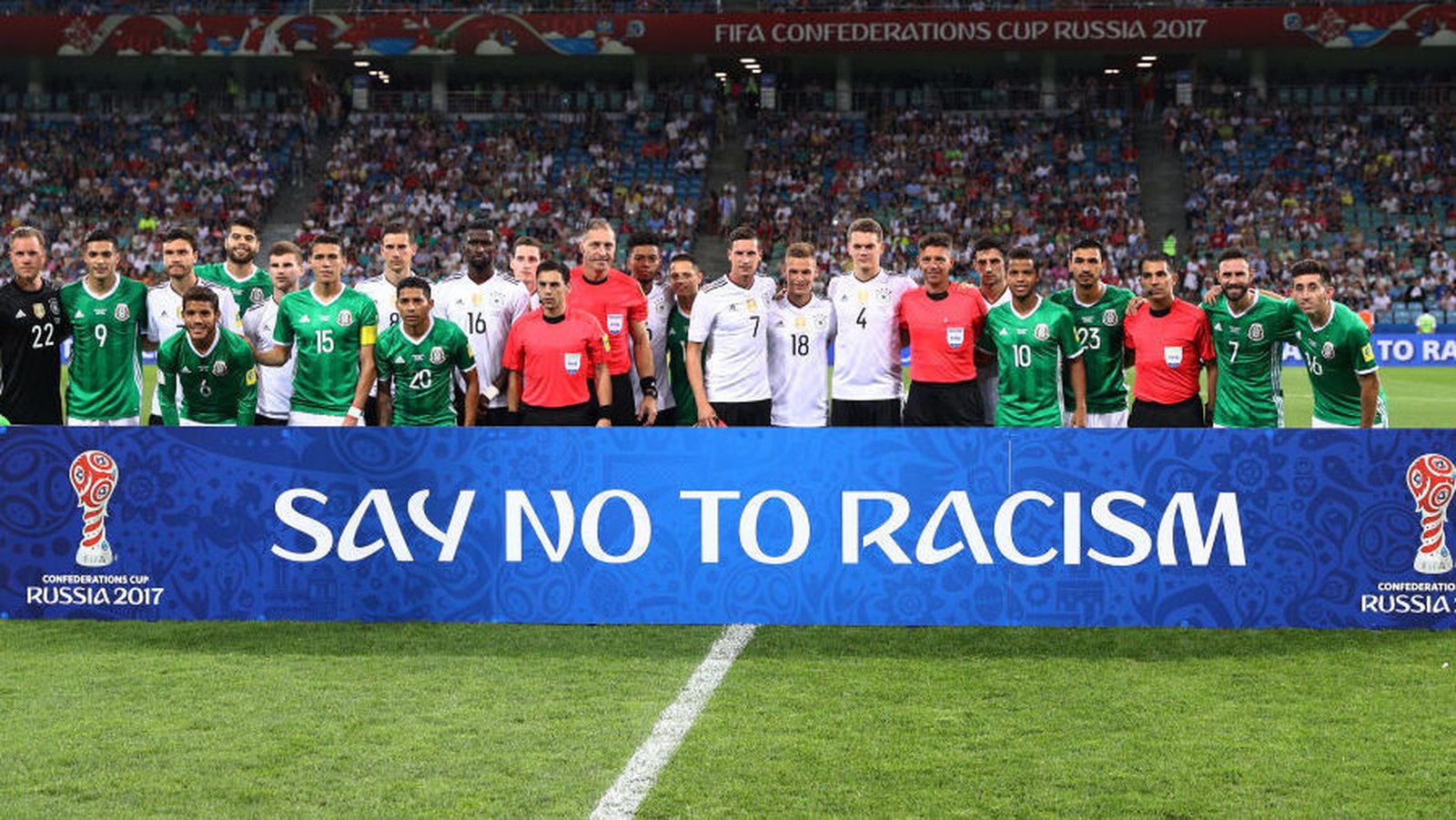 For some time, individuals and organizations alike have done well to condemn racism within the walls of stadiums after the final whistle. Fans, players, and coaches have shown up in full voice after incidents, acting in solidarity with victims and speaking out against discrimination. After Koulibaly's expulsion in Milan, for example, fans made banners in his honor, Dries Mertens tweeted a condemnation of the racist chants, and coach Carlo Ancelotti said he would march his players off the pitch if they encountered racism again. Football's governing bodies like FIFA or UEFA have taken to sanctions to curb racial injustice, banning entire fanbases from the stands to inspire better behavior from club supporters.
UEFA has also taken to advertising to try to get out in front of discriminatory behavior in stadiums. If you watch football in any capacity (if you don't WYD?) then you've probably seen their very direct and simply named anti-racism campaign. No to Racism is just as it sounds, encouraging fans to be respectful, loving, and to leave no room in the game for discrimination. The campaign leverages player testimonials, trying to utilize the influence of famous sportsmen to impose positive peer pressure on supporters.
Their self-described goal is awareness, making sure that fans know both how to identify and thwart injustice in football. They partnered with an organization called FARE (Football Against Racism in Europe), who pointed out this week the insufficiency of a two-match ban at the San Siro in combatting bigoted behavior. Their statement gets at the crux of the issue — most of the organized action taken against discrimination is reaction. This isn't an indictment of the institutions but rather a call for proactivity from us, the people in the seats and on the front lines.
It's Time For Us — The Fans — to Be Proactive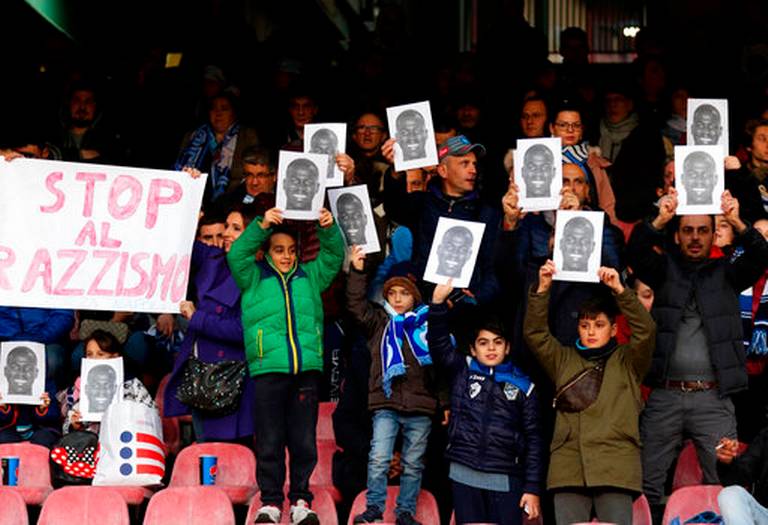 Referees, coaches, clubs, and FIFA are all methods of arbitration built around (and intended specifically for) the game of football. Racism is a plague that extends beyond the pitch and into our society and must be confronted as such. As fans — and as people — we can and must do what these slower, bureaucratic bodies cannot. We need to be proactive in telling and showing our fellow fans that racist behavior is abhorrent and wholly unwelcome. Anywhere. As glaringly obvious as that statement may be, consider this — before Koulibaly was sent off during that fateful tie in Milan, the crowd was asked several times by the PA announcer to cease their racial abuse of the Senegalese international. I don't want to undermine those who spoke out in that moment, nor those who stood up to support him after the event, but we as supporters aren't doing enough. If you're looking to feel empowered about what fans can accomplish, check out what's been happening in German stadiums around the country.
All of the sanctions, all of the advertising campaigns and organizations are built around one pivotal group, one group that has the power to drive racism and discrimination out of the game — the fans. Let's answer the call and remind the world why it's called the beautiful game. By coming together and speaking out in the moment when we see or hear discrimination trying to creep its way into our sacred sport, we won't just make football a better game, we'll set an example for the world around us.