Once hailed as a talisman of the future, Ansu Fati has since fallen out of favor at FC Barcelona. But he still has enough talent to redeem himself — he just needs a chance. 
On February 12 in Valencia at the Estadio de la Cerámica, Barcelona edged out a 1-0 win over then-sixth-placed Villarreal. The win brought Barça's point tally on the season to 56, momentarily 11 better than second-place "eternal rivals" Real Madrid, who've since cut that lead back down to eight points.
HIGHLIGHTS | Pedri, Barça claim all three points at Villarreal!#LaLigaHighlights pic.twitter.com/yHeDiJXPUm

— FC Barcelona (@FCBarcelona) February 14, 2023
A fair bit about the showing was quite Barça-like. Marc-André ter Stegen kept an incredible 16th clean sheet for a side that has conceded just seven goals in 22 league matches. Ronald Araújo was an absolute colossus at the back. Frenkie de Jong, in his interpretation of the "Busquets role," influenced the game from all over the pitch, particularly in the first half.
Robert Lewandowski, despite missing a golden opportunity to open the scoring in the third minute when he smacked his shot off of Pepe Reina's chest on a one-on-one, placed a fair bit of pressure on the Villarreal defense. Pedri was not only a maestro in midfield, but also provided the game's only goal with a spectacularly slick finish off of an excellent Lewandowski assist.
Despite the characteristic-for-this-Barça scoreline and individual performances, the match was hardly textbook. Villarreal had the edges in possession (53%-47%), passes completed (359-313), attacks (116-93), and dangerous attacks (48-39). The contest was decidedly un-Barça-like in one other key regard.
After starting the match with a front line of Lewandowski, Raphinha, and Gavi, Xavi's only change up front was an 81st-minute swap of Raphinha for Ferran Torres. Notably absent from the entire affair was one Ansu Fati. It was the first time all season that he'd not seen even a second on the pitch.
Take Two… Action?
Over the summer, I wrote about Ansu Fati's shot at a fresh start after a pair of horrifically injury-plagued seasons. After a record-shattering start to his career, which included becoming Barça's youngest-ever senior goal scorer (a mark since broken by Vicky López), Fati's ascent to superstar status was an inevitability despite still being in his teens.
By the time he'd legally be able to sip a fine Spanish wine, Fati had already demonstrated that not only did his speed, agility, intelligence, and polished finishing ability played at the top level, but that, with experience and refinement, those skills could become downright dominant.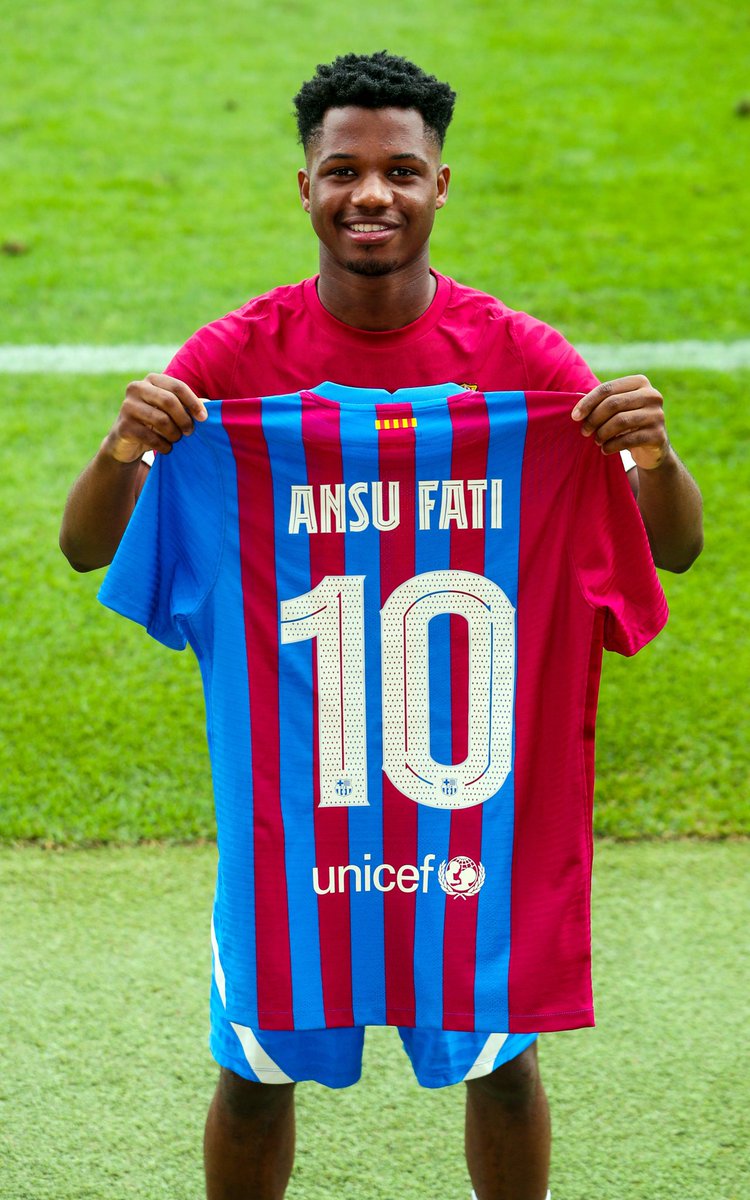 Over the past two seasons, after having been selected as the player to don Lionel Messi's vacated No. 10 Blaugrana shirt, despite being plagued by knee and hamstring injuries, Fati still managed eight goals in 17 league appearances, and two goals and two assists in six Champions League matches. As I wrote in June, despite the detour, "the 2022-23 season is poised to become the one in which Ansu Fati, at long last, definitively picks up the torch as Barcelona's talisman."
Certainly, the additions of Lewandowski and Raphina, hope for resurgence from Torres in his first full season in Barcelona and Ousmane Dembélé not only sticking around but becoming indispensable to the attack, would potentially infringe upon his role. Regardless, that Fati would be front and center (spiritually, if not actually positionally) in Xavi's attack seemed a given.
And then it wasn't.
A week after playing just 31 minutes as a substitute in a disappointing goalless draw against Rayo Vallecano to start the season, Fati, again off the bench, saw the pitch for just 27 minutes against Real Sociedad. That he torched La Real for a goal and two assists in that brief stint suggested that maybe he ought to be featuring more prominently. Alas…
Over Barça's next 11 matches in all competitions, Fati played at least an hour on just two occasions — 64 and 66 minutes against Viktoria Plzeň in the Champions League opener on September 7 and Mallorca in La Liga on October 1 — while failing to log at least 20 minutes four times.
In 28 contests across all competitions this season, Fati has played at least an hour just seven times, with a goal and two assists in those appearances. Beyond Barça, he's appeared once for at least an hour once since the start of this season for the Spanish national team. In that outing, a pre-World Cup friendly against Jordan, he played 71 minutes and scored in a 3-1 win. While the sample is tiny, and there's no doubt that his touch and pace are not back to their best, by and large, when Fati has gotten ample time, he's looked far more comfortable and a greater threat. If the first half of this season has confirmed anything, it's that Fati is not a 20-/25-minute-per-game super sub.
An Opportunity Missed
At no point was this more clear than across 12 days in October about which I basically can't stop harping on.
From the moment Barcelona's 2022-23 schedule was released, anyone with an ounce of sense would have highlighted the four-match run between October 4 and October 16 as vital. In the Champions League, Barça had been drawn in a group with Bayern Munich, Inter, and aforementioned Czech side Viktoria Plzeň. Assuming (correctly) losses in the two matches against Bayern and wins in the two against Viktoria Plzeň, second place — and a spot in the knockout stage — would come down to the third and fourth group matches, on October 4 and 12, both against Inter. The season's first Clásico, at the Santiago Bernabéu, loomed immediately afterward, and a league tilt against Celta de Vigo was sandwiched in between.
Those dozen days played out about as badly as they could have. Barça started that stretch with a toothless display in a 1-0 loss in Milan, ended it with a 3-1 loss in Madrid, and turned in an error-laden performance in a Champions League campaign-killing 3-3 home draw with Inter in between. There was only a 1-0 home win against Celta to soften the pain.
Though he appeared in every match, across the four — the biggest of Barça's season — Fati saw a total of just 101 minutes of action. What the hell are we doing here?
This was a picture perfect opportunity to allow the club's most precociously talented and potentially talismanic player since Messi himself to reintroduce himself to the world and possibly resume his march toward superstardom. Why not see if he's got it in him? Hell, after the loss in Milan, Barça needed a two-goal win at home to gain the advantage over the Italian side and preserve any hopes of a Champions League run, and had a clash against their bitterest rivals, with (at the time) the top spot in the league at stake. What greater testing ground could there be to determine whether your future superstar is in fact "that dude?"
Unconscionably, as those Champions League hopes went down in flames and (for that moment) Madrid wrested away the La Liga lead, Xavi remained committed to the idea that nothing more than a bit part would do for Fati.
Exciting or Exiting?
Given his chronic underemployment and representation, it should have come as no great shock when the midseason transfer rumor mill found some grist in the form of Ansu Fati. It must be noted that the player himself has never outwardly expressed an interest in leaving. From everyone else's perspective, however, the rumor-mongering could prove quite lucrative.
For starters, Fati is represented by Jorge Mendes, whose job, like that of any "super agent" (as he must be referred to in any media account), is to position his clients to pull in as much cash as possible.
Against the current backdrop, unearthing more money for Fati (and, by extension, himself) is a challenge for Mendes. There is no new contract to be sought, as Fati is playing on a fairly new five-year deal that runs until 2027, on a salary that, while lofty (reportedly nearly €14 million per year) fits within Barça's much-ballyhooed "new salary structure." That leaves a massive transfer fee as the only potential route to a windfall.
Now, other teams looking to drive a hard bargain will point to that substantial, long-term financial commitment, along with Fati's injury history, slow return to top form, and limited role in the current side as reasons why, despite his youth and preternatural gifts, any potential fee should not approach, let alone cross, the nine-figure threshold.
But then, y'know, there's the Premier League's money to consider.
In case anyone needs reminding, the money woes at Barça are very much still a thing. Just last week, president Joan Laporta and sporting director Mateu Alemany discussed the club's financial state. The main takeaway from their comments is that the club must shed some €200-ish million from next year's payroll in order to get into compliance with La Liga's version of Financial Fair Play rules. That shortfall, it must be said, assumes no prize money for winning La Liga or the Europa League.
A first league title in four years, which would be worth about €40 million, looks likely. In the Europa League, Barça head to Old Trafford on February 23, with the sides' round of 16 tie level after a 2-2 draw at Camp Nou on Thursday. Advancing past Man United and then running the quarter-semi-final gauntlet is worth another roughly €60 million. Even with the massive contracts of Gerard Piqué and Antoine Griezmann set to roll off the books and Jordi Alba reportedly willing to restructure his deal and Sergio Busquets either gone or back at a reduced salary, in the most optimistic scenario Barça has still got to cut the payroll by about €100 million. Barça these days are living the NBA salary cap life in a way that few football mega-clubs ever have to.
With Liverpool, Man United, and Arsenal all sniffing around, a still-20-year-old prodigy with superstar potential could wipe out most, if not all of that shortfall. Of course, that's not the only consideration. To sell a homegrown player this young, this likable, with this much ability, who's meant so much to the club during a prolonged period of uncomfortable transition would be a massive blow. Nonetheless, if there was €75 million or more on the table, one would understand if that incredibly difficult option was at least considered. However, January came and January went, and Fati remained at Barcelona. That, in and of itself, is a really good thing.
What's a bit baffling, however, is the extent to which Xavi, representing the club's long-term interests, has not put his back into figuring out exactly what they've got in Fati. It's true that there's something of a logjam in attack, and Lewandowski's name is printed, in ink, on the lineup sheet. Between that, and Dembélé (when healthy) playing as well as he is, there's essentially a feeding frenzy for one attacking spot. Raphinha's stellar showing against Man United notwithstanding, it's tough to make the case that any other attacker has played well enough to make the dude in the No. 10 shirt an afterthought.
Barça and Xavi Must Shoot Their Shot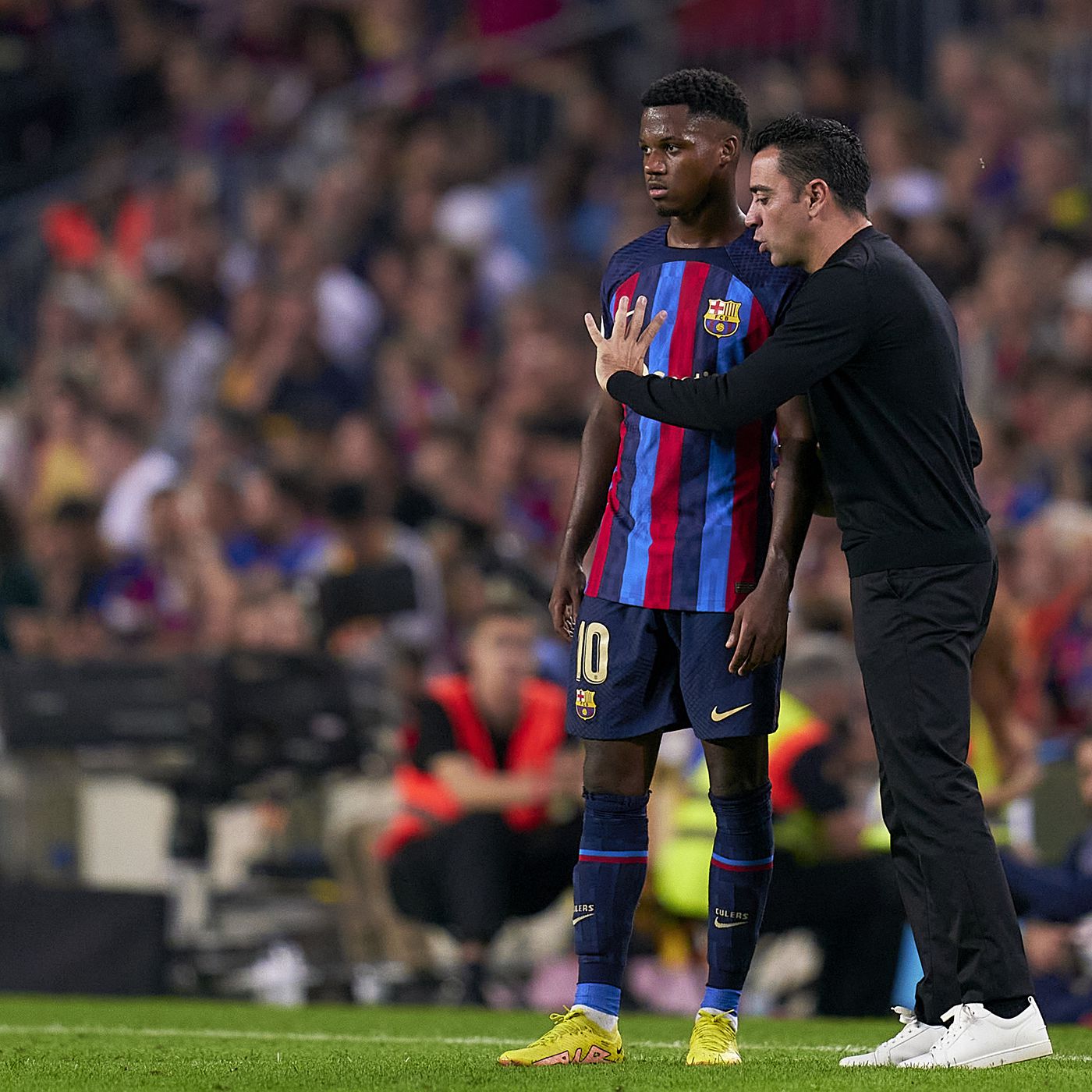 Barcelona's first Europa League leg against Man United offered little in the way of plot twists. As has become the norm, Fati started the game on the bench, came in after the hour mark (66th minute, to be precise), with score tied 2-2. And he looked… if not great, then pretty damn good.
Throughout his 28 minutes (counting stoppage time), Fati was Barcelona's most impactful attacker on the night not named Raphinha. He was aggressive, energetic, and consistently got into dangerous positions. Sure, he might have done better with his shot at an 87th-minute winner, but it did take an excellent save from David de Gea to keep the score level. Let's give some credit where it's due there.
In short, though, Fati ought to have given Xavi plenty to think about. With Dembélé at less than 100% and Pedri now on the shelf for at least three weeks, he could not have picked a better time to do it.
If, at this point, on the heels of a strong showing against strong competition on a big stage, and with slack to be picked up in attack, Fati still doesn't figure more prominently into Xavi's plans, serious questions will have to be asked. At that point, Xavi will have both refused to give Fati the chance to confirm whether he is actually the star he's long been expected to become, or if the toll from the injuries and extended layoffs has just been too great. At some point, you have to actually find out.
Now, one could fairly easily look at the lack of starting opportunities and playing time and conclude that, in fact, Xavi is not-so-tacitly telling us exactly what he thinks. If that's true, then why not simply cash in for a huge fee before that revelation sweeps across Europe?
Crime of Omission?
I did not expect to be uttering these words at any point in the foreseeable future, but there are a couple of mildly complimentary things to be said about the transfer dealings of the Bartomeu regime. For one, no player who's left Barcelona in recent years has gone on to thrive at his post-Camp Nou home. (See for yourself).
Secondly, and perhaps more pertinently here, Barça's whiffs in the transfer market — and, under Barto, they were legion — were at least errors of commission. Over a quarter of a billion for Philippe Coutinho and Griezmann was an unmitigated disaster. So, too, was the seemingly endless and endlessly depressing parade of those like André Gomes, Arthur, and Arda Turan. But you could at least argue that the club was trying to do something.
With Xavi seemingly hesitant to even give Fati the chance to prove himself in a featured role, and Laporta and Alemany refusing to cash in (assuming massive offers were actually out there), the club is flirting dangerously with the exact opposite manner of mistake. With the January window now closed and the opportunities created by injuries elsewhere on the roster, a goal of the back half of this season must be to determine what role Ansu Fati plays in Barça's future. That calls for time on the pitch. As much of it as possible.
Sure, you run the risk of revealing to the world that Fati's magic is gone, at which point even whichever clubs are the Premier League's drunken sailors in the summer window are unlikely to bail you out to the tune of much more than €25-€30 million. But it's hard to argue that continuing to give him fewer minutes per game than your average, unimpressive civilian spends on a treadmill every couple of days is going to encourage prospective suitors.
It's a risk that simply must be taken.