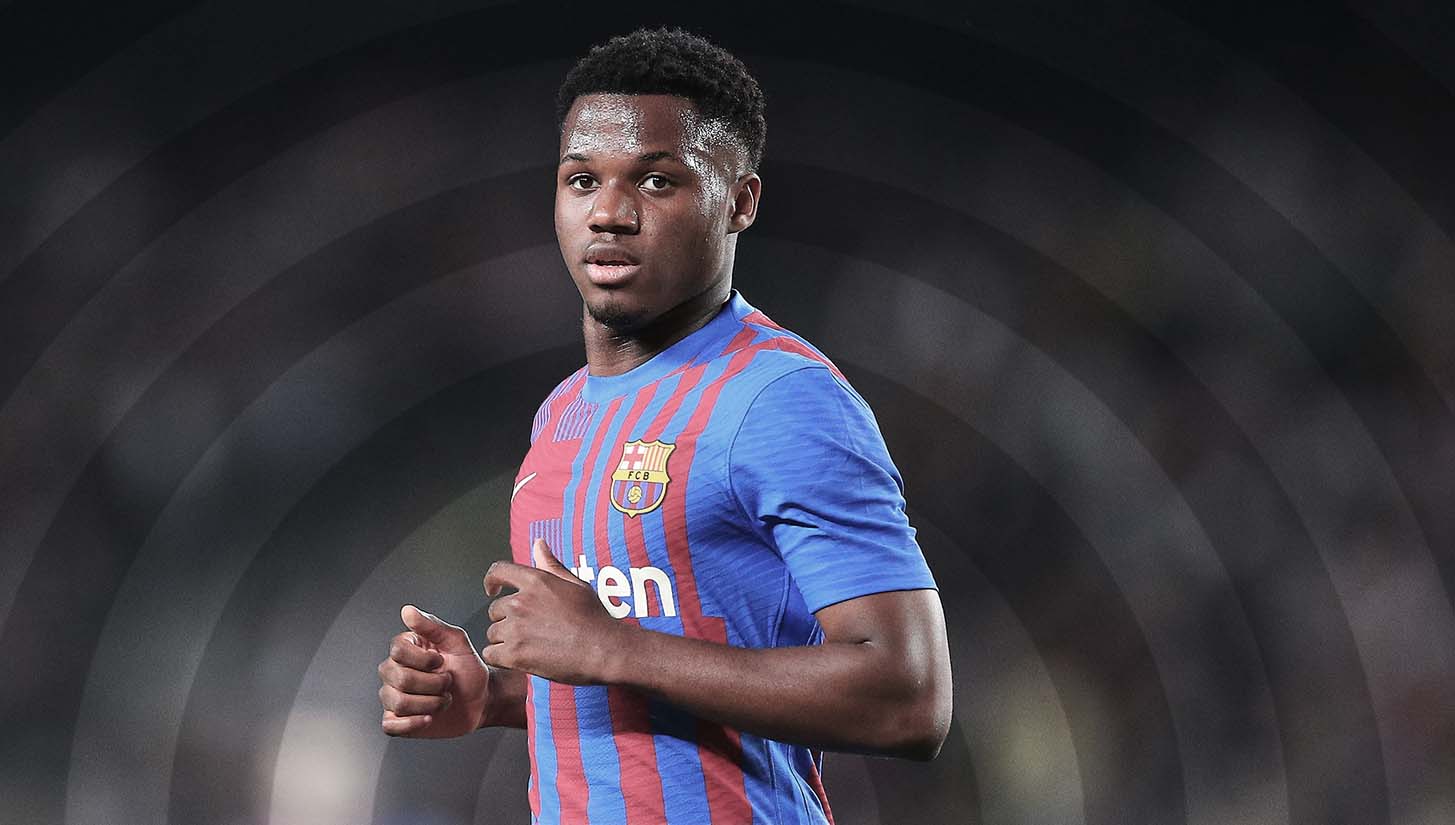 He's still a teenager, but it feels like Ansu Fati has been on the scene for quite some time — and in some regards he has. After a few injury-marred seasons, the highly touted phenom is ready to take FC Barcelona into a new era. 
It's a roundabout path that's brought us here, but the 2022-23 season is poised to become the one in which Ansu Fati, at long last, definitively picks up the torch as Barcelona's talisman.
At long last — it's a strange thing to say about a guy who's still more than four months shy of his 20th birthday, but our collective journey with Fati has already offered its fair share of twists, turns, hope, hype, hurt, and achievement. If you're here and reading this, you probably don't need an exhaustive biography, but just in case for the uninitiated and the forgetful…
Anssumane Fati Viera was born October 31, 2002 in Guinea-Bissau to Bori and Lurdes Fati. His father, Bori, was a professional footballer, and played in the lower leagues in Portugal after his emigration to Europe. Soon after, however, due to a lack of available work, particularly for immigrants, he was forced to move again, this time to Marinaleda, a small town near Sevilla.
A serendipitous twist led Bori to meeting the mayor of Marinaleda, who not only hired him as a driver, but helped the rest of his family immigrate to Spain from Africa. It was here where Ansu's football journey began. One year after his older brother Braima did the same, Ansu would join Sevilla's academy, before joining FC Barcelona's famed La Masía academy in 2012 at 10 years old.
Though he was initially a member of Marc Serra's Alevín A side, Ansu quickly began rising through the youth ranks. The precocious right-footed left winger dominated with the speed, agility, intelligence, and polished finishing that have since become his calling cards, most notably scoring nine goals in nine UEFA Youth League games, including two against Chelsea in the semifinals in the spring of 2019. And then, things really started happening.
By that point, Ansu was no longer a secret. By that 2019 spring, he was being discussed as the latest "gem of La Masía," one of the hottest prospects not only in Spanish football, but in all of Europe. This hype, combined with a skill set that was rapidly approaching (if not already at) senior level, brought calls for his promotion to the senior team. However, as at that point, the Barça front line was still manned by Lionel Messi and Luis Suárez, to say nothing of the fact that Fati was still just 16, there was a compelling case to be made for taking a measured approach with the phenom. After all, for all of the incredible hope and optimism that comes with a player so young and so good, so too comes significant pressure to properly develop and nurture him, not just as a player, but as a young person. For every Messi, there's a sea of young starlets whose development stalled well short of its potential.
Then again, there's no time like the present.
In August 2019, in a surprise move, then-manager Ernesto Valverde gave the 16-year-old Fati — who'd just signed a contract to remain at the club though 2022 — his first team training debut.
View this post on Instagram
Clearly he was coming, though the presumption remained that the next step on the ladder for him was first team training with occasional appearances mixed in. For all we know that actually was the plan — and it was simply washed away in a wave of precocity seldom, if ever seen in the game.
Ready?
On August 25, 2019, before he'd ever stepped on the pitch as a member of Barça B, at 16 years and 298 days of age, Fati debuted for the first team, as a substitute in a 5–2 league win at home over Real Betis. He was the third-youngest player (Vicenç Martínez in 1941; Claudia Pina in 2018 for Barça Femeni) to debut for a senior Barça team.
Six days later, he scored in a 2–2 draw against Osasuna in Pamplona. At 16 years and 304 days of age, he was the youngest goal scorer in the history of Barcelona's senior teams, and the third-youngest in La Liga history.
Two weeks later, in his first career start, a 5-2 home win over Valencia, he became the youngest player in La Liga history to record both a goal and an assist in the same match.
Three days after that, he became the youngest player ever to feature for Barça in the Champions League, and the third-youngest in the competition's history.
A couple of months later, on December 10, at 17 years and 40 days, he netted the winner in a 2–1 win over Inter in Milan…and you guessed it, became the youngest goal scorer in Champions League history.
And that doesn't even take into account the other stuff: he's the youngest ever to score two goals in a La Liga game, the first-ever with multiple Champions League goals prior to age 18, the second-youngest goal-scorer in a Clásico…
By season's end, he'd made 32 appearances in all competitions, scored eight goals, assisted on another, and cemented himself as the leading light of La Liga's next era.
View this post on Instagram

All the while, there was the question of international football. Though he'd never represented Guinea-Bissau at any level, he was obviously eligible to represent the nation of his birth on the international stage. He was apparently also eligible for a Portuguese passport as the result of his grandparents having been born in colonial Portuguese Guinea. In the end, however, it was Spain — the country in which he'd grown up, and with which his father identified more so than Guinea-Bissau — which secured his international commitment. He was granted Spanish citizenship in September 2019, and made his international debut on October 15, 2019, for Spain's U-21s against Montenegro.
Ahead of the following season, 2020-21, Fati was officially promoted to the first team. While expectations for the brilliant teenager remained astronomic, there remained a sense (which had already been expressed by no less an authority than Messi himself) that the club ought to take every precaution to ensure that too much wasn't heaped onto Fati's shoulders at too young an age.
Of course, that he kicked off the season against Villarreal by scoring two goals and winning a penalty for a third in a 4-0 victory, scored again the next time out against Celta de Vigo, and would up winning La Liga Player of the Month award for September 2020, did little to encourage patience. Nor did early exploits as a senior international.
On September 3, 2020, at 17 years, 311 days, he became the second-youngest player ever to make a full international debut for Spain. (Thanks to his teammate, Gavi, he's now third.)
Three days later, in a Nations League match against Ukraine, he became the youngest ever goal scorer for the Spanish national team, breaking a mark that had stood for 95 years — by more than a year. (Of course, thanks to Gavi, who scored his first while a week younger than Ansu was at that time, he's also fallen a rung here, and now sits second.)
Sadly, it didn't take long for a stark reminder of just why that patience was being preached. On November 7, in a home league game against Real Betis, he hurt his left knee and was subbed off at halftime. It was later revealed that he'd torn his meniscus, would require surgery, and be sidelined for four months. Unfortunately, thanks to setbacks that require multiple additional surgeries, that was the last we'd see of Fati for nine months.
In the meantime, Barça — fresh off the embarrassing ouster of club president Josep Maria Bartomeu, whose disastrous reign of calamity and terror brought the club to the doorstep of insolvency and precipitated the departure of Messi, against his will — recommitted to their young superstar. This came in the form of a new contract that runs through 2027 and includes a whopping €1 billion release clause, in addition to a new jersey number: 10.
View this post on Instagram
The retiring of jersey numbers isn't commonplace in European football. Thus, certain numbers for certain clubs — think No. 7 for Manchester United — come to carry added weight. To be chosen as the player to carry on one of these legacies is a huge vote of confidence. To hand an 18-year-old with fewer than 50 senior games under his belt the number that's graced the backs of Kubala, Luis Suárez (the Spanish midfielder from the '50s), Evaristo, Maradona, Stoichkov, Romario, Rivaldo, Ronaldinho, and Messi? That is a resounding statement.
That's exactly what Barcelona did ahead of the 2021-22 season. The hope, of course, was that Fati would be back at full strength, and ready to lead Ronald Koeman's side not only with goals and positive results, but as a bright light in a depressing mire, orchestrating a seamless transition from the magical days of Messi, to this new era.
Unfortunately, Fati wasn't quite ready to go come the start of the season, and missed the first five La Liga games. He finally returned to action on September 26, 2021, as a late-game sub, at home against Levante. Naturally, in those nine minutes he provided a shot of optimism, finding the net with the third in a 3-0 Blaugrana win. Two games later, at home against Valencia, he scored a 13th-minute equalizer and assisted Memphis just before halftime, as Barça cruised to a 3-1 win.
The following week brought 74 minutes in a home Clásico (which Barça lost, 2-1), after which he missed two with soreness in his other (right) knee. Naturally, there were concerns about another protracted absence, but all of that nonsense was seemingly put to rest on November 6 — the day it was announced that Xavi would be returning to the club to take over for Koeman — when he scored five minutes in against Celta de Vigo. Barça would lead 3-0 at halftime, but the match ended in an infuriating 3-3 draw. That result was symbolic of what was to come for Fati, who was subbed off at halftime with a hamstring injury. Over the next six months, he saw just 89 minutes of competitive action — the Supercopa de España against Real Madrid on January 11, a 3-2 loss in which he scored, and a January 20 Copa del Rey match in Bilbao — before returning with substitute appearances in Barça's final five league games.
So, here Barça are, taking a second crack at a new. The 2022-23 season, like the one that preceded it, is expected to jumpstart, in earnest, the Ansu Fati era. Of course, in the time since Messi's departure (and since Fati himself was at full strength), plenty has happened, a fair bit of which has been good: vintage performances from Sergio Busquets and Jordi Alba, the ascents of a trio of young superstars — Pedri, Gavi and Ronald Araújo — to complete the spine of the next great Barça team, the return of Dani Alves (for me, that will always matter), a second-place finish and Champions League qualification, the return of the club (tentatively, at least) to the ranks of living in the transfer market, and, of course, the arrival of the icon, Xavi, looking to build his Cruyff-/Guardiola-esque golden era.
Every one of these factors will be vital to whatever success Barça enjoy both this season and beyond. Arguably the most important, however, is Fati. Overstatement? Not a chance.
For as impressive as 23 goals and nine assists in 67 senior appearances — often in the midst of injury — is, Fati's value lies not only in the tangible contributions he can make (which, if he can avoid the injury bug, are already considerable), but in his singular star quality; in the way in which he makes things happen; in his potential to bring the magic back to Camp Nou.