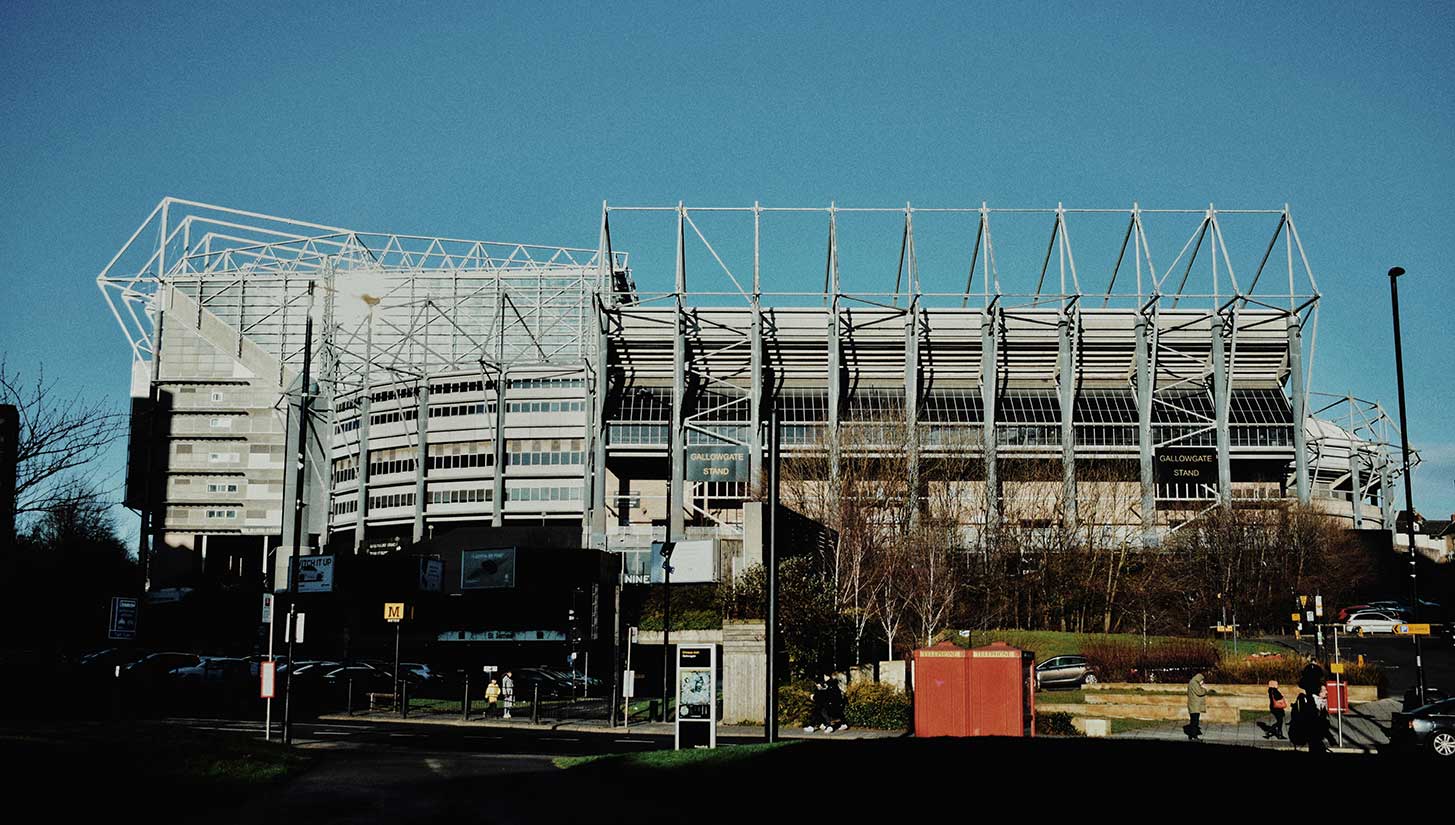 With one of the most dedicated and complicated fan bases in all of European football, a match at Newcastle United's St. James Park is a must-add to any football fan's bucket list. Resident groundhopper Ignasi Torné Gualdo reports from the Magpies' recent extra time victory over Chelsea. 
In Northeast England, the last thing you'd want to do is confuse a Mackem for a Geordie, or vice versa. While the two geographically and culturally separated groups share some similarities, they also have staggering differences — most notably the football team they support. Geordies are behind Newcastle and Mackems Sunderland. But it's not always cut and dry.
"I'm basically Geordie but I support Sunderland," my friend Daniel explains to me over a Newcastle Brown Ale, the ubiquitous beer of the town. "It is not about the fanbase or where the club is located — it's about where you're born. The majority of Sunderland fans are Mackems and the club is settled under the Wear River. I'm a Mackem because I support Sunderland, but I'm Geordie because I'm from the Tyneside."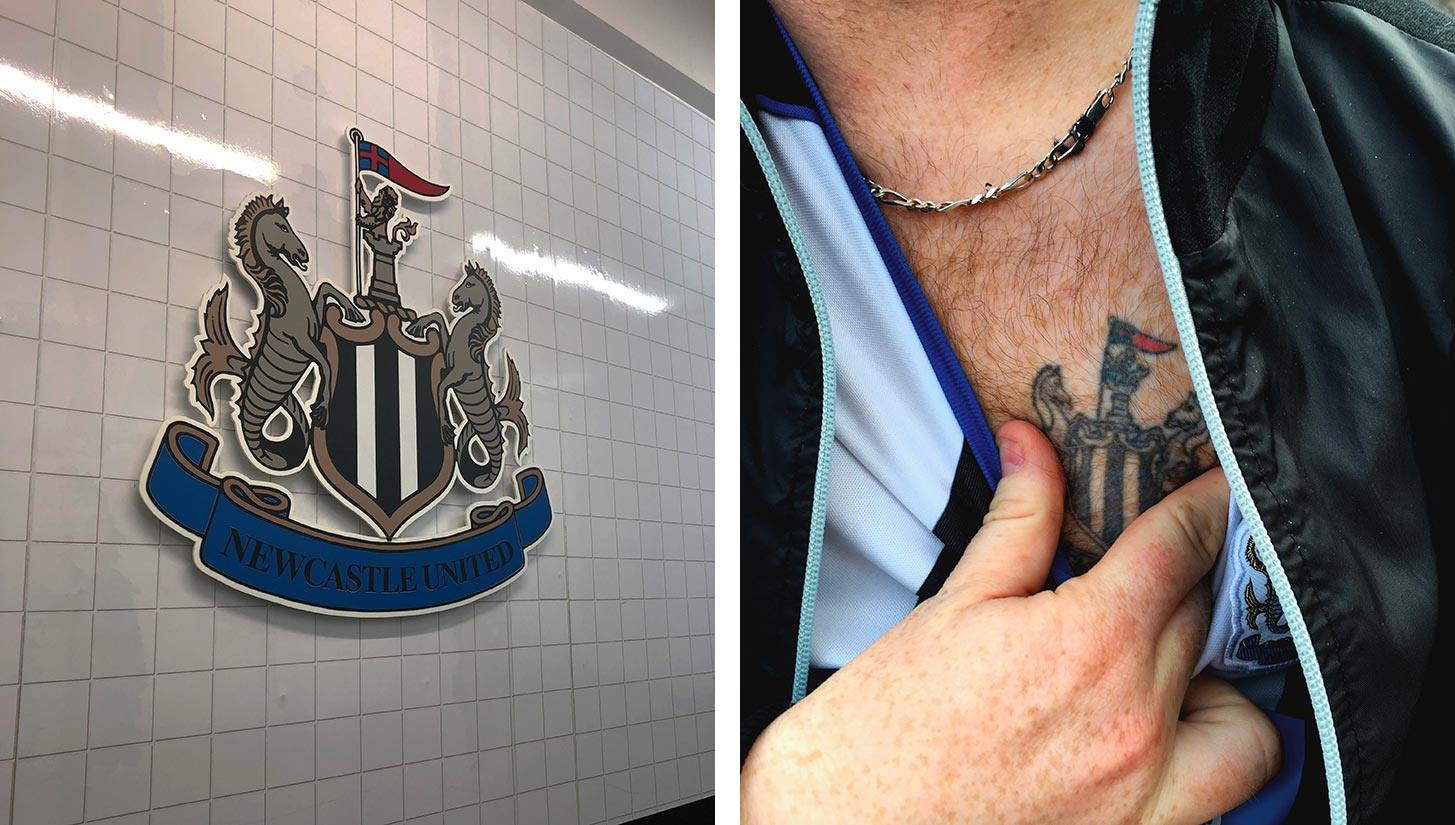 I remember the first time I visited Newcastle back in 2012. I came from Middlesbrough by bus and the first thing I did was order a Newcastle Brown Ale at Shearer's, the stadium's bar that's been since renamed 'Nine.'
It's matchday in Newcastle and you can notice it because everyone is wearing jackets, jerseys, and scarves in the pubs. The game is at 5:30 and we have plenty of time to get around the city and get some beers as a warm-up. Despite the frigid weather, a large amount of the pub's clientele are in short sleeves. I ask Daniel how this is possible — he just laughed and said, "Geordies."
This season is a particularly interesting one for Newcastle United. The club has one of the most passionate and romantic supporters' groups in the United Kingdom — the Toon Army — but they have completely broken up relations with the club's owner, Mike Ashley.
After 12 years of low ambition and mediocrity, fans started to boycott home games in protest of the way Ashley was running the team. A feud with fan favorite manager Rafa Benitez — who was frustrated over the ownership's lack of major signings and short-sighted vision — led to his departure in 2019, the last straw for many fans. But after a short dip in attendance, supporters are starting to file back into St. James Park's stands. Such was the case at the Magpies' recent match against Chelsea. The excitement for the game was tangible, and the crowd was reported to be over 52,000.
There was still a few hours before game time, and we headed nearer the stadium along with other excited supporters. We bought the match program, commented on the game's preview, and continued to make our way through different pubs. I was really impressed by the casual culture around us. Everyone was wearing Stone Island, adidas Classics, CP Company, and Fred Perry, especially the young lads. I was a bit confused at this because at their age I couldn't afford to buy such expensive clothes. They must invest their entire weekly pay on a jacket!
We entered The Strawberry, the iconic pub next to St. James Park. A house with three floors and excellent views of the majestic stadium, The Strawberry is the spot for pregame drinks. Littered with memorabilia and Newcastle decorations, a caricature of Sir Bobby Robson recommends you to get the two-for-one pints.
A collection of the best and most memorable Newcastle players is displayed on the wall. Robson, Kevin Keegan, Alan Shearer, Bill McCracken, Nolberto Solano, Chris Waddle, Gary Speed, and Paul Gascoigne are just some of those iconic players I can recognize. It is incredible the amount of talent and brilliant world-class players that wore the Magpies' shirt. This is when you realize how big this club is and how Geordies identify with it. It's the pride of the town, and the Toon Army spreads the word. Or at least, they sing it while downing a pint of brown ale.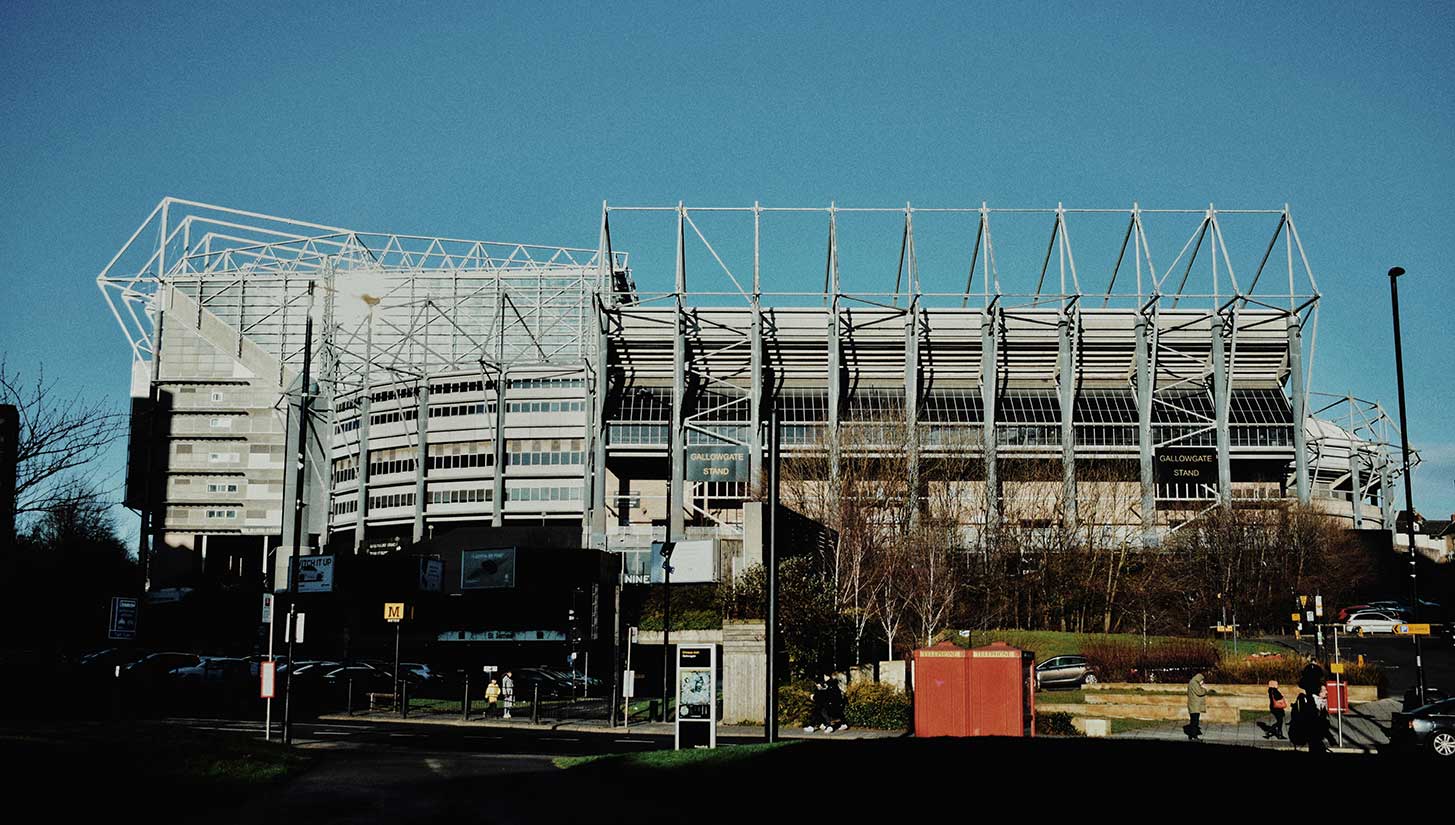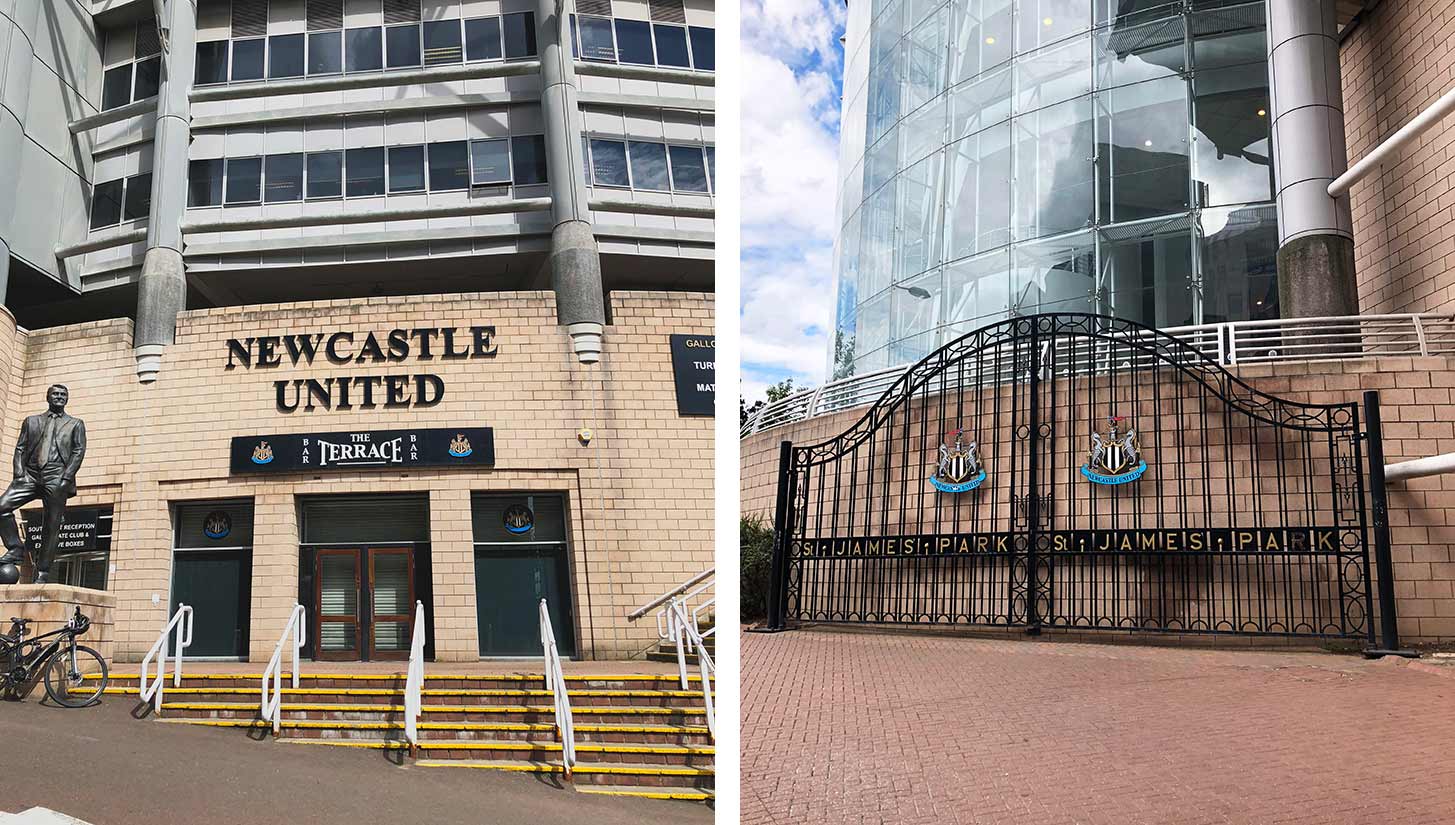 It's time to go to the stadium. With 45 minutes before kick off, now is a pretty good time to get a pork pie and head to our gate. I order one more beer while watching highlights from the Sunderland match earlier in the day. The rival club won, but Newcastle fans look pretty confident. They are playing against Chelsea in the Premier League. (Sunderland on the other hand, is in League One.)
It is my third time at St. James Park and I still get impressed by the roof and how massive and packed the stands are. Yes, the United Kingdom is definitely the holy place for iconic football grounds. However, no stadium is immune to corporate influence. In 2011, St. James was officially renamed as Sports Direct Arena, Ashley's giant sports retail company. You can see the red and blue logotype everywhere. There's no angle of the stadium that can be photographed Sports Direct-free — including the famous 'Howay the Lads' sign in the tunnel.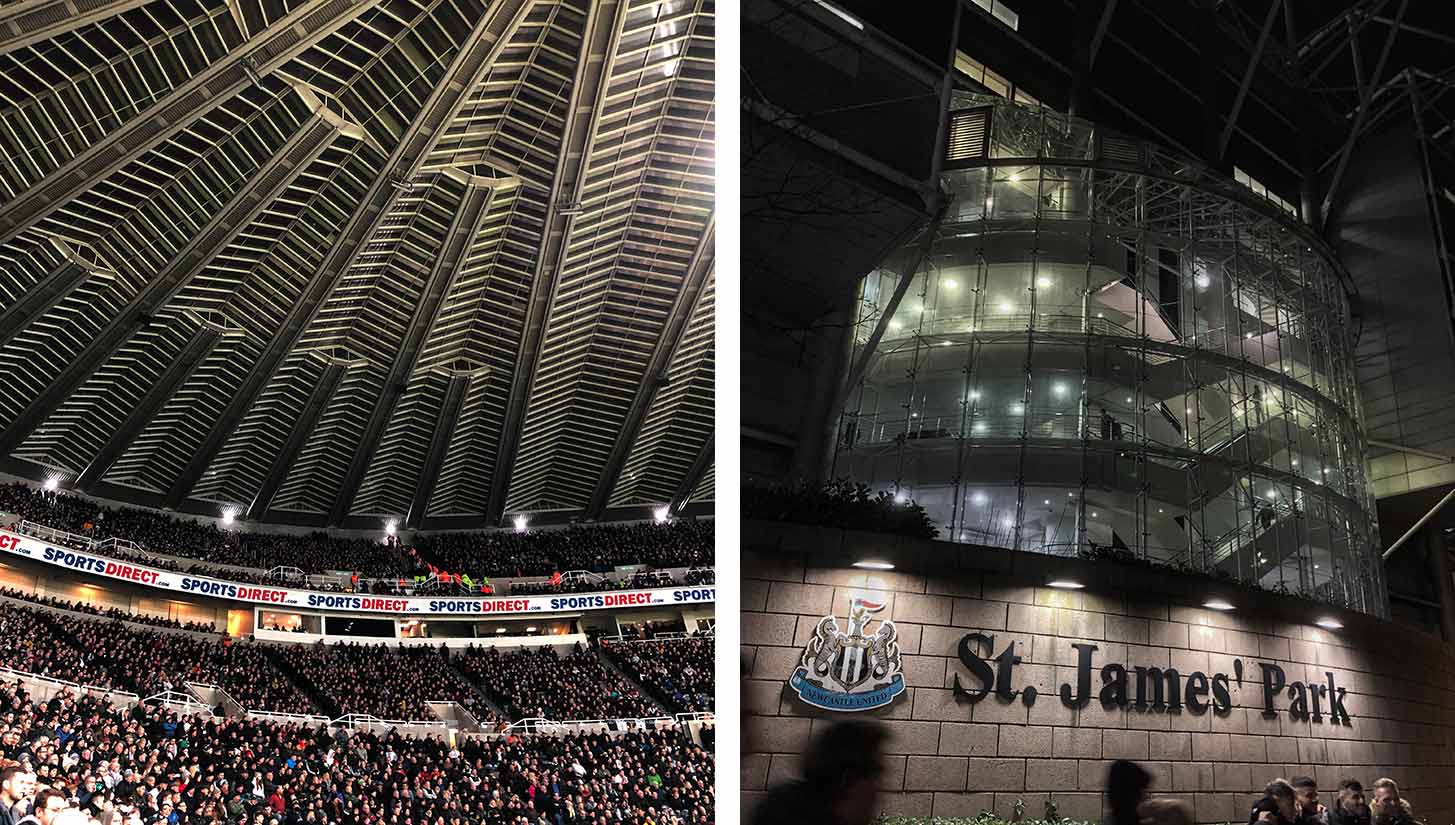 To be honest, the game is not very good. Chelsea is trying to pressure and have their opportunities while Newcastle is counterattacking in their best way. Every Magpie attack showcases the atmosphere St. James Park can create. Fans collectively crescendo into a deafening and hope-filled roar — an incredible experience.
The match awaits us with an unexpected outcome in extra time. A stunning last-minute goal is celebrated by all of us. That euphoria — that's the feeling of football. This is why I've come to Newcastle. To jump, sing, and celebrate. Even the steward hugged me with a smile.
In reality it's a rubbish goal, but it feels like gold. After the final whistle, we still celebrate Isaac Hayden's miraculous flick. We order a victory beer and discuss our feelings and sensations, overwhelmed by our emotions.
That's Newcastle's way. Struggle and struggle, be with your people, and feel proud and part of a club. That's what Toon Army means.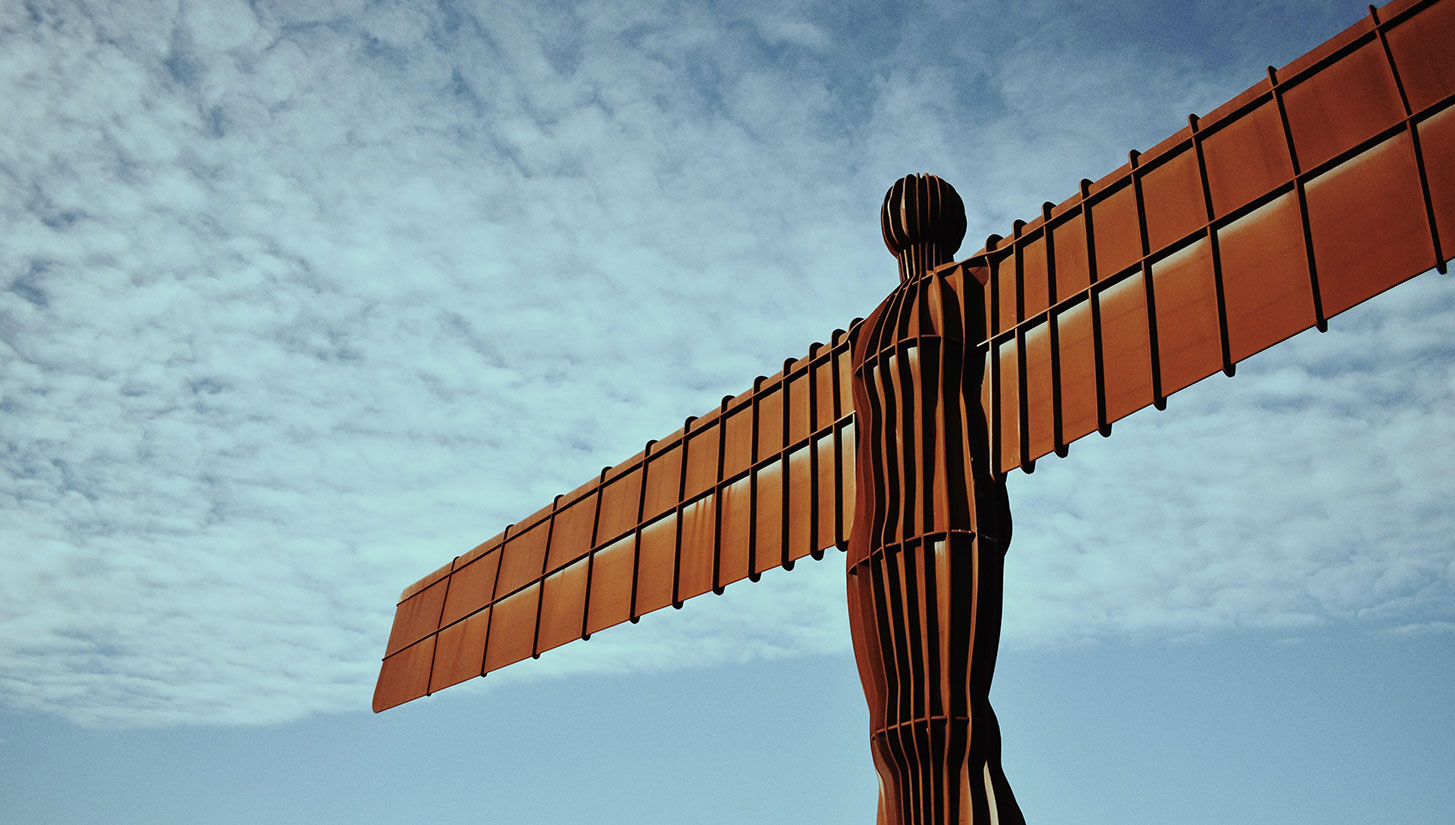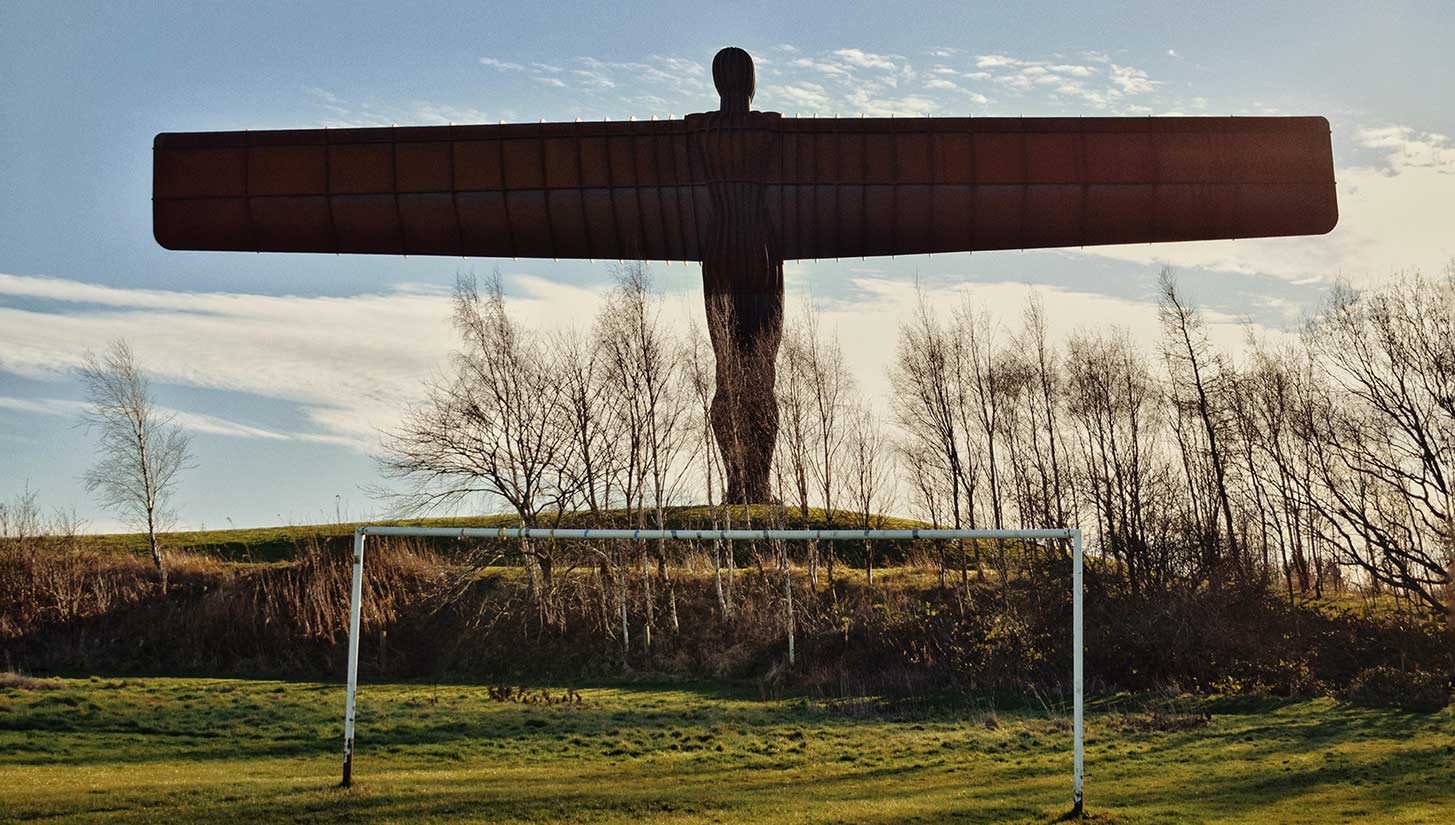 The day after, we go for a walk and visit The Angel of the North statue located in the Gateshead area. Its size is tremendous and extremely impressive from any point of view. It's a Geordie thing, but also a Mackem one too. It's from the North and represents their particular identity and personality. They are quite different from the rest. It can sound a bit confusing, but in which side of the river you're born is the only thing that matters in Northeast England.
Photography by Ignasi Torné Gualdo for Urban Pitch.