To celebrate the launch of its new line, Los Angeles-based streetwear brand Crack FC held a 20-team street football tournament at The Base LA complete with live music, food, and LA's finest ballers. 
On a night that showcased the vibrant Los Angeles street football culture, Crack FC unveiled its brand new line of shirts and hats in front of a full house of lovers of the beautiful game.
In addition to showing off the football-inspired threads, 20 of LA's best street football squads came out for a 5v5 tournament with $1,000 at stake. Among the teams were HBFutsal, TC Broders, and eventual champion Coliman FC, which featured the boyfriend-girlfriend duo of LAFC-signee Carlos Alvarez and two-time World Cup participant Renae Cuellar, who represented Mexico in the 2011 and 2015 Women's World Cups. Live music was provided by DJ Q — a Portuguese-born DJ/Producer who is also a certified CPA — and South Central's own Feefa came out for a live performance of some of his latin-infused hip-hop tracks as well.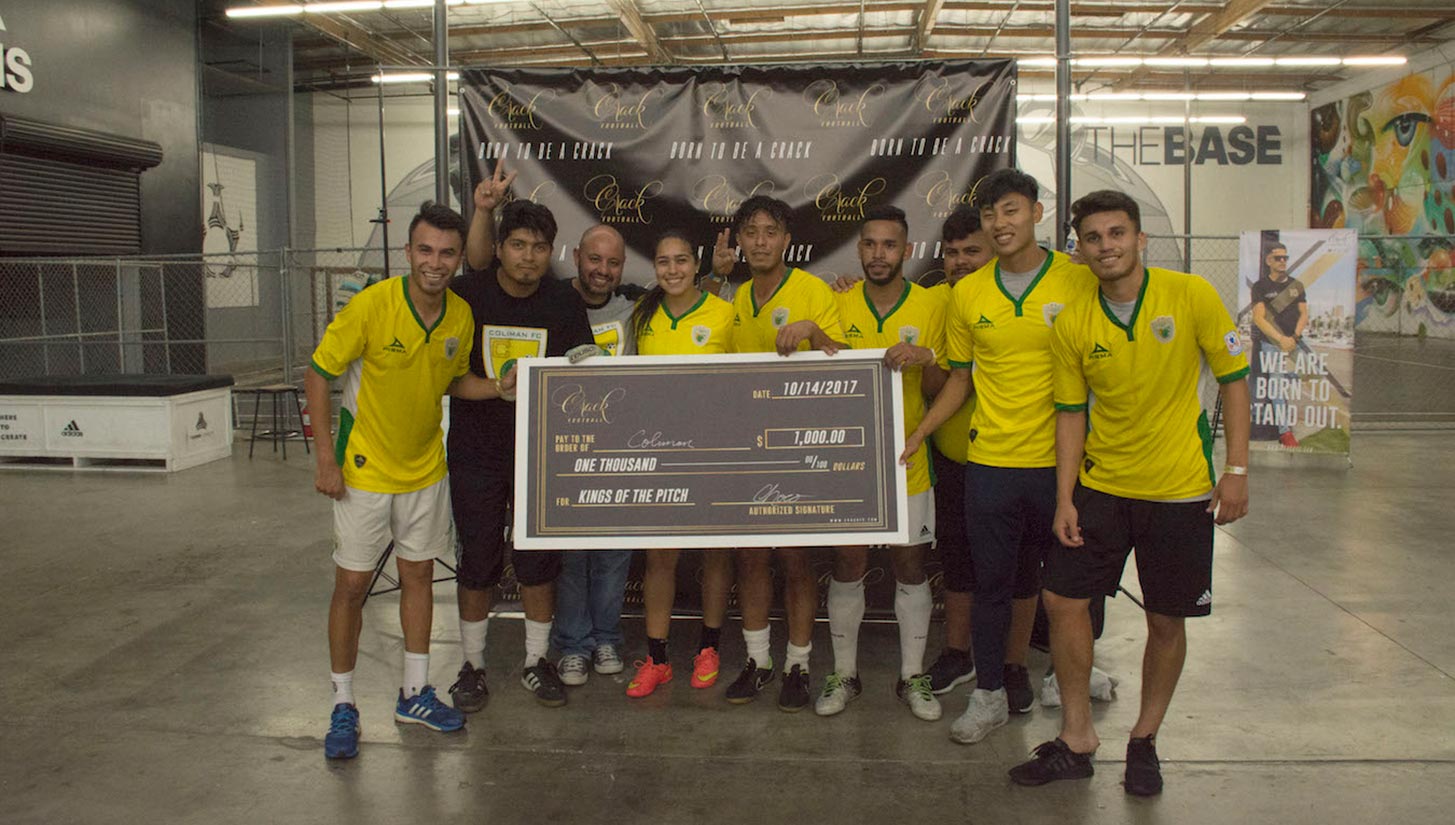 The packed crowd contained an eclectic mix of street ballers, freestylers, and football enthusiasts alike, including U.S. freestyle champion Alex Mendoza, who participated in the tournament as a member of The FC, and up-and-coming freestyler Gia Moyano, a life-long soccer player who recently got her start in freestyle after an ankle injury kept her off the pitch.
Also in attendance was Stephen Bernasconi, creator of The Soccer Tour, an eight-month, 300,000 mile journey across the country that has captured the love of the beautiful game of countless Americans. During this experience, Bernasconi has lived in his Honda Odyssey in which he removed the rear seats in order to fit a bed. His travels have shown him the passion of U.S. soccer fans at all levels, from MLS to the NWSL, to the NASL.
We were able to catch up with some of these faces in the crowd to talk about the USMNT struggles, rise of street football, and Crack FC's newest line.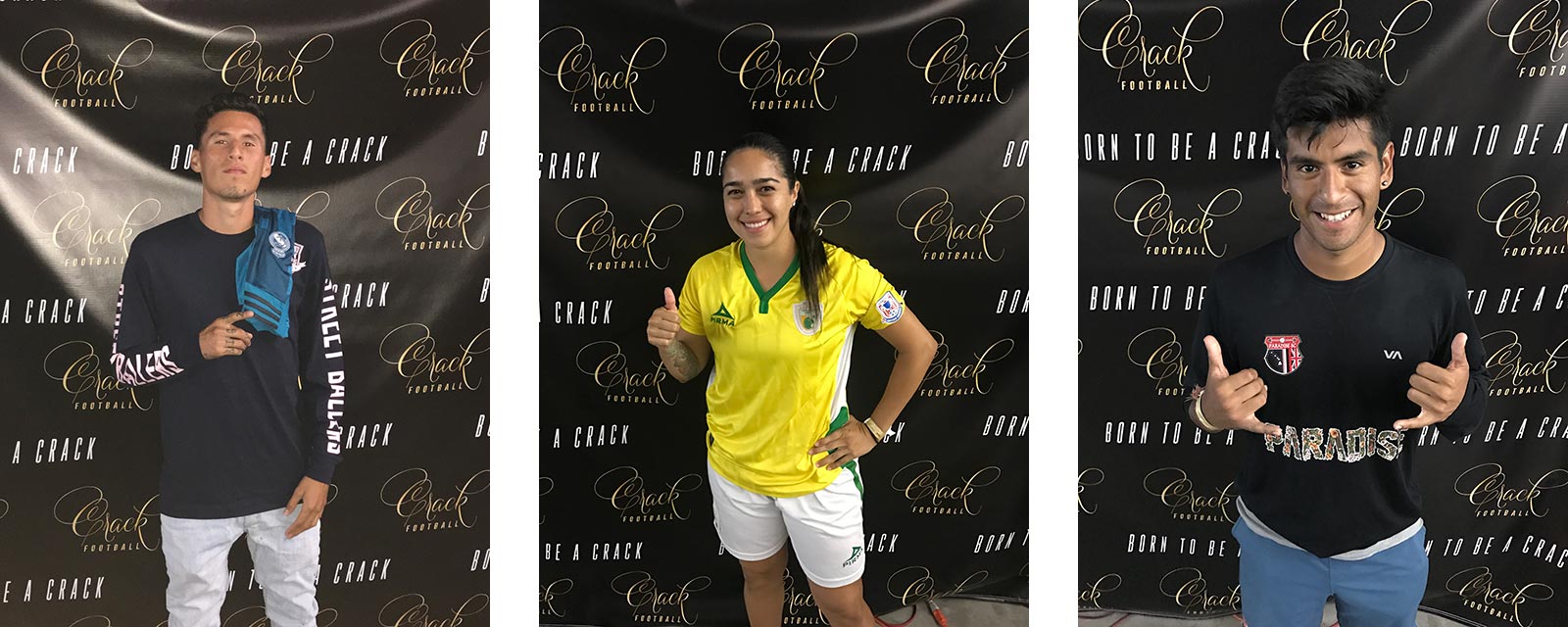 What brings you out tonight?
Feefa: First off, I'm a street baller myself. I've been playing street ball since I was 4. Before I got into music, I was playing in the streets. It's good to see the growth of the culture.
Renae: We're really good friends with Choco (Crack FC's Creative Director), and this is a really good tournament for me to get my feet wet again and make a comeback. Obviously it's a great environment, I love to stay involved with the game, and I'm an LA girl, so it's nice to see it in my hometown.
Alex: My girlfriend invited me to play with her team, so I thought, why not? I haven't been to The Base LA yet, and I wanted to check it out.
Gia: I love being in any soccer environment, even though it is a little bit of a tease watching all of these able-bodied people playing knowing that I can't participate.
Steven: The Galaxy game on the 15th is the last stop on my tour across the country, and I thought I'd come by to get a taste of the LA urban soccer culture.
DJ Q: I'm good friends with Crack, they know I'm a DJ, so they invited me to come out and perform.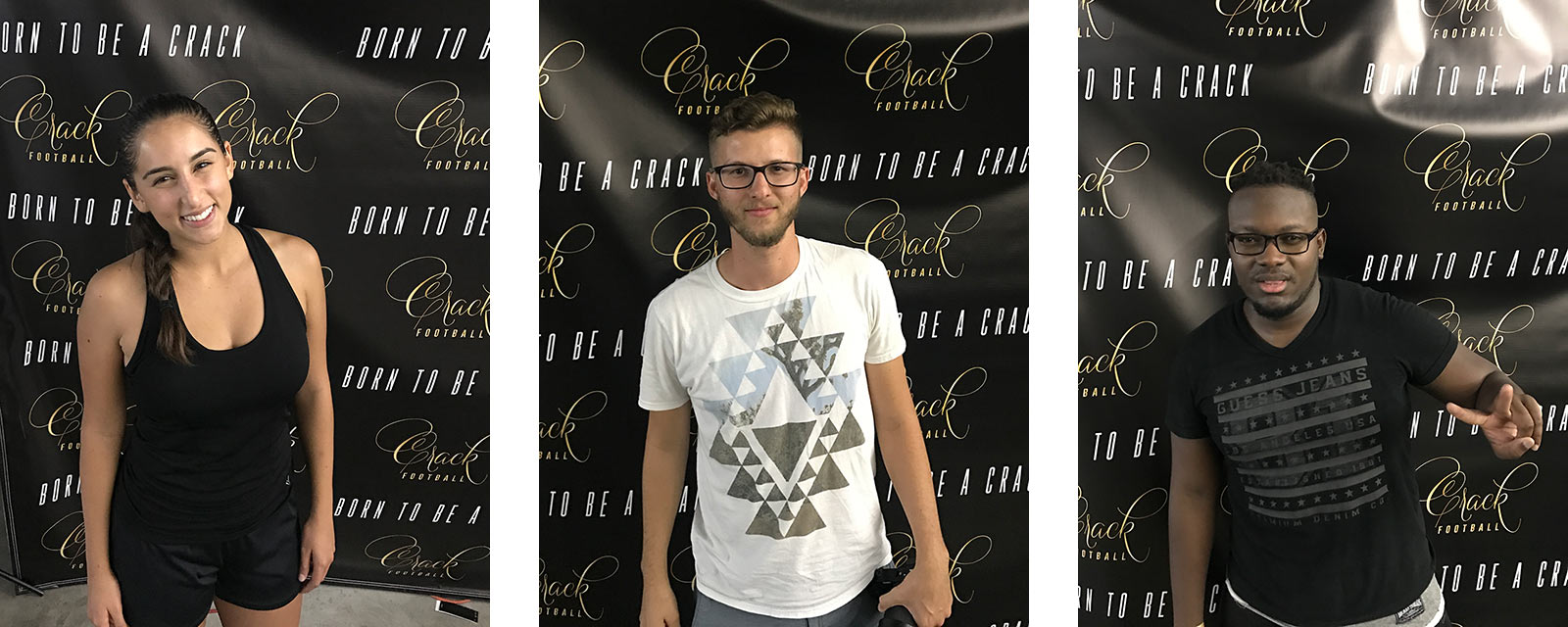 What do you think about the venue, Adidas The Base LA?
Feefa: Man, this is amazing. I was just telling my brother, this is so good to see. I grew up playing in dirt. To see the growth in this sport, it makes me happy.
Renae: I think it's amazing. I've seen pictures of it, but they definitely don't do it justice. I enjoy playing here, there's a good vibe, and it makes you want to ball out.
Alex: It's awesome. It's really big compared to the one before, the location is great, and it's a really cool vibe.
Gia: This is my third time here. The first time I was here I thought it was the coolest thing. The fact that there's graffiti art all over the walls, these sick lounges upstairs, I think it's the perfect set-up.
Steven: It's a warehouse vibe. I haven't covered anything quite like this, but I think that this is the type of thing you want when trying to get people to play. It's way more than just the game. It's the culture, the counter-culture vibe, it's really cool.
DJ Q: The venue is dope. It's crazy man. When I saw it I knew I had to bring my A game.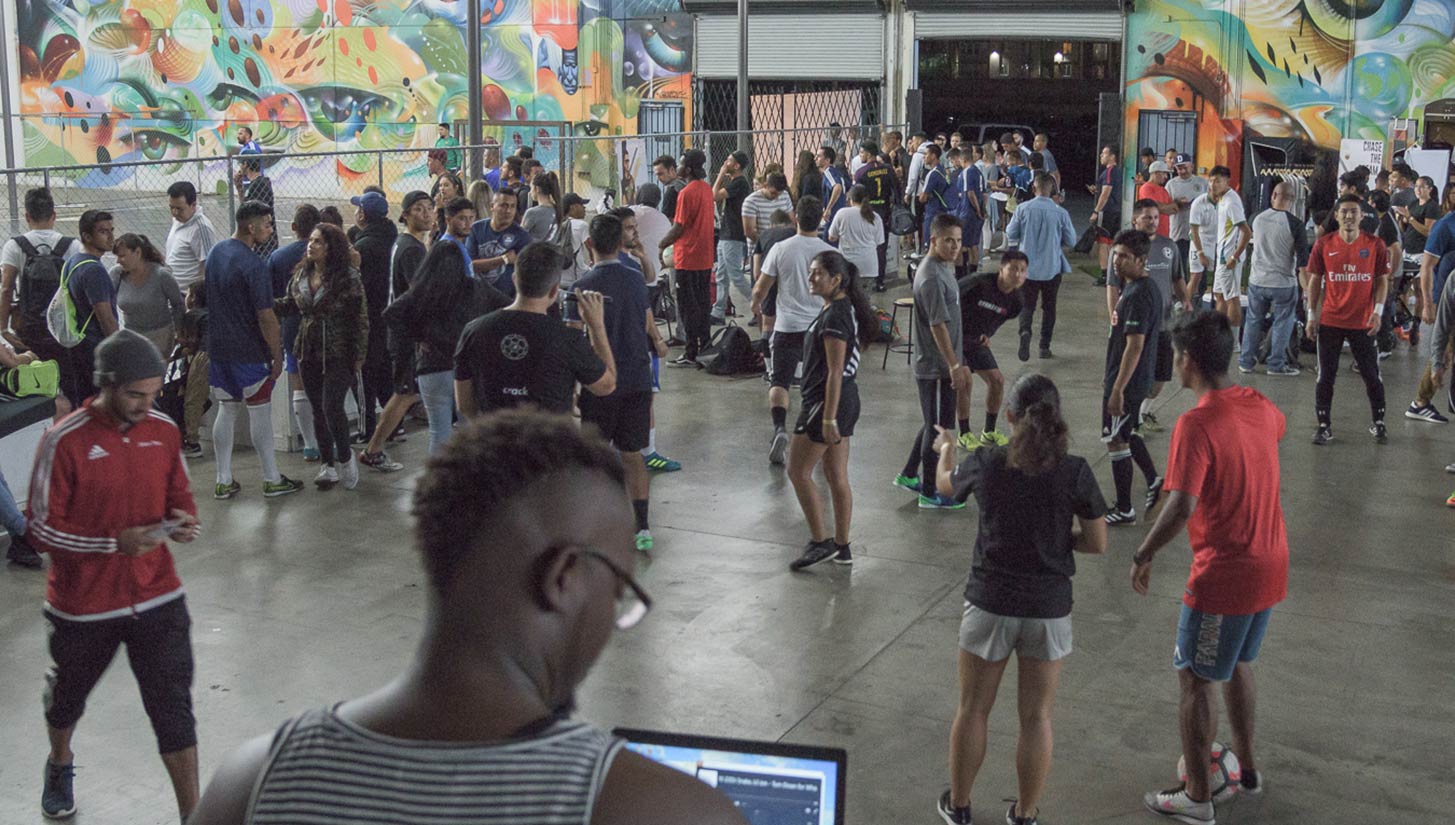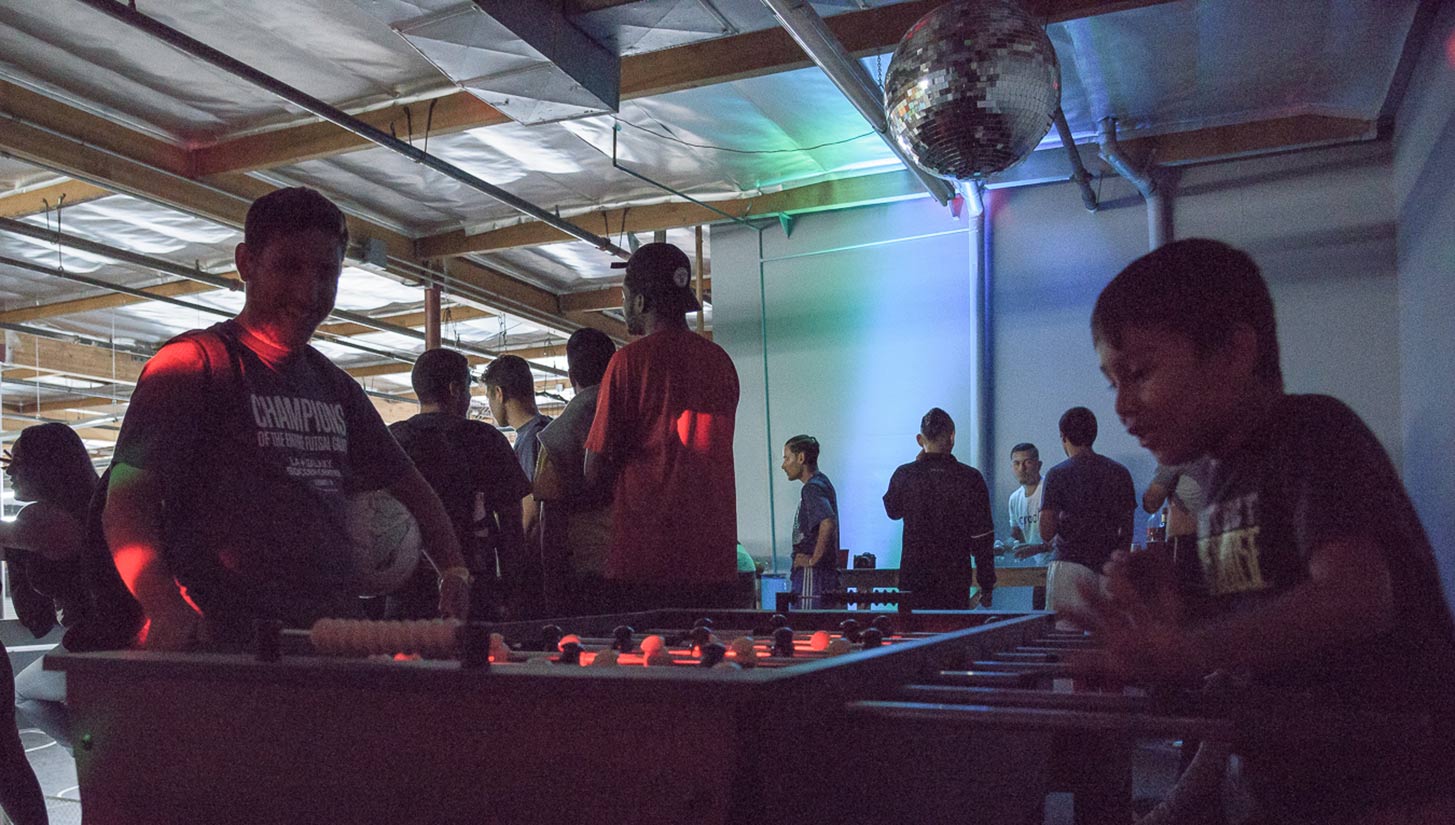 What's something unique that has stood out so far?
Feefa: It's a special vibe out here. You don't get this anywhere else. It's a one-time experience and it's hard to explain. You've got to be here to enjoy it.
Renae: The environment. Everyone is coming together and enjoying themselves. Soccer is very competitive, so everybody playing and having fun without fighting is nice to see.
Alex: There's a lot of ballers. There's a lot of familiar faces too, which is pretty cool.
Gia: The fact that there are people here from all different skill levels. I know it's a tournament, but all these people have different skill levels, and just want to have fun and build the soccer community.
Steven: I don't think I have seen anything like this on the road. It's a really cool combination. You've got art, you've got music, you've got culture, some delicious food, and of course, street football. What's better than that?
DJ Q: A lot of energy, a lot of vibes, and a lot of young people playing soccer. The sportsmanship is great, we're playing hard against each other but at the same time it's all love.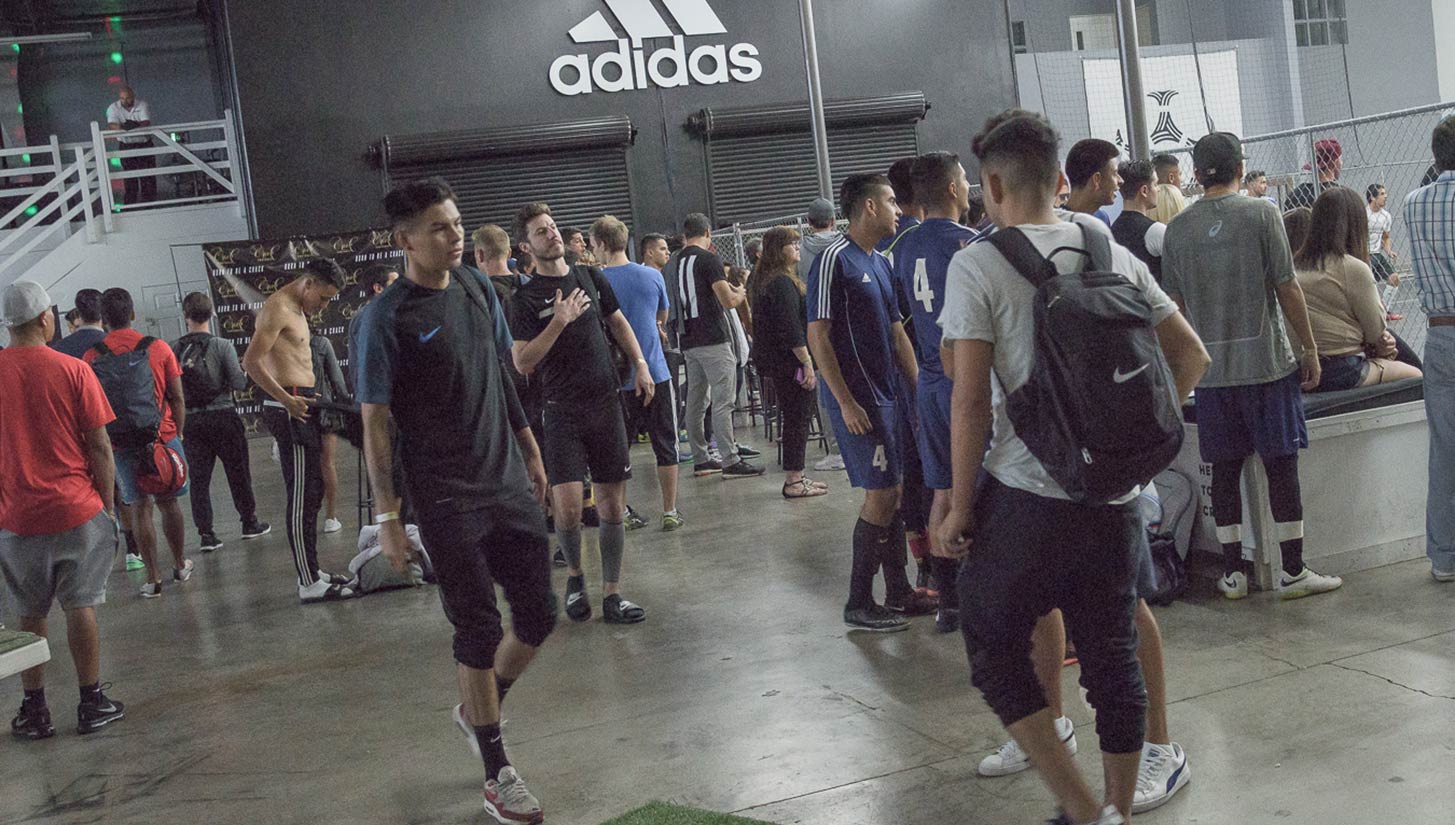 What are your thoughts on Adidas' recent work aimed towards the street football community?
Feefa: Adidas has got that quality. I'm all about that quality. If it feels good, I'm going to wear it.
Renae: I love Adidas — Carlos is sponsored by them — so we have my baby Romeo in Adidas all the time. I think evolving the game with futsal and street football is amazing.
Alex: I've been working with Adidas for the past two years, and I really like them. I support all the brands that go for soccer, but Adidas really stands out.
Gia: Through my soccer trainer, I'm kind of an ambassador for Under Armour, so I've been getting a lot of gear from them. They've become my favorite soccer brand. But I think Adidas is amazing! They were my very first cleat, so I'm always gonna have a little Adidas in me. They've been doing some amazing stuff with street football and I'm looking forward to what they do next.
Steven: I'm going to be honest with you, I'm not really sure if I can answer that question!
DJ Q: As far as soccer, Adidas is my favorite brand. I grew up watching my favorite team, Benfica in Lisbon, and they are sponsored by Adidas. I'm really glad they've been working with street soccer so much.
Turning to recent events, what do you think about the USMNT's recent struggles?
Feefa: We need chemistry. We need to take the whole team on a huge vacation, no phones, no nothing. Force them to talk to each other, force them to get along, because there was no chemistry out there.
Renae Cuellar: It happens. I've played in two World Cups, and anything can happen. It's unfortunate, but you just got to keep pushing forward.
Alex Mendoza: They have a lot of work to do, but I think their youth teams — their U17 and U23 — have a lot of potential for the future.
Gia Moyano: The fact that we didn't qualify because we lost to Trinidad and Tobago sucks, but also, the fact that that Panama's second goal in their game shouldn't have counted was insane to me.
Steven Bernasconi: I'm a glass-half-full kind of guy. I think that this now is a really good opportunity. Look, we know that there's a problem, and we can now address it and hopefully fix it. I really think that missing out on the World Cup could be a turning point, and I'm optimistic that we'll get it right.
DJ Q: It's crazy. I think the U.S. is in a phase of rebuilding. Sometimes you have to take the "L" but they are going to go back and rebuild and bounce back.
Who would your choice be for Bruce Arena's replacement?
Feefa: If we could get Zidane over here…(laughs). No, but I think Alexi Lalas would be a good coach. Landon Donovan might be good, but I like Lalas' defensive point of view, because we need defense.
Renae: That's a tough question. I think Sigi Schmidt is good.
Alex: Oh man, that's a tough one. If I had to choose someone, it'd be Pep Guardiola.
Gia: Can I pass this question? I don't know coaches, I don't know these things!
Steve: I don't have a name, but it needs to be someone that understands all of the flaws that we have, top to bottom. Not just be a head coach, but have a good feel for the struggles and achievements of soccer as a whole in this country.
DJ Q: Jose Mourinho, but they can't afford him!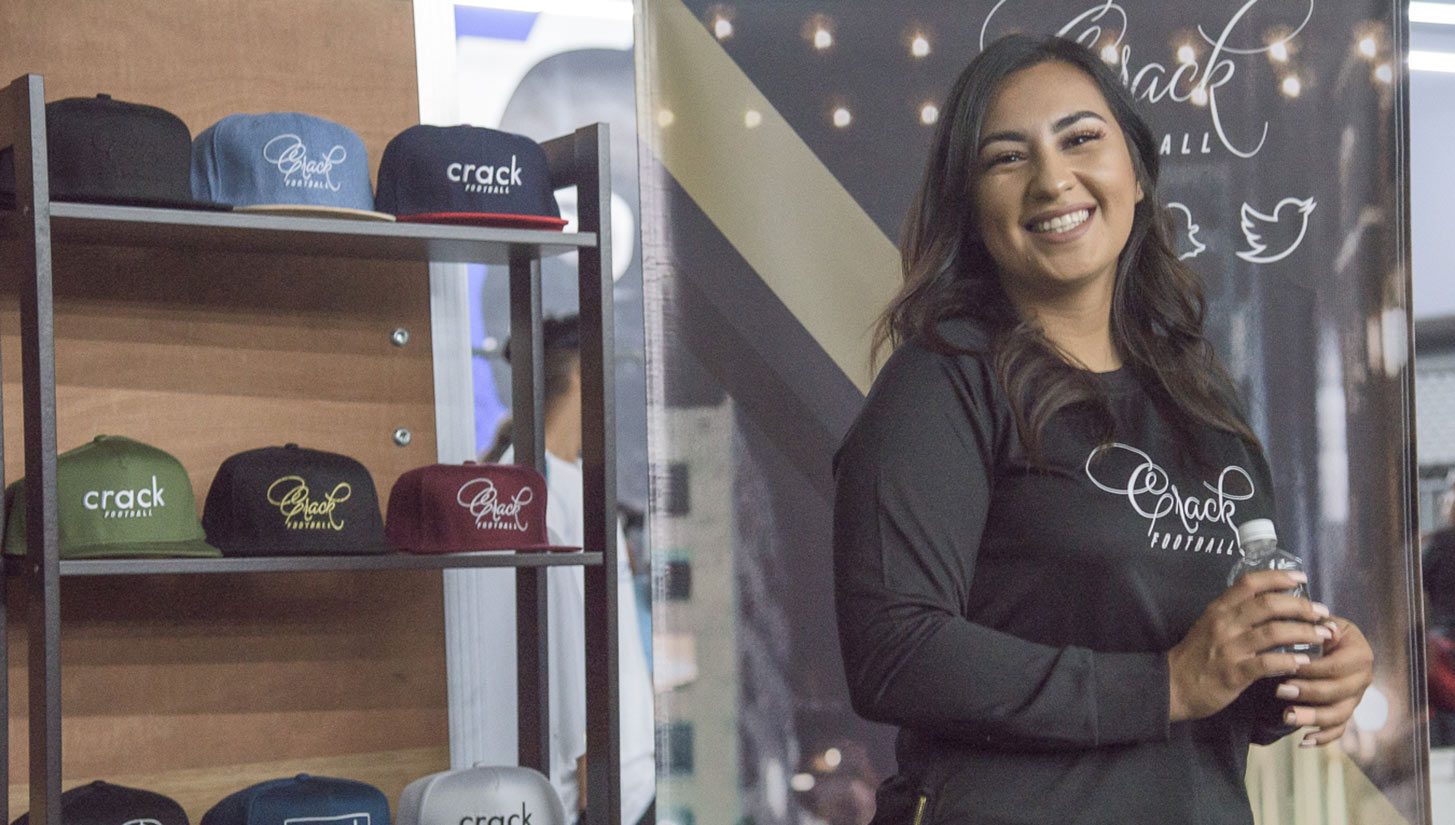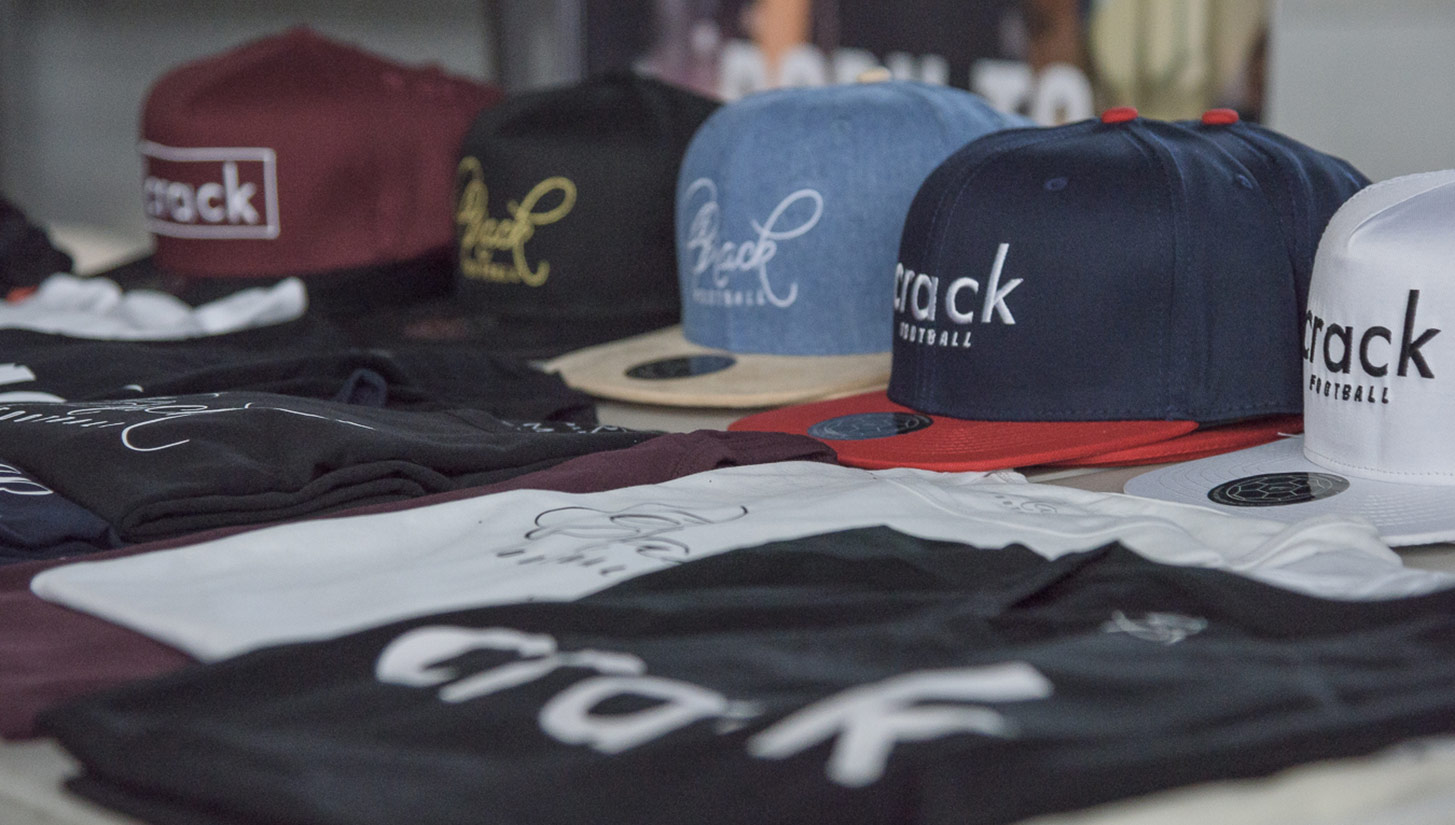 What do you think about Crack FC's newest line, and the rise of soccer-inspired streetwear brands?
Feefa: I like it. Some of it could be more creative and visual, but it's all in a process. It's all the beginning. I like supporting things from the beginning. It's the same with my music. My music used to be simple, but I've grown and evolved since.
Renae: It's great. I don't think there are enough soccer-specific brands out there. You have the big companies like Adidas and Nike, but to see a smaller company is nice. Also with crack being a Spanish term, it's nice to have it connect to our community.
Alex: My girlfriend did a photoshoot for them, and she's the one that mentioned them to me. They're really cool.
Gia: I love it. I want them all. Anything soccer-related, count me in. I think it's really cool that they're so affiliated with soccer and the soccer community. That hits home for me.
Steven: I think I'm the last guy anyone should talk to about fashion, but I think it's really cool. Turning these soccer brands into lifestyle brands is a really good opportunity to capture that urban street culture and combine it with soccer.
DJ Q: I love Crack FC. They're all about the soccer culture. Crack FC is definitely the future.
Check out Crack FC's online store and follow them on Instagram.