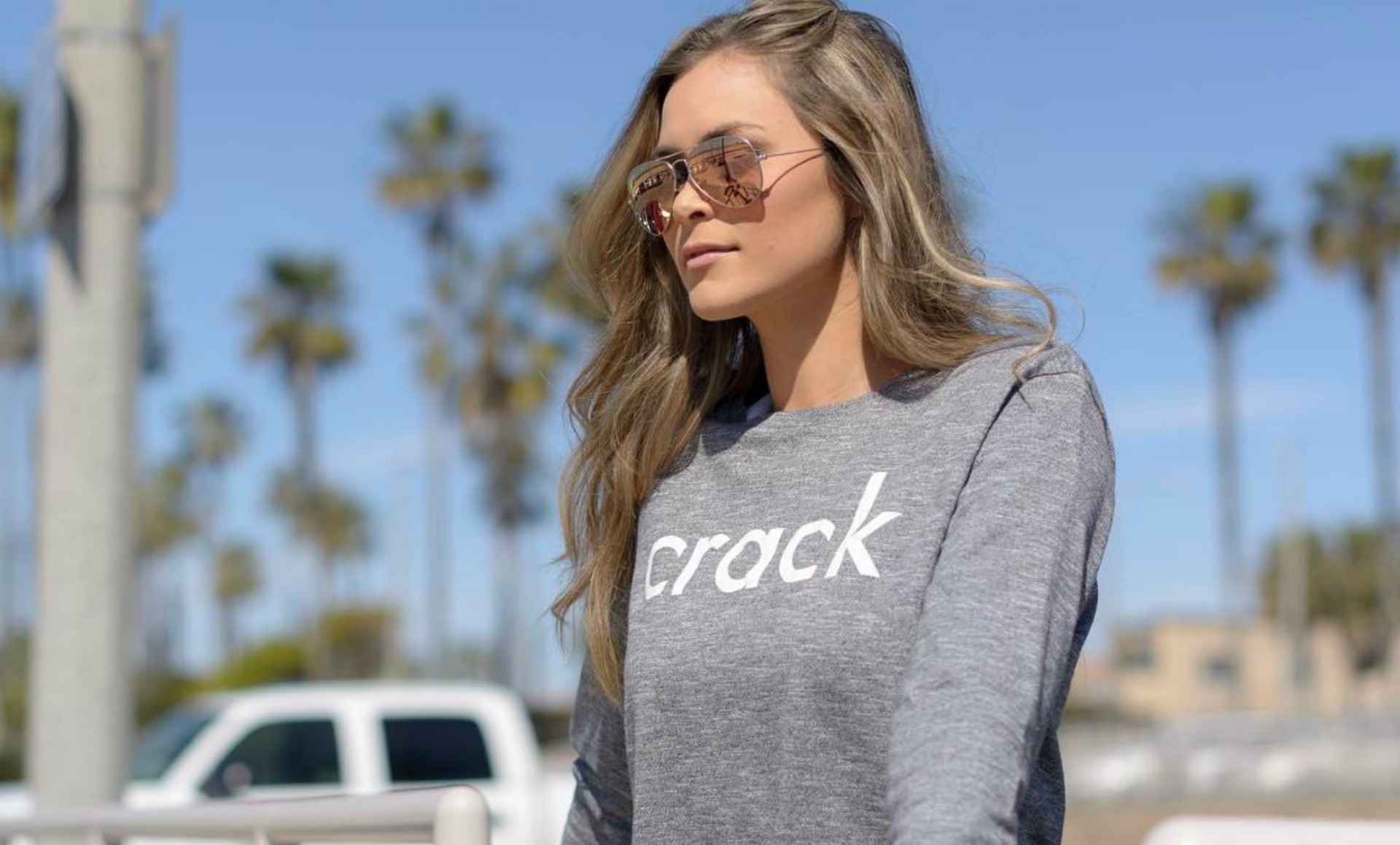 Crack \ˈkrak\ n. slang. A soccer player with tremendous skill, class, and panache. Example: Damn, did you see that move? That guy is most definitely a crack.
The term 'crack' is used in many soccer circles to describe a player who is clearly a cut above the rest. And for Los Angeles-based clothing brand Crack FC, being a crack goes beyond on-the-pitch gear.
Instead of taking the route of Nike, Adidas, or even niche-specific brands like 4Freestyle, Crack FC provides a lifestyle line for ballers to express themselves off the pitch, in comfort and in style.
"Crack was founded by soccer players and soccer aficionados," said Crack FC's Jose Gomez, aka Choco, who along with Oscar Montealegre founded the company.
In addition to clothing, the company has a series entitled "Crack Adventures," which documents the raucous atmosphere of soccer communities in various locales, like Bogotá, Colombia.
Staying true to its roots, Crack FC is also hosting a local 32-team (20 men's, 12 women's) 6v6 short-sided tournament on April 29 in Garden Grove in Southern California. Prizes range from $5,000 for the top men's team and $2,000 for the top women's team.
We had the opportunity to speak to Gomez and delve into how Crack FC has set itself apart from other apparel brands.
Urban Pitch: What is the inspiration behind Crack FC?
Jose Gomez: The inspiration behind Crack FC is to create an outlet for football fans in terms of clothing and beyond. Yes, we all love our jerseys, our training gear, but what if you want to wear a tee or sweater associated with soccer to just chill? Not that easy to find right?
Crack FC is for football aficionados to express their love of the game outside the soccer field. We too love the game of football, therefore we wanted to separate ourselves and create a brand that distances from the heavy hitters such as Nike, Adidas, and Reebok. What makes us very different is that we're pure, we're raw, we're real when it comes to football.
What kind of gear do you provide for street ballers?
Our gear is street baller friendly. Crack FC offers a more casual/urban feel. Not only do we care about fashion and how it looks, but also quality. If you're going to ball on the street, you have to do it in style, like a crack. We have shirts, sweaters, and of course, hats.
What sets you apart from other soccer apparel companies like Nike and Adidas?
Adidas and Nike are global brands that sponsor soccer and other sports. Nike got in the game after they realized they could make money. All good, we're not mad at that. But you can't tell me that Nike is a soccer company. It isn't. While Adidas may be more pure and raw compared to Nike, they are also involved in many other sports and programs. Kanye West's "Yeezys" are an example. Once again, that's all good, but it takes away the cache of being a bona fide soccer company. And once again, we are truly a pure and raw soccer brand from the bottom up, not top down.
I came from a community of players where it was normal using rocks, shoes, etc. as goals and playing 'til dark.
Your mantra is "Born to be a Crack." What is the meaning behind that?
We all have our favorite players such as Messi, Ronaldo, Falcao, Neymar, Zlatan, and Ronaldinho. In Latin America and Europe—especially Latin America—great players are dubbed cracks.
However, we don't have to be professional soccer players to be cracks, but we can be cracks in our group of friends, community, college, high school or network of friends. That's what is behind the mantra. If we work hard at what we do, we can be cracks as well. In short, it's a message of inspiration and engagement of all levels, whether through a large fan base or small scale such as your local community. Being a master at your own craft. The point is to always strive in being a crack, because it is always up to the individual, hence the mantra, "Born to be a Crack."
What is the future of the Crack FC brand?
The future of the brand is to expand out of L.A. We did a couple of photo shoots in Cali, Colombia, and Bogota, Colombia. We plan to return to Colombia in September as well as Mexico. We also want to showcase our travels through Crack Adventures which will document via video our work abroad. Moreover we'll also do Crack Adventures here in the U.S. In the summer we'll go to Portland, Seattle, Dallas, New York, and Orlando. We're an L.A.-based company so we'll definitely spend our energy in the U.S., but we don't want to forget our brothers and sisters abroad.
You are hosting a short-sided 6v6 tournament for both men and women coming up later this month. What are your expectations for it?
Our expectations are manifold. We want to create an environment where players get to showcase their skills and compete for something more than money—pride. To earn the respect from everyone watching. However, most tournaments are men orientated, which is fine, but we can't forget about the women.
Soccer is played more and more by women and we should create more inclusive environments for women. We realize that we're doing something different, but in my opinion it is shocking that it is considered different. In the end, it's going to be awesome. We're very excited about it because we will be able to showcase our company and what we stand for to many people in one day.
We've seen an increase in popularity in short-sided soccer across the nation. How has street soccer become a part of L.A. culture? How do you think it will continue to evolve in the future?
Street football is the base of skills among soccer players. Robinho, Ronaldinho, Ronaldo all started playing in the streets. I for one can relate to that being that I came from a community of players where it was normal using rocks, shoes, etc. as goals and playing 'til dark. I feel street football not only gives you the training to gain more skills but also to be tough, competitive, and work ethic. I feel now more and more people are realizing that street football is not only fun but essential to the world of football here in the USA.
Are there any other updates from Crack FC coming soon?
In addition to launching new shirts in a few weeks, Crack Adventures will be in Iceland in May and possibly Scotland or Ireland. We haven't decided but once we do we'll attend games and film the passion of fans and showcase it via our web site and social media. As you may detect, we're big on Crack Adventures because it gives people a glimpse of the passion and love of soccer from different countries, with the aim that we're different in manifesting our expression towards supporting the game, but the same when it comes to our obsession over soccer.
Check out our exclusive podcast with Choco and also their web site for more info about Crack FC.