Adidas' Tango Squad FC offers an opportunity to young ballers from around the world to chase their football dreams. In their latest video released today, the Tango Squad takes the field as an 11-a-side team for the first time with the help of Juventus. Prior to the video's release, we caught up with some of the players to talk about their experience on the team — from getting tips from some of the world's best pros to creating bonds and friendships along the once-in-a-lifetime journey. 
Anyone even remotely passionate about the beautiful game has dreamed of playing it on the biggest stage. For members of Adidas' Tango Squad FC, this dream is coming closer to a reality, as they have been traveling the world and training with renowned talents of the likes of Paul Pogba, Juan Mata, and James Rodriguez. Coached by Xabi Alonso, the squad is full of young talents hoping to take their games to the next level.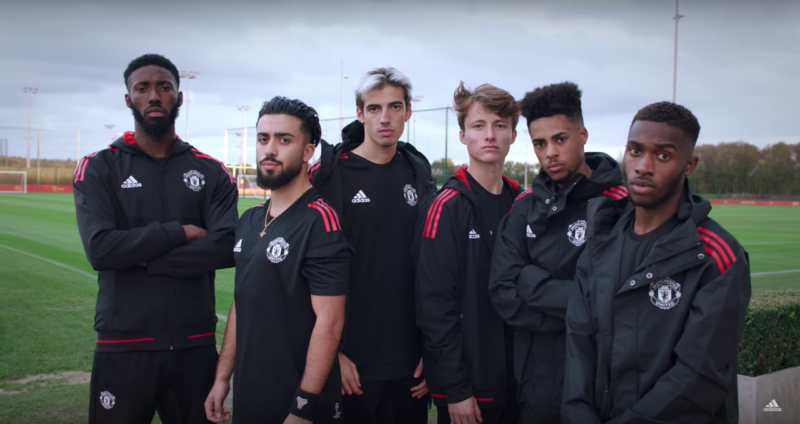 From Madrid to Munich, the team has traveled all around Europe to consult some of the brightest football talents in all aspects of the game, from finishing techniques to mindset.
The latest episode, "Game Time" documents the squad's first 11-a-side match against Squadra Blu, an Italian team of influencers and YouTubers. Xabi recently announced the team's new signings from the trails in Episode Five, finally completing the team and allowing them to create some chemistry.
Of course, a Tango Squad FC episode isn't complete without an appearance from some A-list pro ballers, and this one featured Juventus stars Juan Cuadrado, Miralem Pjadnic, Rodrigo Bentancur, Mattia Di Sciglio, and manager Massimiliano Allegri.
The match went much smoother than their first one in Episode Two, handily defeating Squadra Blu 4-1. In addition, the team debuted their new kits with a sick streetwear-inspired design.
We were able to catch up with three of the Tango Squad players, original team members Jack Downer and Daniel "Prince" Haastrup and new addition Brice Nanou, in between shoots to discuss their experiences with the team and how they plan to use their lessons learned for their promising futures.
Urban Pitch: How did you guys get chosen to be part of the Tango Squad FC?
Prince: It started with Tango League. Obviously they chose the best of the best to be the captains. You know what it is.
Jack: We don't play games.

What were you doing when you got the call saying you made it?
Brice: I was playing FIFA! It was crazy.
Prince: I'm not going to lie, I was in my living room doing kick-ups. I had to run upstairs to take the Skype call.
Jack: I can't even remember what I was doing, I was probably asleep. (Laughs)
How much different is the Tango Squad FC from the Tango League tournaments?
Jack: Tango League UK is a cool event, the competition is always decent, and every once in a while there will be some really good players.
Prince: That's when the real ballers show up. From academy, to professional, to street players, everyone just comes out to the Tango League events.
Jack: I play regularly with my Tango League team, but it's nothing like the Tango Squad FC. This is a much more selective team, and we're very much bonded. If you watch the videos, that's our actual journey. We're all developing together, which is different from the Tango League events which are just one-off.
Prince: Let me translate this for you — we're the best. (Laughs)
Would you call yourselves more street players or traditional football players?
Jack: I'd say that I'm the only street player that has converted to the traditional game.
Prince: The majority of us are actually traditional footballers. Everyone on Tango Squad FC loved football so much that we went to Tango League to play the street game.
So you guys are all pretty much 11-a-side guys first, street players second?
Brice: Not everyone, but for the most part, yeah.
So Jack, what has the transition from the street to the big pitch been like?
Jack: There's a lot of little things to get adjusted to, like the studs. You also have to change your priorities. I like to mess around and get nutmegs on the street, but here if you have the simple pass you just have to do it. It's much more team oriented. I don't really care if I get a panna here, whereas in 1v1 that's all you want. It's a mindset that I've easily adopted, because we get along as a team so well. I'd be more happy if Prince of Brice scored. Maybe if I didn't like these guys I'd just want to do it all on my own. (Laughs)
Prince: He's actually quite a strong player, he's adapted really quickly.
From Manchester, to Paris, to Munich, you've been to some of the most historic football cities in the world to train. What are some of your favorite memories and moments?
Prince: This is something that you don't just experience on a day-to-day basis. It's been astonishing. It was great going to Bernabeu, but I'd say my overall highlight was going to Old Trafford. I support Man United, and meeting guys like Pogba, Mkhitaryan, and Matic was phenomenal.
Jack: Mine had to be in Paris, where I panna'd Mickael again! (Laughs)
Brice: Shots fired!
You mentioned meeting and training with stars like Pogba, Mkhitaryan, and Matic. Did you get star struck from these superstar players? Which one gave you the best advice?
Jack: I feel like they're so down to earth, they weren't acting like they were these extraordinary players. They're people just like us, and they wanted to give us tips to learn from. For me, and I think I can speak for Prince as well, Mata was really helpful. He spoke in-depth about loads of topics and really helped me out.
Prince: Yeah, and also for me it was Paul Pogba. It wasn't the first time I had met him, we'd spoken before. He just told me that every time I'm playing, I should remember where I'm coming from. That's what he does, and that's what gives him the energy and drive to succeed more.
There's a lot of hype surrounding your upcoming match against The F2. What are you looking forward to the most about going up against them?
Jack: Rainbow flicking Jeremy and Billy at the same time.
Brice: Winning.
Prince: Yeah, winning. That's our mentality. It didn't work the first game, but that was our first time playing together. Now that we have a full 11 and we've been playing together, it'll be much better.
How much have you improved since that first game in Spain?
Prince: We've gotten so much smarter. Our mentality has gotten much better. We don't want to lose any more games.
Jack: That defeat hurt us a lot, and from that, we've gotten a lot of strength. I feel like you notice what you need to improve on because there is such a diverse array of skill sets around us. You have strikers that can shoot with both feet, like Brice, who is unreal. He's a left back now, but still. You can look at everyone's skill level and learn something new. It just shows you all the things you can work on and get better at. We haven't had much time to improve everything, but it'll definitely help in the long run.
Prince: So now we've got to go whoop some…(Laughs)
Being part of the Adidas team is all about being a creator. You three are all here for a reason, so what is it like embodying that identity of a creator?
Prince: I love standing out. You just have to be yourself no matter what. Don't follow others. People tell me I'm weird all the time, but to me it's just normal.
Brice: No man, you're weird. (Laughs)
What does the future hold for each of you?
Prince: I want to sign with a pro team. I believe it too.
Jack: I just want to win the panna world champs.
Prince: Just keep watching Tango Squad FC. We're taking over.
For more on Tango Squad FC, follow Adidas Football, Jack, Prince, and Brice on Instagram.