The world's biggest football league is back in two days. While we're genuinely excited to see how the 2019-20 season's dramatic storylines play out, we have some concern over the return of the English Premier League. 
With the English Premier League set to return to action on Wednesday, fans from around the world are ramping up their excitement. The comeback rightfully has us riled up, but I can't help but have some level of cautiousness over the restart of not only the EPL, but also corporate sport across the world. Here's why we're both excited and concerned over the return of the world's biggest football league.
Why We're Excited for the English Premier League's Return
We Need Sports More than Ever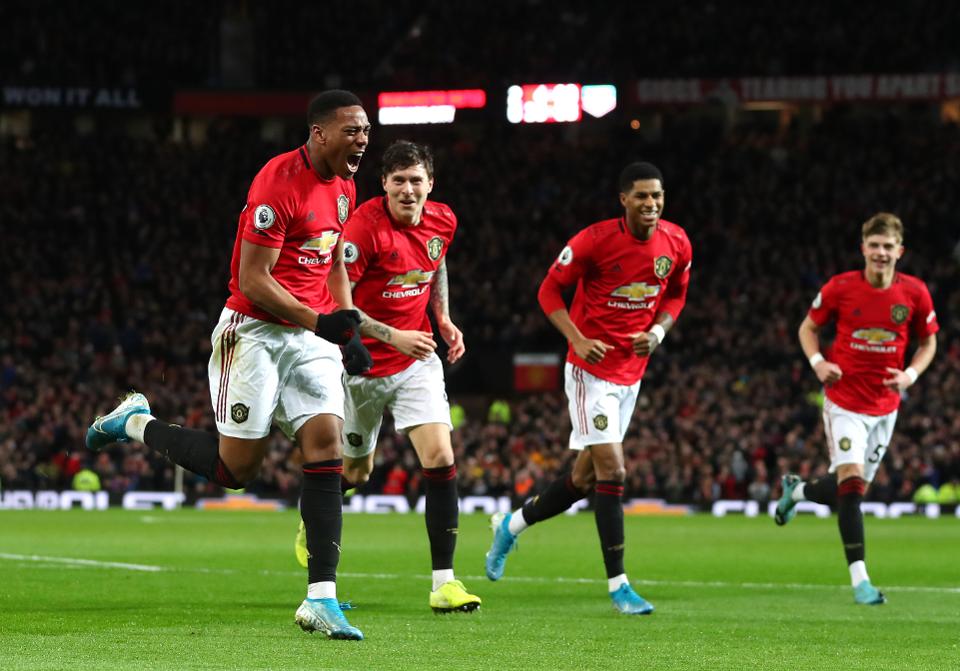 There is no questioning the fact that sports provide an escape from everyday life, and we need a healthy distraction now more than ever. Here in the United States, as well as in countries around the world, millions of people have been furloughed or laid off due to the tangible health concerns of COVID-19 and the corresponding impact on the business world. In the UK, unemployment rose by a staggering 70 percent through the month of April alone.
So what does all this have to do with the restart of professional sports? It's pretty simple — even in the darkest of times sports can provide some level of solace for fans.
What makes the EPL truly unique is its far reaching fandom on a global level. The return of the English Premier League would not only revitalize a starving British fan base, but also a world of soccer fanatics waiting to see their favorite players return to the pitch.
While the concerns of reopening professional sports leagues are legitimate and need to be voiced — we need sports now more than ever.
We Need Voices More than Ever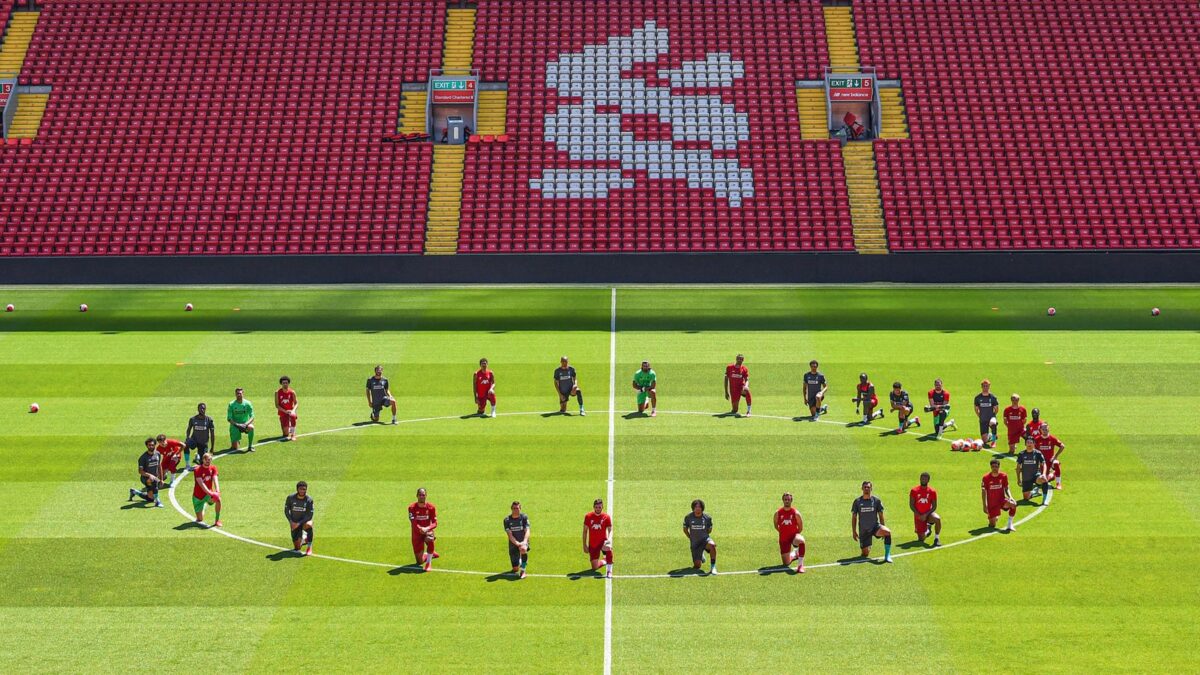 While sport can be a cathartic distraction for the masses, it can also serve as a powerful platform for statements on issues of historical significance. From Muhammad Ali to Billie Jean King, athletes have long served as instrumental figures in social movements. That has never rung more true than it does today.
We have already seen powerful statements against racial inequality made in the Bundesliga, which resumed play last month.
After scoring a goal for Borussia Dortmund, Englishman Jadon Sancho revealed a powerful statement underneath his jersey that read "Justice for George Floyd." Other Bundesliga stars including U.S. international Weston McKennie, Achraf Hakimi, and Marcus Thuram also displayed their solidarity with gestures of their own. Premier League footballers have been making statements as well, and in front an audience of millions watching on TV, they'll have a chance to amplify those sentiments.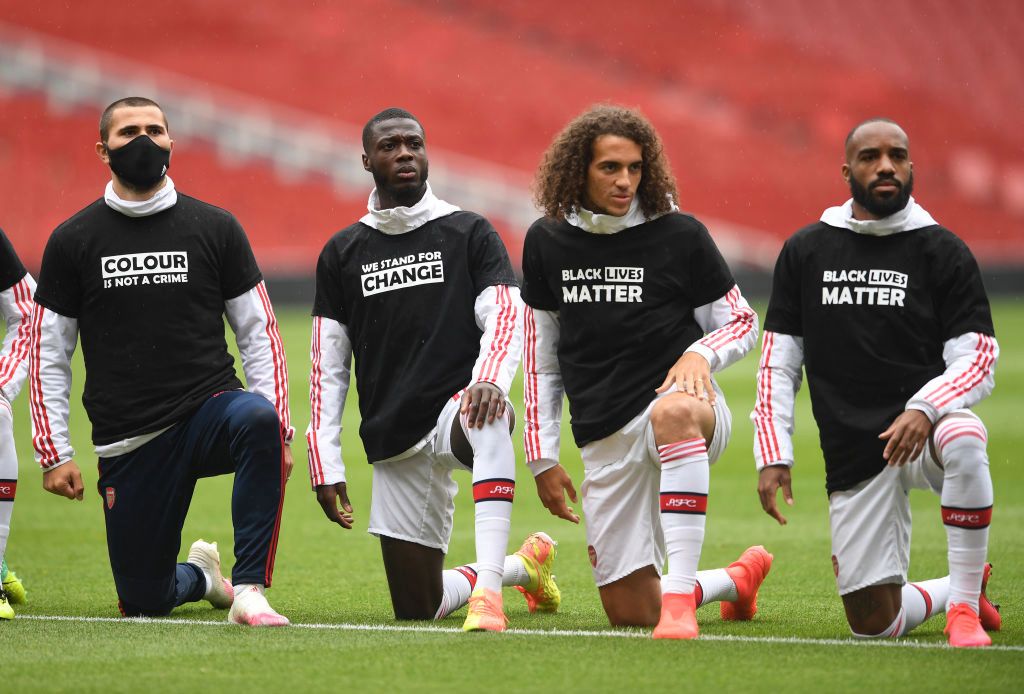 The first 12 Premier League matches will feature special jerseys with "Black Lives Matter" in lieu of player names, along with a patch to commemorate NHS staff and their work during the COVID-19 outbreak. The league has also approved kneeling celebrations to show support for the Black Lives Matter movement that has spread across the world.
General concerns over the flaws of corporate sport are valid. The simple truth though is that sports have long provided a platform for athletes to speak out against injustice, and now is as good a time as ever for those voices to be heard.
Liverpool Deserves the Trophy
I'll be the first to say that I'm not the biggest Liverpool fan in the world. Watching them absolutely dismantle every team in the EPL has been one of the hardest things to do in my recent sporting memory. All that said, there is no question that Liverpool deserve the Premier League trophy.
After beginning the season with an incredible 27-match unbeaten run, Liverpool were well on their way to hoisting the trophy. Even after a stunning 3-0 loss to Watford in their penultimate match prior to the suspension of league play, Liverpool stood 25 points ahead of second place Manchester City.
With games now back on the table, The Reds have a chance to win the league in their first game back, a June 21 matchup against neighboring Everton. A win would bring an end to 30 years of domestic disappointment for their fans.
In spite of my biases against Liverpool, they are one of the most worthy EPL champions we've seen in our lifetimes, and one of the greatest aspects of an English Premier League return will be watching them claim what is rightfully theirs.
Why We're Concerned Over the English Premier League's Return
Could Sport Fandom Lead to New Spikes? 
Even though we are all rooting for a restart of sports in general, their reintroduction could provide people with a false sense of comfortability as it pertains to the novel coronavirus.
While most of the safety concerns with reopening have centered around the health of players and managers, there should be more of a discussion centered around the fans. With pubs set to reopen shortly in the UK, the usually awesome masses of people watching their teams at local establishments now raise serious questions regarding health and safety. Yes, appropriate social distancing will be mandated at all restaurants and bars, but the enforcement process will likely be challenging.
Head of UK Hospitality Kate Nichols recently stated that "flexibility" will be critical in the reopening process. This may be true, but flexibility could connote laxness, leading to the rules being disregarded. If fans from around the UK begin cheering and celebrating in the same manner they are accustomed to, we could see spikes in COVID-19 cases throughout the nation.
Simply put, fan behavior outside of sporting venues could bring a false sense of "normalcy," something we aren't quite yet back to.
We Are Testing the Healthiest Members of Our Society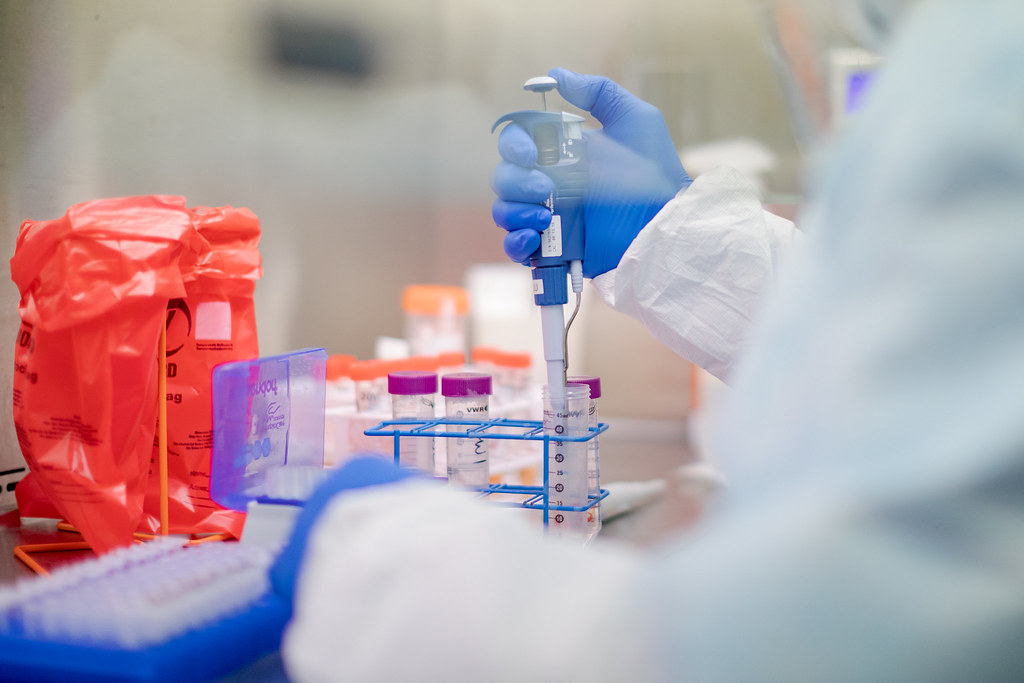 The excitement surrounding the June 17 return of the English Premier League is tangible in the global soccer community, but the concerns surrounding the restart of corporate sport cannot be understated.
First and foremost, a restart of a professional sports league of such magnitude can only take place with consistent testing. The problem for countries such as the UK and the U.S., is that testing is still unavailable for large portions of their populations.
Thus the question becomes a simple one: in the midst of the greatest global pandemic of our lifetime, are tests effective and efficient enough to rationalize masses of them within one of our healthiest and richest demographics?
For the two aforementioned nations, the answer is a firm no. While the U.S. has pushed to make testing free, access to them has varied from state to state. In addition, the rush to make tests available on a mass scale has created issues regarding their accuracy. But we are not alone in our struggle to make testing largely available, affordable, and consistently precise.
In Britain, the government has faced outside criticism over incomplete tests and delayed timetables for results. After sending over 60,000 tests to a U.S. lab for processing, the British government is again under fire after approximately 30,000 came back void earlier this month.
The EPL meanwhile, has administered over 8,500 tests of league members (players, coaches, and general staff) since May 17. Sixteen have tested positive for COVID-19. According to the league's reopening plan dubbed "Project Restart," all players will be tested twice a week for the remainder of the season. Sports leagues in the U.S. hoping to reopen, such as the NHL and the NBA, will likely utilize similar testing strategies.
The question again becomes a matter of resources, and who really needs access to testing. The average EPL player is just under 27 years old, and their average wage is approximately £240,000 per month. In other words, these players are not at a high risk age for COVID-19 complications, and also have the resources to comfortably quarantine for the foreseeable future. While we all want sports to return, should respective restarts be our top priority?