Heading into their fourth-ever World Cup appearance, Ecuador could be a major dark horse in Qatar. In addition to looking ahead to this winter's tournament, we look back at the country's first qualification in 2002 and the legends of that squad.
Ecuador is a soccer-mad country. If you ever meet an Ecuadorian, chances are you are truly meeting a rabid soccer fan. For most of its existence Ecuador was, and in many ways still is, a minnow of South American soccer. The Ecuadorian national team did not play its first official international match until 1938 — Uruguay and Argentina had been winning Copa Americas well before that. The Ecuadorian league did not become professional until 1957, and for most of its history, the biggest achievement in Ecuadorian soccer was one player, Alberto Spencer, a forward who gained notoriety playing for Uruguay giants Peñarol, where he became the all-time leading scorer of the Copa Libertadores and won 14 trophies including three Copa Libertadores and two Club World Cups. Spencer never played in a World Cup, coming the closest to Chile 1962.
Despite some individually talented players to come around between the 1960s-90s, the Ecuadorian national team did not qualify for a World Cup until 2002. At the South American level, all Ecuador can account for is two semifinal berths in the Copa America, and not much else.
Still, at the club level Ecuador has three of the most popular clubs in the region. Barcelona, Emelec, and Liga de Quito play to raucous fanbases with only Liga De Quito winning three international championships. Barcelona made it to two Copa Libertadores finals, but came up short in both.
The Road to 2002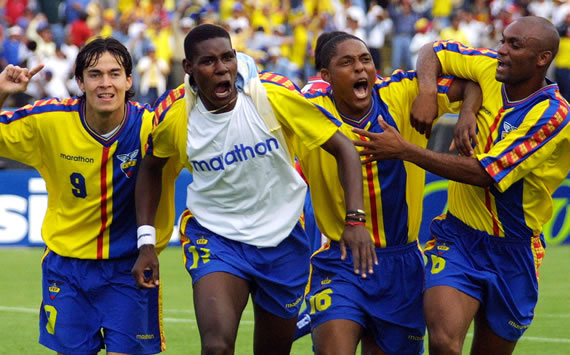 For Ecuador, the chance of playing in a World Cup by 2002 was an obsession, one that was thought to have been a distant dream. In 1999, Colombian manager Hernán Darío Gómez was hired as the national team coach and revolutionized the program. In World Cup qualifiers, Ecuador recorded a signature victory over Brazil, and thrashed Bolivia 5-1 on their way to finishing second in the region.
Ecuador was full of celebration, from the stadium to the streets. The national team ended their World Cup drought and made it to Japan/South Korea 2002. The players that achieved that success were Iván Hurtado, Ecuador's most capped player, Agustín Delgado, Ulises de la Cruz, Iván Kaviedes, Édison Méndez, and Álex Aguinaga, without question one of the most talented players in Ecuadorian soccer history.
Aguinaga played most of his career for Mexican club Necaxa, but his talent was evident over the years and turned down big moves to AC Milan and Real Madrid during his stint in Mexico, where he played over 500 games. To many, Aguinaga is the best pure player in Ecuadorian soccer history.
de la Cruz and Delgado would become two of the first Ecuadorians to play in the Premier League, while Kaviedes became the first Ecuadorian to play in Serie A.
At the World Cup, Ecuador was drawn into a very difficult group which had Italy, Croatia, and Mexico. While the Tricolor had held their own, they dropped the games to Italy and Mexico but defeated Croatia in group play. For a first-time nation it was a big moral victory to defeat such an established European opponent.
After 2002, Ecuador used their momentum to get to 2006, where they made it to the round of 16 only to be eliminated by England. In 2014, Ecuador returned to their third World Cup and went 1-1-1 in the group stage in a rather flat performance in Brazil.
Looking Ahead to 2022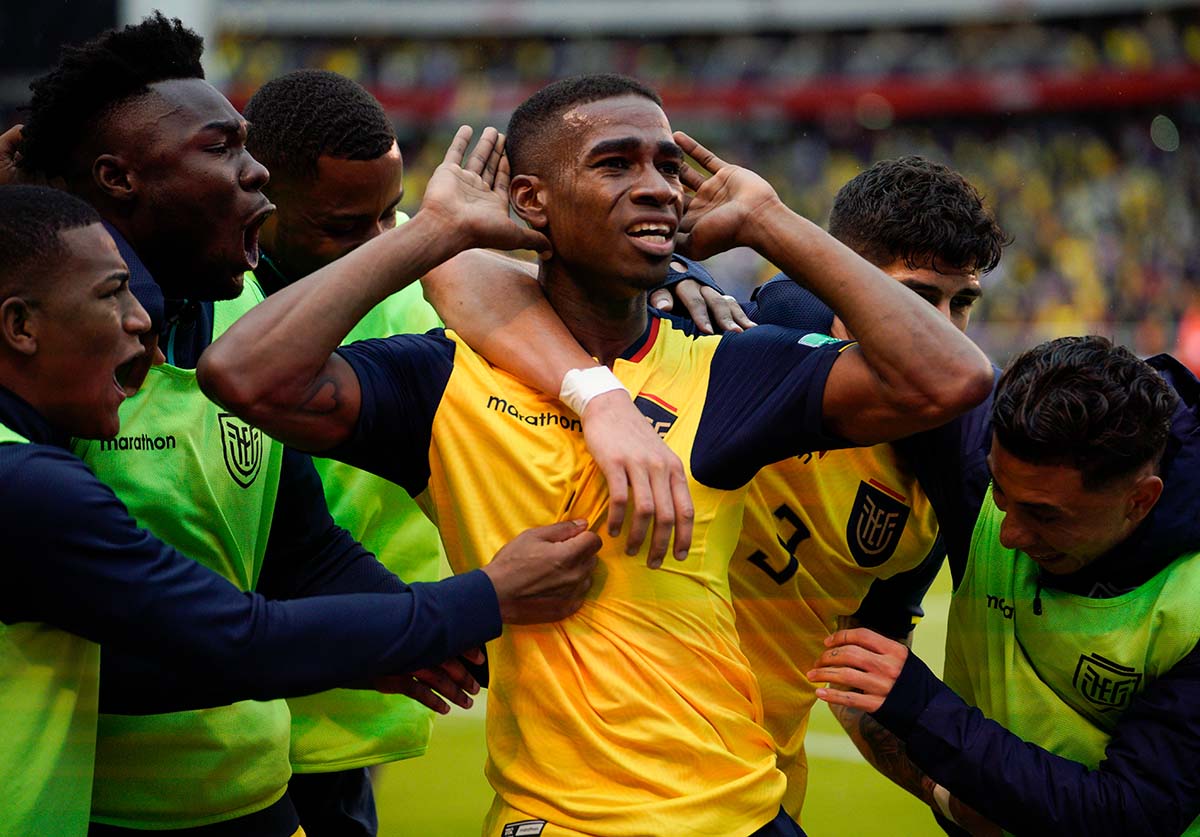 Along the way Ecuador has begun to sell more and more players abroad, which has helped professionalize Ecuadorian soccer. In 2002, Ecuador only had three players playing abroad on the national team, and today more than 20 players are playing in MLS, Liga MX, and the top leagues in South America and Europe.
For all the hype that has surrounded the United States men's national team heading into Qatar 2022, Ecuador currently has the same odds to win the tournament — a testament to the budding talent on the roster.
The biggest star for Ecuador is Gonzalo Plata, a 21-year-old winger playing for Valladolid who could be a young breakout star in the World Cup. Captain Enner Valencia is the country's all-time leading scorer, and MLS alums Diego Palacios and Xavier Arreaga are integral parts of Argentine coach Gustavo Alfaro's system. MLS accounts for five players in the latest call-ups, and could potentially have up to seven on the squad.
In Qatar, Ecuador will have the difficult task of playing the host in the first game of the tournament. Then the Tricolor will face the Netherlands and Senegal to close out group play. Three points against the host and results over their next two matches could very well take Ecuador to the second round.
Getting out of the first round will be a major feat for Ecuador, who only won one more game than they lost during World Cup qualification. The question is not whether the team has talent, but rather can they be a cohesive unit.
If Alfaro can channel the heart and drive of the 2002 team, Ecuador could be a major dark horse in Qatar. In order to do that, the Ecuadorians will have to get points away from home, something that has been an Achilles heel for the team over the years.
Ecuador as a country will be glued to their seats. From the sunny coast all the way to the high altitude of Quito, Ecuador will have support from back home. For those who suffered through many years of bitter disappointment, it has not been a bad 20 years when it comes to World Cups for Ecuador, who are finally in the party after almost 40 years of being left at the door.