During a Euro 2020 press conference on Monday, Cristiano Ronaldo purposefully moved two strategically placed Coca-Cola bottles out of view. He then picked up a water bottle and set it down in the middle of the desk while proclaiming in Portuguese, "Água." By the end of the press conference, shares of Coca-Cola had plunged 1.6% to $55.22, resulting in a a $4 billion loss in value for the beverage giant.
While some chose to dismiss it as mere coincidence, Coca-Cola's drop in share price was in stark contrast to the rest of the S&P 500, which rose 0.4% on Monday. Within the media world, Ronaldo's public rebuke of Coca-Cola was widely considered a contributing factor to the dip in the company's stock price, and by Thursday's end its shares had further dropped to $54.95.
A day later, Manchester United midfielder Paul Pogba followed in Ronaldo's footsteps by removing an alcohol-free bottle of Heineken from the press conference table after France's 1-0 win over Germany. Presumably, despite the zero percent alcohol option, his action was a result of being a devout Muslim who doesn't drink any alcohol.
These moves left sponsors and tournament organizers embarrassed and scrambling to limit the potential damage to tournament sponsors who had paid about $30 million for their rights. Although UEFA hadn't taken any disciplinary action against Ronaldo or Pogba, they had contacted all the national football associations to tell players to not move drinks at press conferences and avoid actions that could affect tournament sponsors.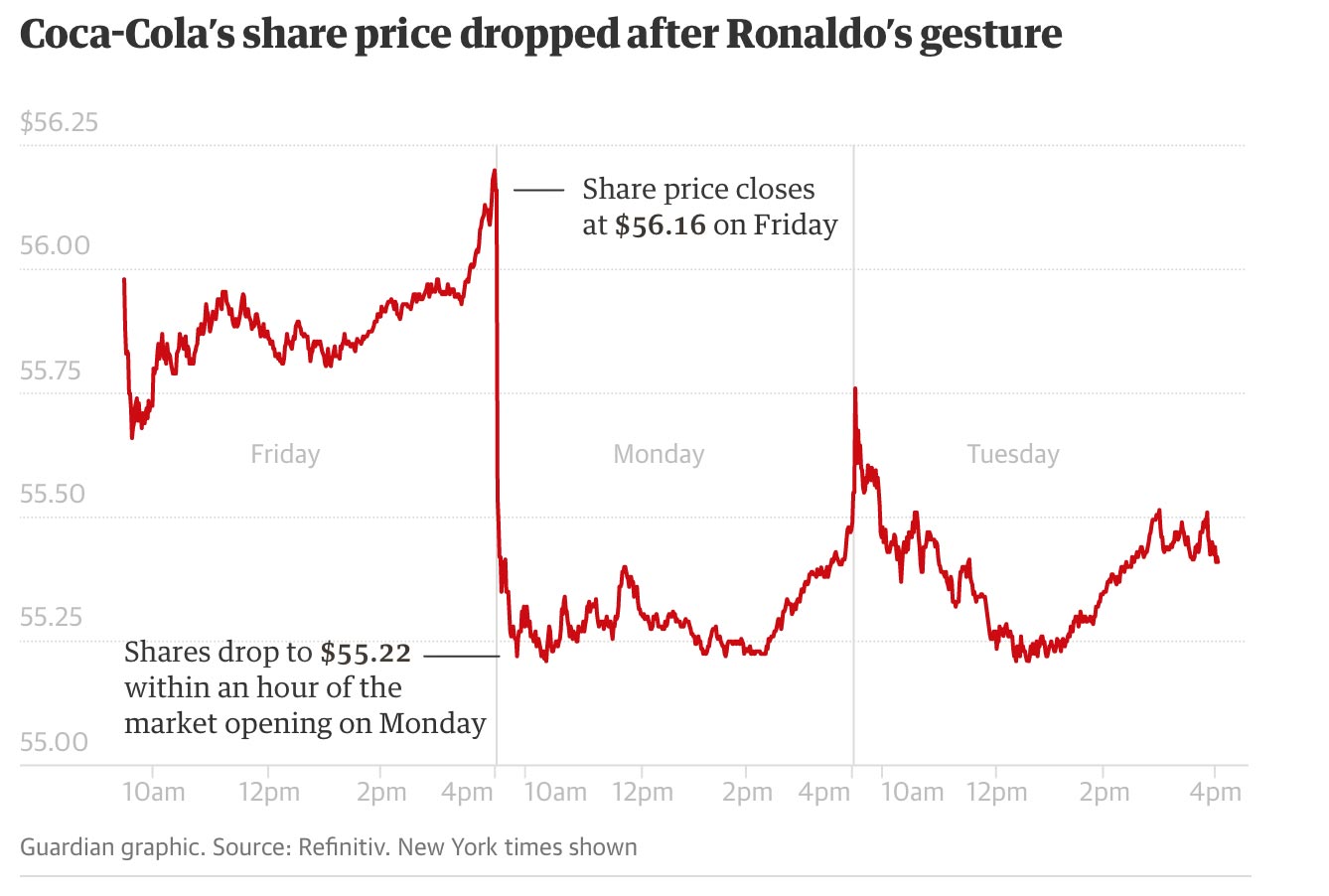 "Coke and UEFA will both be fuming," said sports marketing expert Tim Crow, who spent 20 years as an advisor to Coca-Cola. "The fact is there's an agreement between them, which all the FAs and players sign up to, and one of the contractual agreements is going to press conferences where you're surrounded by the sponsors' branding."
The issue to me with Ronaldo is that while he is universally attributed to being a health fanatic, he has never struck me as a player who was driven by ethics or a high moral ground. According to Forbes, he is the third-highest paid athlete in the world, having earned $120 million in 2020 just behind Lionel Messi ($130 million) and Conor McGregor ($180 million). Of Ronaldo's earnings last year, $50 million came from a variety of endorsements.
Therefore, we should recognize that his enormous Juventus salary wouldn't even be possible without the sponsor money being poured into football as a whole. Given that his football salary alone was $70 million, it's a safe bet that Ronaldo is aware that the overwhelming source of his income and wealth comes directly and indirectly from companies via sponsorship money. So then is it a matter of him being discerning about the integrity of these sponsors? Let's examine more closely.
Past And Current Sponsors
Interestingly enough, the football superstar has promoted Coca-Cola in the past. Early in his career, Ronaldo appeared in their advertisements where he was seen showing off his football skills in addition to drinking their soda. It is unknown the amount he was paid to appear in their ad, which is purported to have been shown in 2006.
So Cristiano Ronaldo doesn't like Coke huh?

Well this is awkward…..

Guess the pay check stopped coming 😂 pic.twitter.com/hDRGbqmDmo

— JAKE BUCKLEY 🇦🇺 (@TheMasterBucks) June 15, 2021
But let's give him the benefit of the doubt and suppose that this was when he was young and naive, and now that he is older, he is not in favor of endorsing brands that support an unhealthy lifestyle. That would provide some leverage to the belief that he truly cared about promoting healthy habits and his action during the press conference wasn't simply a theatrical act of virtue signaling.
As recently as 2016 however, Ronaldo also had an endorsement deal with the fast food chain KFC. It seems disingenuous that the reason why he chose to remove the Coca-Cola bottles was out of a desire to promote a healthy lifestyle, when he has endorsed the very same brand in the past in addition to fried chicken fast food.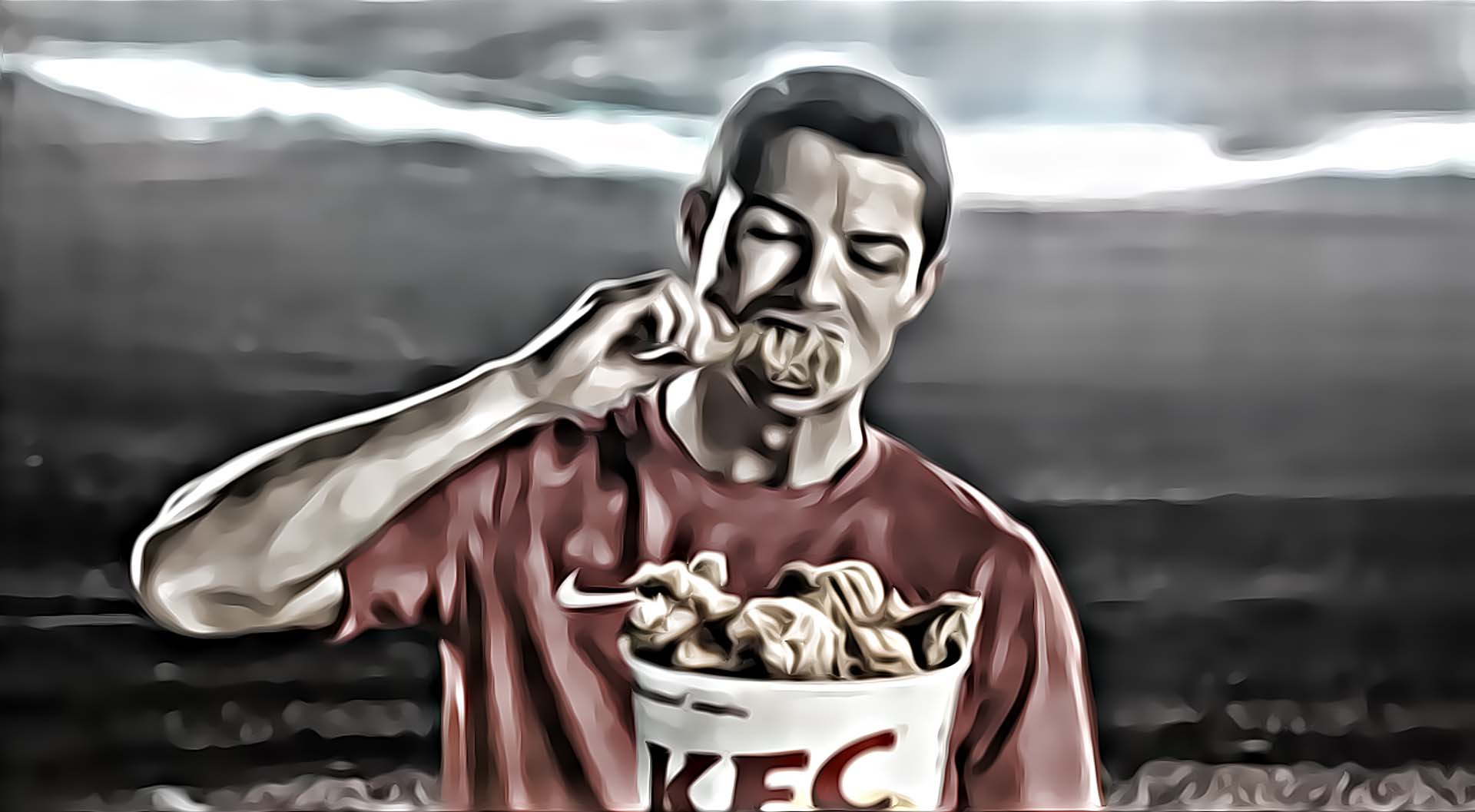 If we look beyond his contradictory endorsement of food and beverages, we see that he is also a brand ambassador for PokerStars. In joining their team, we see that he is paid to promote the game and the brand in global marketing campaigns. Promoting poker and a gambling company hardly seems to be in line with endorsing an active, healthy lifestyle.
There's no argument that Cristiano Ronaldo is one of the top football players in the world and justifiably compensated. However, he isn't a beacon of ethics or morality and has never been regarded as such. He's been at the top of his sport in both athletic prowess and salary for many years, and understandably became comfortable in his position. High on his successes and using the opportunity to virtue signal his many years of strict dieting and training regiment, he hypocritically bit the hand of the system that has been feeding him throughout his career. It's understandable, but let's call a spade a spade.
___________
Have any comments or questions? Send us an email with guaranteed anonymity to be featured in our next 'Anonymous Mailbag.'