With the deal all but official, Chicharito joining LA Galaxy will surely change the landscape of MLS. The signing will bring an added level of excitement across the league, but the effects will be felt most in Los Angeles. Just when you thought it couldn't get more exciting, El Trafico is about to be taken to another level.
The rumors are no longer just rumors. Mexican-American soccer fans, especially those in Los Angeles, can rejoice as Javier "Chicarito" Hernandez and the LA Galaxy have reportedly agreed to a three-year contract. The club is set to make an official announcement later this week.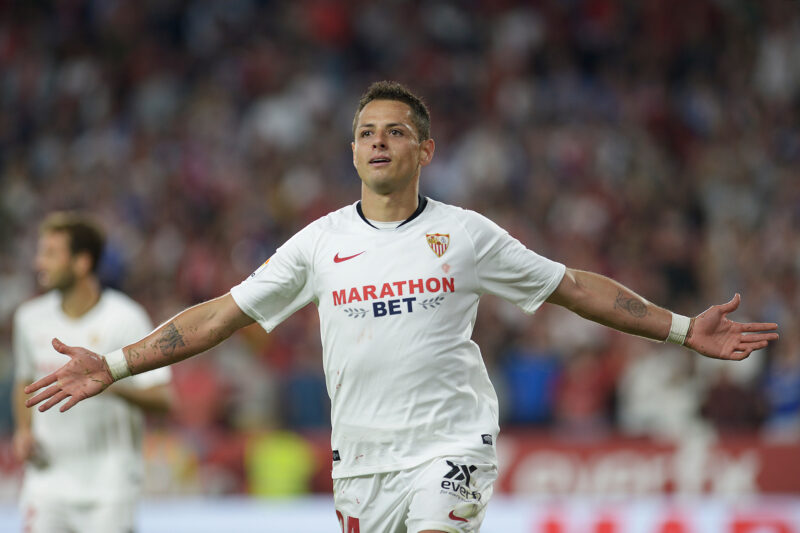 The widely beloved striker who has broken many Mexican national team records will now become the highest paid player in MLS. Chicharito's signing comes shortly after Zlatan Ibrahimovic decided to move on from LA and make a return to AC Milan.
While some Galaxy fans were sad to see Ibrahimovic go, many more are excited about what Chicharito's presence will mean both for the Galaxy and for soccer in Los Angeles. His signing stacks two of the top Mexican national players against each other not only in the same league, but just miles away from each other.
Carlos Vela has set MLS ablaze in his two-year tenure with LAFC — including the greatest individual performance in league history last season. If you thought the reigning MVP's rivalry with Ibrahimovic was heated, we can assume it will go to another level when his fellow countryman comes to town later this year. The two are close friends, but it hasn't stopped Vela from introducing a little trash talk to what could become the most exciting inter-player rivalry in the league.
While Vela has been LAFC's savior, Chicharito has an even longer history with Mexico's national team and among fans who cheered him on as one of the few Mexican footballers to transition from Liga MX to higher caliber European competition. He's featured in three of the "big five" leagues, including stints with global powerhouses Manchester United and Real Madrid. And while Vela's strong performance at the 2018 World Cup put him back in the good graces of Mexican fans, Chicharito never fell out, and he remains the national team's all-time leading goal scorer.
But it's not just Chicharito's talent that has made him a fan favorite. His embodiment of the fighting spirit and national pride of Mexican football has inspired fans around the world over the past decade. His average stature, standing 5-foot-9, detracts not from his physical play and presence on the field. The combination of his tenacity and lovability have affectionately spurred his nickname, which translates into "Little Pea."
It's now time to break out your national flags and start daydreaming about the glorious El Traficos to come. Anyone who's been to a Los Angeles derby match knows how crazy the fans can get, and with a large Latino following for both teams, we can only begin to imagine the madness to come. If I had to guess, I'm betting the next LAFC-Galaxy match will include:
Lots of Goals: Soccer is not a sport known for high scoring games, but Vela and Chicharito have proven themselves as prolific finishers, and there were eight combined goals the last time the clubs met. Could there be multiple hat tricks in one game? Fans will definitely be counting who has more goals at the end of the season.
Amazing Tailgate Food: As the rivalry intensity increases, so will the quality of the food at pregame tailgates. What better way to honor the nationality of both Chicharito and Vela than by cooking up more carne asada, tacos, and salsa? Stock up on a good cerveza, perfect your michelada recipe, and prepare yourself for the impending 90 minutes of chaos.
Conflicted Fans: Vela or Chicharito? LA Galaxy or LAFC? These are the hard questions fans like myself will be asking themselves this upcoming season. It's easy for hardcore supporters to stay true to their colors, but for those who simply enjoy good soccer that might've been in the middle of both teams, it's going to be tough to root for just one club/player during their matchups. But if we're being honest, a true Angeleno will probably go for the team that requires the least amount of traffic to get to.
One Hell of a Season: Regardless of whether you're behind Vela and LAFC or Chicharito and LA Galaxy, 2020 will be a season to see as many El Traficos as possible. LA fans are about to get one hell of a showcase all in their own backyard.