The era of a single nation hosting a major football tournament looks to be coming to an end — and that might not be a good thing. 
Earlier this month, it was announced that Ukraine would be joining the existing bid of Spain and Portugal to host the 2030 World Cup. It's a move backed by President Volodymyr Zelenskiy, and it's thought that the country — still under invasion by Russia — would host a set of games from one of the tournament's groups. The announcement was met with mixed responses, many rightly pointing to the geopolitical uncertainties inherent in the bid at present. And while those uncertainties will be debated and clarified as the bidding process draws nearer, the announcement did point to a growing trend: that the "joint bid" is becoming the de facto scenario in the hosting of major tournaments.
Three of four confirmed bids for the 2030 World Cup are joint bids. There is UEFA's Spain-Portugal-Ukraine bid, the "Juntos 2030" bid from CONMEBOL featuring Argentina, Uruguay, Chile, and Paraguay, and an inter-federation bid from Saudi Arabia, Greece, and Egypt. The one bid from a single country, Morocco, is likely to take on extra partners, rumored to be North African neighbors Algeria and Tunisia.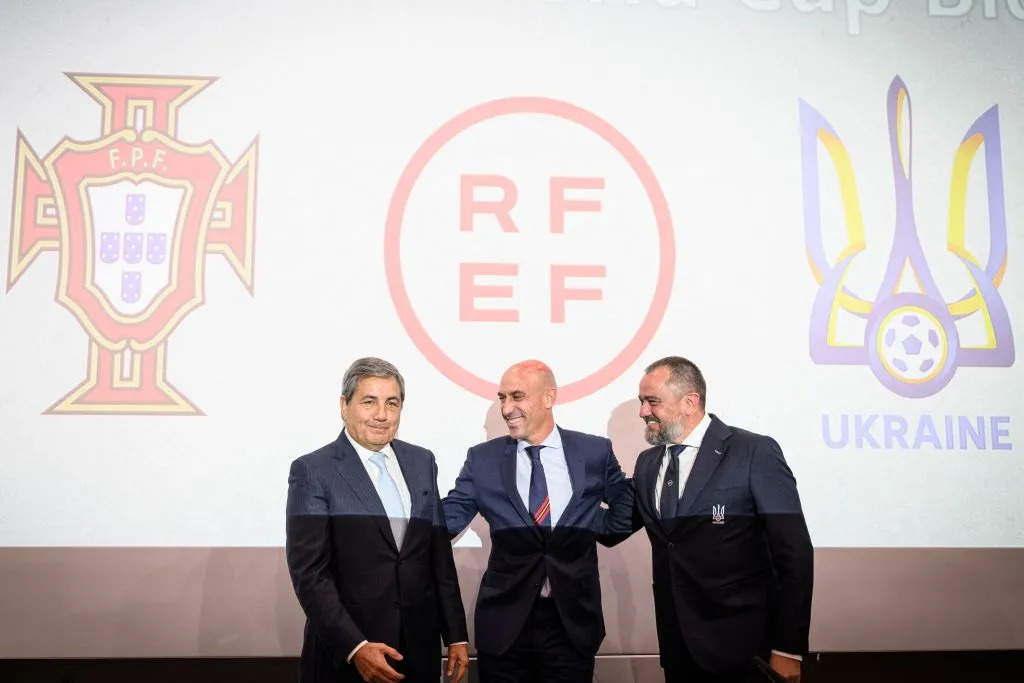 The 2026 World Cup is already being hosted by Mexico, Canada, and the United States. EURO 2020 was intended to be a continental tournament, with 12 different cities hosting different games across Europe. Even with severe pressure to move to a single nation due to the pandemic, UEFA stubbornly pressed ahead with the plans, albeit reduced to just eight stadiums. The 2020 Copa America was supposed to be hosted by Argentina and Colombia, but was moved to Brazil in 2021 for a combination of the pandemic and political unrest in Colombia.
The 2002 World Cup, hosted by Japan and South Korea, was the first of its kind. While it was praised for bringing the world's biggest show to a new continent for the first time, it was heavily criticized in some corners. Many believed that FIFA had prioritized the unlocking of a new market over the interests of fans. In fact, the tournament received so much disgruntlement (from largely Eurocentric voices), that joint bids were more or less banned up until the bidding process for the 2026 tournament opened.
None of this is to say that a jointly-hosted tournament is in any way a bad thing. It is merely to point out that there has been a shift in thinking from FIFA, which raises a number of questions.
For example, one of the strongest arguments any country can put forward when bidding to become a host is that there will be a lasting cultural legacy, both on the country itself, and on the history of the tournament.
The reciprocity of football leaving its mark on a country, and the culture of a country leaving its mark on the game, is perhaps the most important aspect of a major tournament, especially the World Cup.
For at least a month, fans around the world turn their attention to one nation. It emboldens and strengthens the greatest parts of any given country. We've all felt it, whether it was the euphoria of Mexico 1986 or the magic of South Africa in 2010. Allowing a country to express itself joyously, and for the world to join it in celebration, is one of the purest things football can offer.
At the same time, it gives a spotlight to marginalized groups, under-reported stories, and unheard voices. A joint bid loses that sense of unity. It spreads the cultural impact too thinly, and dilutes the lasting impact. Euro 2020 — perhaps an unfair example due to the pandemic — was an utterly forgettable tournament. There was no direction, no celebration, no lasting impact.
Similar criticism can be leveled at joint bids for the way in which they dilute the financial implications of hosting a tournament. It takes serious investment to prepare for a World Cup. The Brazilian government spent upwards of $10 billion in 2014 on the construction of new stadiums, renovation of old ones, security and tourism infrastructure, training facilities, airport upgrades, and everything else that goes into a successful tournament. It's a huge outlay, but one in which a country can expect to see something tangible as a reward. The era of joint bids appears to be one in which the different federations — usually in competition with one another — all want a piece of the ever-growing pie.
Additionally, one of the lesser-considered impacts of these giant tournaments is that on the environment. In the forward of FIFA's Climate Strategy, Gianni Infantino writes, "FIFA will continue to take climate action leadership by engaging actively and collectively in the journey to net neutrality."
Awarding hosting rights to a country like Qatar, which is so ill-prepared for the number of visitors to the country that it has been forced to charter flights from neighboring Dubai (over 250 miles away), where many fans have chosen to stay, doesn't seem like "climate action leadership." If they can't guarantee sustainability in a country the size of Qatar, how on earth are they going to make the 2026 World Cup — spread across an entire continent — fit within their climate goals? As the world's biggest sport, with the world's largest event, and the world's largest platform, football should be leading the way in climate action, not succumbing to useless platitudes and soundbites.
It seems to me that the greatest way to ensure fairness and strike a balance between the various requirements is greater transparency in the bidding process. With the unpredictability of FIFA's selection process, and very real allegations of corruption at the highest levels, it's no wonder that countries throw together bids with as many nations as possible. If you look at the prospective bidders for upcoming tournaments, it's clear that smaller bids from single countries become fewer and fewer. If this trend is only heading one way, then we can say goodbye to the tournaments of the past.
Better hope you've got some air miles saved.