No matter how big or small the pitch, players on the field depend on each other. When you're playing a 2v2 tournament, however, trusting your teammate becomes even more important. That was the case this past Sunday when teams of two competed in Adidas' latest high-level, short-sided competition, the first place prize a pair of the new Adidas Ace 2016 Dark Space soccer cleats.
The Dark Space 2v2 tournament, also sponsored by local football retailer Niky's Sports, featured invited pairs of boys ages 15 to 18. Teams played on the compact concrete pitch at The Base LA with small cylindrical goals that made scoring a difficult and precise endeavor. Thirty-two teams competed, and after a group round, 16 teams remained for knockout eliminations. The winner of each round advanced to the quarterfinals then semifinals, and after a day-long event, the top two teams faced off in a mind-boggling fast-paced championship match.
The event was an overall showcase of individual talent from the L.A. area, as well as a showing of strong team chemistry and camaraderie. Several played for the same club, many of them friends, while almost everyone knew of each other from previous competitions. Marcos Sumeta, 17, and his brother Cristian, 16, were one of the highlight duos of the event, making it all the way to the quarterfinals.
"The competition was tough," Cristian said. Marcos added, "It's fun. You meet some good players."
Marcos and Cristian, whose team name was Tigres, won three out of their five games. Both have been playing since essentially they could walk, and participate in adult soccer leagues. This tournament, they noted, was at such a different pace, it gave them the opportunity to play soccer in a different way.
Hernan Martinez, 16, and his teammate Kevin Bardales, 15, go to high school together, and when they heard about the tournament, decided to form a team. The Two Footballers also advanced to the quarterfinals before getting eliminated.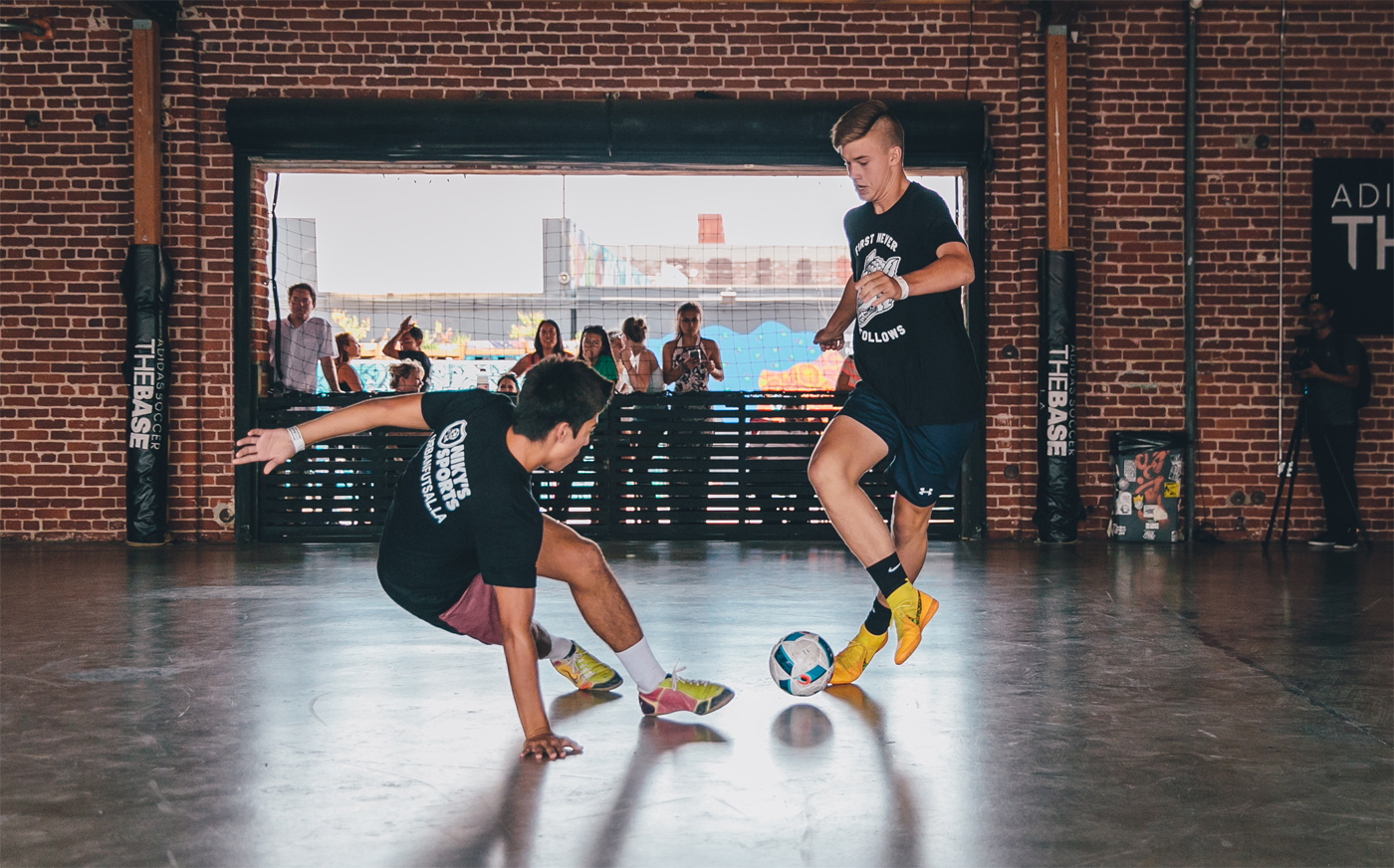 In the final match, the F Boys faced Autobahn Blue. After a 2-2 tie, the game went into overtime. The F Boys scored two quick goals, but Autobahn fired back to tie the game again, then scored a barrage of goals to secure the win. Autobahn's Brandon Torres, 18, and Saulo Ayala, 17, said their day was filled with a lot of excitement, despite an anti-climactic start when they won their first match by forfeit.
"We felt a little lazy in the beginning, but we managed to pick it up and win our second game," Torres said.
Autobahn lost their third game, but that loss, Ayala said, only woke them up, and they stepped into their fourth game with more determination. "It was an exciting day," he said. "It was a lot of fun and we liked the competition."
Cairo Salvatierra, Copa Team Rep for Adidas, said the tournament was a great way to bring new Adidas gear to the street soccer community of Los Angeles. "This was the first 2v2 event we hosted [at The Base LA], so we utilized our sponsors and brought it to some of the clubs around the area," he said. "It was a lot of good competition, and a lot of good players. It was a great event."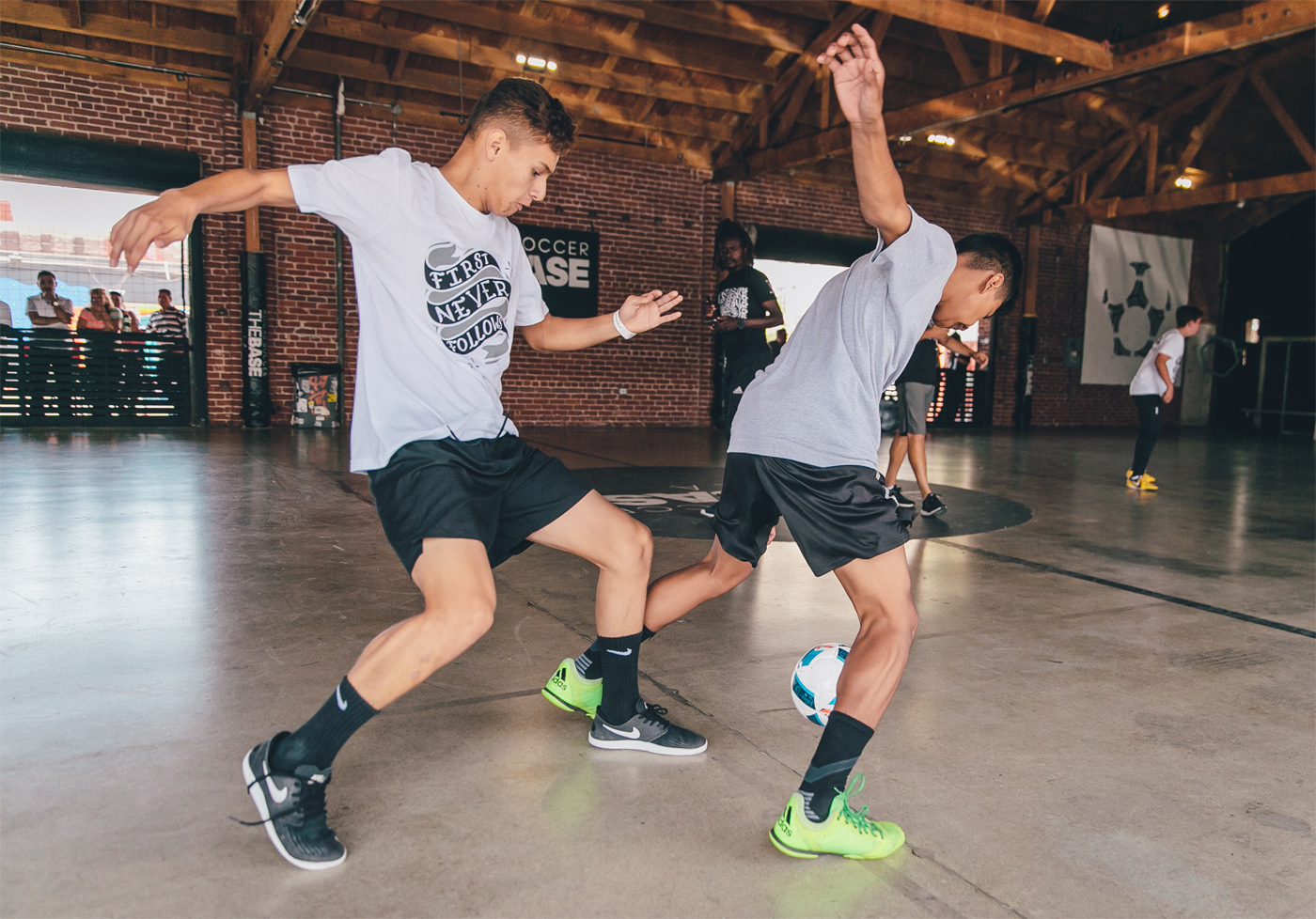 The tournament coincided with Adidas' recent launch of their Dark Space footwear, designed to fit comfortably, perform with precision, and stand out on the field with a mostly black exterior.
"Every event we've done ties into a new launch for Adidas," Salvatierra added. "We're trying to make a push in footwear."
Ayala and Torres will be enjoying their new sleek boots and no doubt putting them to good use on the pitch.
Photography by Imad Bolotok and video by Sotero Delgado for Urban Pitch.