Even the best of us fall victim to the dreaded tourist trap, especially when it comes to fake football kits. However, it doesn't always have to end in tragedy…
July 2017, the Amalfi Coast. Picturesque, dreamy, unlike anywhere else. A perfect honeymoon location. Our perfect honeymoon location.
Freshly married with views of paradise, you'd think a football shirt would be the furthest thing from my mind, right? Wrong. Oh so wrong.
We were in Sorrento, a small town of around 16,000 people nearly 30 miles southeast of Naples. I had an idea that the town had its own professional football team, but was surprised to find out that it played in Serie D.
Upon learning this, I made it a mission to find and visit their home stadium. Yes, I knew this was our honeymoon — you couldn't think of doing something like this? You mustn't know many people like me.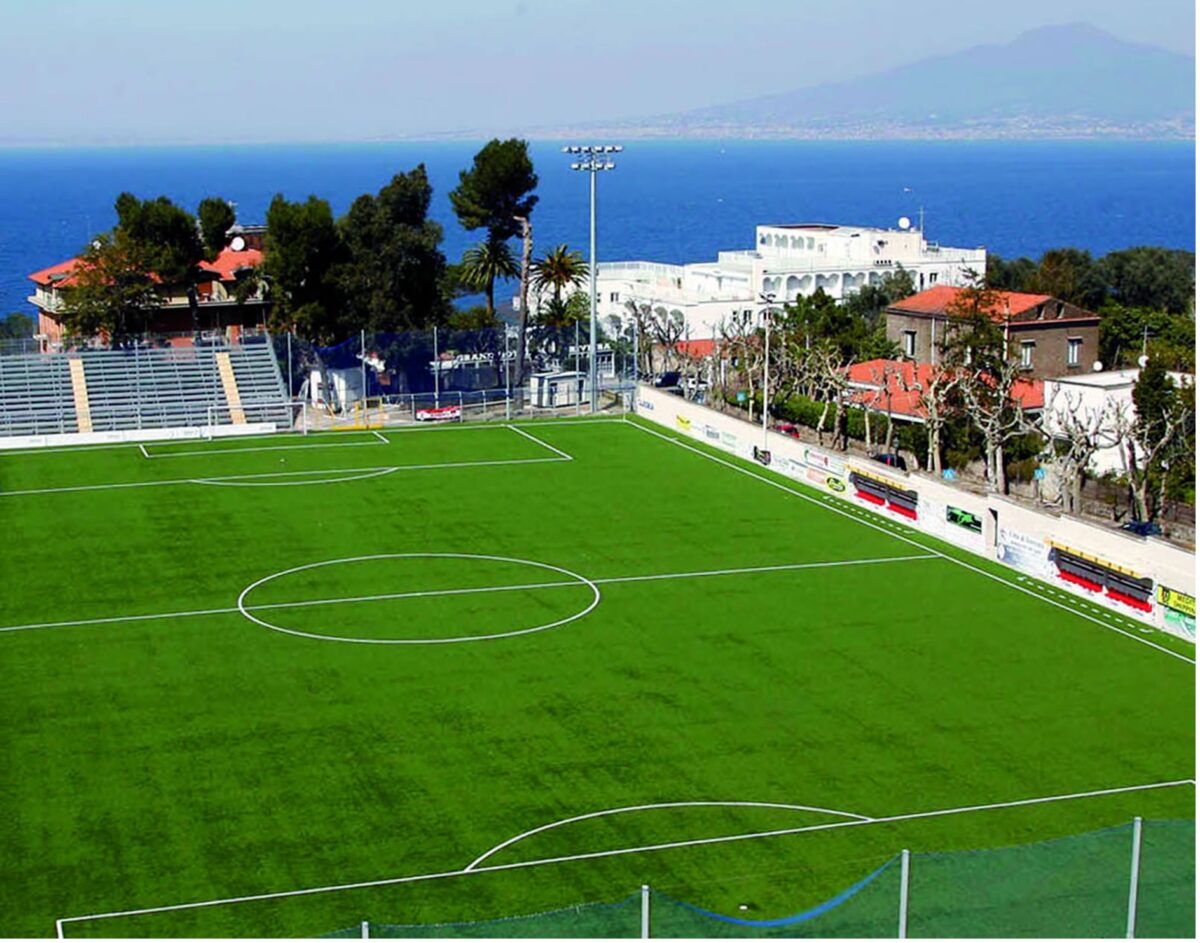 A quick Google on my phone led me right to the place. With the stadium now found, I made the trek down with hopes of bringing home the treasure of a Sorrento Calcio shirt. However, when I arrived, there was no sign of a club shop, and what looked to be a stadium bar/ticket shop was closed for business. It was a swing and a miss. "Maybe they just don't sell them to the public?" I thought to myself.
Later on the trip, we took a venture into town, slaloming through the narrow side street shops. Out of nowhere, I catch a glimpse of bright light in the corner of my eye. I turned to see it and I sort of made a noise that my body has never made before. This is what I saw: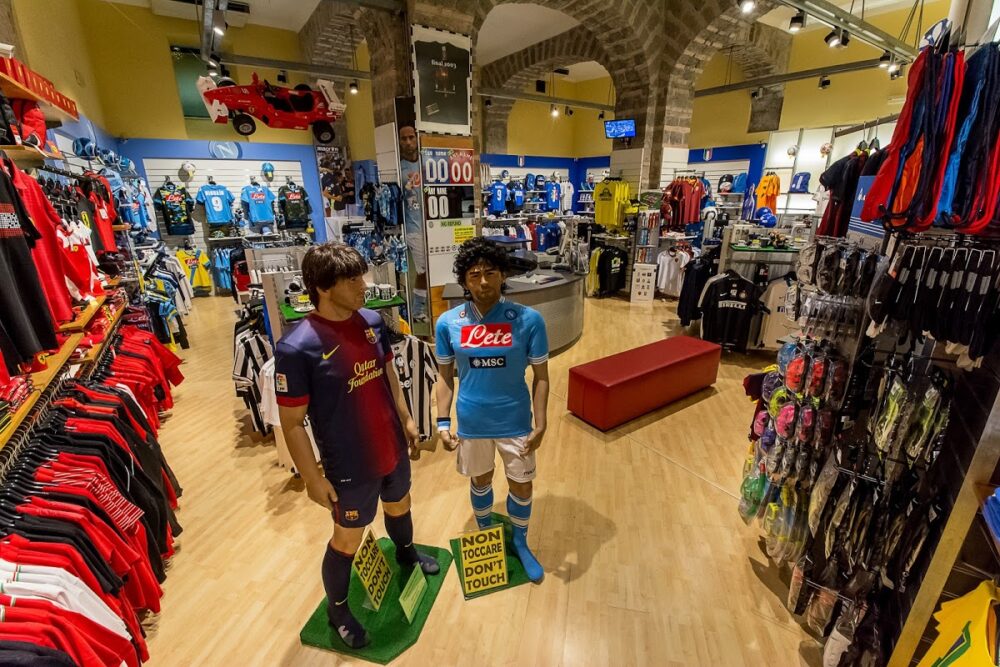 I walk in and I get these feelings of all the Christmas mornings of my youth. Immediately I get surrounded by what seems to be a home, away, and third shirt for what looks like the local team. I found it. It's like that moment in a video game when you complete the quest without any guides or clues.
The shirts were made by Nike, and first impressions are they look good. But upon closer inspection it seems they are Nike teamwear. Not that there's anything wrong with that — financially it's more viable for a club for sure.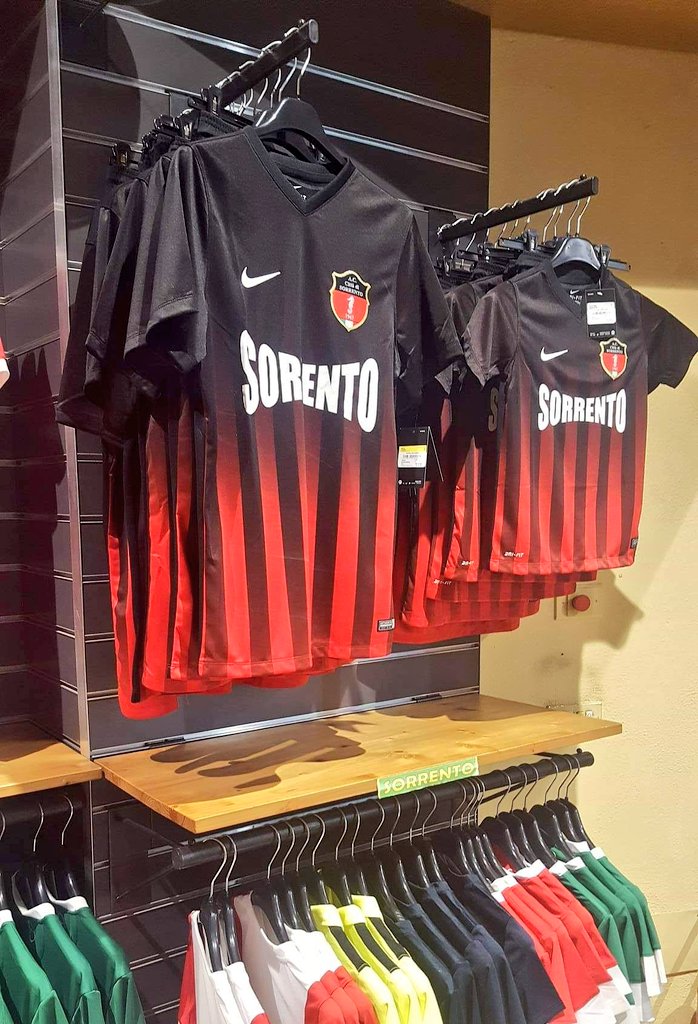 Something that raised my eyebrows was the main sponsor, which seemed to be the name of the destination itself, Sorrento. You don't often see that. The more I rationalized the more it made sense, however. Sorrento is a tourist's dream, and what better way to spread the word than advertising the location on the front of the home club's shirt?
Anyway, getting back to the design aesthetics of these shirts. Another thing that heightened my senses was the badge, and what can only be described as a finely knit, golden glitter-like trim finish on the edges. A seahorse took centerpiece. The home is a red and black striped affair, reminiscent of AC Milan (I would later go on to find Sorrento are a feeder club of AC Milan, and Ciro Immobile started his career there). I toyed with the idea of taking it home with me, but we were at the tail end of the moon and money wasn't a luxury.
My in-laws happened to be visiting Sorrento the very next month. Upon their return I was greeted with a parcel. They'd bought me the shirt, bless them both. I transformed into my Twitter alias The Kitsman and came up with a Tweet to show off my new shirt and get some engagement going. The theme of the post was, "What shirt do you own which you feel nobody else does?"
That's not our shirt 😭

— Sorrento Calcio 1945 (@sorrentocalcio) March 3, 2019
Sure enough the replies started coming in, but I didn't expect there to be so many with the same or previous season's shirts from Sorrento. But then again, it is a main holiday destination. All was going well, and then I get a reply from ASD Sorrento's main account. "That's not our shirt…"
This didn't surprise me as much as you might think. Something did seem off, and my fears had been cemented. Apparently there is no love lost for ASD Sorrento and this shop in town, who, get this, are selling fake shirts to tourists looking to buy the local club's shirt. They've not just caught me, they've caught many, many more it seems. So there I was licking my wounds. I've been done. I've been hoodwinked, taken for the fool. But then — a bright blue notification pops up on my phone. A DM from ASD Sorrento.
"Hi Josh, we would like to send you our actual shirt."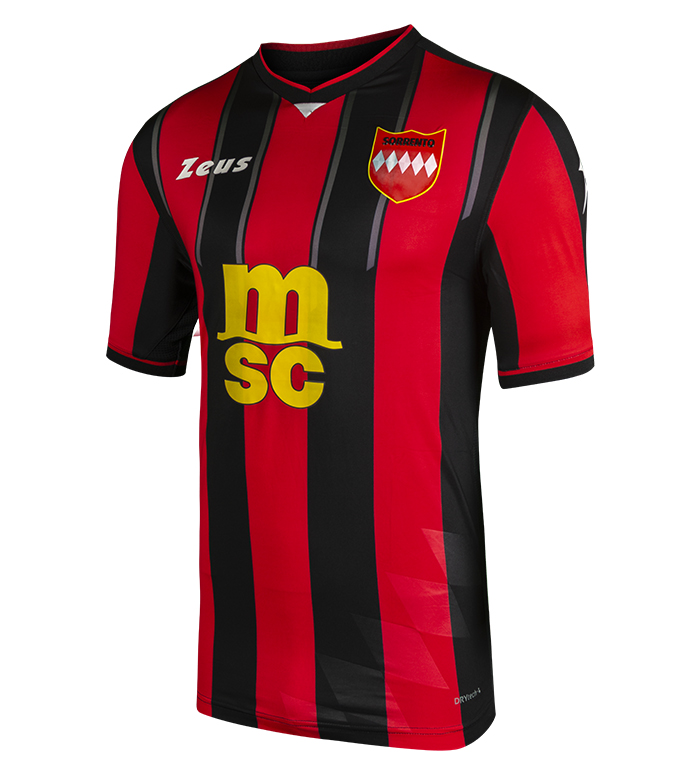 Now they had absolutely no reason to do this, but they did. I'm a strong believer in paying it forward. Those random acts of kindness that turn into stories like this, and it goes on. We still talk now, quite often actually. We even do collaborations on Twitter. They are my Italian club and I can't wait to see a game once COVID does one for good.
It doesn't end there either. I took it upon myself to try and learn more about Zeus, Sorrento's actual shirt manufacturer. I took to LinkedIn and within 15 minutes I had made a contact.  I started the conversation with a "Ciao," thinking that it'd go down well. It didn't, as he asked if I was Italian — but as an Englishman ciao is my limit of the language. So I told the story of the shirt, and then out of nowhere, he told me he was the one who designed it. His name is Amilcare Elvo — he loves shirts, he designs them every day, and I can now call him my mate. I can't wait to meet up with him in person.
It's worth mentioning that Zeus is an extremely impressive brand. It may not be a household name yet, but it's coming. The materials, the designs, and application are nothing short of god-like. Worthy of the lightning bolt. I urge you to check them out. You'll be glad you did.