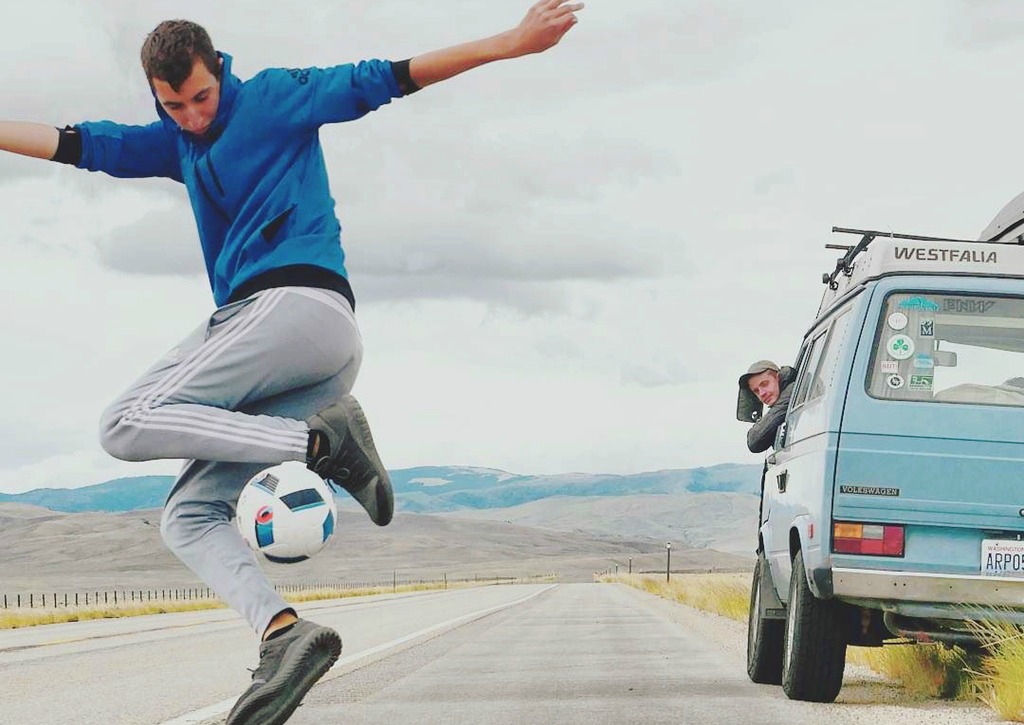 There's a few things you'll never find a freestyler without: a ball, a camera, and headphones (or a portable radio). The Freestyler's Playlist series features a new freestyler each edition, and the music that helps them train for hours on end and keep those tekkers flowing. 
Palestinian-American freestyler Umar Dalati has been throwing down to represent the U.S. contingency of freestylers. Dalati who is based in Southern California is among the regular American freestylers who compete and perform around the world.
"I started freestyle in the end of 2011, with no goals and no ambitions. Nothing besides having fun with the ball and doing what I like. Now because of that passion I've had the opportunity to travel and perform in more than half the U.S and parts of the world all because of a ball. From competing in the World Championships and winning my very first-ever international battle to placing top 4 in my own country's championship. It's shaped who I am and in so many ways brought the best things to my life. One thing that has become apparent to me over these years of training is that the journey with freestyle only gets longer as you progress. Just when you think you're there, you step back, take a look and say no, not yet." 
When it comes to motivational tunes, Dalati explains, "My taste in music has shifted quite a bit over the years of freestyling but what I listen to really depends on what I am specifically working on in that session. If I'm training air moves I almost always prefer some kind of upbeat hip-hop, anything ranging from J. Cole to more classic underground rap like Vinnie Paz. In my more all-around sessions I really jam to any kind of music (except country, I hate country). Freestyle and music go hand in hand, so I think it's important that music is always tasteful to what you want to train."
Check out Dalati's choice playlist below, and follow us on Soundcloud for more from the Urban Pitch audiofiles.  
Skrillex, "Ease My Mind" (ft. Niki and the Dove) [Jai Wolf Remix]
J. Cole, "Head Bussa"
Porter Robinson, "Language" (Jauz Remix)
Kaytranada, "Drive Me Crazy" (ft. Vic Mensa)
TroyBoi, "FYI"
Passion Pit, "Sleepyhead" (Jauz Remix)
Chance the Rapper, "Same Drugs" [Laetho Edit]
Drake, "Legend" (Loki Flip)
Mac Miller, "Clubhouse"
Porter Robinson, "Divinity" (ft. Amy Millan, ODESZA Remix)