The recent sexual assault allegations against Dani Alves are difficult to hear about, especially from those who admired his many accomplishments on the pitch. But we must discuss them nonetheless. 
With apologies, before I begin here, I need to come clean on something.
This past September, an article of mine appeared in Issue Forty-Six of The Blizzard, a quarterly long-form magazine edited by prominent English football writer Jonathan Wilson. It was the third article of mine to feature in the magazine. That piece, entitled "The Winner," can really only be described as a 5,000-ish-word ode to Dani Alves, in the form, basically, of fan fiction.
The piece celebrates Alves as club football's most prolific winner and the greatest right back in the history of the sport. Beyond that, it's also a celebration of the joy with which he played the game, and his ability to impart that feeling upon others.
Personally, the article was a huge departure from my comfort zone as a writer, and offered an opportunity to write what was, for me, a definitive piece on a player who, until that point in time, was one of my absolute, bar none all-time favorites in football. When 2022 ended, the piece was one of my very favorite things that I'd written.
Not five months after its release, its continued existence, in print no less, makes me ill.
There's no delicate way to now wade into these waters.
It has been credibly alleged that, early in the morning of December 31, former Brazil and FC Barcelona (among other clubs) right back Dani Alves raped a 23-year-old woman in a restroom in the VIP area of Barcelona's exclusive Sutton nightclub.
The Night Of
According to media accounts of the evening's events, the alleged victim, as well as her cousin and another friend, attended the club together that Friday night. At some point during the night, they were invited into the VIP area, where Alves was. According to accounts, until she was informed by others at the club, the alleged victim was unaware of who Alves was. According to those same accounts (from El Mundo, Sport, Marca, AS, El País, and La Vanguardia), the pair may or may not have danced for a while before Alves tried to force the woman's hand on his genitals.
Shortly after, it's reported that Alves led the alleged victim to a nearby bathroom, where, as she told authorities (and as reported by the aforementioned media outlets), Alves sexually assaulted her. An El Mundo report shares the full graphic details as told by the young woman — it's not pleasant.
Not long after, Alves left the club. Meanwhile, the three women — the victim, her cousin and her friend, who has also alleged that, before the attack in the bathroom, Alves also "groped her violently" and tried to put his hand on her "intimate areas" — alerted club security and the Mossos d'Esquadra (or "Mossos," the Catalan state police), after which the young woman was taken to the Hospital Clínic de Barcelona for examinations. A couple of days later, on January 2, the alleged victim provided that medical report and her clothes from the night in question to the Mossos, and filed a formal complaint against Alves.
Alves, meanwhile, denied the allegations and returned to Mexico, where he'd been playing with Pumas UNAM since last summer.
What's Happened Since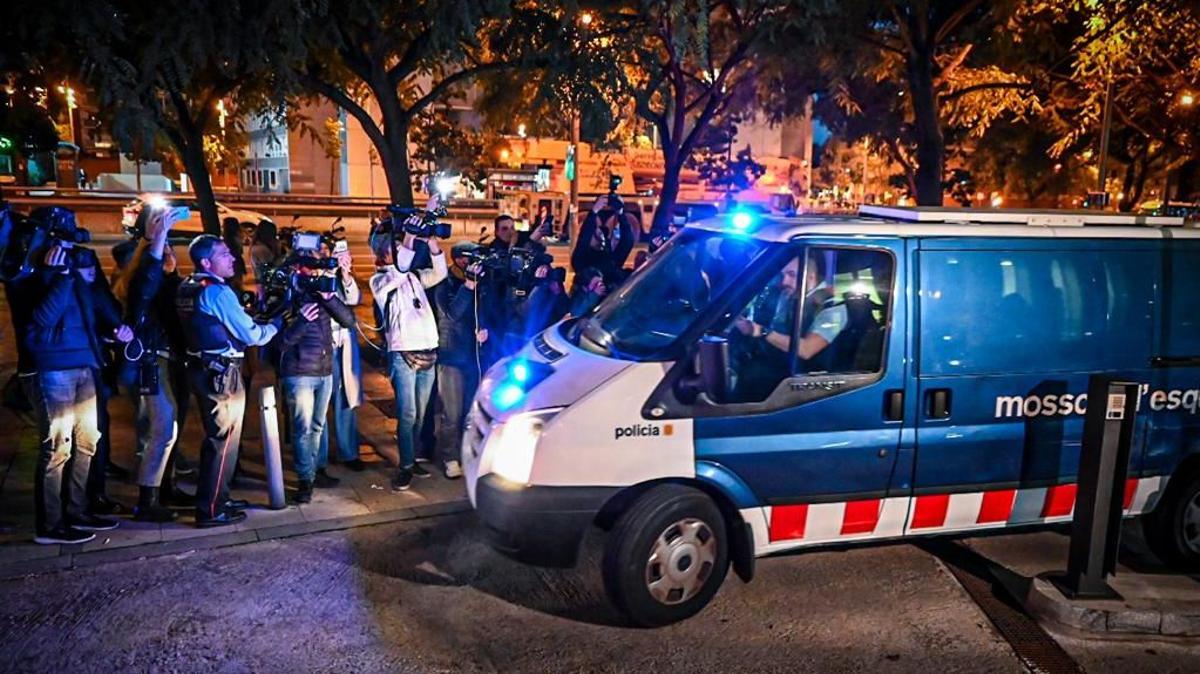 Alves returned to Spain about a week later with his wife, model Joana Sanz, who is from Tenerife in the Canary Islands. The couple arrived on January 8, essentially to say goodbye to Sanz's mother, who'd been very ill, and passed away the following week. During the trip, Alves' lawyers met with the Mossos' Unidad Central de Agresiones Sexuales (the Central Unit for Sexual Assaults), who were investigating the allegations. By Friday, January 20, an order had been issued for Alves' arrest. That same day, he surrendered himself to authorities at a police station in Barcelona's Les Corts neighborhood.
Later in the day, after Alves' transfer to a local courthouse, he, the woman, a witness, and prosecutors all appeared before a judge in a closed hearing. Upon hearing statements from all parties, the judge decided that Alves would continue to be held, without bail, in a smaller, more secure detention facility to await trial for which a date has not yet been set. If convicted, Alves faces a prison sentence of between four and 12 years under Spain's recently amended "Ley del sí es sí" (effectively "only 'yes' means 'yes'") law, which is intended to protect victims of sexual assault.
There are reportedly a couple of significant reasons that contributed to the judge's decision to keep Alves in custody. One reason is that, simply put, he is considered a flight risk. This is based on the facts that he is an individual of considerable financial means (even in light of Pumas UNAM's termination of his contract), without Spanish roots (employment history and his wife being from the Canary Islands aren't sufficient). Most important though, is the lack of an extradition treaty between Spain and Brazil. If allowed to return to his homeland, it stands to reason that he'd not only be disinclined from returning to Spain to face charges, but also it would be extremely difficult to force him to do so.
Of equal importance is the fact that Alves is unable to produce a consistent account of his version of the incident. According to sources in the courtroom (as reported by El País), Alves' testimony apparently included three different versions of the incident. According to reports, at one point he said that he didn't even know the woman. However, he also said that he did see her, but that nothing happened. Later that same day, he told the court that he and the alleged victim did have sex, but that it was consensual. However, even this "it was consensual" defense lacks consistency. Alves' version has the alleged victim "pouncing on him while he was sitting on the toilet." However, the woman's identification of a tattoo on Alves's "lower abdomen" has cast doubt over this version of events as well.
All of this paints an increasingly disturbing picture. This shape-shifter of a story — whichever version you'd like to hitch your wagon to — wilts in the face of evidence and testimony collected by authorities at the time of writing. Every bit as ominous for Alves is the fact that the key pillar of the usual defense in any such case — "she's just doing this for the money!" — has been completely neutered. Indeed, according to El País, the woman has relinquished her right to financial compensation in the event of a conviction, saying she only wants "to ensure that justice is done and that he [Alves] goes to prison."
Alves, on the other hand, broke his silence on the matter on January 30. According to a report from La Vanguardia, he was quoted from prison saying, "I will accept whatever comes. I left home when I was barely 15 years old. I have overcome very difficult and complicated situations in my life. This will be one more that will pass. Nothing scares me."
How We Talk About This Stuff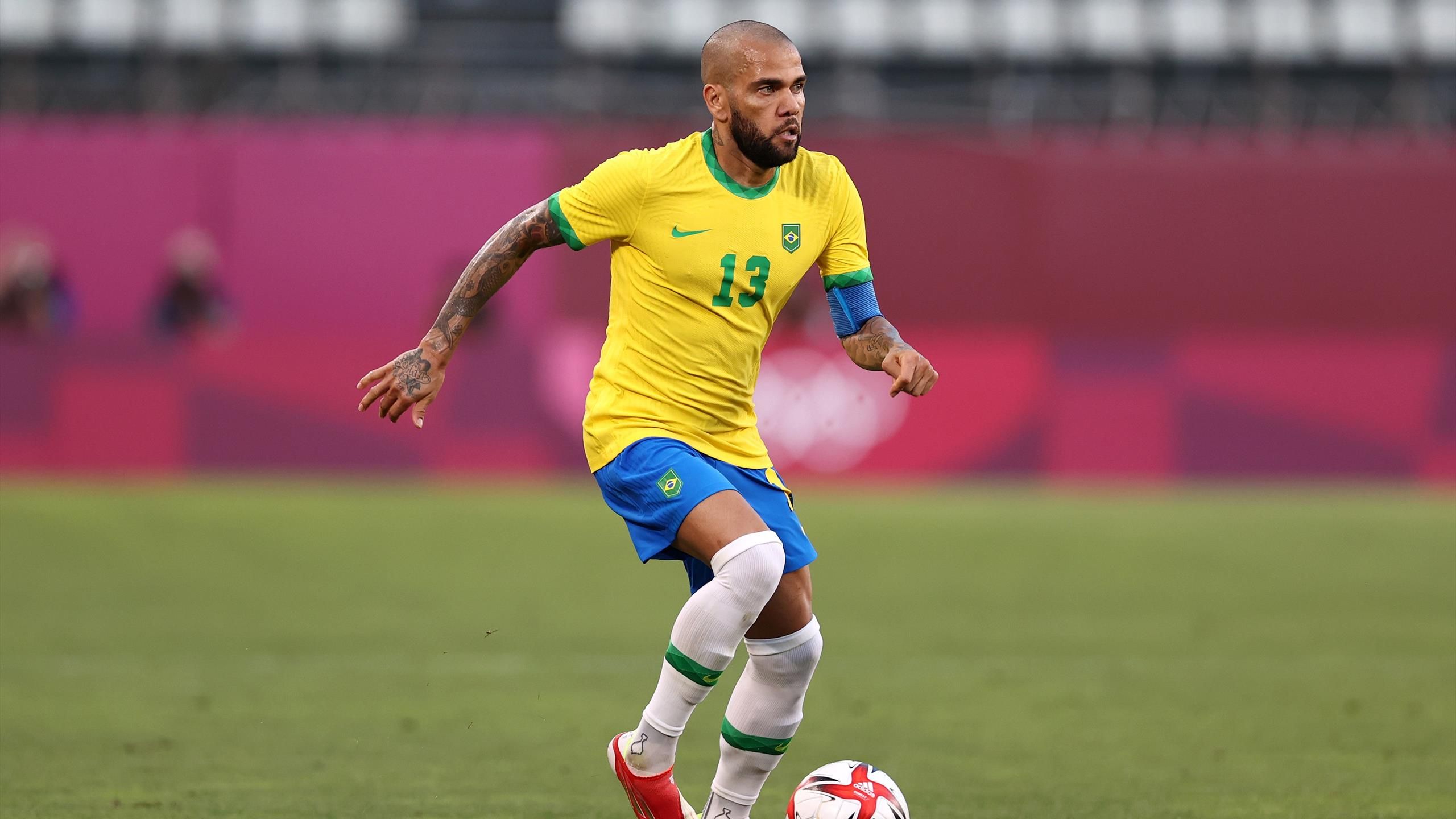 For the disbelieving, heartbroken, dyed-in-the-wool culé (I am) and longtime Alves fan (I SUPER was) fan, this sucks. I get wishing that this wasn't happening. It can be incredibly difficult to navigate a situation like this with someone you once so admired.
We recently watched no less an authority on all things Barça than Xavi Hernández — La Masia graduate, 17-year first-teamer, and now the manager — publicly wrestle with precisely this issue.
On January 21, while speaking to the media, Xavi said that the allegations had left him "surprised and shocked… in a state of shock," and that "I feel very bad for Dani."
You can understand what's happening here. At the core, he's wishing and hoping that his teammate of seven years, a guy with whom he shared the greatest triumphs of his club career, a guy whom he coached last season, and presumably a friend, hasn't done a truly heinous thing.
Hell, in writing that piece for The Blizzard that I mentioned at the start here, despite suspicions, I intentionally didn't confirm whether Alves, like Rivaldo, Ronaldinho, Neymar, and other Brazilian footballing greats, has expressed support for the nation's odious ex-president, Jair Bolsonaro. (He didn't…until he did).
Because it was convenient for me.
The next day, after receiving some intense (and justified) criticism for seemingly empathizing with Alves over the alleged victim, following Barcelona's home match against Getafe, Xavi amended those initial comments:
"I would like to clarify what I said yesterday about Dani Alves," he said. "I was misunderstood, I wasn't forceful, and I think it's important that I explain myself. It's a very sensitive and important issue. We have to condemn all these acts, whoever does it. I apologize to the victim and the victims of sexual violence.
"I am surprised that Dani could have done any of these things, but I understand the criticism and I apologize."
For some, Alves will only ever be guilty if he is found guilty in court. Fine. Due process. "Innocent until proven guilty" after all is a key tenet of many justice systems.
More important than these allegiances, though, is seeing what's actually in front of us. That there doesn't seem to be any contradiction between the victim's account of what happened that night and the evidence thus far. That there doesn't seem to be much ambiguity in the story of anyone not named Dani Alves.
The possibility exists that Alves didn't do this. At this moment in time, however, that doesn't seem very likely.