After decades of the NCAA resisting the ever-increasing demands for its athletes to receive financial compensation, a combination of various state laws and NCAA rules changes went into effect last July that provide amateur athletes the opportunity to profit off their name, image, and likeness (NIL). While this landmark policy change already has many college star athletes earning million dollar payouts, soccer players will inevitably be left fighting for crumbs.
American collegiate athletics is currently going through what may be its most significant transformation in the world of amateur sports. Beginning July 1, 2021, all three divisions of the National Collegiate Athletic Association (NCAA) adopted an interim policy to allow college athletes to profit from their NIL rights without sacrificing playing eligibility — a practice that was previously prohibited. This about-face came on the heels of an unanimous 9-0 Supreme Court ruling confirming that "the NCAA's ability to restrict the amount of educational benefits student athletes may receive from enrolling institutions is limited."
The interim policy will remain in place until federal legislation or new NCAA rules are adopted regardless of whether state legislation has taken effect yet. Student-athletes everywhere can now profit from and additionally use "professional services providers" for NIL activities. What was once prohibited for student athletes less than a year ago now has produced a separate, growing industry all vying to negotiate their NIL rights.
The real winners in the ever-shifting NIL landscape can be broadly divided into two distinct student-athlete groups. The first group is comprised of high profile athletes and to a certain extent their compatriots who are lesser-known but still play in traditionally powerful sports programs that command national attention while generating huge revenues. The second group is made up of social media stars who possess large numbers of followers despite engaging in a sport that is considered lower in the sports food chain. Of course that means the most coveted candidate is the star athlete competing in the most popular sports who also boasts a massive social media following.
Marketing clearinghouses have started forming to help college athletes navigate the NIL market. Companies such as Opendorse and INFLCR allow athletes to set up profiles for prospective clients to browse. In addition to facilitating payment, these platforms are designed to serve as one-stop shops and connect athletes with marketers wanting to work with them. For the average student athlete, in contrast to high-profile star players, these clearinghouses represent the majority share of the NIL marketing opportunity for college athletes.
These collectives now serve as a legal means for boosters to pool millions of dollars in donations and distribute to players according to their star-power. Some of the more advanced collectives are able to lavish recruits with cars, apartments, condos, and free meals.
Intriguingly, a new phenomenon that has exploded in the last year are NIL companies that are being referred to as "collectives." These third-party collectives, although unaffiliated with their schools of choice, have started to form in order to raise money from donors and fans with the explicit aim of distributing it to their team's players. An early entrant into this burgeoning market, Phil Knight and other former Nike executives launched Division Street, Inc. to help University of Oregon student-athletes monetize their NIL rights.
These NIL collectives have now begun luring recruits to their respective schools with promises of cars, housing, and six-figure deals which would have made national headlines in recruiting scandals just a year ago. Shockingly, the amounts that are being pooled and made available to a recruiting class in a given school are in the seven-figure range.
"If you would have asked us four to five months ago, we might have said we want to try and raise $3, $4, $5 million annually," said said Hunter Baddour, president and co-founder of Spyre Sports, a Tennessee-centric college sports collective. "Now, the goal is $25 million annually. Or more. And we think that goal is absolutely attainable. We'll have to work hard, which we will. If this is how the game is played, then game on."
These collectives now serve as a legal means for boosters to pool millions of dollars in donations and distribute to players according to their star power. Some of the more advanced collectives are able to lavish recruits with cars, apartments, condos, and free meals. According to Baddour, "All in all, it's six-figure packages."
In a way, these organized collectives are navigating the new NIL landscape in a potentially questionable manner that actually helps mitigate inevitable fallout from disgruntled teammates receiving uneven payouts. Of note is the nearly $1 million in earnings by Alabama sophomore quarterback Bryce Young, whose groundbreaking endorsement deals were a cause for concern to his head coach Nick Saban.
"This is going to create an imbalance in that to some degree," Saban said last month. "I hope it doesn't affect team chemistry across the board, in terms of how people respond to that and how players respond to that."
Part of the eyebrow raising derived from the fact that although the five-star recruit played in several games as a freshman last season, Young had not yet been a starter even though his deals far exceeded that of any of his teammates. Upon hearing of Young's NIL earnings, Ole Miss coach Lane Kiffin was in awe while commenting, "That's amazing. He made a million dollars and hasn't started a game yet? Wow, I don't even know what to respond to that, but great for him."
There are now numerous college athletes in traditionally less popular sports who are taking advantage of their social media fame to land endorsement deals in this newly created market. Haley and Hanna Cavinder are twins who play on the women's basketball team at California State University, Fresno. Boasting millions of followers across TikTok and Instagram, they have been able to parlay their social media presence into landing deals with Boost Mobile, Six Star Pro Nutrition, and other brands.
LSU gymnast Olivia Dunne is the most followed student-athlete on social media and projected to be one of the highest earning student athletes with more than 6 million followers on TikTok and Instagram. She has received more than $1 million in endorsement money just in the past year alone and recently signed with the agency WME Sports for representation. This is made all the more remarkable in that women's gymnastics has never been a revenue powerhouse in collegiate sports.
There are some colleges who are providing opportunities for entire teams or athletic departments. Brigham Young University's football team recently signed a deal with a company which makes protein bars and other products that will compensate all of the players on the team — including walk-ons "comparable to the costs of tuition for an academic year." But for the most part, the high-figure deals are primarily reserved for individuals that fit into the category of being athletic stars or social media stars.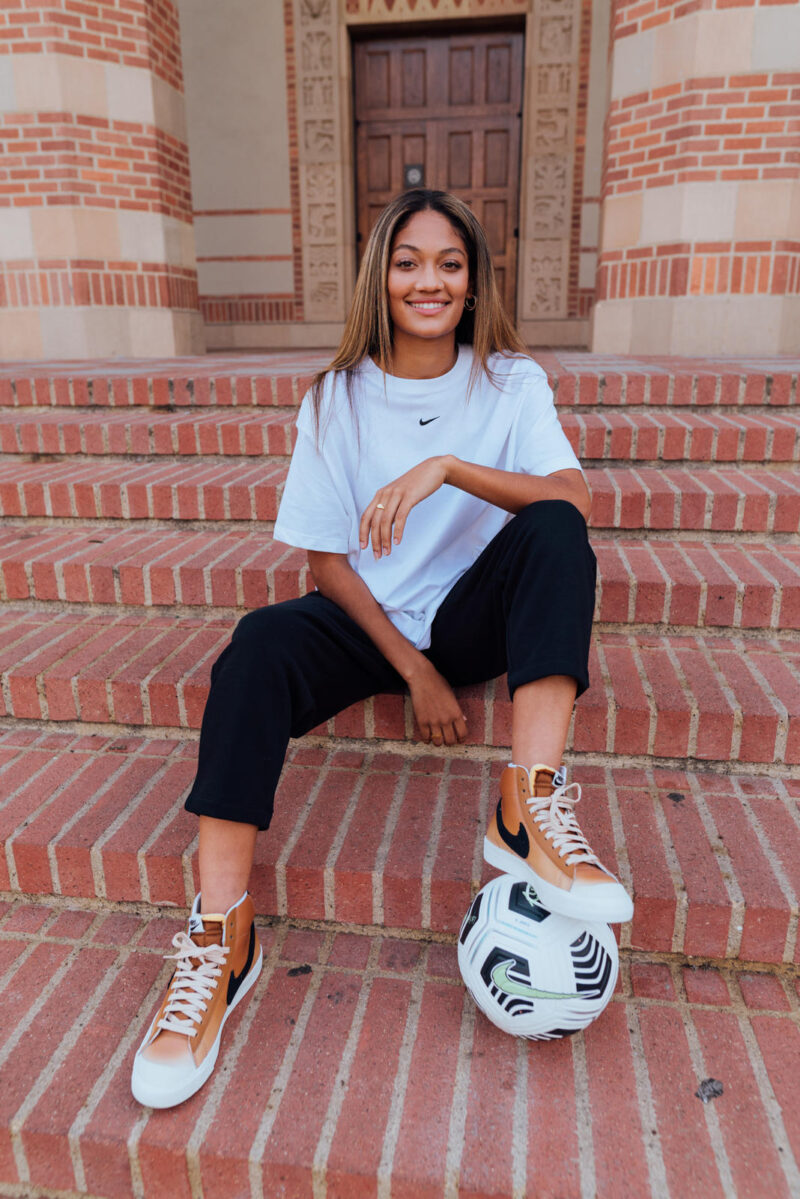 Nike made headlines this past December by signing a sponsorship deal with UCLA women's soccer forward Reilyn Turner to their first NIL agreement. The 2020-21 Pac-12 Freshman of the Year, Turner finished her sophomore season with 10 goals while helping UCLA to a 16-1-3 record. While being a standout player, Turner does not represent the typical profile of the student athletes that are the main beneficiaries of the potential NIL gold rush. She is an anomaly in the NIL territory in that she doesn't compete in a sport generating big dollars for the school, nor has a particularly large social media following. To that end, Nike has strategically positioned Turner's diverse background, her connection to the community, and her athletic achievements in order to showcase her in the lucrative Los Angeles market.
What's on the horizon for this new and volatile NIL market? There are some potential legal ramifications with the primary concern being that the policy was intended for current athletes and not as a recruiting tool for future athletes. This grey area is already causing some consternation among pundits, coaches, and rival institutions across the country.
On the SEC Network's Paul Finebaum Show, Pac-12 Commissioner George Kliavkoff stated his concerns regarding the rapidly evolving NIL space.
"No one is enforcing what everybody agrees should be the rule, which is kids can use NIL, but not for inducement or pay-for-play," Kiavkoff said. "Everyone is in agreement about that, or at least they say the right thing about that, but not one is enforcing it. What you have now is like legalized cheating that's going on, and we have to fix that."
Saban also expressed his dislike for the NIL trend, essentially becoming a bidding war for players.
"When we start using name, image and likeness for a kid to come to our school, that's where I draw the line," Saban said. "Because that's not why we did this."
Now that Pandora's Box has irretrievably burst open there will be newly minted million-dollar student athletes along with the requisite sharks across the collegiate landscape. But for the most part, the lion's share of money is earmarked for those student athletes who traditionally received the most attention and biggest budgets while those in lesser profile sports will be fighting for the remaining scraps. While there may be some winners, like UCLA's Turner, that will unexpectedly emerge from college soccer programs sprinkled throughout the country, they will unfortunately be the exception and not the rule.