The U.S. Open Cup is finally back. From unique intra-league matchups to stunning upset runs, we take a look at what makes this under-appreciated tournament so magical.
After a COVID hiatus, the U.S. Open Cup is back. Given its relative lack of notoriety, there was concern it may have been done for good. But instead, a record 103 teams will participate in this year's edition.
Round one is in the books and we've already had a forfeit, a replay, and allegations of being "sabotaged by smoke, darkness, and smell"…or in other words it's been business as usual. Often overlooked and forgotten, this competition offers a unique opportunity for a soccer pyramid without relegation — this is the only time we can have intra-league play that matters. But that's also been the biggest issue, it doesn't really matter; or hasn't for a while. Recent changes have the potential to give it a second life. But how did it get to where we are?
Unlike most aspects of U.S. Soccer and MLS, the U.S. Open Cup actually has a seriously long and well-documented history. The legendary Josh Hakala has meticulously collected, documented, and presented the history of the tournament on his website, TheCup.US. Every single edition of the tournament's results are on there, in addition to player awards chosen by the site.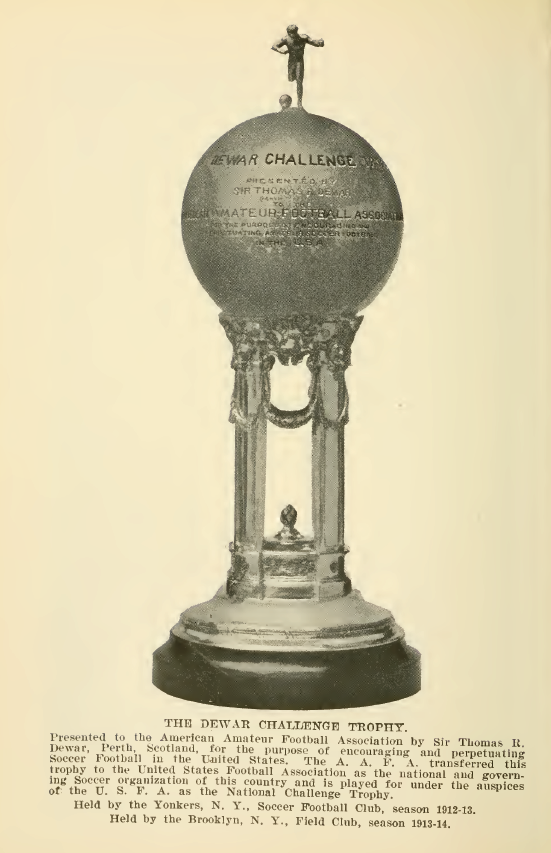 In the first edition of the tournament in 1913, Brooklyn Field Club won in front of 10,000 fans (more than what Chicago Fire drew this past weekend). This tournament is historic, there is no denying it. But favoritism towards MLS, a lack of a prize pool, and top it all off with no TV coverage — you can see why many fans forget it exists.
The last edition that did happen in 2019 brought with it some format changes that evened out the playing field. MLS teams entered the tournament a round earlier, and a two-week break between rounds gave teams more time to recover, prepare, and promote. It also was available to stream on ESPN+, and hidden in the recent U.S. Soccer/Turner Sports deal was the fact that it included U.S. Open Cup games, providing the biggest change of all: accessibility. We're still waiting on a prize pool bump, but the winner does get a spot in CONCACAF Champions League.
The cup itself starts well before round one, with qualification. A four-round process that was completed last fall, amateur clubs fought for 32 open division slots. The 71 professional teams come from five leagues: MLS, USL Championship, USL League One, USL League Two, and NISA, giving us the most professional teams ever and the most professional leagues (although that's a whole different article).
Teams from the same league cannot play each other the round they enter, ensuring as many intra-league matches as possible. While some argue same-league matchups can ensure lower league teams advancing to a later round, I think this defeats the entire purpose of the cup. This is where the magic of the cup lives, the upset. Nothing beats the small guys beating down the big, fancy expensive upper division team.
In the true spirit of sporting competition, a single-elimination tournament gives every team the same opportunity to win. In 2007 I saw it twice, and save for an FC Dallas extra time goal, my Seattle Sounders, then playing in the USL-A League, would have made it to the final. The Sounders take the U.S. Open Cup seriously. We've won it three times in a row and no other professional team has won it more times. Maccabee Los Angeles and Bethlehem Steel share the record of five Cup wins.
But my favorite moment isn't when we won it. It was that 2007 run to the semis as a USL A-league team, when we beat two MLS teams on the way. And I don't mean we bunkered and squeaked through on PKs, we beat Chivas USA 3-1 in the third round, and thrashed the Colorado Rapids 5-0 at home in the quarterfinals. Before 2010, teams would bid to host Open Cup games — how this was ever allowed I'll never know.
But we were a USL A-League team outbidding MLS teams for hosting rights because we wanted it. It was only a few months after our semifinal loss that our bid for MLS was officially accepted, and it was our U.S. Open Cup run that gave us a real belief our club was ready for the next level. Tournament wins are different. It's just like playoffs, you can win in the regular season, but to be the champ you have do it right then and there.
The last non-MLS team to make a final was the Charleston Battery in 2008, and you have to go all the way back to 1999 for the last non-MLS team to win it with the Rochester Raging Rhinos. How great would it be if a USL Championship side got into CCL? Imagine Cruz Azul going into 5,000-seat Championship Stadium against Orange County SC or Saprissa at Al Lang vs. the Rowdies. The U.S. Open Cup has all the potential to be a huge draw for U.S. soccer fans and it's moving in the right direction, it's just missing a Cinderella for its slipper.