With just over a year until it makes its long-anticipated NWSL debut, it's an exciting time for Angel City FC. We take a look at how the club has generated a solid buzz despite not yet having an official crest or colors — much less a roster.
It's impossible to boil down Los Angeles to just one thing. The sprawling, diverse metropolis is a collection of cities combined into one, with many Angelenos identifying with their neighborhood more than the city itself.
You have PCH along the ocean and Angeles Crest through the mountains, working class neighborhoods and lavish bougie enclaves. There's inner city blues and suburban boredom, $20 avocado toast and $1 tacos. So how do you create something that's decidedly LA? Or better yet, how can you captivate an LA audience that's inundated with entertainment options?
These are some of the challenges for Angel City FC, the upstart NWSL franchise that's set to make its debut in 2022. Except its goal isn't to create something that resonates with just LA — it's looking to go global.
Since its coming out party last July, the club has generated a growing swell of momentum, and there's been quite a bit of hype behind it despite not even having a crest, much less a roster and coaching staff. So how has Angel City FC accomplished this? It goes way beyond just having a group of celebrity owners. It's about building a culture.
The Foundation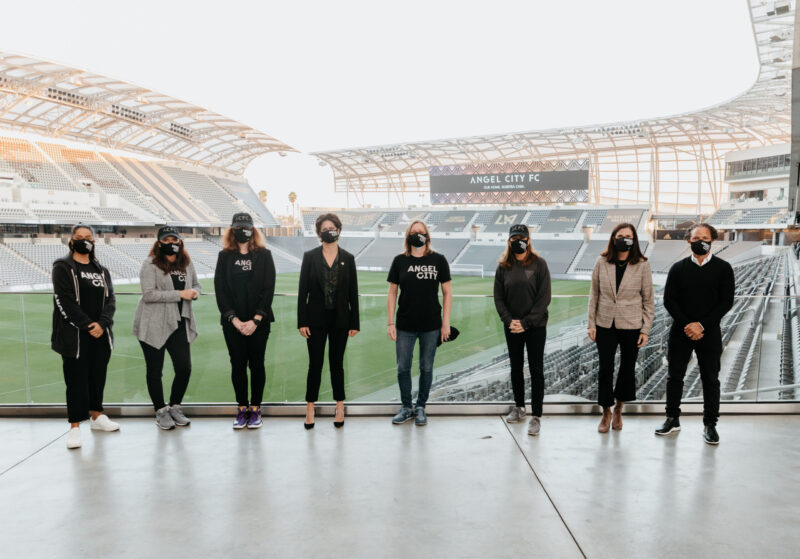 By now you've most likely heard of the massive list of celebrities behind Angel City FC. Names like Natalie Portman, Abby Wambach, and Serena Williams are just a taste of the A-list power at the helm of the club, and at the center of them all is Julie Uhrman.
Uhrman, co-founder and president of Angel City, hasn't won an Oscar, World Cup, or tennis Grand Slam, but her credentials are nevertheless impressive in their own right. A successful businesswoman with a passion for sports, Uhrman is seeing both of her worlds collide, and she's adamant on making the club into a place where mission and capital can coexist. This mantra has galvanized the impressive ownership group, and its members are just as eager to build something great as Uhrman is.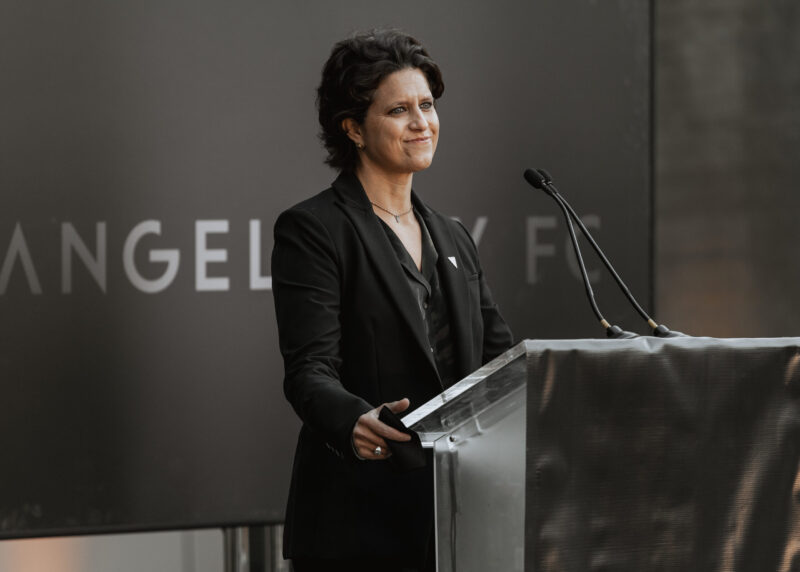 Made up of actors, athletes (including 14 former United States women's national team players), artists, and business and media executives, the Angel City ownership group is a far cry from what's typical in sports. But while that may be enough to garner headlines and a slight buzz, to make a real impact, there's got to be a steak beneath all that sizzle. For Angel City, this means embracing off-pitch initiatives and the cultural side of soccer as much as the club's roster and personnel.
Uhrman, Portman, and fellow Angel City co-founder Kara Nortman knew they wanted to build the team in an innovative way from the beginning, and they understood the potential behind starting a new soccer franchise, particularly in Los Angeles, was huge.
"We went about building this club very differently," Uhrman said. "We want to build an organization where every founding investor felt like they were building this with us. We approached Angel City from day one that it's bigger than a game. Our aspiration is to be a global brand, and as you want to build global exposure for your brand and develop a lifestyle and develop a soccer culture and product, we're thinking of that from the beginning. And that all comes together by thinking about ourselves as a platform first, and an entertainment experience second."
Uhrman's platform-first vision is both strategic and out of necessity, as the club still has over a year until it can truly showcase its immersive entertainment capacity. And in addition to its own platform, Angel City is looking to utilize those from its array of owners to build and grow upon.
Diverse in their backgrounds, professions, and audiences, the Angel City ownership group has worked together diligently to spread the word as much as possible. From appearing on each other's podcasts to rocking Angel City FC gear, it's evident that the celebrity owners aren't too cool to show off their enthusiasm for their new project.
They all got a chance to formally acquaint themselves with each other during the club's first quarterly investor video conference last year, and Uhrman has been quite pleased with the group's enthusiasm in Angel City's early days.
"Over the course of the last six months, I feel like I've gotten to know our investors pretty well to understand what it is they care about, what they want their platform to be, and how they want to be involved with Angel City," Uhrman said. "But I will tell you that just writing a check and showing up to a game or two is not on the list. They all want to be active, they all want to be involved."
Uhrman said that she's seen a zeal from not only the former USWNT players who want to extend their legacy and give back through the sport they excelled their whole lives in, but also the celebrities and entertainment and media executives who see Angel City as a viable business opportunity. From telling stories and creating content to drawing awareness to important initiatives they're working on in the community, the ideas have been flowing back and forth between Uhrman and the founding investors.
Building a Culture: Community Engagement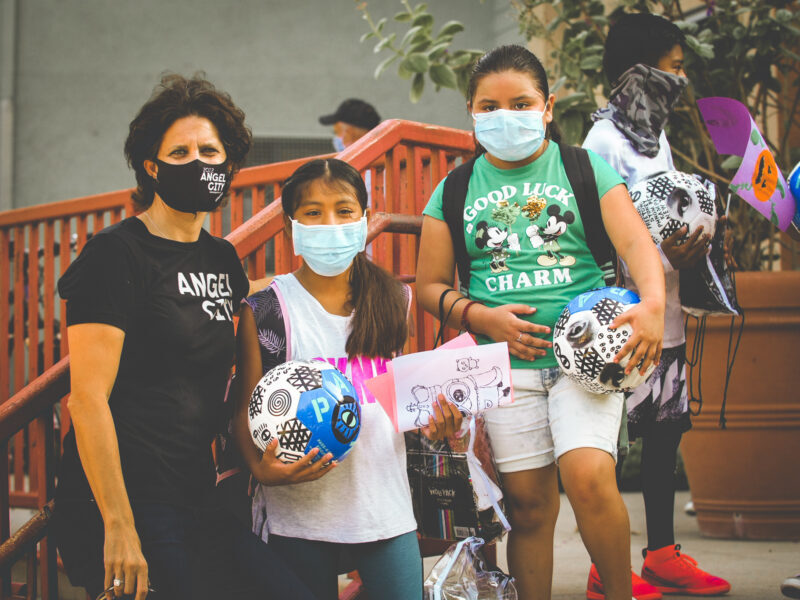 The world is full of people that brag about being "built different." Probably nine times out of 10, it's total BS. As of now, however, it appears as if Angel City is in that 10 percent of those that can back up their talk with action. Aside from its unique structure that's more tech startup than it is sports franchise, the club has already begun community initiatives and has a budding fan base.
As the new kid on the block, Angel City has the advantage of learning from the successes and mistakes from its predecessors. That advantage is compounded when one of the said predecessors is in its backyard (literally).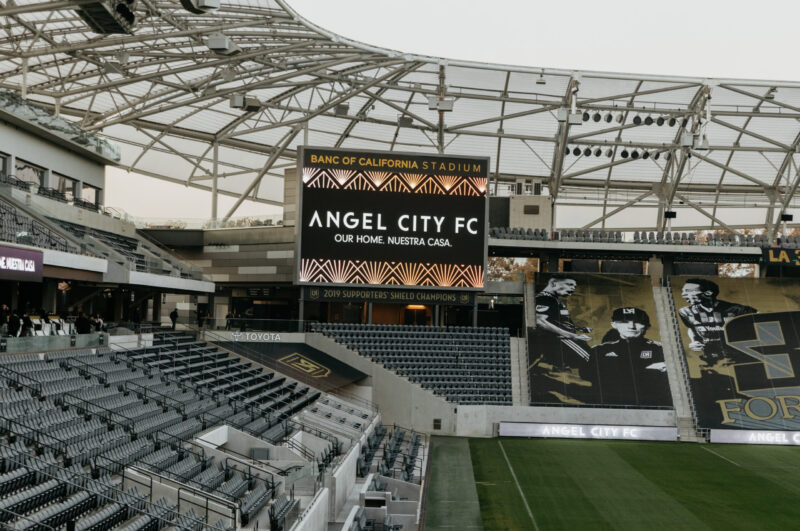 LAFC quickly made waves upon its debut season in 2018, and Angel City FC announced it would be cohabiting the Banc of California Stadium with the MLS franchise last November. It's important to note that there is no official affiliation between the two clubs, but that doesn't mean Angel City can't look at what made LAFC so successful in its inaugural campaign and in the years since.
Building a culture, especially from scratch, is extremely difficult, but not impossible. LAFC was able to do so in part by identifying a potential fan base, engaging with the community, and employing slick branding campaigns well before the club took its first step on the pitch.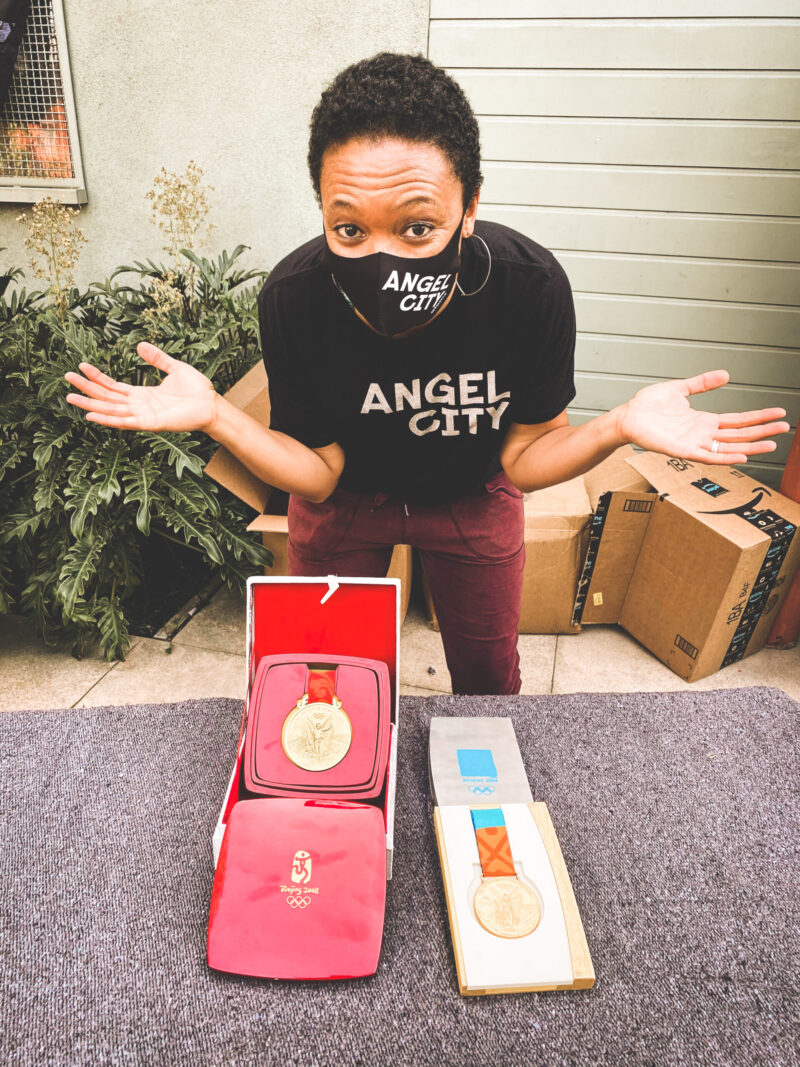 Angela Hucles, one of the ex-USWNT players part of the Angel City ownership group, has noticed some parallels between LAFC and Angel City so far, the biggest perhaps being effectively using the head start before its on-pitch debut.
"One of the things that LAFC did really well was they had a fan base and community already established before they took off," said Hucles, who's also extensively covered LAFC as an analyst with ESPN. "Like that, I believe Angel City is doing the same thing.
"To be able to get into the community, to establish connections, to build that relationship two years before you see the team playing on the field, that's going to be a strength that's unlike any other team in the league from the start. There are teams that have that sense of community, but to establish that so far before the play starts is a huge advantage."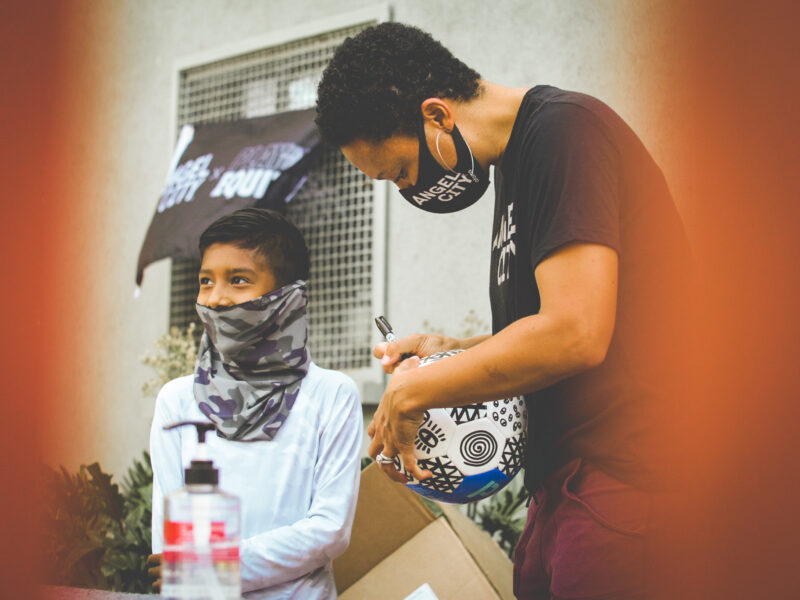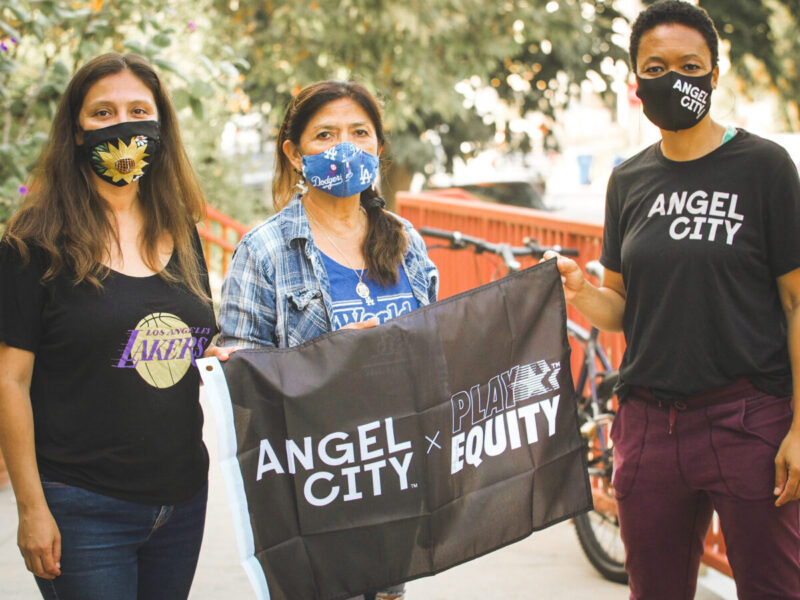 Hucles was part of an Angel City FC community event in partnership with the LA84 Foundation to distribute sports equipment at the Mar Vista Family Center, just one of the ways the club is ingraining itself within the community.
Away from charities and other similar initiatives, Angel City also has a leg up in that LA has one of the most vibrant soccer scenes and cultures in the country. You can find pickup games anywhere from the South Bay to the Valley, and in addition to LAFC, LA is home to the first global MLS franchise, the Galaxy.
"Los Angeles is unique with soccer, because it almost feels like another country," Hucles said. "What I mean by that is in the States, I don't think soccer is necessarily the first sport. Los Angeles is very unique in that you have a lot of die hard soccer fans and people. That's one of the reasons why we've seen the existence of two major professional men's teams in the area as well. Obviously Chivas was here previously, so to have consistently two professional men's teams where a lot of cities don't have that, is a testament to how Los Angeles views the sport."
Building a Culture: The Fans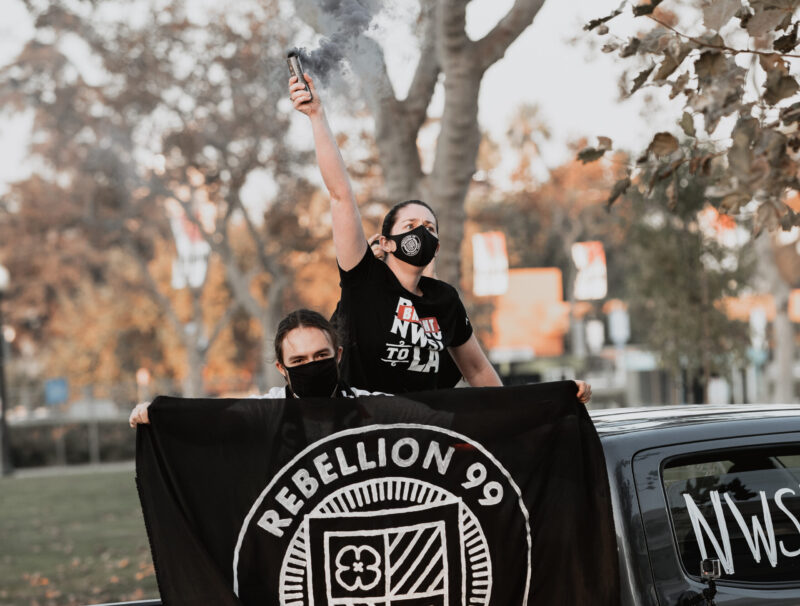 With 11 professional sports teams already in LA — and that's not counting USC and UCLA, who often draw crowds at a pro scale — Uhrman was well aware of the fact that a new entry into the LA sports-scape would have to be able to differentiate itself and provide unique value.
Hucles, along with the list of ex-USWNT stars on board, are sure to draw in a good amount of fans on their own, but how can the club find an audience to fill up the Banc's 20,000-plus capacity?
Well, it didn't have to look too hard.
We've previously talked about LA's glaring need for an NWSL franchise following the USWNT's Victory Tour stop at the Rose Bowl in celebration of its 2019 World Cup victory, but by then there was already an entire movement dedicated to bringing the NWSL to LA.
View this post on Instagram
Started by Lindsay Rojas along with her husband Mark just before the 2019 World Cup, the NWSL to LA Movement was just what it sounded like — an initiative focused on bringing professional women's soccer back to Los Angeles. Lindsay and Mark are members of LAFC's 3252, and frequently flew a "Bring NWSL to LA" flag in the raucous north end of the Banc of California Stadium — which would eventually catch the eyes of Uhrman and the Angel City founders.
The founding trio of Uhrman, Portman, and Nortman met up for an El Trafico match at the Banc in 2019, where they would find at least one way they could stand out amongst the crowded LA sports scene.
"You walk into the stadium and you are accosted in the best possible way," Uhrman said. "The 3252 are showing their enthusiasm, their pride, their passion, their love for this club, and in the middle of the 3252 was Lindsay Rojas waving this ginormous flag that said, 'Bring NWSL to LA.' And that really just validated everything that we believed. That LA could accept and adopt another team, that there would be a fan base to support it and evangelize it and help us grow it."
Uhrman would follow the movement on social media, and as the club looked to be more and more of a reality, she eventually reached out to both Lindsay and Mark to get to know them a little better and see where their fandom and passion for the game, particularly the women's game, came from. She set up a Zoom call with the both of them to propose a novel idea — turn the NWSL to LA movement into the Angel City FC official supporters' group.
The proposition was a shock to Lindsay and Mark, but it really was an obvious choice. Here you had two clear passionate soccer fans with leadership and organizational skills that also knew the ins and outs of supporter culture. It was another smart choice for the budding franchise — which at the time had yet to be officially announced.
"To say [the Zoom call] was life-changing is kind of an understatement," Lindsay Rojas said. "I don't know how frequently that happens. It's unconventional to have a group of supporters before a team has been announced and identified. I think our jaws dropped."
Even more promising for Rojas was that Uhrman was hitting all the right points when discussing her vision of the club. Sure the movement called for an NWSL franchise in Los Angeles, but it wasn't going to settle for just any club. At the top of its want list was a sustainable team that fought for its players to get the facilities, treatment, and pay they deserved, and Uhrman was right on the same page.
And for Uhrman, the group not only represented a promising tribe of like-minded and passionate individuals when it came to soccer, equity, and inclusion, but it also was a valuable audience that she could showcase to potential investors and sponsors. Mission on one side, capital on the other.
"When you raise money, the most important thing investors want to see is a product market fit," Uhrman said. "They want to know that if you build it, they will come. And what Lindsay and Mark were doing with [NWSL to LA] was showing if you build it, not only will we come, but we're already here, so build it."
Uhrman said that the conviction behind the NWSL to LA movement was paramount to the club's early success, and that the club is working to build a healthy culture with the supporters' group ahead of its April 2022 debut.
View this post on Instagram
Now dubbed Rebellion 99, Lindsay Rojas serves as president of the independent supporters' group, which continues to grow despite not being able to consistently meet due to the coronavirus pandemic. And once group congregations become more feasible, you can bet that the group's voice and numbers will amplify accordingly.
As one might expect, however, it hasn't been a completely straight and easy path for both the club and the supporters' group. In addition to the pandemic, the Rebellion 99 has faced other challenges in its beginning stages. At first, there was a small yet noticeable amount of infighting between rival LA Galaxy and LAFC fans that looked to pledge allegiance to Angel City.
Things are rarely placid between the two fan bases, but Rojas pointed out that the squabbling and bickering would eventually die down as momentum behind the new club grew, and that problematic fans using Angel City FC as an excuse to yell at opposing supporters would weed themselves out, as they wouldn't be true Angel City fans.
After all, Angel City is completely separate from LA Galaxy and LAFC. There are plenty of other in-city sports rivalries in Los Angeles, but they rarely get in each other's way. When you're at a Lakers game, no one cares if you support the Galaxy, LAFC, Dodgers, Angels, or any other sports team in the greater LA area for that matter. You're just a Lakers fan. The same should go for Angel City.
"The women's game shouldn't be compared to the men's game," Rojas said. "That's kind of what was happening with some of these individuals who were having a problem with a team coming to Los Angeles, especially after the venue announcement. I think a lot of it has died down, because it takes time. For us, especially at this point after the big hurdles have been jumped, we know that the supporters who are true supporters of the NWSL and Angel City are gonna be the ones who are going to stick around.
"At the end of the day, we're all going to be in the stands wearing whatever Angel City's colors are, and it doesn't matter about any other team in the city at that time. All that matters is the colors that we're wearing on our kit that day."
Another challenge the supporters' group has faced is that this is the first taste of soccer, and women's soccer in particular, for many within the Angel City ownership group. They've encountered natural growing pains as they adjust to the learning curve, and both sides are trying to make the process as smooth as possible.
Supporter culture in particular is something completely unique to soccer, and even those with experience in other sports may be unfamiliar with its subtle nuances.
"It's kind of been a struggle that we've been facing with how we're talking to [the club] about what a supporter is, how it's different from a general fan, and what a supporters' section really does for the team," Rojas said. "I think it's really hard for anyone, much less business and tech individuals, to understand what supporters are and do, when we're not in a stadium, we don't have a season yet, and we don't have a team yet, so they haven't really had the opportunity to see us in action."
Perhaps the steepest part of this learning curve has been the notion that a supporters' group is completely independent from the club. While they live and die behind their club, supporters have to be able to be critical of it as well, and they can't do that if they have extremely close ties to it or are financially dependent on it.
Rojas said that Rebellion 99 has had to turn down a few projects and initiatives that Angel City has proposed just to maintain that distance, even if it was a solid idea or plan. But Rojas is also adamant that this is a net positive for the club.
"It's really important for us to maintain our independence," Rojas said. "If something's wrong, it's up to the supporters to stand up and let it be known that we don't stand with our club when it comes to this type of behavior. And it's really important for the club to allow that and respect that because it's also good for the club at the end of the day.
"Knowing that these people who are unpaid are here to support you wholeheartedly. They'll let you know when you're doing things right and wrong because they love what is happening and this team. They love it so much that they're going to do this all volunteer-based, in a supporters' capacity by yelling their hearts out during games. That's something that you don't see in other sports."
The group has weekly meetings with the club through a supporter liaison, and while they haven't always seen eye to eye, Angel City is still keen on keeping an open channel of communication between themselves and Rebellion 99, something the supporters' group is grateful for.
Yes many of the Angel City owners are relatively new to soccer, including Uhrman, but their commitment to doing things the right way has allowed them to continue to maintain the relationship with their supporters' group, rather than abandoning ship once the first disconnect hit.
Uhrman, who grew up a basketball player, has quickly fallen in love with the game since her first El Trafico match — she even interrupted our interview to go over her English Premier League fantasy lineup with her co-GM, her son. She's clearly competitive and a quick study, and if things continue to develop the way they are, growing pains will pass and both the Rebellion 99 and Angel City will develop a thriving fan experience.
Building a Culture: The Brand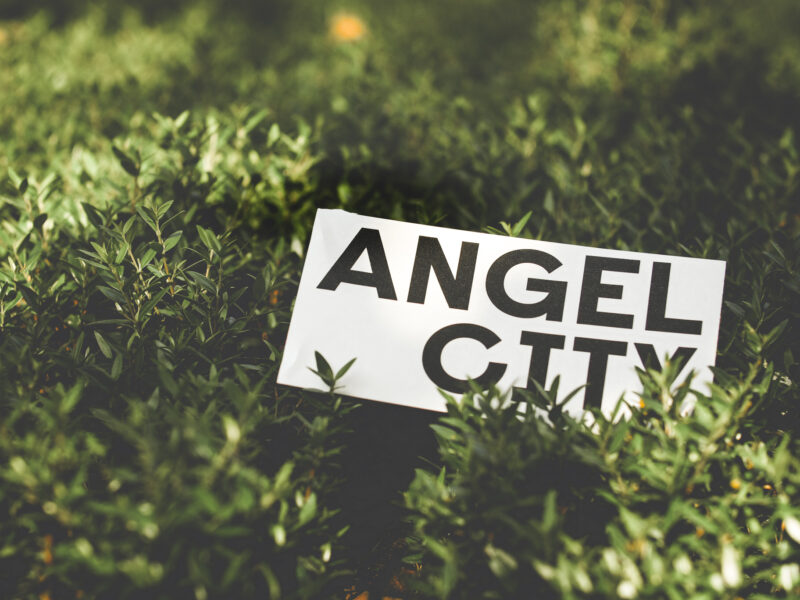 In addition to engaging with the community and building a fan base, establishing a brand is paramount to a club's success, particularly in its infancy. The benefits and consequences of good and bad branding can be huge, and as you'd expect, Angel City is taking this aspect very seriously.
Uhrman and Angel City are looking to stand out and create change through different initiatives and programs, but they are also very aware of the importance of branding and the role it plays on how people view the club. While it may not have the direct impact on communities in the way building new pitches or providing access to the game to underserved communities do, creating a brand and brand awareness makes the club relevant in a way where they can attract more people to their actions and causes.
Angel City is currently working on finalizing the design of its crest and color palette, a process Uhrman said has taken nine months. The club doesn't want to rush things and it wants to make sure it gets proper feedback to avoid disasters seen with the Chicago Fire or Louisville City FC (both of which were forced to rebrand almost immediately).
"It is important that [our crest] is reflective of our values, our community, of the product we want to put into the market, and of who we are," Uhrman said. "That takes time and input and talking to the community — what feels right from a color palette, what kind of representation do they want to see. It's also making sure that we're working with the right people that can reflect our beliefs and our culture into a product. It's really a reflection of who we are, and that's really important, so we want to take our time and get it right."
If the club wants to hit its goal of global recognition, a solid crest and color scheme would be a tremendous start. And as cliche as it might sound, it does go deeper than just aesthetics. Uhrman wants to be able to evoke what it is Angel City stands for through its logo — how it wants to create more opportunities for women to get involved in the game, how it looks to be a leader in the way they accommodate its players, and how it fits into not only the vast history of soccer, but also its future.
What's Next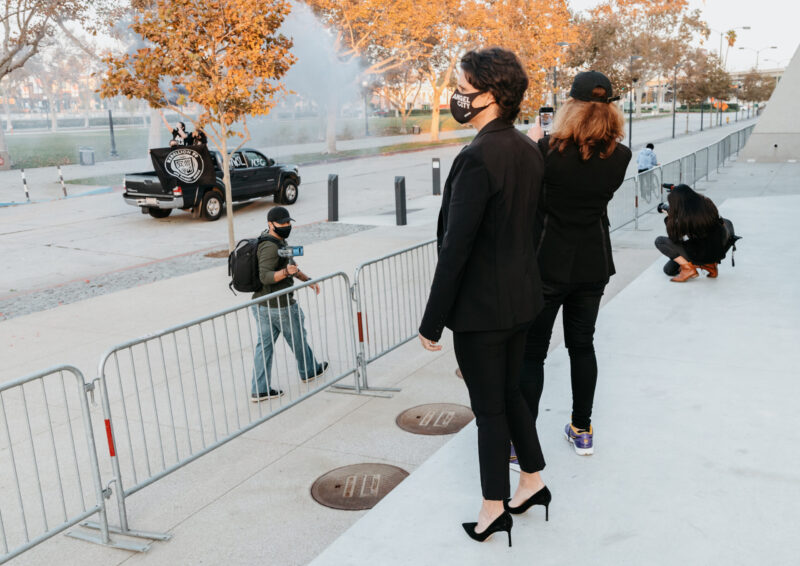 As we near the one-year mark of Angel City's impending debut, it's an incredibly busy yet exciting time for the club. In the near future, we can expect a crest and color reveal, and later this year we should be getting a glimpse at a kit. The club is also actively looking to make hires on the operations side of things, including sporting director and manager, as well as player signings and an expansion draft in the summer and fall.
But the foundation is still fortifying and continues to do so every day, thanks to the leadership, fans, and the growing popularity of the NWSL in general.
Come the club's inaugural match day, what can we expect from Angel City FC? It might be too early to ask this question, but we can already have some expectations based on the momentum the club has generated over the last six-plus months.
From the fans' perspective, it's not a stretch to say that there will be plenty of excitement, as you'd expect with the return of professional women's soccer to Los Angeles. Rojas says we can bet on a "big-ass tifo" from the Rebellion 99, who undoubtedly would be elated to finally pack the north end of the Banc.
As for the on-field product, there's no telling yet of what we'll get. Will we see a major international signing? A mix of up-and-coming young players and wily veterans like we see with most expansion drafts? Regardless, Uhrman isn't too worried, so long as she and the rest of the club can continue to build a well-rounded experience.
"Wins are very important to us, but it's not just about creating a compelling product on the field, it's about creating an incredible entertaining experience that includes the game on the field," Uhrman said. "But it also includes building a community and creating a sense of belonging that is bigger than us."
Anything but one-dimensional, it's no wonder the buzz behind Angel City only continues to grow.
Images courtesy of Angel City FC.
Be sure to follow Angel City FC on Instagram and Twitter to stay up to date with the club's latest moves.