The search for a new TV deal continues to elude MLS, as there are few takers and a lot of questions regarding the league and the hardest opponent it has yet to defeat: consistent viewership. 
LAFC and NYCFC seem to be in a fight to win the 2022 MLS Supporters Shield. The golden boot race has a pair of unlikely leaders in Jeremy Ebobisse and Jesús Ferreira. Is Austin FC's Sebastian Driussi an early candidate for MVP? All of these are really interesting questions and points, but they also might seem like hieroglyphs to the average sports fan in the United States.
Major League Soccer continues to grow its product locally, with healthy average attendance in most of its 28 venues, but on a national scale, you'd be hard pressed to find a fan who is truly gripped by what is going on in MLS this season, or in any season for that matter.
Truly a head scratcher, Charlotte FC played their first home game in front of 74,479 fans against LA Galaxy, yet some MLS games are drawing 89,000 viewers nationwide. On June 1, the match between Charlotte and the Seattle Sounders on FS1 was viewed by an average of 141,000 homes. For a league that'll be looking for a new TV deal at the end of the season, these aren't the most promising numbers.
Understanding the Market
MLS has done all it can to gain a national footprint, from over-expanding to what will be 30 teams in a few years, to signing international superstars like Zlatan Ibrahimović, yet it has struck out in many attempts to make the league more viewable to a national audience.
The theories behind why MLS has not found a larger viewership are abundant. The question now is what does the league do? Especially considering it has precious little cards at its disposal. It was MLS' intention to get a TV and streaming deal worth in the range of $300 million per year, with the assumption, yet again, that with a looming World Cup in 2026, viewership for soccer is going to explode.
The realities are that the networks, all trying to adapt to a new digital streaming world, are always looking for content, but they are also not stupid. MLS asking for $300 million annually for a product that was worth only $90 million the last time around is eye-raising. In 2021, MLS viewership did increase across the board, but 250,000 viewers across three networks pales in comparison to the 400,000 viewers the Premier League had on NBC in 2021. The EPL's NBC deal averages $450 million per year.
As sports have also gone the way of streaming, the actual figures of television ratings vary, as many fans have begun to stream games online or simply watch highlights after the match is played. MLS with its limited viewership is subject to those same tendencies.
Where to Go From Here?
So, what does MLS do now? The league will get a new TV deal, most likely worth more than the current one it has, but MLS, fighting to become the United States' unquestionable fourth-biggest sport, will need a lot of help from its media partners to get the league the exposure it so desperately craves.
To do that, at least one media partner in the English language will need to commit by putting the league in one designated time slot. Too often matches are broadcast all over the place, anywhere from 1:30 p.m. to 10 p.m. The league needs a landing spot, an 8 p.m. EST kick off time no matter what the market, and hopefully with a good pregame and postgame show.
MLS Needs Better Storytelling
At the height of professional wrestling's popularity in the 1980s, the greatest thing Vince McMahon ever did for his WWE was making sure to let the audience know what they are watching, why they should watch, and in many cases who they should root for. When McMahon had to take WWE to the national level on NBC in the late '80's, Saturday Night's Main Event would open with a minute montage of interviews where the "super stars" would tell the audience why they should watch two or more grown men pretend to beat each other up. They gave you the whole story to prepare the audience for the next two hours.
MLS as its own content creator has done a great job in storytelling, but the problem with the quality content MLS does on social media is that it is speaking to the audience it already has. It needs its media partners to help it branch off and gain a bigger audience and that starts with promos, build up, and clear figures to watch.
MLS lacks the powerful storytelling the NBA has, or the big game feel that the NFL has with its short schedule. Ibrahimović was the league's biggest character only a few years ago, and even though Don Garber may not admit it, the league lost a big attention grabber when he left. Gone were the appearances on Late Night TV and 15-minute interviews on SportsCenter or Fox Sports. Ibrahimović did more national television interviews in a month than Carlos Vela, Valentín Castellanos, Paul Arriola, and Carles Gil may have done in their entire MLS careers.
That is another major point the league will need to analyze — who can they put in front of a television camera? MLS struggles with this very issue especially given the fact that many of their biggest stars do not speak English as their first language. To put into context, out of the three biggest incoming transfers in MLS history — Thiago Almada, Esequiel Barco​, and Gonzalo "El Pity" Martínez — not one did a major American interview.
The league's current highest-paid player, Chicago Fire FC's Xherdan Shaqiri, is completely off the national grid as the Fire is one of the worst teams in MLS, and Shaqiri may have been interviewed nationally only once this whole season.
Bottom line, as hard as it is to digest for the MLS fan, the league's top stars are simply not interesting to the mainstream audience.
Who Will Step Up?
MLS needs a network to step up and provide the off-game content the league desperately needs to start aspiring to be mainstream. TNT Sports could be that network, especially since according to reports Fox Sports will diminish MLS coverage. ESPN and NBC have spent big money on La Liga and the Premier League, leaving MLS with scraps on soccer investment.
The split from Soccer United Marketing and U.S. Soccer on TV rights has MLS on its own, not being able to package deals with other properties like the U.S. mens' and women's national teams that would be added assets. In a long-term view, this is good for MLS to sell its own product, but in the short term it hurts the league given its small niche audience.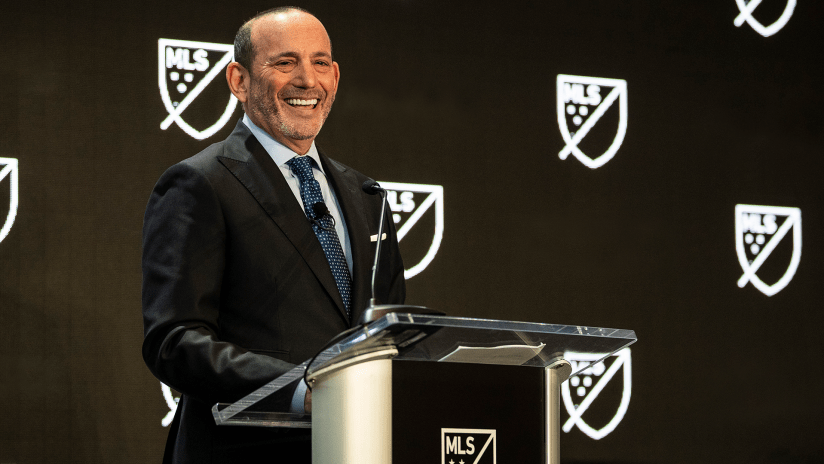 Garber has dreamt big for MLS, and in many aspects, he has succeeded, but when it comes to television, the league is on a losing streak. With the next TV deal slated to come in on half of what MLS executives expected, in the long run getting shorthanded may be good for the league and its front office, as they will need to look inwards and find a way to make MLS more interesting to watch.
It is no longer about adding promotion-relegation, playing in a September-to-May calendar, or spending more on rosters. The key to watching MLS games, like most sports in the U.S. is why — why should anyone watch, why should they care, and what's in it for them if they do watch?
In the end it's about storytelling, and which MLS media partner is going to finally be willing to tell a proper story for Major League Soccer games.