Next summer's MLS-Liga MX All-Star Game presents a wealth of opportunities for both leagues, and is a more than welcome revamp to the current MLS All-Star Game format. So why aren't we talking about it more? From further partnerships to a vibrant fan atmosphere, we take a look at how the new format could spice up soccer in North America. 
The United States and Mexico have long been intertwined in a soccer tango, with each country contributing its own form of drama and excitement to the dance. On one hand, the influence of Mexican and Latino culture is prevalent across MLS clubs, from supporters' chants to stadium cuisine. And on the other, Mexican soccer sees a large audience in the U.S. Liga MX is the most-watched league in the country by a long shot (over three times the viewership than MLS), and the Mexican national team's run to the round of 16 in the 2018 World Cup gave a much-needed boost to TV ratings that dipped due to the USMNT's failure to qualify.
It was surprising then, that there hasn't seemed to be a ton of excitement over the announcement of next year's joint MLS-Liga MX All-Star game. Sure, there has been coverage on the announcement and even a fun prediction or two, but the fan weigh-in has been minimal and a bit lukewarm, the polar opposite of what the atmosphere is actually like whenever the U.S. and Mexico play against each other in any capacity.
There have been plenty of classics in the Mexico-U.S. rivalry, but one that stands out immediately is the 2015 CONCACAF Cup playoff. The overtime match was a gut-wrenching affair, with three goals scored in the final half hour alone. Paul Aguilar's brilliant game-winning volley in the 117th minute haunts U.S. fans to this day.
Though it was played at the Rose Bowl in Los Angeles, there was a pro-Mexico fan majority in the stands. I wasn't in the stadium, but I did watch the game in a rather spectacular fashion. I was visiting a cousin in Skagit County, Washington. She's an athletic trainer at the local community college, and the school's soccer coach arranged for both the men's and women's teams to watch the match in a small movie theater half an hour away.
We split the theater with Mexico fans on one side and U.S. fans on the other. Both sides were equally full and rowdy. Not one second of the game was silent, and quite frequently, some of us would switch sides and root for the other team. Mexico's victory fueled those of us going for El Tri with ample trash talking rights, all in good fun of course. If the MLS-Liga MX All-Star Game could come within even a fraction of this excitement, then it'd be a tremendous success.
But it's not just the international game that has seen drama and chaos. On the league side of things, MLS and Liga MX clubs have of course had their fair amount of battles, both in friendlies and the CONCACAF Champions League. The 2020 All-Star Game will add another chapter in the inter-league rivalry while also presenting more opportunities for future collaborations and crossovers that could benefit both leagues.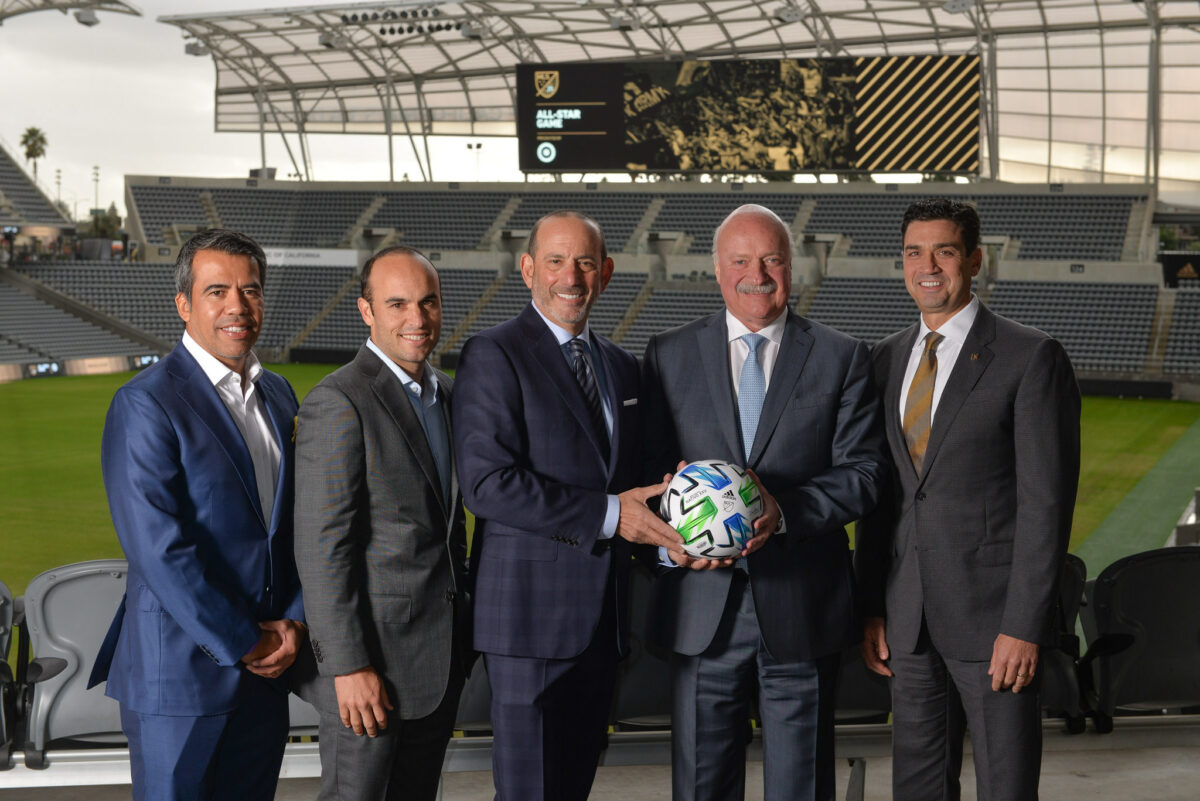 "There is no doubt that our leagues have been forging closer relationships in a wide variety of areas…that are about bringing our leagues together so that we can be more competitive against the rest of the world," MLS commissioner Don Garber told the LA Times.
For Liga MX, the match represents a chance to expand even further into the U.S., bringing better engagement with their stateside fans and bolstering what could be a very profitable marketing campaign for its teams and players.
As for MLS, an All-Star game against Liga MX puts the league in front of a well developed and high consuming fan base. According to the LA Times, Univision broadcasted 103 Liga MX matches from last fall's Apertura and this year's Clausura, averaging about 860,000 viewers. Univision also broadcasted seven of the 14 most watched soccer matches this year.
While the majority of those U.S.-based viewers are Mexican or Mexican-American, a quarter of them have no Mexican heritage, and one in eight who follow Liga MX is not a native Spanish speaker. In Southern California alone, Liga MX fans outnumber Premier League fans twice over, and many of these supporters aren't what you'd call passive.
There's a steady group of San Diego-based Tijuana Xolos supporters who routinely cross the border to journey to the Estadio Caliente. Steve Bernasconi, who traversed the country in a minivan as part of his Soccer Tour, gave us a glimpse of the experience in 2017.
With a strong Liga MX fanbase (Hispanic or otherwise) in the United States, MLS is smart to chase these faithful viewers as studies predict a hefty $1.7 billion buying power for the Hispanic community in the U.S. in 2020. No doubt, the MLS will want to capitalize on some of that.
And finally, for the fans, this game is a win-win no matter how you look at it. Whether you root for Mexico or the U.S., Liga MX or MLS, this match will showcase some of the best players and supporters' culture in North America. Not to mention you already have Mexican and American players playing in opposite leagues including reigning MLS MVP Carlos Vela of LAFC, who suits up for the Mexican national team, and Leon's William Yardbrough, a Mexican born, American goalkeeper. No matter what shape it takes in the future, more collaborations between Liga MX and MLS are welcome by anyone who enjoys good football.