Coffee and soccer are enjoyed by millions of people around the world — often at the same time. Upstart coffee label Kickoff Coffee Co. is blending both pastimes while also donating 10% of proceeds to organizations that use the game as a vehicle for positive change.  
Merging the cultures of football and coffee, Kickoff Coffee Co. is aiming for a beautiful collision of taste and lifestyle.
Through their handpicked, high quality coffee products, Kickoff uses imagery and inspiration from the beautiful game to create one-of-a-kind coffee bags that showcase premium beans from around the world and celebrate the fans and players who make football their life.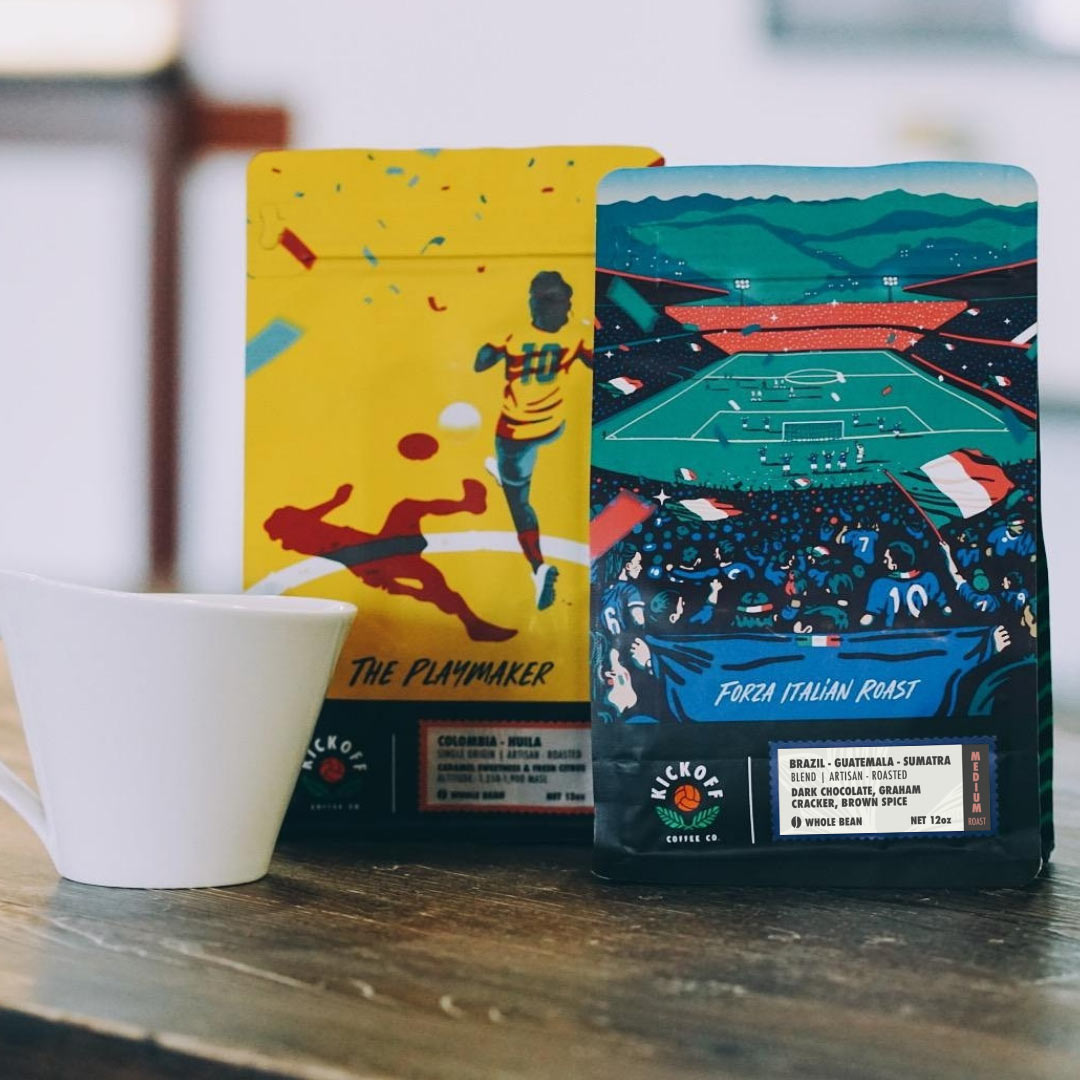 Founded by brother and sister Christian and Melissa Ortiz, and Christian's fiance, Rasha Qumsiyeh, Kickoff Coffee Co. launched last fall after experiencing a shift in work schedules due to the COVID-19 pandemic. Born in the United States to Colombian parents, Christian and Melissa both have extensive soccer backgrounds, with Melissa enjoying a solid professional career that included 28 caps for the Colombian national team, and Christian playing through college. Qumsiyeh is a human rights and immigration attorney who picked up a passion for the game growing up in the Middle East and Peru.
What was once a dream for the founding trio — a company that combined soccer and coffee — suddenly seemed like a reality in 2020, and it soon became an entrepreneurial itch they could not ignore.
As soccer players, coffee fans, social activists, and immigrants, the company made it a forefront of their startup to not only celebrate their passions, but as a way to give back to underserved communities through supporting soccer.
By donating 10% of their profits to organizations that use soccer as a tool for social change, Kickoff Coffee Co. is excited to bring together two barrier-crossing lifestyles and is on a mission to recruit as many Coffee Hooligans as possible.
We caught up with the upstart coffee label to discuss their brew preferences, experience in soccer, and how they unite two very passionate worlds and support community growth through soccer and coffee.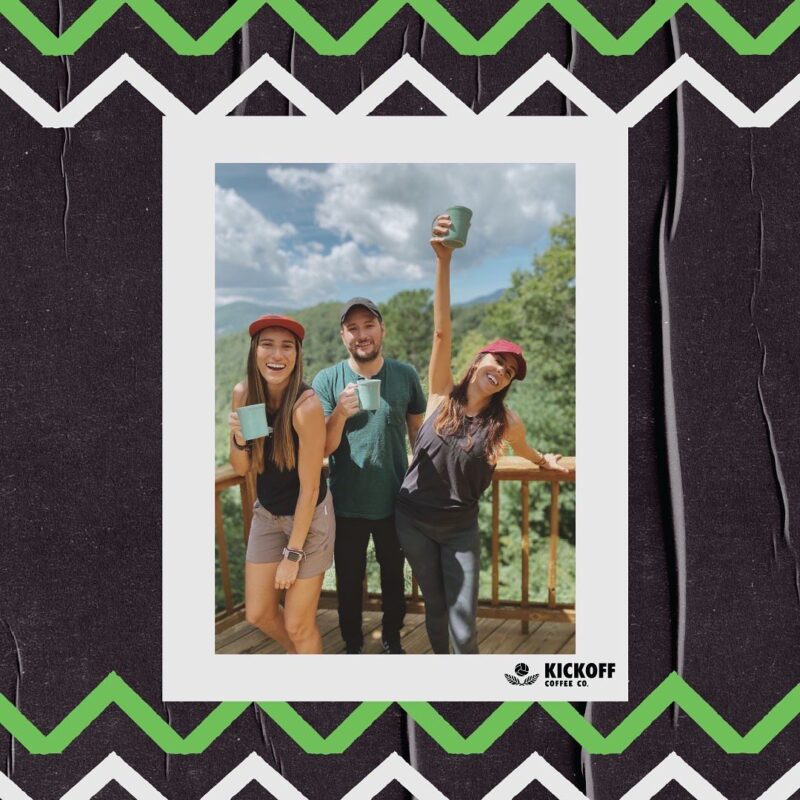 Urban Pitch: Where do your loves for soccer and coffee come from?
Melissa Ortiz: I think our culture really led us to these two passions. Soccer is like a religion in Colombia. And ever since a young age, my parents put my brothers and I in soccer. And I think just a fusion between coffee and soccer was always part of our household. Our parents own a family business — a car service shop, but with a real importance put into customer service. And we grew up working in the business. And with that, we would serve our clients cappuccinos and espressos. But like really good quality, not like what you get at your normal car shop. It was like a nice club experience made by us. So it was just always part of our upbringing and culture.
Rasha Qumsiyeh: My love, specifically for my culture, the Arab culture. We are big into coffee. Turkish coffee is the most common one. So I grew up with my parents and family always watching soccer and having coffee with games. And if you go now to Palestine or to any part in the Arab world, they're huge fans of Real Madrid and all the European leagues. That's what people always talk about.
But I think my real passion for soccer came later on in life. And I think what I love about it is what I'm seeing as being an immigrant myself and seeing the world of immigrants and refugees. For instance, refugee camps and programs that have soccer and how it helps heal the displaced kids whose countries are at war. I've always wanted to volunteer in those camps and thought how amazing it would be to have a project that helps give back in that way. And that's mostly where my interest in soccer lies. I think it's an amazing way to put a pause to the trauma that they're living in.
Christian Ortiz: I say I would look at soccer as a best friend. In my life, it's like we've grown together in a way. It's always been something I can look back on or rely on to be in my life like a best friend. And as for coffee, I was just always in love with coffee, like the culture around it, the flavors obviously, the diversity and all the parts that are tied into it. And so I've always had the dream of having a coffee business or a coffee shop. So Kickoff Coffee is the first step of bridging the two passions that are our loves in life.
What was the inspiration for merging coffee and soccer to create this company?
Rasha: Christian came up with the concept, and it seemed like such a perfect pairing to me, because both cultures are universally celebrated in their own particular way. My mind started thinking of all the amazing ways we could celebrate both cultures through this brand and I knew we had to go for it.
Christian: We all have a way in which we were all inspired to be a part of this project, but mine goes back since my days in college to wanting to open up a coffee shop that celebrates both cultures. During the pandemic, my full time job got reduced to part time status. During that time we had been searching for a way to give back to the game while creating a community. We realized that nothing brings people together like a cup of coffee or a soccer match. Coffee and soccer were and are part of our everyday life, and so we decided to launch Kickoff Coffee Co. Coffee for soccer people, by soccer people.
Melissa: Coffee and soccer have always been two loves of mine. As a former professional soccer player and playing at the World Cup and Olympics, I realized that coffee and soccer have always gone hand in hand. There was always a large pot of coffee available in locker rooms at games and many times my teammates and I would go grab coffee together when we had free time in camps. Now that I am not playing anymore, I also realized that my morning always involved coffee and watching or reading about soccer.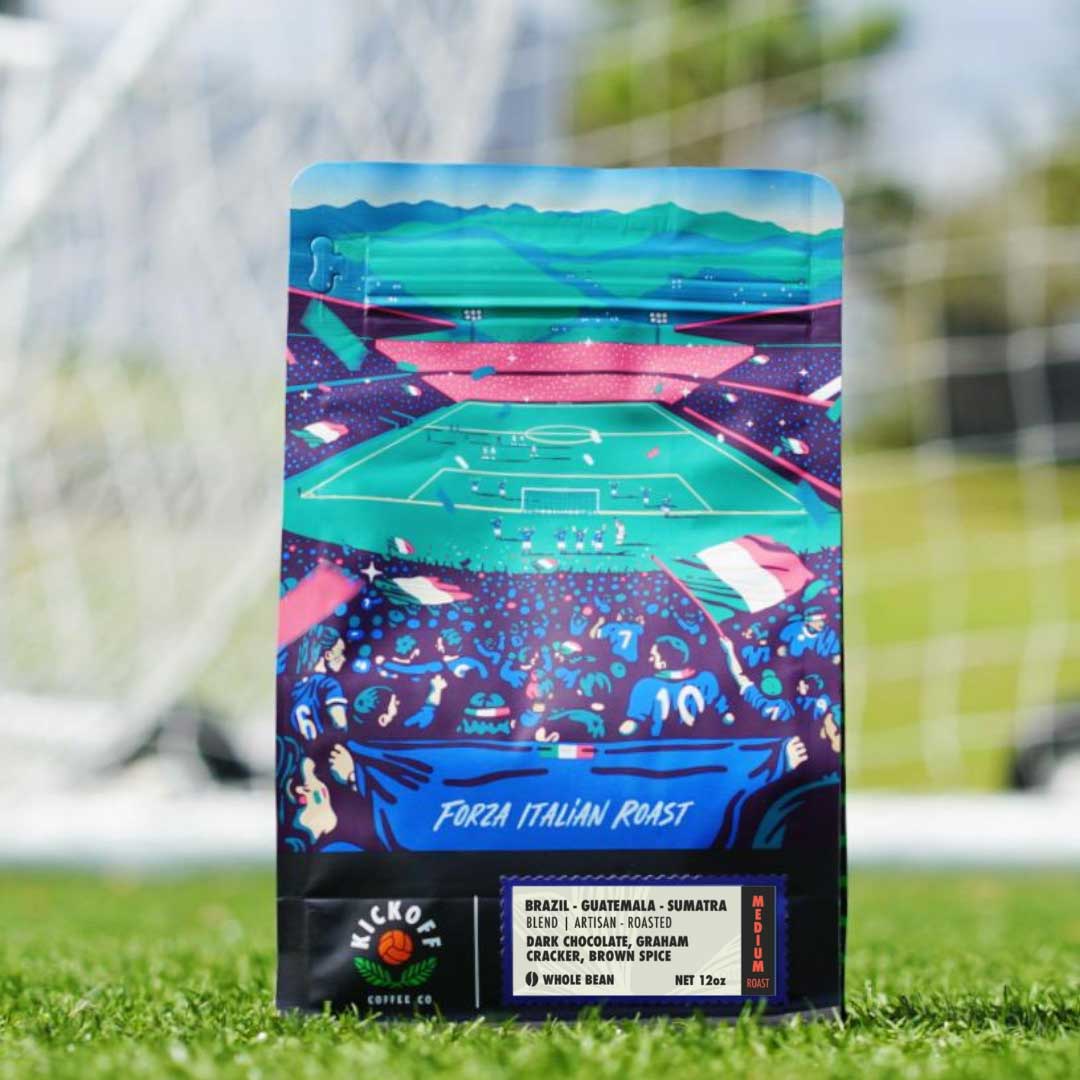 I love the artwork for your products. Can you tell me about the coffee bag designs and how they represent different aspects of soccer? How do they represent the coffee culture of these countries and places?
Melissa: Our main goals in creating the illustrations with our designers was to be diverse, inclusive, creative, and inspiring through the artwork. If you look at the Playmaker bag, the actual player can either be a man or woman.
We wanted for our coffee drinkers, man or woman, to be able to envision themselves as the Playmaker. They are the Playmaker of their days. They make things happen, and we want to inspire people with that energy through our soccer-focused artwork. Likewise, our Forza Italian Roast has a mix of both men and women fans in the stand. And down below, the Italian soccer team on the pitch can be depicted as either a men's or women's team. Yes, there will be bags with just women or just men on them in the future. But starting out we wanted to really create a brand that truly celebrates the beautiful game through its culture and diversity.
Rasha: A lot of research and thought went into it. We searched around the globe for the right artists who could translate our vision into art, and who spoke the language. So our bag illustrations are made by these amazing Norwegian artists who focus their art on soccer. Our brand designer is originally from Peru, she resides now in the West Coast — somewhere in the Pacific Northwest. She also grew up very much influenced by the soccer world and her work is mostly focused on soccer. She did an amazing job giving us the vibe we wanted for our brand.
Tell me about the beans you currently have for sale.
Rasha: All our beans are top quality beans. There is a score given in the coffee world and ours do not go below 80 out of 100. And they are artisan roasted here in Florida. The final product is always, in my opinion, an amazing tasting coffee with a smooth finish — not that bitterness that you get from overly roasted coffee. You know which one I'm talking about?
Christian: The Playmaker is our tribute to the playmakers of the game. It's a single origin coffee coming from Huila, Colombia. This medium body, medium roast will bring you flavors of caramel, milk chocolate, almond, and citrus notes. It's delicious and it can be brewed according to your preferences.
Our second bag is called the Forza Italian Roast. It's our tribute to Italy's contribution to both the world of soccer and coffee. Although Italy doesn't grow its own coffee, it has made a huge impact on world coffee culture. Our Forza Italian Roast is a blend of coffees from Brazil, Guatemala, and Sumatra. It's unlike any other Italian roast, so get ready for a medium-dark roast that brings you notes of dark chocolate, graham cracker, and brown spices.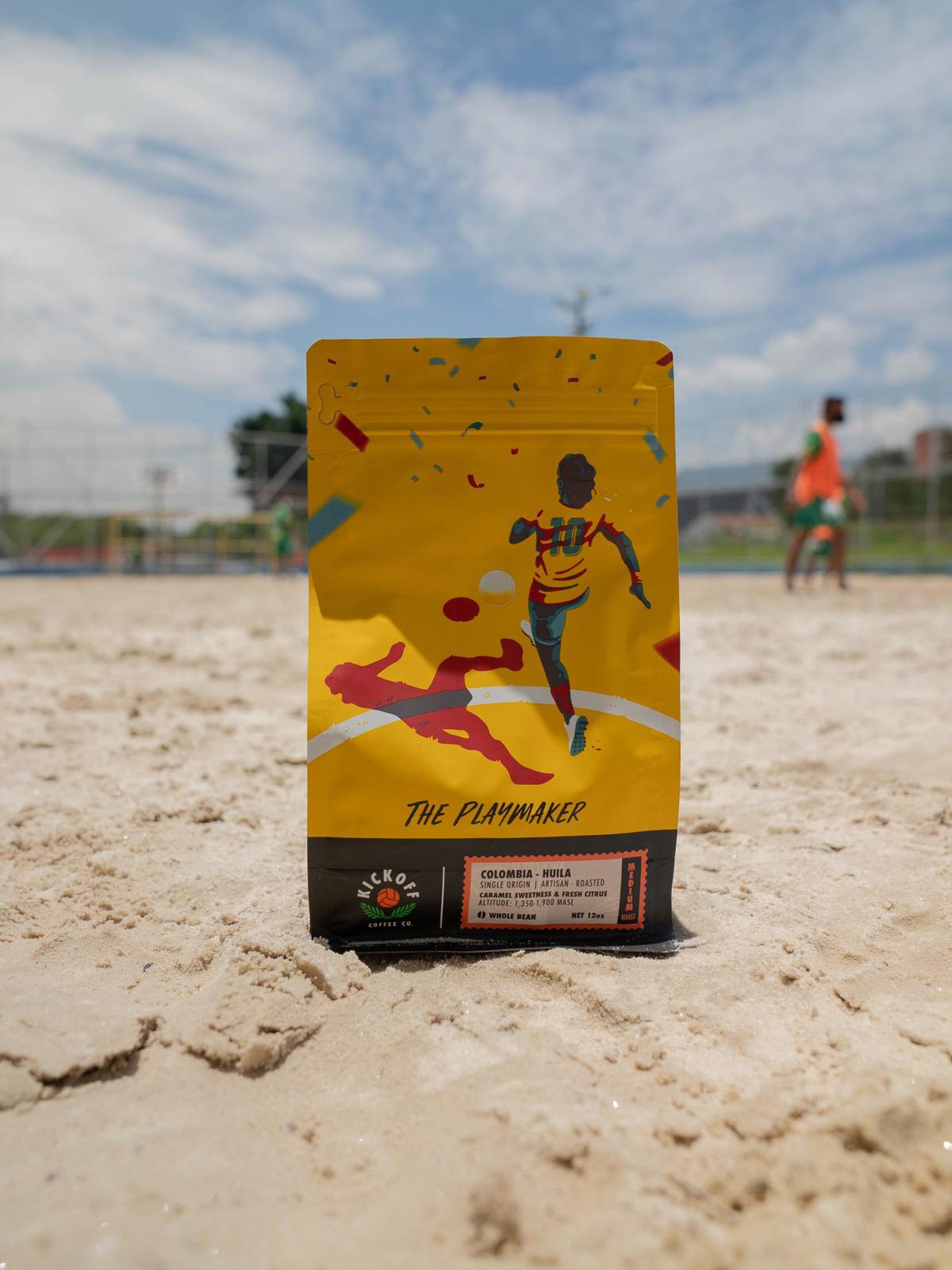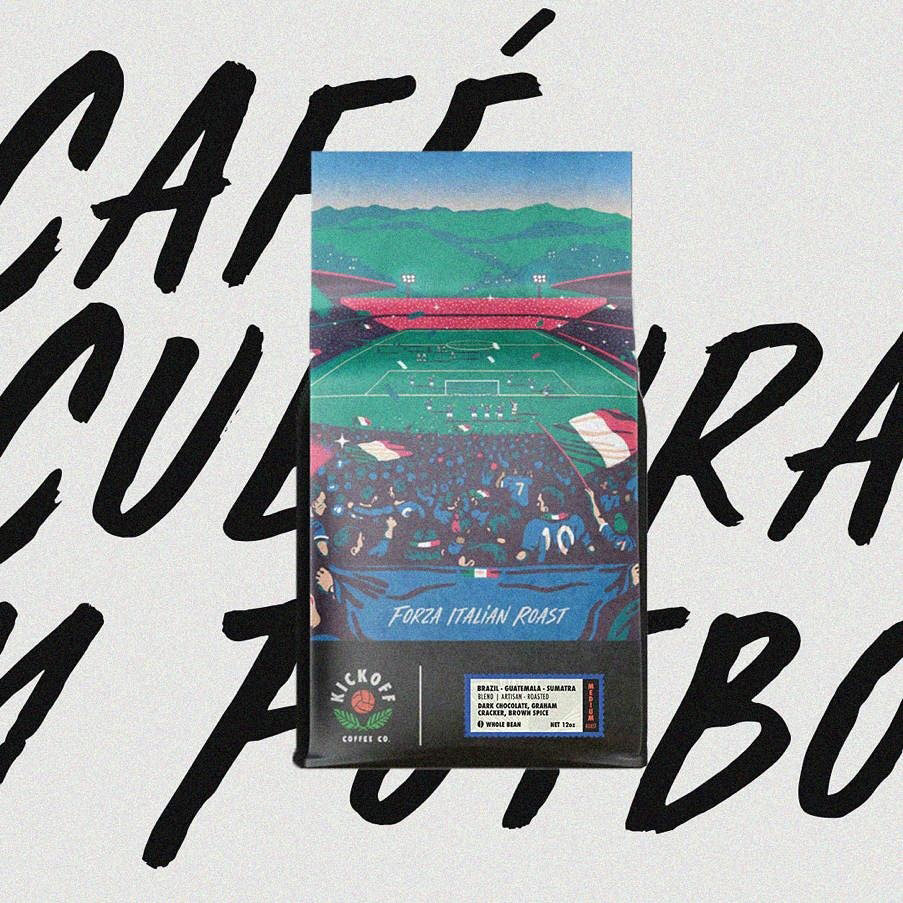 What do you think ties soccer and coffee together?
Rasha: They are both universal languages celebrated across the globe in their own particular way. People are equally passionate about both, they have their own culture around both and yet it unites us across borders if that makes sense. So in that way, when we thought to use coffee to celebrate the beautiful game, we found an amazing opportunity to highlight each region of the world to specific aspects of the game or culture in the area. It was an effortless pairing.
What things do you need to pay attention to when making a good cup of coffee?
Melissa: Just as football tactics can differ in approach depending on the coach, player, or fan, brewing coffee also ultimately comes down to personal preferences that depend on how you enjoy drinking your coffee the most. But there are some key things to keep in mind in order to make a really good cup of coffee. We encourage our customers to buy freshly roasted, whole bean coffee. This way they receive their coffee within its peak point of freshness, and so that the grinding process becomes a part of their coffee ritual since the aroma is an important part of the coffee experience. Lastly, I would recommend using filtered water if possible.
Who do you think is more intense and passionate about their lifestyle: coffee drinkers or soccer players and fans?
Melissa: Both, perhaps we created a monster with our Coffee Hooligans!
Rasha:  That's a very tough question. I'd say both, equally. There is such a culture surrounding both worlds, and if you get into a debate about what's right or best, it can get as intense as debating politics or religion at a Thanksgiving dinner.
Christian: Coffee Hooligans! Coffee drinkers and soccer fans can be some of the most passionate groups of people out there. Both soccer and coffee boast cultures that transcend borders, languages, religions, politics, and even social classes. At the end of the day, it depends on the particular player, fan, barista, grower, coach, or coffee aficionado. For us, it's all about celebrating great coffee and football.
How does buying from Kickoff Coffee help the soccer community?
Christian: Soccer is a team sport, and the squad at Kickoff Coffee firmly believes that building a better world for all requires a team effort. That's why 10% of proceeds from each coffee bag sold go directly to helping fund and support truly inspiring organizations that implement football in their social development programs to help underserved communities both here in the United States as well as around the world.
Who are some of the organizations you donate to?
Melissa: Each bag we carry dedicates a portion of its proceeds to a different organization. For our first bag, The Playmaker, we are working with Tiempo de Juego, an amazing community-driven organization that has dedicated almost 15 years to using soccer as a transformational tool for youth in the town of Cazucá, Soacha, and in other parts of Colombia. We are also extremely excited to announce that we will be dedicating 10% of all proceeds coming from our Forza Italian Roast to Balon Mundial, in Torino, Italy. Since 2012, Balon Mundial has been working hard to create a sustainable place for refugee communities in Italy, women empowerment, and advocating for LGBTQ rights through soccer.
Interview edited for clarity and brevity. Shop the entire Kickoff Coffee Co. line via their official website. Images courtesy of Kickoff Coffee Co.