Unable to travel on his own, this is how Daniel Robertson still managed to experience different cultures while also giving them a taste of his own. 
The COVID-19 pandemic may have halted much of world travel in 2020, but college student and Canada native Daniel Robertson found a way to bring the world to him, in the unlikely form of football scarves.
Stuck in the Durham, Ontario region just outside of Toronto, Robertson started making Top 10 travel YouTube videos to pass the time and map out where he'd like to go once the world opened up again.
But, after missing the fanfare of going to a Toronto FC home match in person, Robertson spurred a different idea for his YouTube page. Cue his deep dive into the history of football scarves around the world and the very Canadian notion of trading pure maple syrup for said scarves.
Still unsure of how to pull this off, or if anyone would even respond, Robertson took to Reddit to ask people from different countries if they would be willing to partake in his project. The initial response was promising, and soon, Robertson found himself in the overwhelming possession of over 100 scarves from 59 countries.
We catch up with Robertson, as he explains how he hatched and brought to fruition a surprising cultural exchange centered on the beautiful game, and of course, maple syrup!
Urban Pitch: How did you get the idea for a football scarf exchange?
Daniel Robertson: I was just talking with my friends about how much we missed being in the stadium and going to games, and how much of an escape that was. In the stands for like 90 minutes, you're not thinking about anything else. So then that just got me thinking about the different traditions and other things supporters do at live games. And I started watching videos online to kind of get back at that feeling.
So I was watching the videos, and then I noticed how, even though all of them were different in their celebrations or cheers, they all had one thing in common — football scarves. I found that very interesting. Where did those even start? How did that even come to exist? I started looking into it and how the tradition spread. Scarves are a big deal for fans. I started getting more and more interested in it. And then eventually I had the idea that it'd be awesome to start a project and try to see if I could collect one football scarf from every country.
Then I thought I needed some type of good incentive that they'd be willing to trade with. At first I had the idea of exchanging scarves of my own. But then I thought, what would be a cool way to turn this into not just a football exchange, but more like a cultural exchange? Then I thought of maple syrup because it's just a very iconic Canadian thing. That was kind of where the whole project started. I decided that I was going to trade or try to exchange maple syrup for all these football scarves.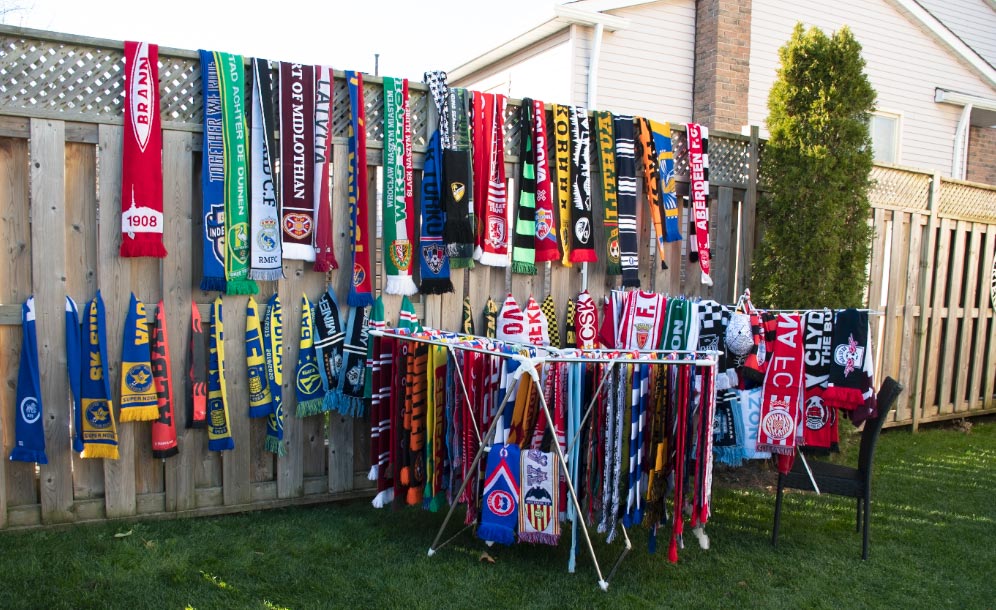 Yeah, tell me about the maple syrup.
What happened was I was like, "OK, where am I going to get all this potential syrup?" Because I had no idea at all. I knew there were farms around, but not that many, and I didn't know if they were open because of everything going on with COVID. I reached out to, I think 10 different farms within a two-hour drive from me. Finally one responded and said they would be willing to sell me a bunch of small bottles. A lot of them weren't willing to sell me so many small bottles.
I think the owner was a little confused as to what I was trying to do, but he was still really helpful. I also thought, to save money on the syrup, I offered to take some drone shots and video content for them which they agreed to, and it really ended up working out because they liked the content and I saved money on syrup.
That's a brilliant idea! Going back to how you said you missed the atmosphere of a live game — what was it like traveling to a home game in your area?
When I would go to see matches with my friends, we loved going to the supporter section. I would take the train in with all my friends. And the longer you're on the train, getting closer and closer into the city, more and more people get on all wearing the same colors going to support the same team.
At the stadium, we had smoke flares, flags, and everything. It was about being together, walking to the stadiums and chanting and singing. Toronto is also a very multicultural area with a lot of European influence when it comes to football, so you go to the game and do a lot of the same type of chants that you'd hear overseas, and compared to going to any other sporting event in Toronto, it's a very unique experience. It's very loud and it's such a good energy around the stadium. You get to see everybody, and no one's thinking about anything else except for watching the team play and cheering them on and chanting and singing the whole game. It's just a good feeling, you know, that you're all going there for the same reason and you're all ready to just have a good time.
When you started posting on Reddit, what was the response like? Did you get a lot of skepticism or strange responses?
I think the funniest thing was, even though I would caption that I'm from Canada, some people automatically assumed I was American because I would write my posts in English. Especially in countries where English obviously isn't the primary language, they thought I was being touristy or something. There were a few of those responses that kind of caught me off guard. But the majority of them, like I would say, 90% of the responses were all really positive. Mostly everybody was telling me, "This is awesome. I'm so excited. I'd love to partake." I think for the smaller countries, they really loved that someone was interested in them and wanted to support them, or that someone was looking into their local football clubs. I also found people really seemed to like Canada and Canadian things.
It was just really cool to see how many people wanted to send me other things too. They were like, "Let me send you this, and do this for you!" And all I was looking for was a scarf. Many people wanted to send things like treats and gifts that represented their culture. And I think that's what made it really cool, when someone from Germany is willing to send me a newspaper clipping from their hometown.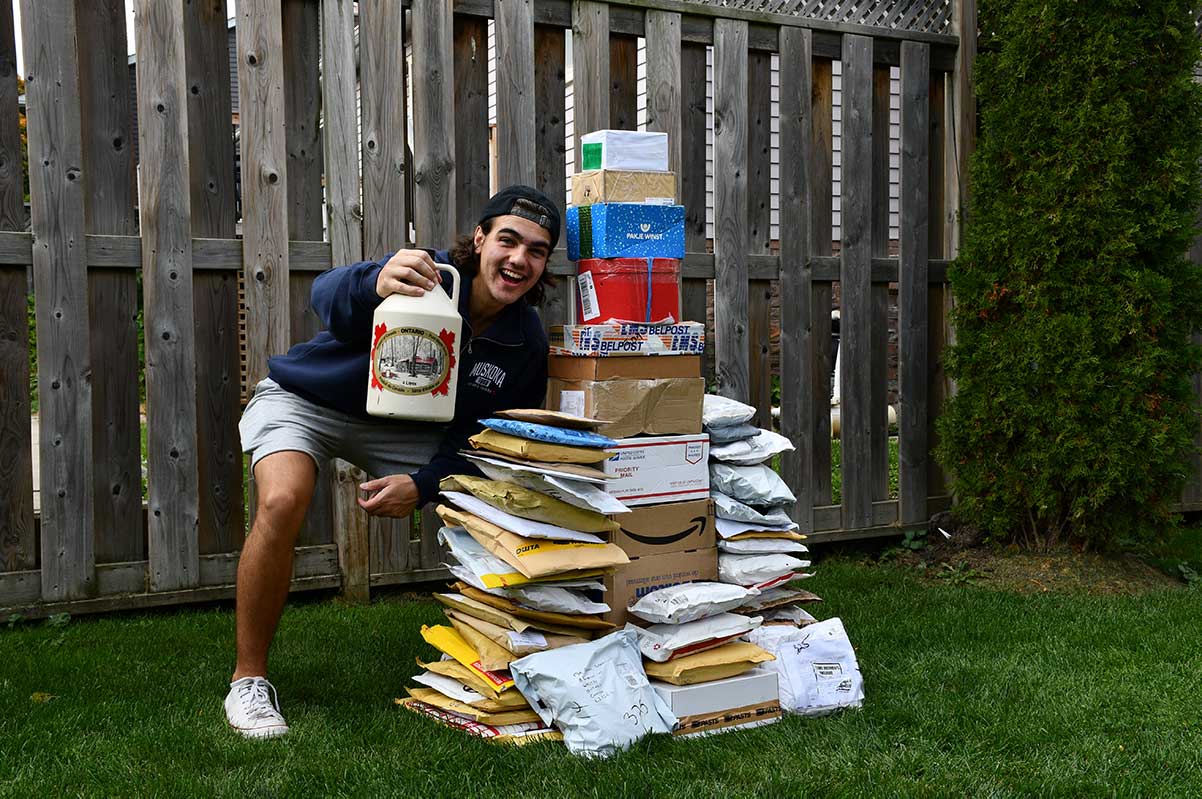 When the scarves started pouring in, did it ever become overwhelming at any point?
A bit for sure. There was one day — that clip I have of me just taking out like eight packages at once — and I was just like, oh, my gosh. Like, is this ever going to stop? How am I going to be able to send things back to all these people? What have I started? And then I knew I just had to get really organized so I know who sent what and that I am contacting the right people. But there was definitely a point where I was scrolling through Reddit, trying to find conversations that I had with people to try and find the package and who could have sent it. It definitely got time consuming and a bit stressful.
In the video you noted you received requests for other items. How did you deal with peoples' non-syrup requests?
Usually I found it a bit fun, but sometimes it was pretty hard. This one guy wanted a bag of Hawkins Cheezies So I thought, OK, that's easy, I can do that. But then I realized that he requested for the Costco-sized 40 pack. I was like, oh no, this is going to be insane to ship, but I'm committed to it now — and he ended up sending me so much stuff. I had to find a box that it would fit in, weigh it, wrap it all up and then ship it. It was an absolute mission. Other people wanted simple requests, like little pins and flags that I could easily send. One guy wanted Reese's Peanut Butter Cups because he didn't get them in Latvia. So that was pretty funny.
Was there anything that you just couldn't get to someone?
I think mostly everything worked out except I don't know if all of them arrived yet. I think there were a few problems with customs in a few countries, so I kind of felt bad for some people that haven't received anything. But, a lot of them were really nice because when they saw the video, they knew at least it wasn't a scam. There are just some things out of my control.
Now that the video has been out for a few days, what has the response been like?
It was immediate. All the people that sent me something started to respond and leave comments about what country they were from or team they support. I really tried to share the video with all the subreddits and write a thank you. And that response was just amazing, you know, all the people saying that they loved the video and they loved the project. And then more people reached out wanting to help. It was just nice to see that everybody enjoyed it.
At the end of the video, you mentioned picking up the project again in the near future. What are you hoping to get out of continuing this project? 
The number one goal is to try to get a scarf from every country in the world. That was kind of my initial goal. But now, after seeing the reaction from a lot of people who really liked being a part of the overall story and liked this kind of journey, I want to keep it going to keep that alive.
I would love to travel to all the places I've collected scarves from and actually go meet with the people who sent them to me, and watch a game together.
Did the response you received from the football community around the world surprise you?
I think I was a little surprised because I didn't think it was going to catch so many people's attention. I think it would have been different if I called it soccer though. I had a few people on subreddits tell me, "I'm going to help you out, but only because you didn't call it soccer."
When the video came out, I definitely think that a lot of people loved looking for their country and feeling represented. We're all excited to show off our favorite clubs, especially now, you know? They were just excited because there was something to do. The community was all really supportive, and a lot of people reached out after saying they'd still love to send something from their country. It showed that, even though a lot of the countries are very different, we still have that uniting factor of football, or soccer, that brought us all together. And it made a lot of people want to share more about themselves and their countries.
Follow Daniel Robertson on Instagram and subscribe to his YouTube channel for more.