In an effort to empower young girls and spread the message of the all-inclusive model of the Tudela FC LA club, USWNT icon Hope Solo will spend time with the organization as a mentor while also promoting the team's mission through her social media channels. 
Hollywood High School sits about 1,000 feet from Hollywood Boulevard. The strip, with its tourists, celebrity look-alikes and countless souvenir shops, usually has a presence that demands attention. However, when the girls of Tudela FC LA soccer club are practicing, the boulevard's loud demeanor is quickly subdued as it fades into the background to make room for a David and Goliath story fit to rival any Tinseltown film.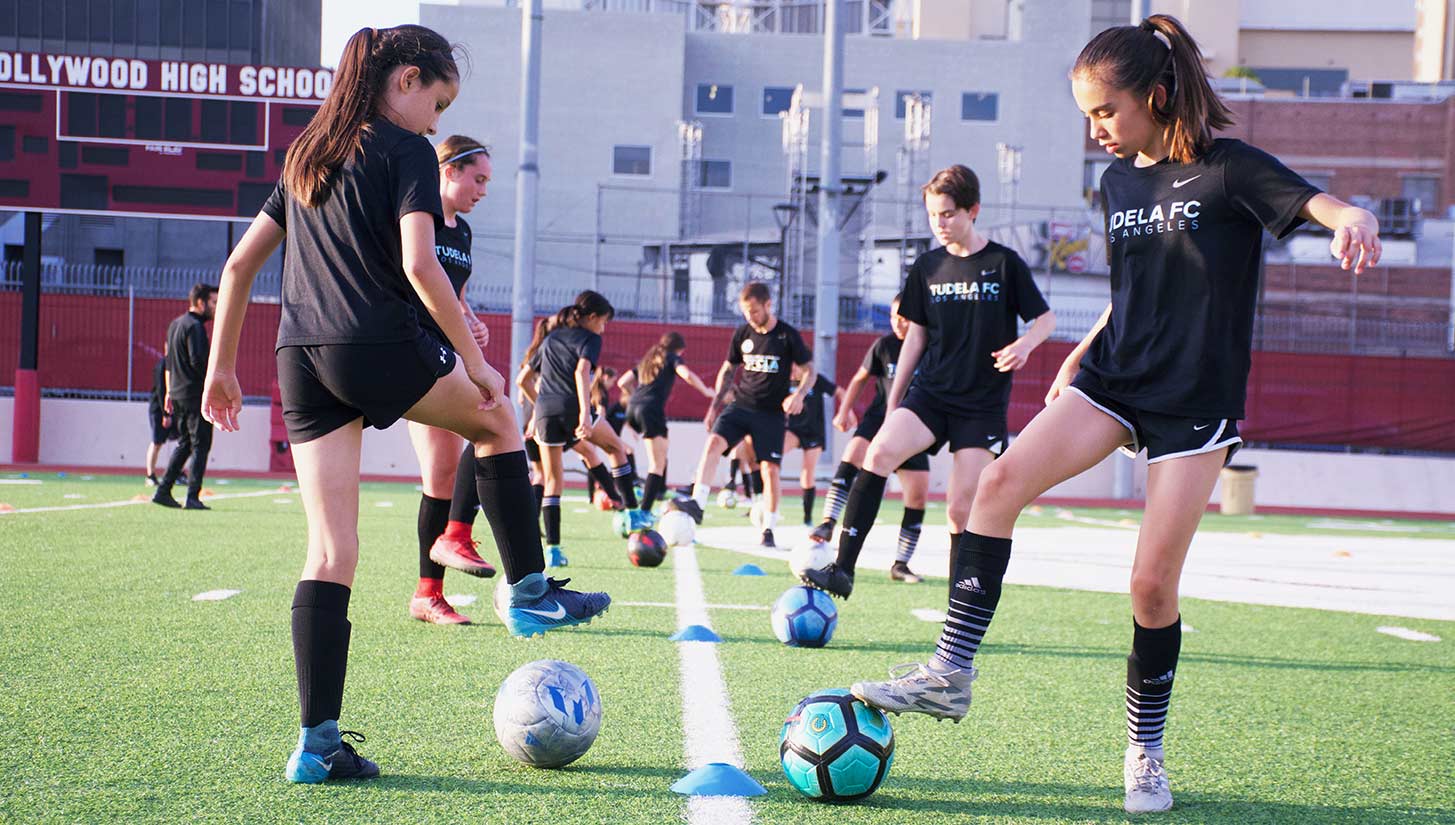 It's under the lights of the Hollywood High football stadium where TFCLA are hard at work, not only training to be better soccer players, but pushing to create a more inclusive soccer experience for themselves and generations to come. Their plight has caught the attention of a fellow advocate of the sport — you may have heard of her.
"I wasn't trying necessarily to find them," said two-time Olympic gold medalist and World Cup champion Hope Solo. "They just kind of fell in my lap, and I realized how much they inspired me. It inspired me to the point where I was almost in tears because this is how you make our beloved sport inclusive. This is the epitome of (what) the U.S. soccer system should be. (Tudela) goes out, they find players, they make the game inclusive, they reach out to other communities and it's representative of the United States."
Solo is referring to the all-inclusive ethos TFCLA holds in regards to their players. The club works under a hybrid pay system that resembles more of a sliding scale than the usual pay-to-play club model.
The fees for the team are outlined, but a player is not barred from playing if she can't afford the costs. Scholarships, grants and fundraisers help make up any costs, and those on the team who can give more, usually do. Because of this system, TFCLA has been able to build a competitive program for girls aged 9-13 and a fully subsidized recreational program for girls of ages 6-8.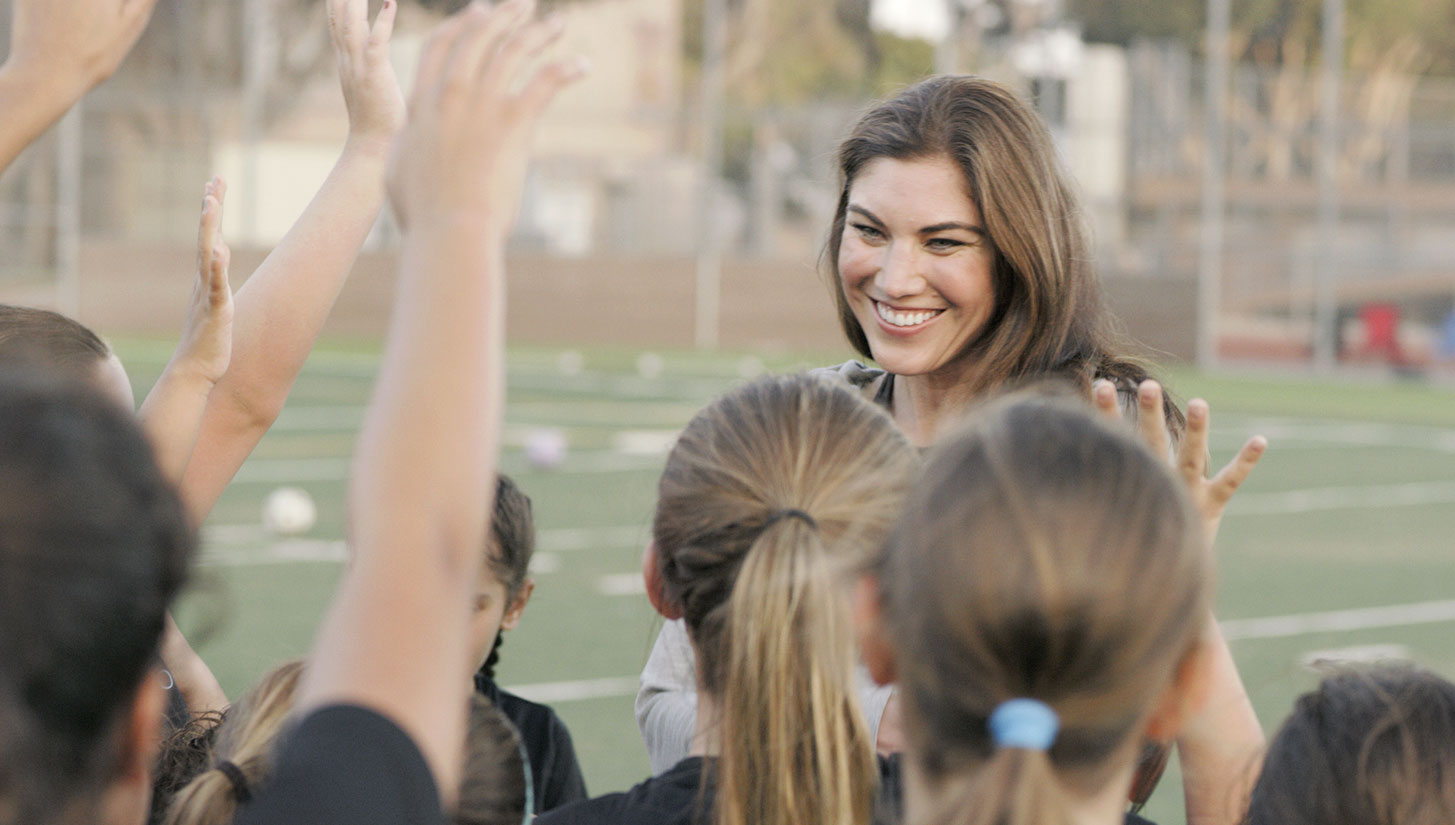 Solo's involvement with the team will help cultivate their talent and tenacity through mentoring and visits to the girls throughout the season. Solo will also promote the team via social media and other outlets to help shed light on their similar goals, including providing more opportunities for girls in soccer and reaching out to communities beyond just the privliged.
"The biggest hindrance is that we're only scouting kids for the most part at the development academies and at club teams where they have a hefty fee to play," Solo said. "We're not going out of our way, and there's a lot of scouts and there's a lot of recruiters under the U.S. soccer umbrella in every single state. How come we aren't sending them out to the inner city communities, to the Hispanic communities, to places like North Dakota or Las Vegas, or to the rural communities? We're not building fields in those areas. We're not investing in coaches in those areas. So of course we're pushing so many kids out of the game. It's not a surprise why the participation rates in U.S. soccer is going down."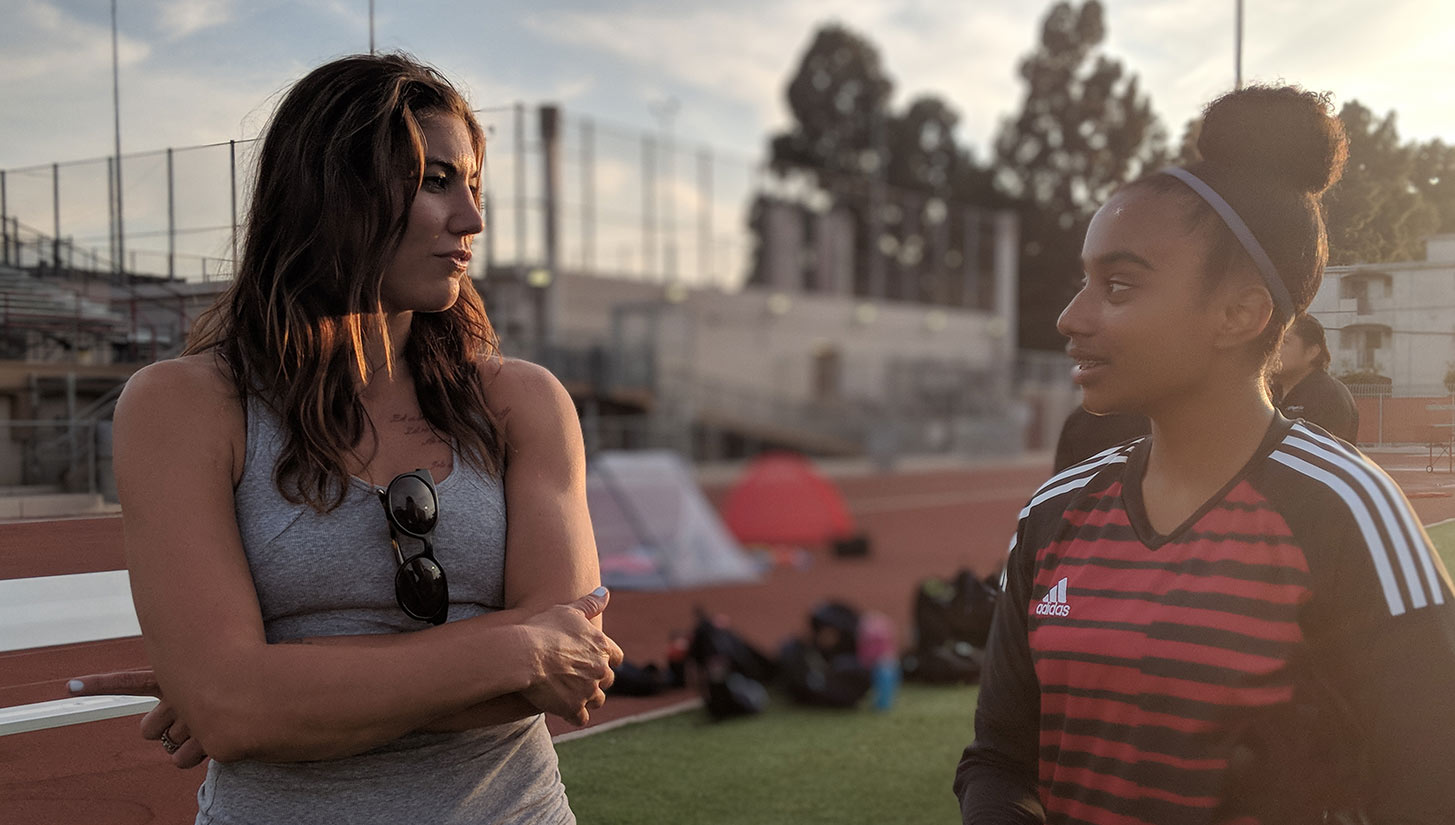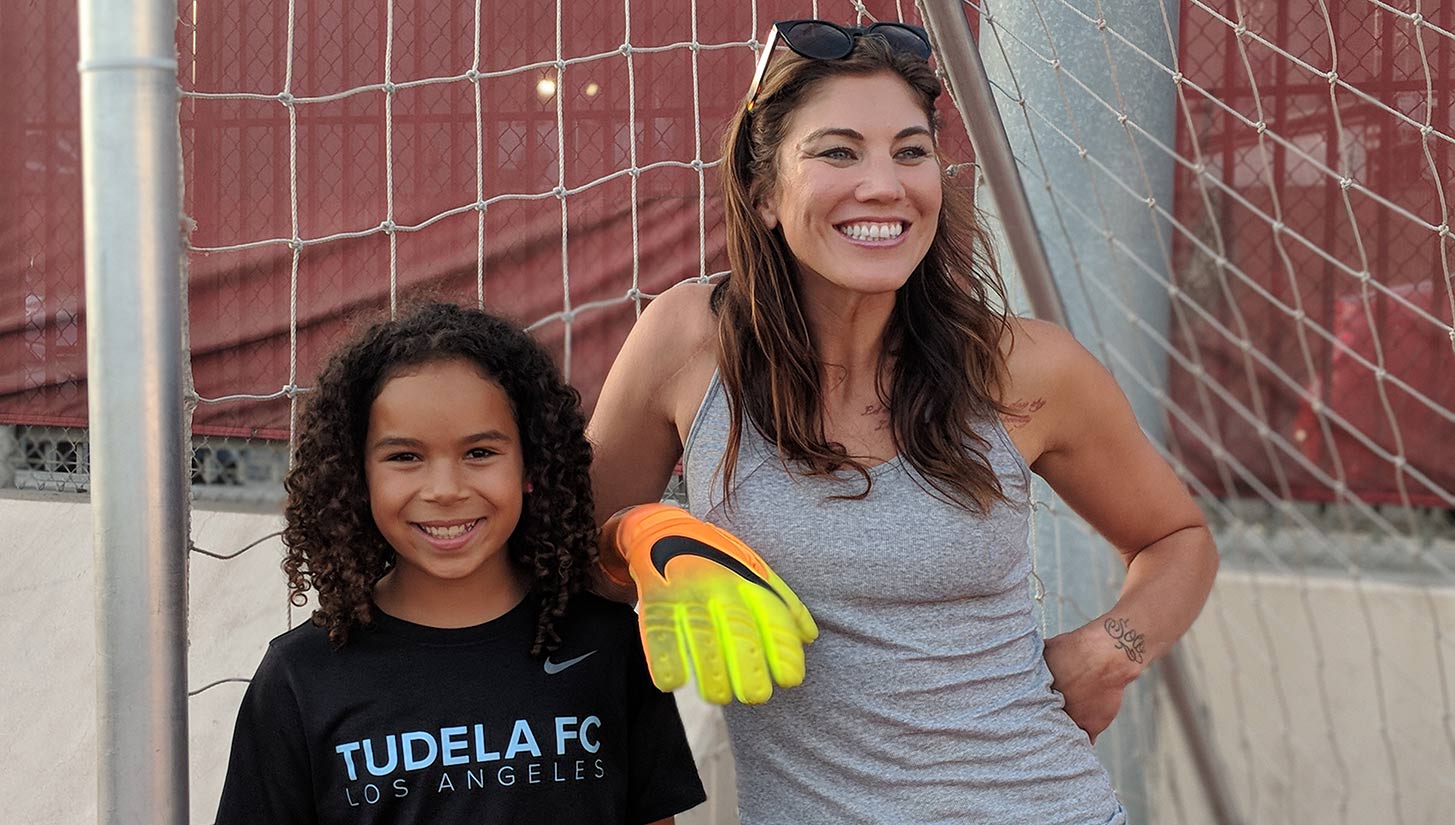 The idea that an individual should be able to better themselves regardless of where they come from is ingrained into TFCLA. The team fosters players from all over the city and practices in Hollywood to accommodate families coming from any neighborhood.
"It's Los Angeles," said Jacob Tudela, founder and club director. "We have kids who have nothing and we have kids who have a lot and we embrace them all and everybody's like a family over here."
The club was founded in 2017, but its origins go back to 2014 when Tudela was approached by a group of parents to train a few girls. Because of his extensive experience as a player and coach, and the son of a successful club director and coach himself, Tudela had the background and luckily the time to provide an ecumenical training environment for the girls. Word quickly spread after parents saw how much of a positive impact the training had on the girls, and training sessions of four or five players soon turned into a full-fledged team.
"I think our biggest mission and why we formed a football club in Los Angeles was really about empowering girls and making it to where anybody can play," Tudela said. "Part of the group has been with me for nearly five years. We had one mom who said after year one, 'Jacob, I don't know what it is that's going on. All of the sudden my kid is in the class raising her hand. She's saying at home that she can't cut corners.' And I think that's definitely a reflection of the environment that we've created, that you persevere, that you don't cut corners to work hard."
On the field, the girls find their voice and self confidence. They learn how to be winners. The all-girls atmosphere allows them to have access to resources that would often be given more to the boys' side of a club in a mixed program.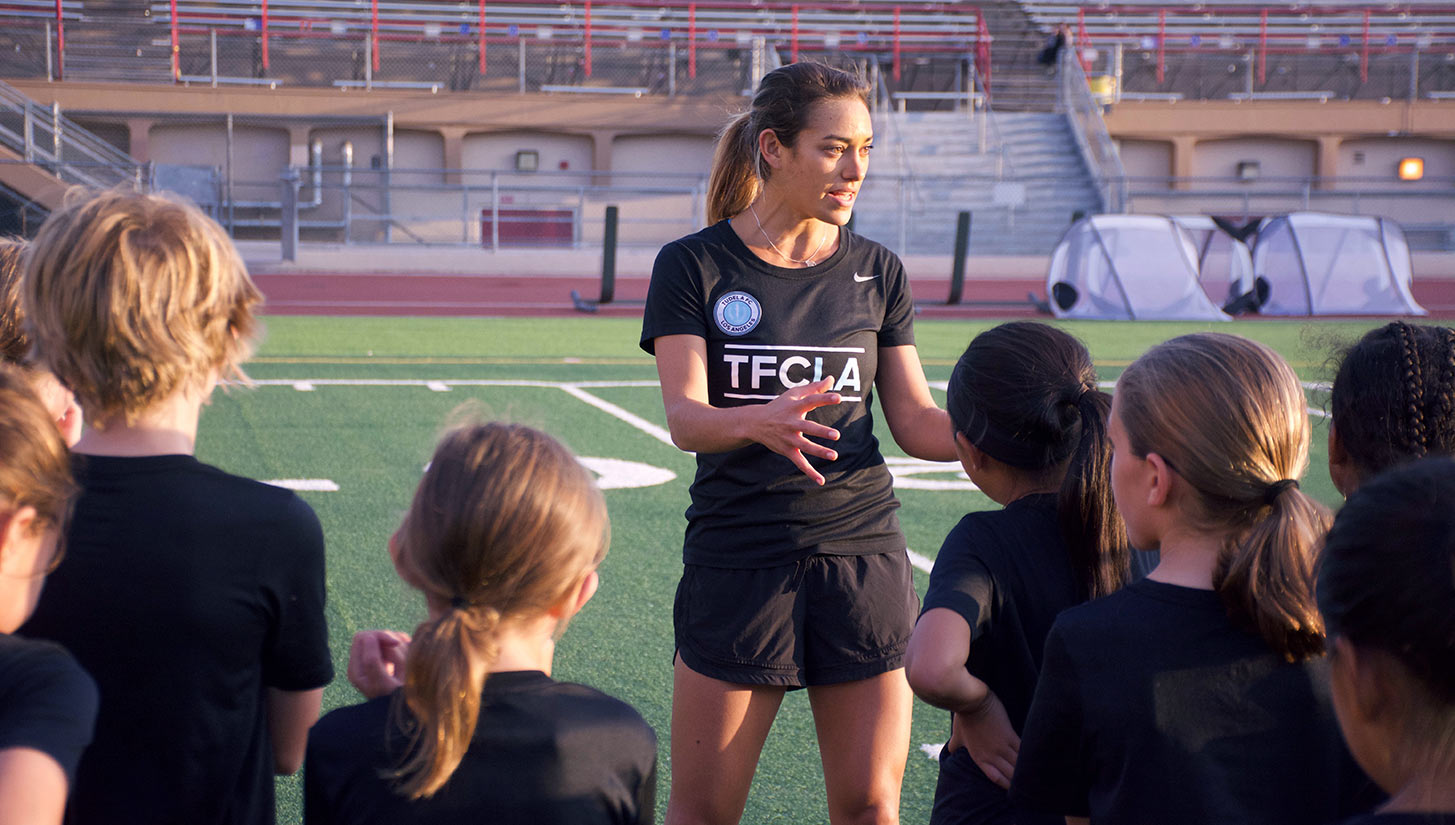 "What we've experienced has really opened our eyes to the fact that we need to fight for change," said Chelsea Braun, the youth academy director and coach for TFCLA. "Growing up, I didn't have this. Sometimes I think what reminds me that we're doing the right thing is that I would have wanted this when I was a kid, I would have died for this."
TFCLA pushes its girls to be leaders, but more importantly how to interact and get along with individuals from different cultures and socioeconomic backgrounds. Each girl brings something unique to the field, and that transcends the pitch.
"They're just like my sisters, and I have to protect them at all costs as if they were my real sisters, so we're a family," said Chayse Ying, a 13-year-old TFCLA soccer player. "It's amazing now to have a woman role model that's been through all of this, besides my other women coaches of course. It's just amazing to have someone that's been through going through tryouts, going to the professional league. I really want to play professionally, and I just try to work my hardest to get there."
With Solo on board, TFCLA are looking to continue their advocacy for an inclusive, equal playing field. Solo herself has been battling giants of her own along with some of her former teammates. In March, 2016, they filed a complaint with the U.S. Equal Employment Opportunity Commission, and just recently, Solo sued the U.S. Soccer Federation accusing the organization of paying its female players a fraction of what it pays their male counterparts, therefore violating the Equal Pay Act. Their fight has not been an easy one, but it's one that Solo hopes will lead to progress for future generations of female soccer players.
"It's scary, but sometimes we have to put the dreams and hopes of the younger generations before ours," Solo said. "It has to be selfless. Oftentimes we're so selfish, we as human beings, we as a society. We think it's too hard to take a stance, but we have to. That's what's happening right now with Tudela FC. They're doing things the right way. We see so much change right now, but it's because we have this great team of fighters doing it together and we're not gonna stop."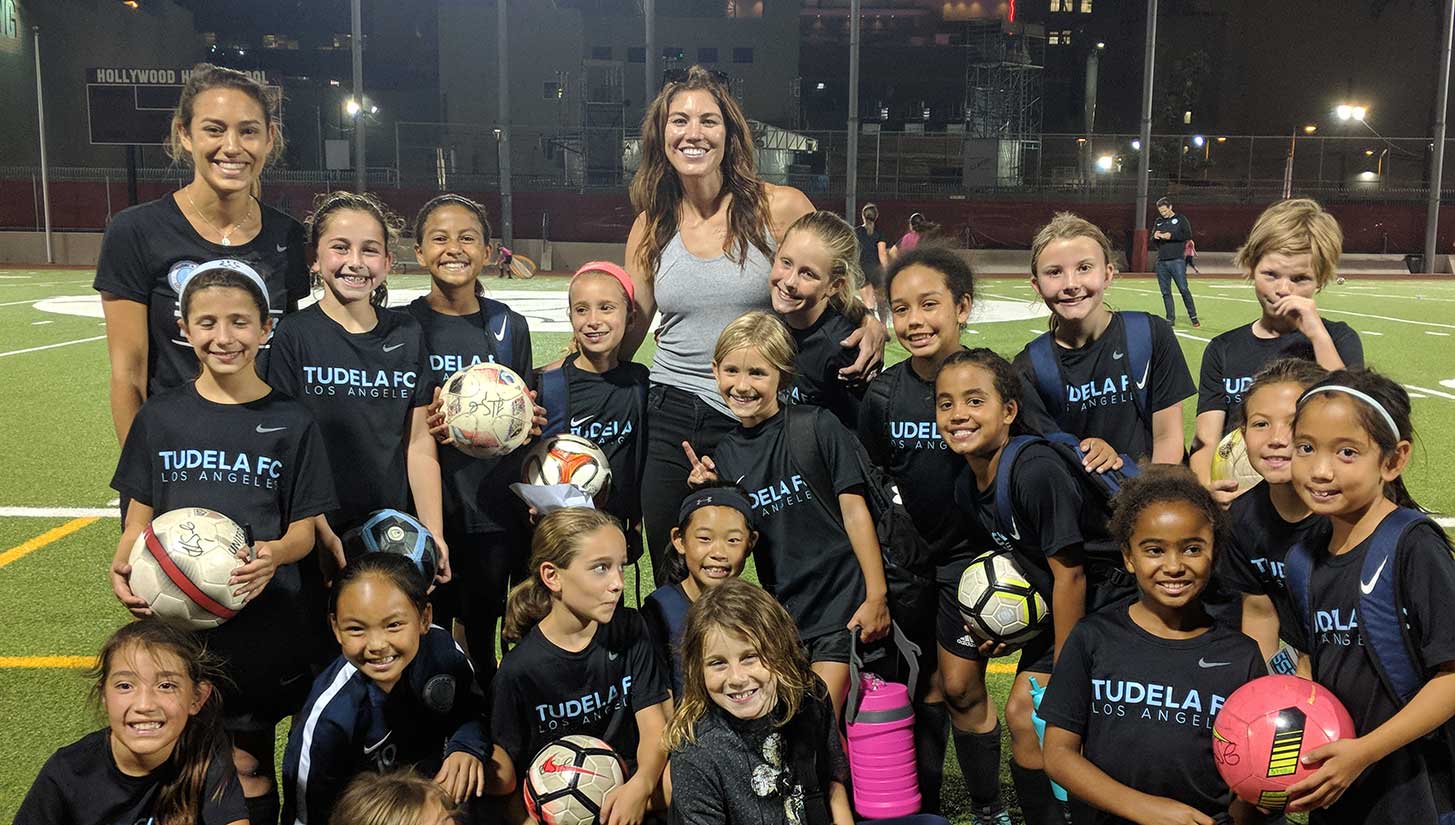 Ultimately it's the intrinsic desire to bridge the gap for future generations that inspires Tudela, Braun and Solo to dedicate their time to the girls of TFCLA. More than just getting girls on the field and playing, they want to dare them to be great.
"I've seen it time and time again," Solo said. "It happens on the national team where we all just want to not stand out because standing out and being great at something means you're different. Oftentimes it's scary for young girls to be great, to score three goals in a game, to be the best goalkeeper out there, and to be too intense, but we need to celebrate. Everyone says, 'Let's just have fun playing sports.' No, have fun by winning. Have fun by being great at something because winning is fun. We lose sight of that sometimes because we want everyone to have fun, but in reality, let's teach our young girls to win because it feels good to be great at something and it gives them self confidence. It gives them courage and it teaches them about success. Don't be afraid to be yourself and have the courage to be great."
Photography by Patricia Sanchez for Urban Pitch and Jerry Ying for Hope LA. Video by Jerry Ying for Hero LA.