After years of waiting, the LAFC faithful finally got to watch the black and gold take the pitch for an official match this past weekend. We were at the scene in the hostile confines of Seattle's CenturyLink Field to get fans' raw and unfiltered responses regarding the new season, favorite players, and the atmosphere at the first-ever LAFC MLS match. 
On Sunday, March 4, LAFC stepped to the field for the first time in Major League Soccer history to play their inaugural match against the Seattle Sounders at CenturyLink Field. While their walk out to the field only lasted a few minutes, fans had been waiting for that moment for years.
Before the game, fans from both teams took to the streets of Seattle's Pioneer Square district to rally together in pre-game support. The weather was crisp, biting at warmly dressed fans, and though LAFC supporters were not in their hometown, they felt right at home amongst the passionate Sounders fans.
LAFC was ready to meet fan expectations, and they even surprised a few supporters by clinching a 1-0 win. Win or lose, LAFC supporters turned out to support their team and enjoyed their stay in Seattle. We caught up with a few die-hard fans, to get their hot takes on the team, the newly-unveiled jerseys, and their experience in the Emerald City. Among these fans included the one-and-only Gary Gold, who is making a push to sign with LAFC at whatever the cost.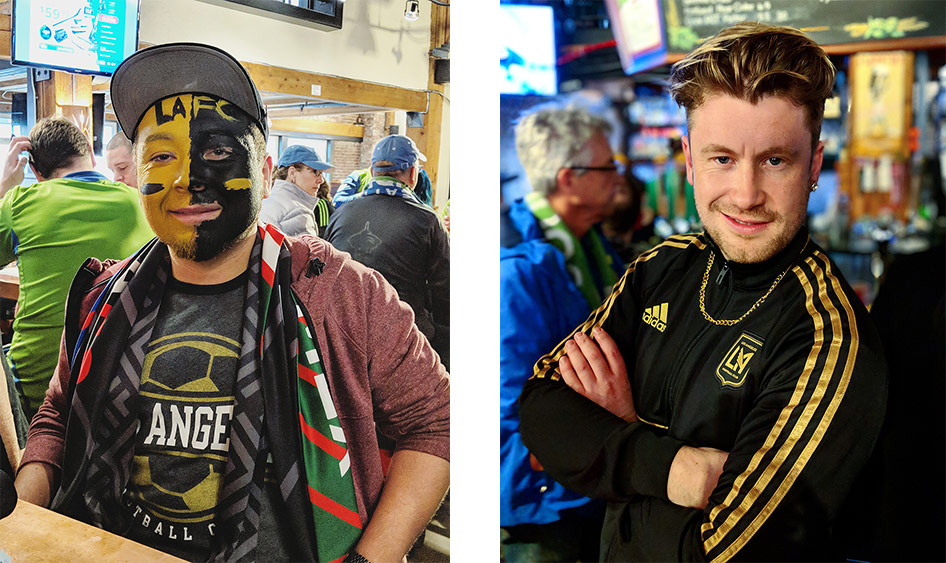 Where did you make the trip out here from?
Alejandro Galioto: I'm from LA. I live in Westlake Village.
Cesar Castillo: I came here from Los Angeles. I live in Highland Park.
Carlos Villarreal: I'm actually from the Bay area, Santa Rosa.
Gary Gold: I'm originally from London, but I came here from LA. I currently reside in Hollywood.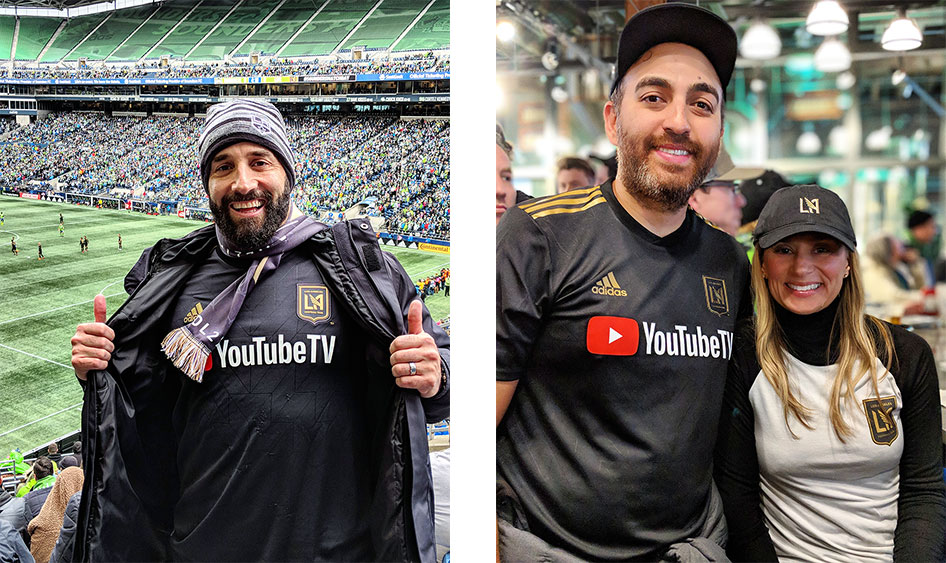 What made you feel like you absolutely needed to make the trip out here for the inaugural game?
Alejandro: I came here on the Delta flight for fans, and the flight was full of hope. We are going to watch our new team for the first time. Everyone feels special to be a part of it.
Cesar: I wanted to be a part of the beginning of something, that's why I'm here. I thought about going to Sacramento, but this is a little more special. It's their first league match.
Carlos: Soccer is a great sport. It's their first game, and I've gotten into MLS because of my brother, so LAFC is my team.
Gary: I came to research Seattle's team. I have to know my enemy. That's very important for when I debut at our home stadium. Sun Tzu, a Chinese philosopher, once said, "If you know yourself and you know your enemy then you have nothing to fear on the battlefield."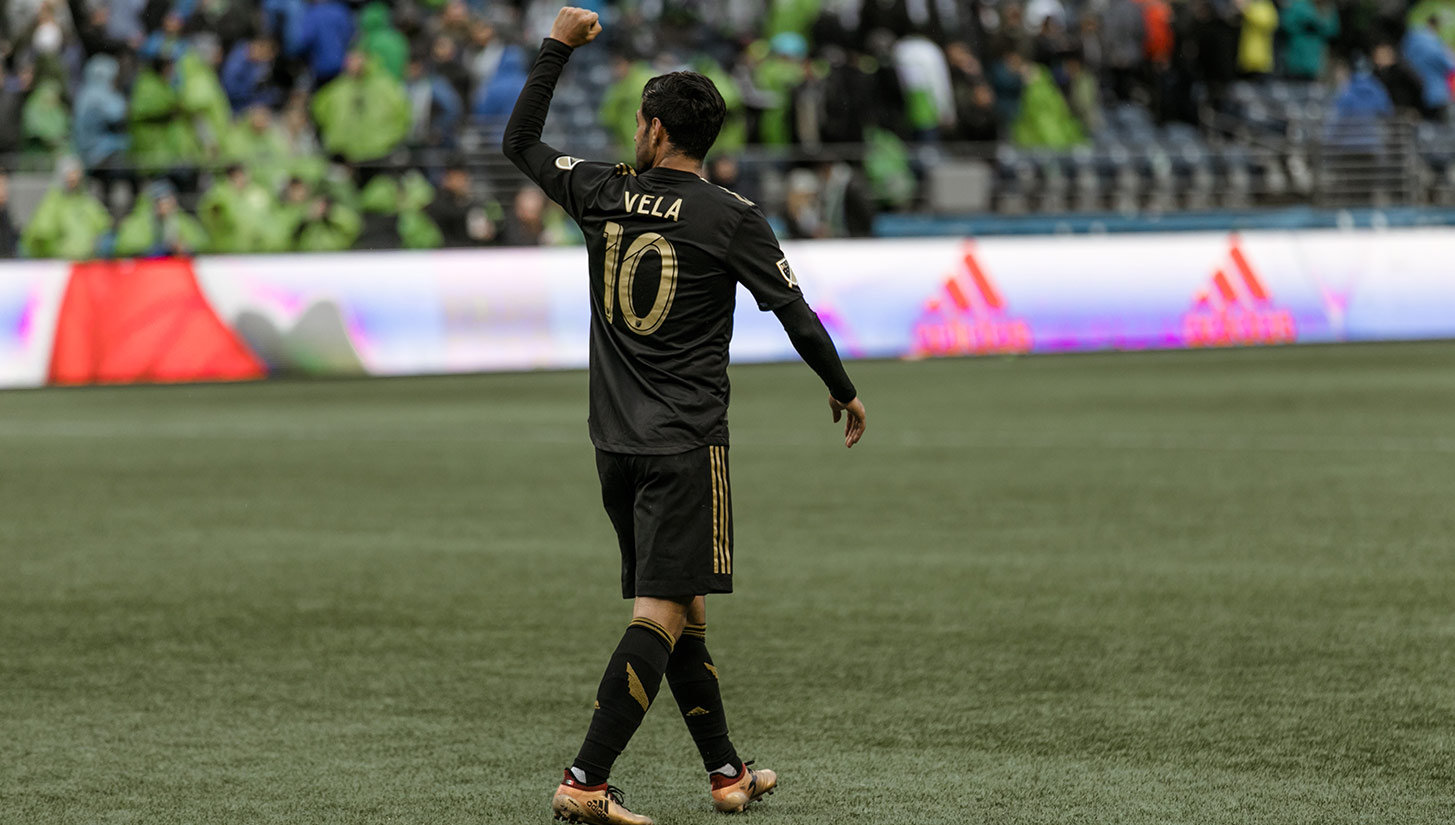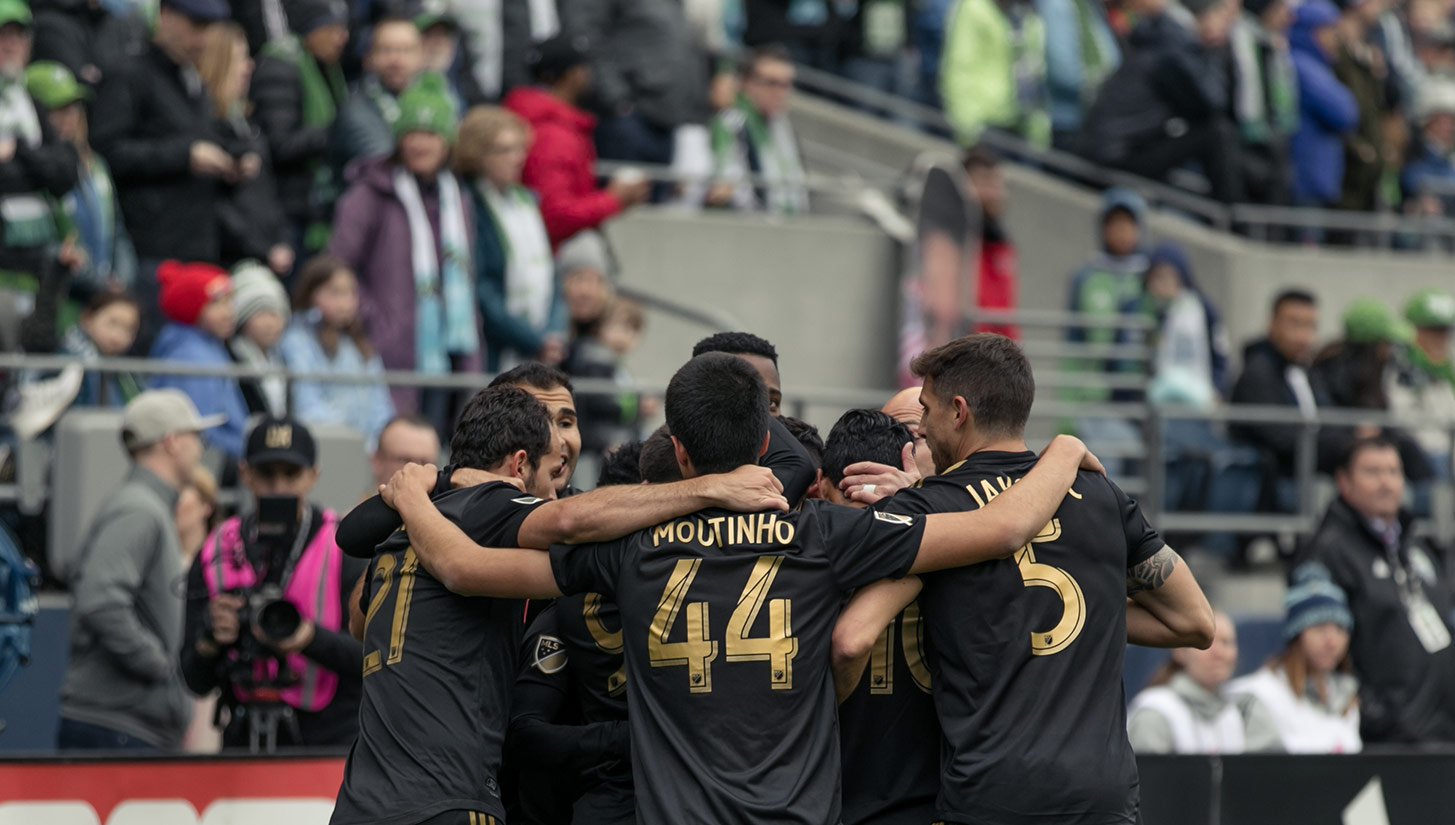 Who is your favorite LAFC player and why?
Alejandro: Eduard Atuesta. He's Columbian like me. When I saw he was signed, I was really happy.
Cesar: I've been a fan of Benny Feilhaber ever since he scored that goal at the Gold Cup I think in 2007. He's been in the league for a while, and he's a good player. I was excited when we signed him and Carlos Vela.
Carlos: It's pretty hard to say since it's barely the starting of the LAFC games. But I'm looking forward to seeing Carlos Vela and Diego Rossi put in work.
Gary: Laurent Ciman. He's rock solid at the back and looks like he can tackle a few pints as well. Looking forward to hitting the pub with him.
What drew you into becoming an LAFC supporter?
Alejandro: I have wanted another LA MLS team for a long time. We needed it. LA needs another team. I was waiting for it to happen, and I'm so excited it has. The big thing they did really well is the team is about LA. It's for us.
Cesar: The demise of Chivas USA and the hope that something better happens. It seemed like Chivas USA could have made better decisions, but now we get to start again. I also love how they incorporate fans. They really seem to listen to our perspective.
Carlos: My brother got me into them, so I want the team to be successful. I'm part of this fan group now, and it's amazing. Everyone is so cool.
Gary: I've had a great career in England. I've played for 23 clubs. I'm absolutely amazing. I decided I wanted to come to America and help inspire the next generation here. It's new football. As for why LA — history proves that LA loves legends, and I'm a legend. Gary and LA seem to go hand in hand.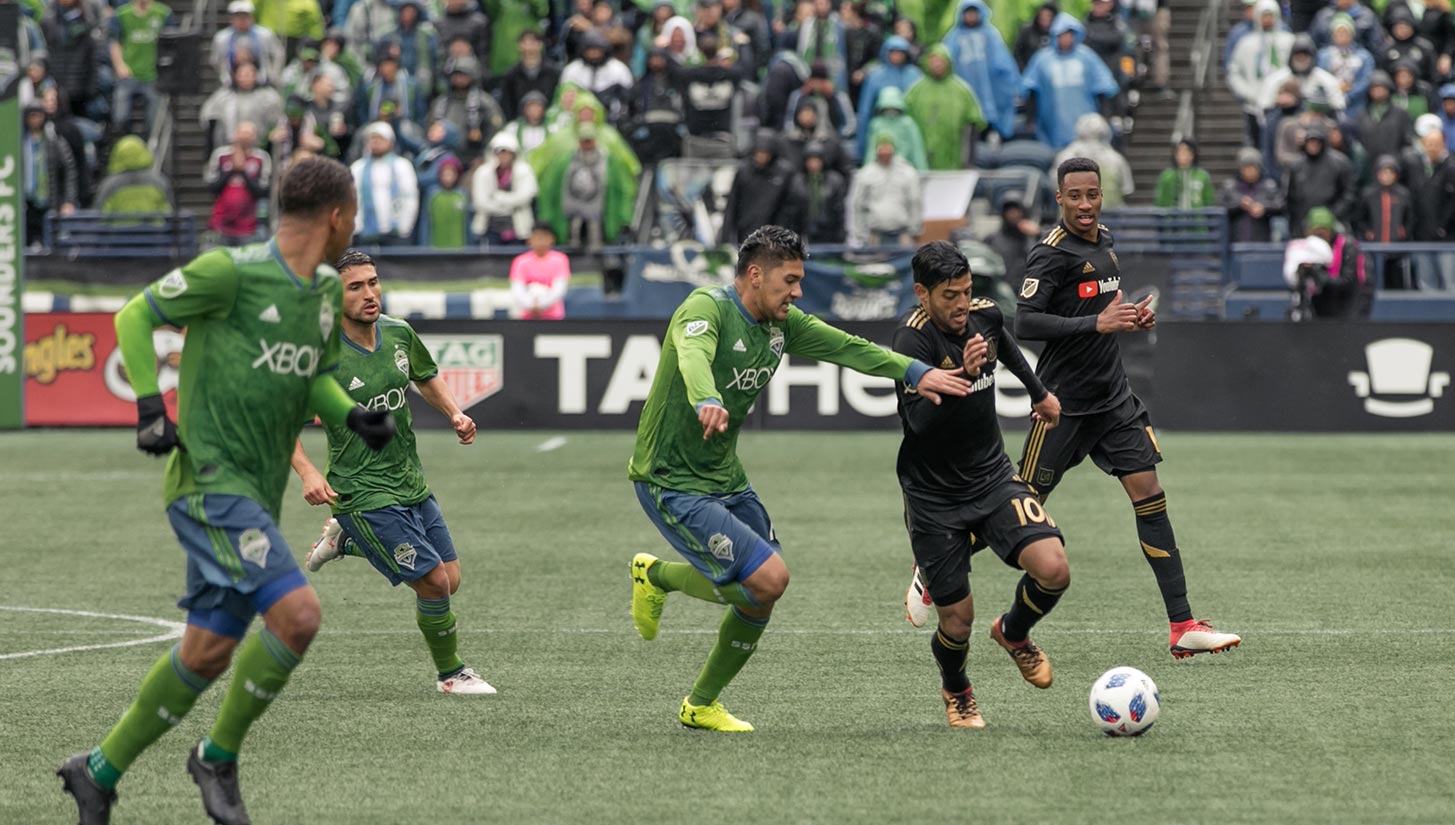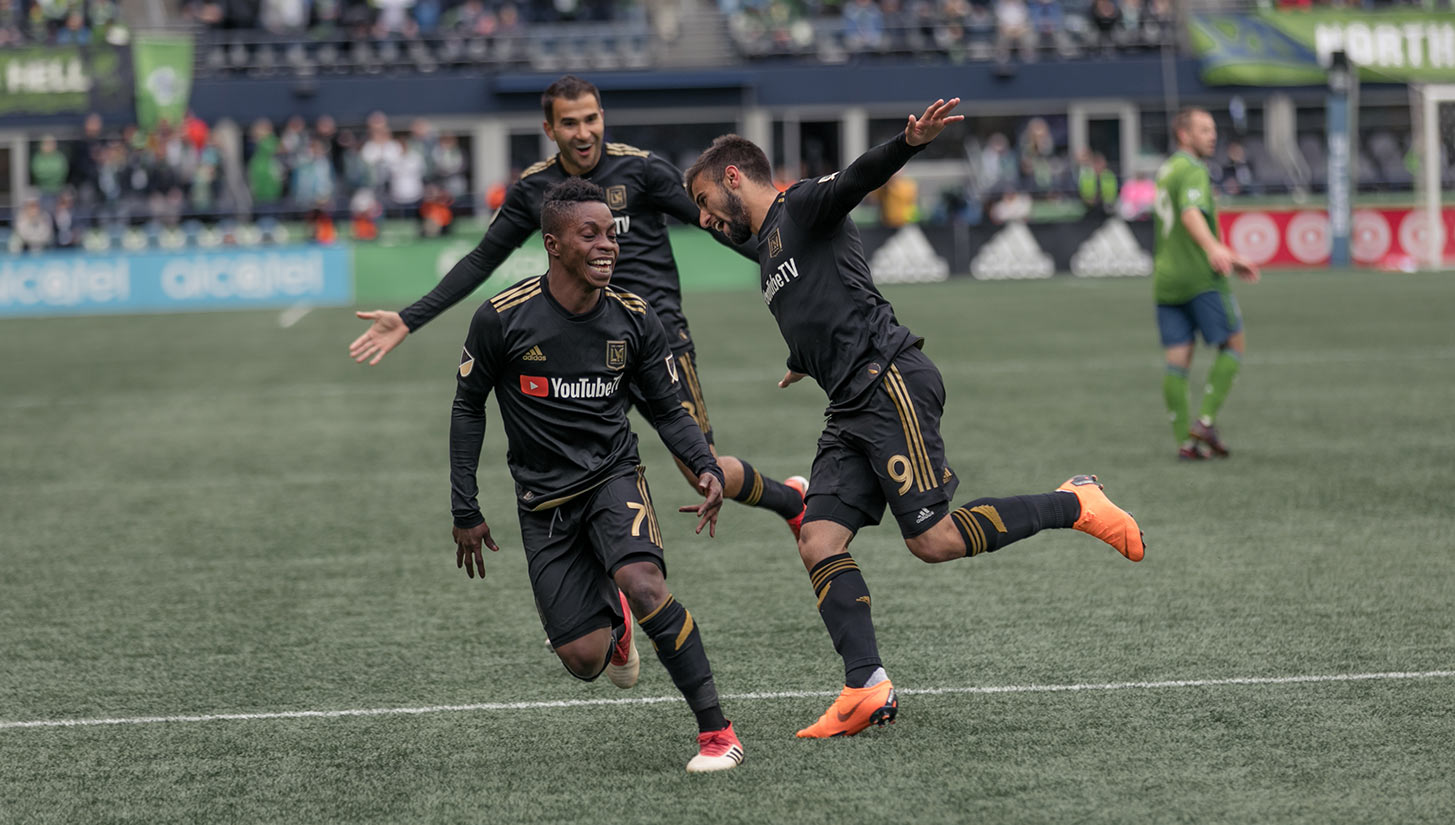 This has been a long time coming. What's it like to actually see an LAFC team on a pitch?
Alejandro: I think we are going to look back on it because of its historical context. It's our first game and we may not win, but we are here to support our team and celebrate history.
Cesar: It's amazing. I was a Chivas USA fan, and I know lot of us felt disappointed with that team. LAFC was announced shortly after Chivas disbanded, so it felt like they were going to try again with something new and this time do it right. I remember Chivas lost their last game, and it sucked. Then the next week they announced a new team. They didn't have the crest or colors, but it was something. Since then I've supported the team. I've been an LA soccer fan for a while, and all these years later I'm still here. It feels good.
Carlos: Especially that it's away, it feels great to travel to see them. We are going to kill it against the Seattle Sounders. I think it's a good test to start the league off.
Gary: It's exciting. Personally, I've been in LA nine months now, about the length of a pregnancy if you will. I believe we're about to give birth to a beautiful legacy. We're all a part of it, the fans and players. LAFC has a great fan base. In England we have huge support for soccer, and this feels like the closest thing to that here in the states. It's great to see.
What do you think about the new jerseys?
Alejandro: I think it fell a little bit short when compared with the incredible job the team has done marketing-wise. But I am happy to wear it proudly.
Cesar: I was a little disappointed because the ad logo is so close to the crest. You have to accept that there are going to be sponsors, but it's a little too big and red. I saw an early design where the YouTube logo was gold, and I thought that was better. I'm not super excited but I'll accept it. I love the colors and the crest though.
Carlos: I think they're sick. Black and gold are great colors. They were also my high school colors, so for me it's awesome. They look super good.
Gary: I like, like the top third of the jerseys. I think the YouTube logo could be a bit bigger you know, because can't quite you can't see it from England.
What has been the best and worst part about your stay in Seattle so far?
Alejandro: I've been to Seattle many times. The summers are usually best, but I'm just happy to be here this weekend. It was a great introduction to our love affair with LAFC.
Cesar: It's been amazing, and I want to come back to explore more of it. I feel like I've just gotten a peek of this city. Everyone has been super nice and helpful. But I'm cold! I've been freezing since I got here.
Carlos: I love the people, food, seeing tourist spots and walking around. It's also been cool to see everyone wearing LAFC gear. Everywhere we go we see LAFC!
Gary: It's been fun. I've been to a few breweries — the beer is not quite what I like — but it's a good city, a bit cold and grey, not unlike England. That's fine though, because that usually means you have a great pub atmosphere. Seattle's great, and the sports fans are lovely.
Photography by Imad Bolotok for LAFC.