Gearing up for the biggest American soccer match of the year, the American Outlaws USWNT World Cup final pregame party in Lyon, France was a jam-packed fest of food, drinks, and plenty of national pride. We were on the scene at the celebration to capture the attendees' thoughts on French cuisine, best World Cup moments, and the perfect presidential running mate for Megan Rapinoe. 
You might have heard by now, but the United States women's national team picked up their fourth World Cup title last weekend with a dominant 2-0 victory over the Netherlands. In the days since, the celebrations have been legendary — from Julie Ertz's air guitars to newly minted social media icon Ashlyn Harris' spyglass into the USWNT's post-cup bliss. (Seriously, if you're not following her by now WYD?)
But for now, let's flash it back to the final match day. After a series of closely contested victories over strong France and England squads, the U.S. were flying high into their championship match against the Netherlands, who as reigning European champs represented yet another difficult matchup. The excitement was reaching its zenith from a fan perspective as well, with countless American travelers setting Lyon — France's third-largest city — abuzz.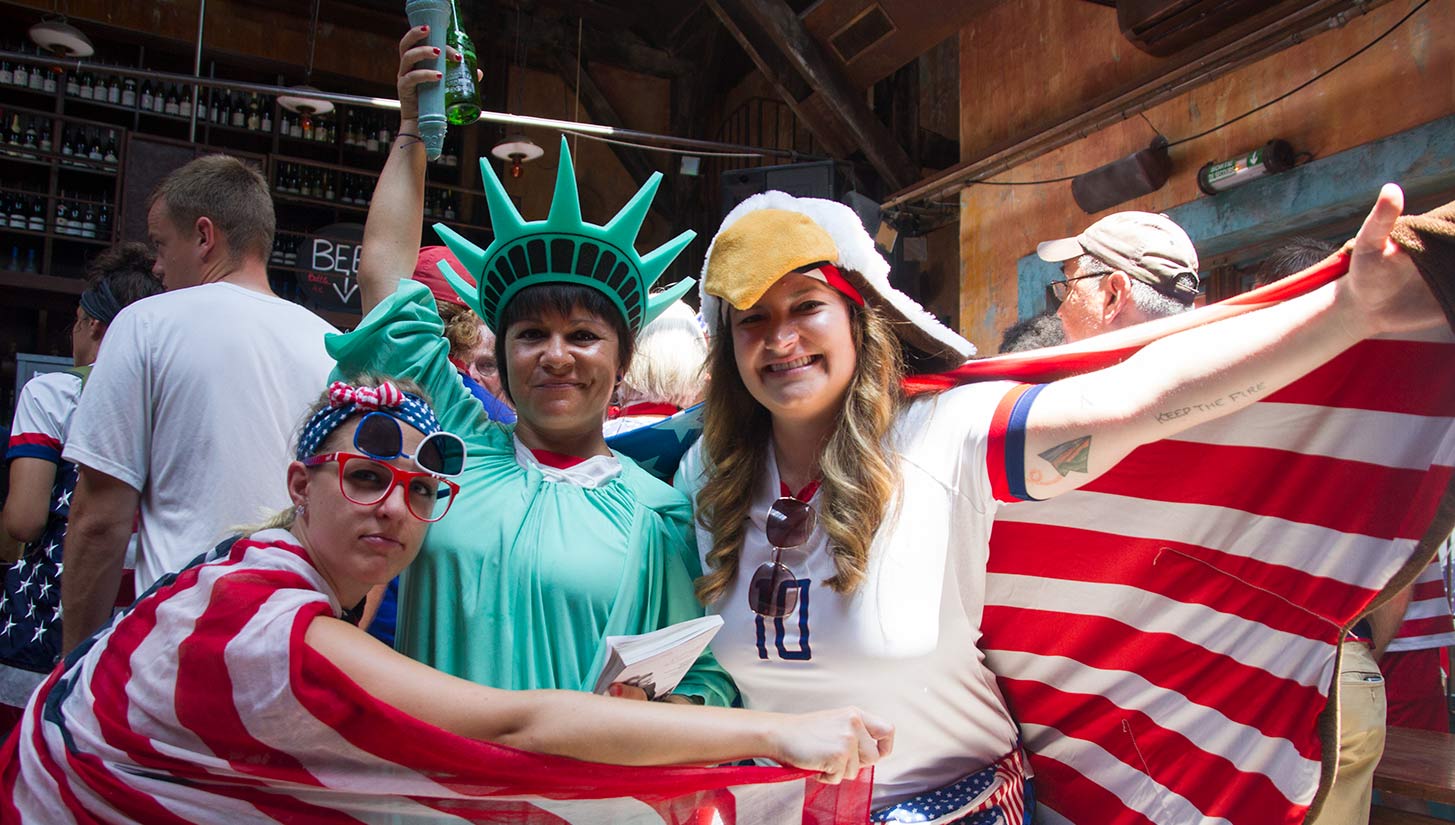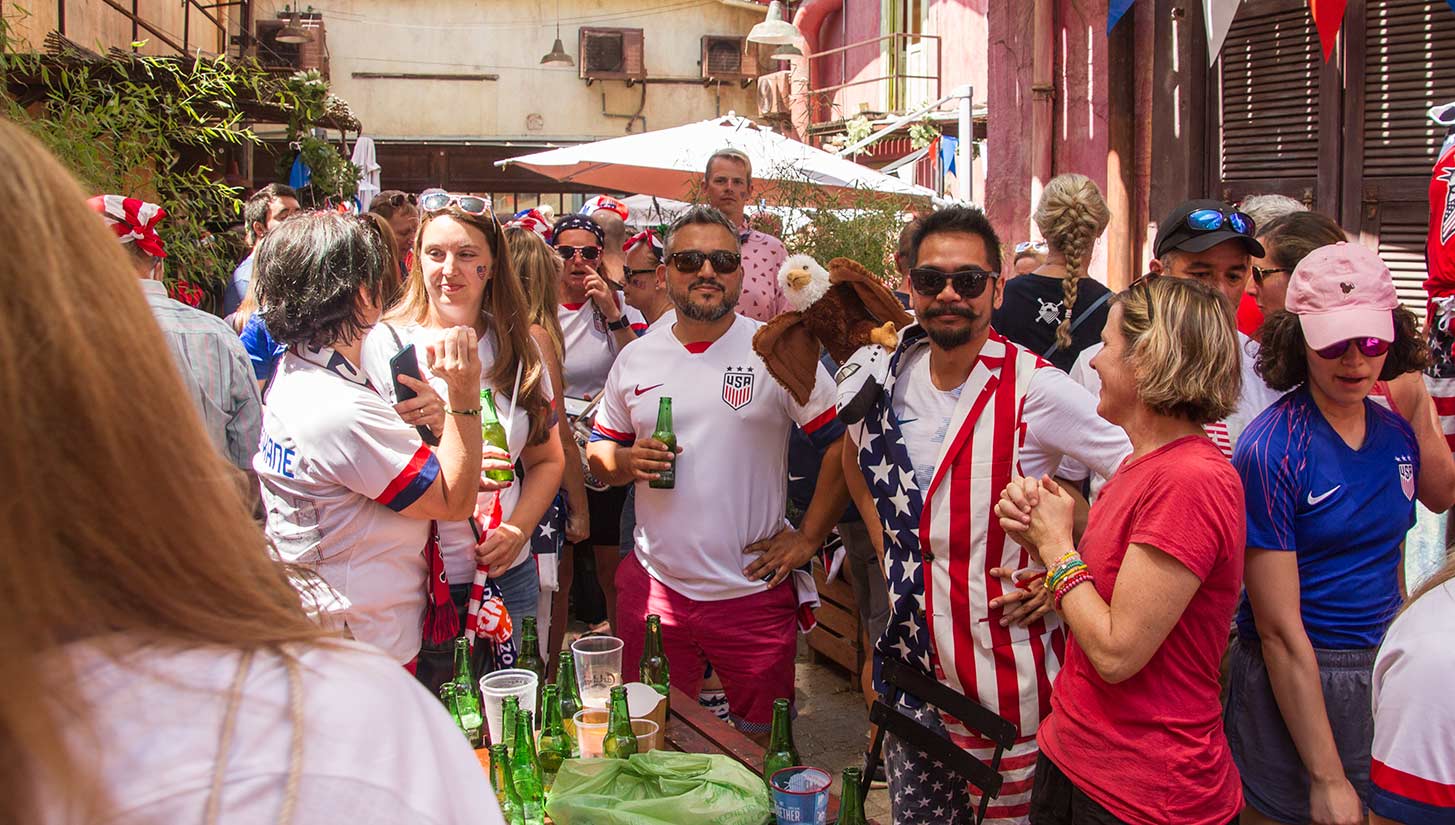 A walk down any of the city's meandering streets was met with at least one glimpse of a USWNT kit or American flag. The U.S. traveled well — but they weren't the only ones. My metro ride into town on the morning of the final was replete with Dutch supporters, and just like with the stars and stripes, any outing in Lyon was guaranteed to see at least one flash of orange.
Adding to the hype was the unmistakable presence of the American Outlaws, U.S. Soccer's official supporters' group. From the marches to the stadium in Paris to pre- and post-match celebrations, the Outlaws exponentially raised the energy that naturally comes with playing in the World Cup.
My metro ride stopped at the Lyon-Part Dieu train station, where a few blocks away the Outlaws were hosting their final pregame party at Le Diskret, a restaurant/bar/lounge that for the day, was packed to the brim with bald eagles, brash confidence, and the scent of freedom (or maybe it was spilled beer). I was able to catch up with some of the boisterous fans in attendance, getting their thoughts on the World Cup so far, the best food they've had in France, and how they would celebrate the eventual USWNT victory.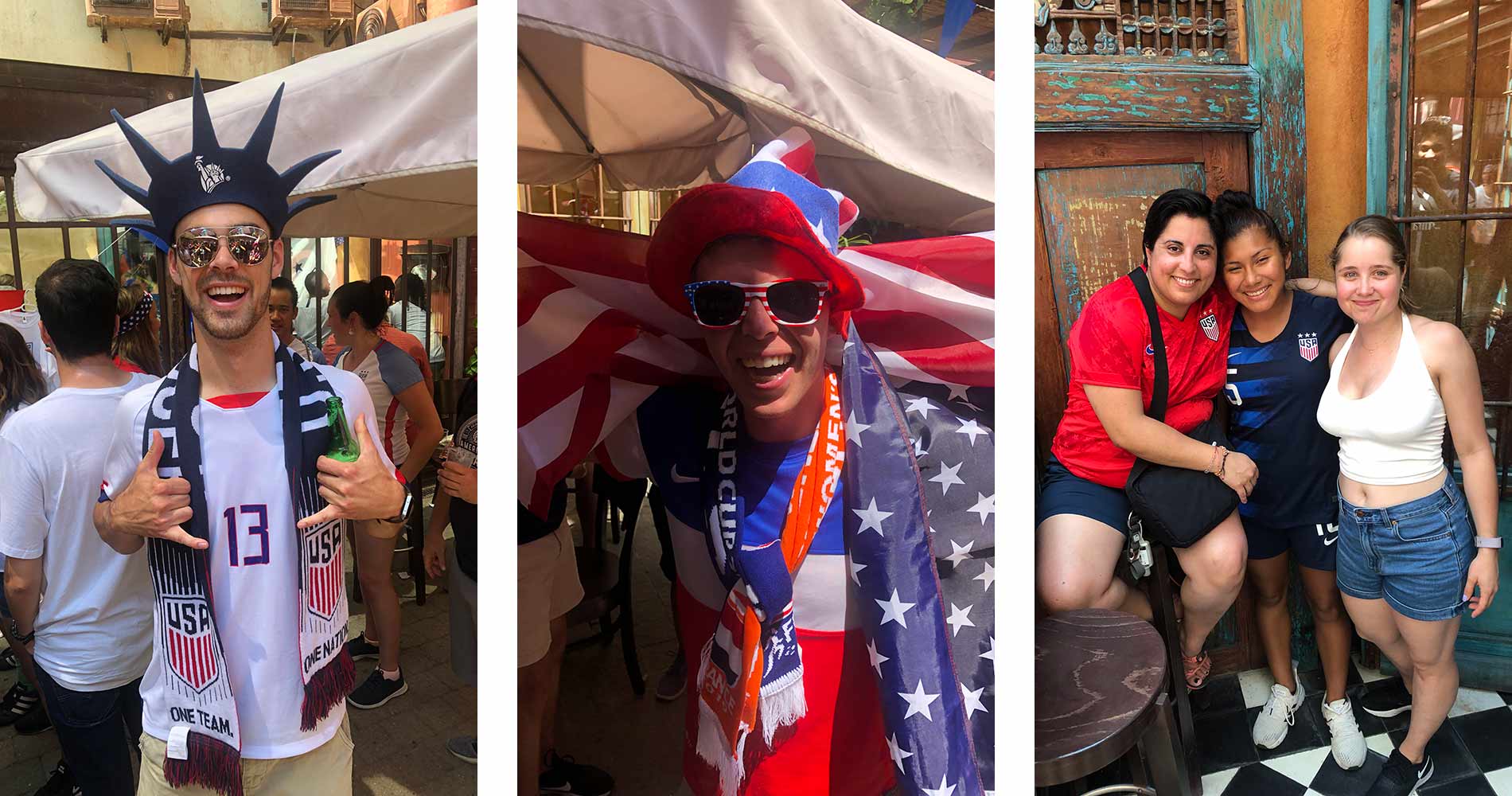 Urban Pitch: Let's start with the important things first — what are the three best things you've eaten in France?
Clayton Conness: Well, a W on Tuesday (licks fingers a la Jameis Winston), a W tonight, and probably a W when we ride the bulls in Pampelona next week.
Ryan Peraino: So actual food, not W's — we keep getting these kebab sandwiches, it's essentially like a Philly cheesesteak. There's also tacos, which are really burritos, and I'd say that's pretty much all we've eaten. We just keep going to more and more kebab and taco places. We did have crepes too — they were good, but they were no kebabs.
Francis Canedaeo: Ice cream, octopus, and fruit. Better than anything, the fruit has been wonderful.
Wilson Baer: I love escargots — I know it's not a thing a lot of other people enjoy, but I'm a fan of them and always love a chance to have them. Other than that, any sort of pastry I can get my hands on.
Carly Wender: Definitely the croissants and the eclairs, and then the wine has been pretty good too.
Lianne King: Baguettes, croissants, and ice cream.
Tito Duran: I had some great macarons, some great salmon, and we went to a nice restaurant that had a chocolate tart that was really good.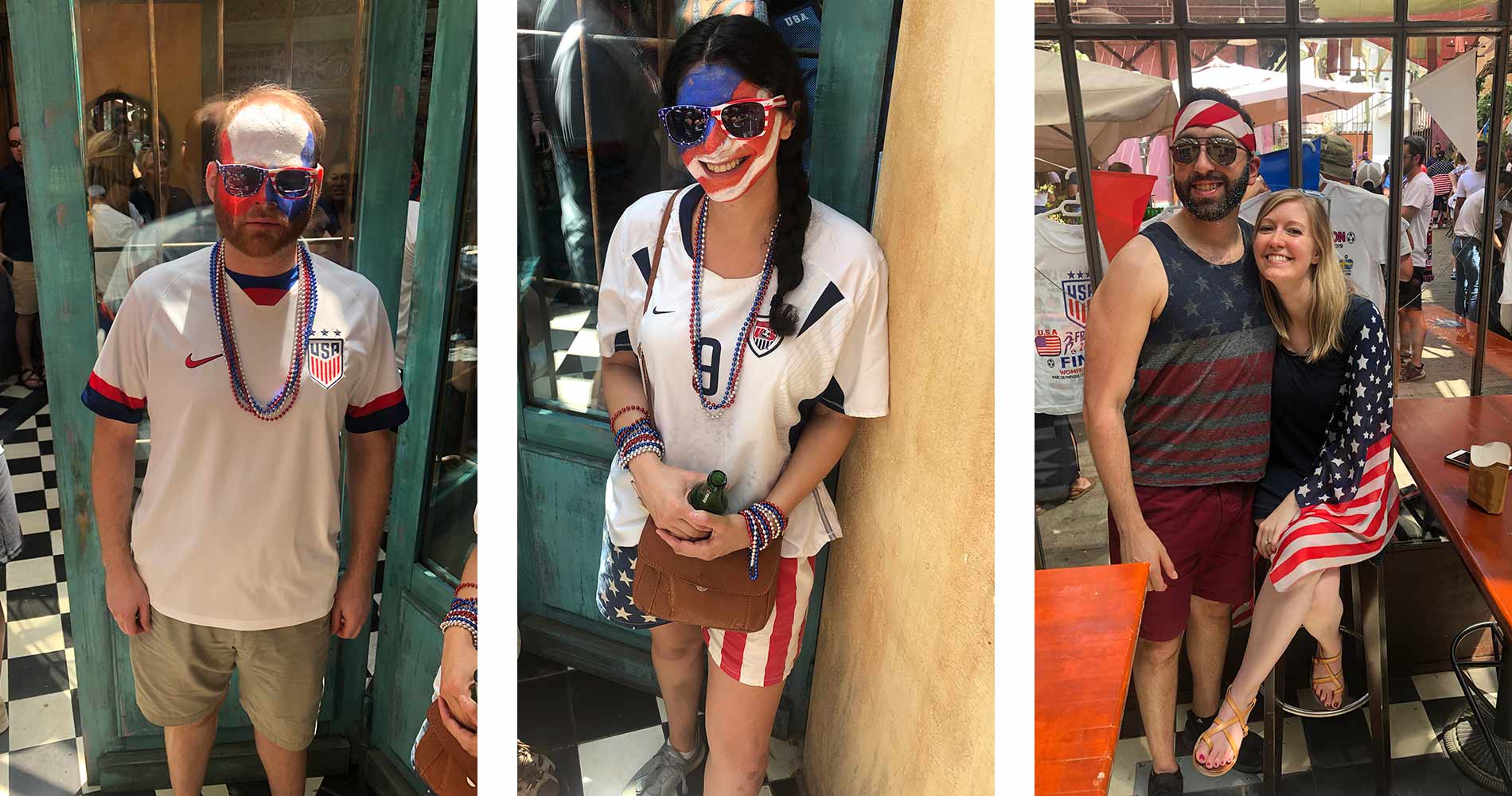 What's your favorite World Cup moment so far?
Clayton: Probably the save on the penalty kick. You couldn't see the replays in the stadium, so from my initial viewpoint I thought the penalty was a really soft call and I was shocked that they overturned it. I had friends texting me that were watching from the States saying that there was no contact or anything. But looking back after the game and watching the replay I thought it was totally the right call for a PK. But that save in the 82nd or 83rd minute — I was so stoked.
Ryan: It has to be the PK save. If you're talking about wave of emotions, you go from 2-1 we're up, we got this, we're winning and going to the final. But then to go back to, oh crap, they just got a PK, now there's a chance we can lose. Then Alyssa Naher makes the save — the roller coaster of emotions right there gave me actual goosebumps.
Francis: Just being here with all of these people, it's been great. I haven't been to any of the games yet, I just came for the final. I was at the final four years ago in Vancouver. The finals are my tradition.
Wilson: I think the game against France, just the environment there, was so intense. We were very much outnumbered by French fans, but being surrounded by them singing their national anthem was such an incredible experience.
Carly: The France game was pretty great, and so was the England game because there were more U.S. fans. Just seeing us all together rallying behind the team was pretty awesome.
Lianne: This is it! We haven't been to any other games, but we watched them all.
Tito: The Alyssa Naher save. We were in Paris watching it in a bar with a bunch of other Americans, so that was really cool. She's been under a lot of criticism, but she made the big save and pushed us through. She really came through in that match.
Knowing what you know now, what's one thing you wish you had packed on your trip?
Clayton: A little thing of shampoo. I was in Wales before this doing some backpacking in some national parks there. I had a bar of soap, and I've been using that to clean my hair all week long. But other than that, I travel all the time, so this is second nature for me.
Ryan: A watch. I completely forgot a watch at home, so I have to pull my phone out all the time. It's not a great answer but it's the truth (laughs).
Francis: More American flags! Can't go wrong with more of those.
Wilson: I don't really have shorts that align with the U.S., so I'm kind of stuck with these green shorts I'm wearing. I wish I could have brought some sort of stars-and-striped shorts.
Carly: A mini air conditioner. This heat is ridiculous, and they don't believe in A/C here, it's been crazy.
Lianne: Hairspray so we could keep all of this glitter in place after we applied it! (Points to Tito's beard.) 
Tito: We didn't pack enough toothpaste, so we had to go on a journey to find some.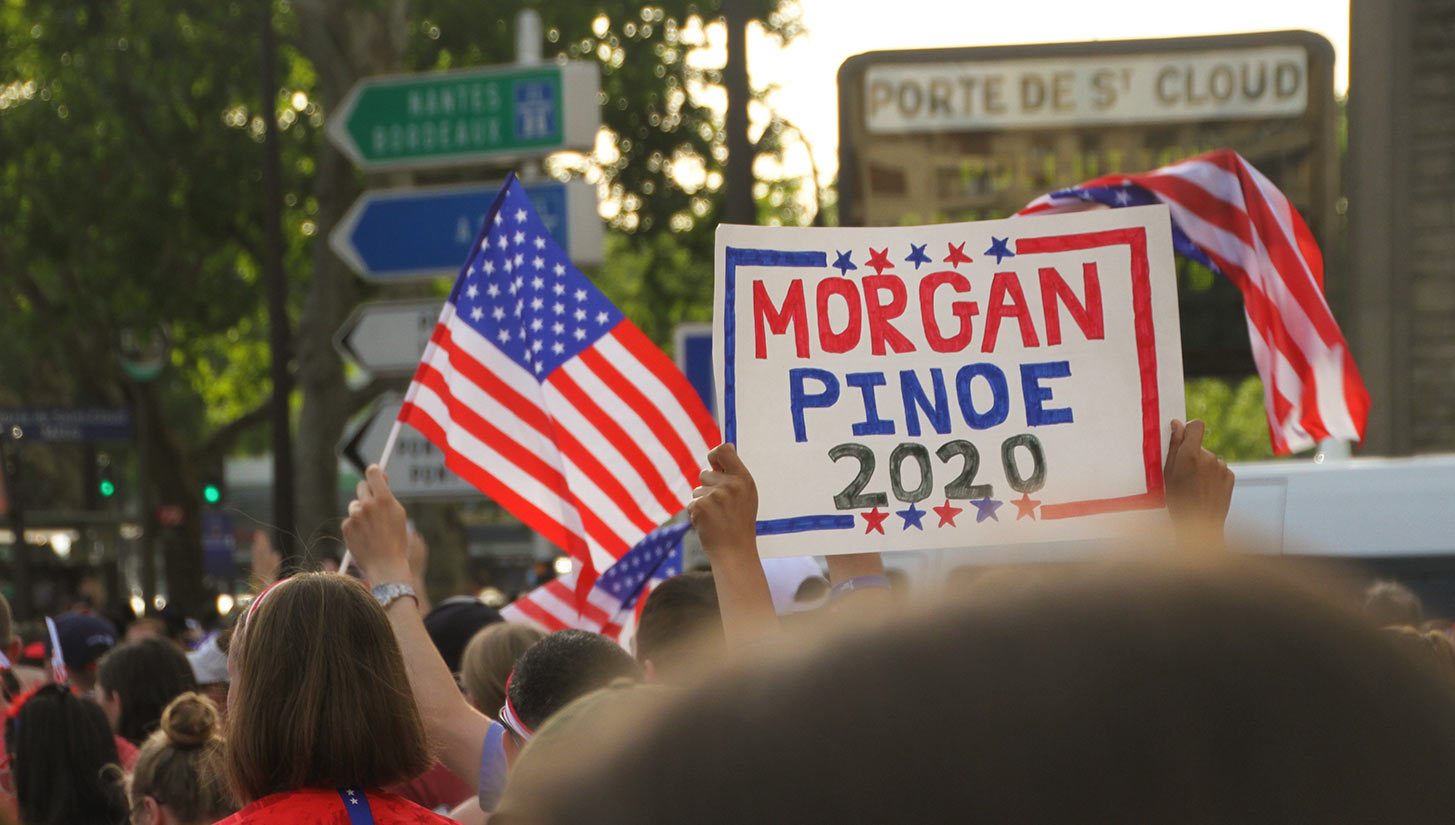 Throughout the entire tournament, there's been a lot of talk surrounding Megan Rapinoe, and especially after her comments about Donald Trump and the White House, many are calling for her to run for president. If you could pick the perfect running mate for her, who would it be? 
Clayton: I don't know, maybe her partner Sue Bird would be good. I really hope that during my lifetime I get to see a gay, Atheist president. That's what I want. Every president gets up there like, "Under God," and I'm like, no way. Let's get some diversity and mix it up.
Ryan: I'm going to go with Rose Lavelle. For any forward to be successful you need a good midfielder. Rose Lavelle is that attacking mid that will play that perfect ball for her.
Francis: Megan Rapinoe is my wife! Her running mate would be Carli Lloyd, because she's amaze-balls.
Wilson: I love Megan Rapinoe. I don't know if she's quite qualified to be president, but I could see her as a good running mate for perhaps a Liz Warren rather than the other way around.
Carly: I think she would need a well-renowned male athlete in there to balance her out and get all the other voters, so maybe like Derek Jeter or someone who's beloved like that.
Lianne: I don't know that's a good one — maybe Kamala Harris. I think they'd make a good team.
Tito: Lil Nas X. He's in Europe right now and he's huge. He's international, diverse, at the top of the country charts, and breaking down barriers left and right.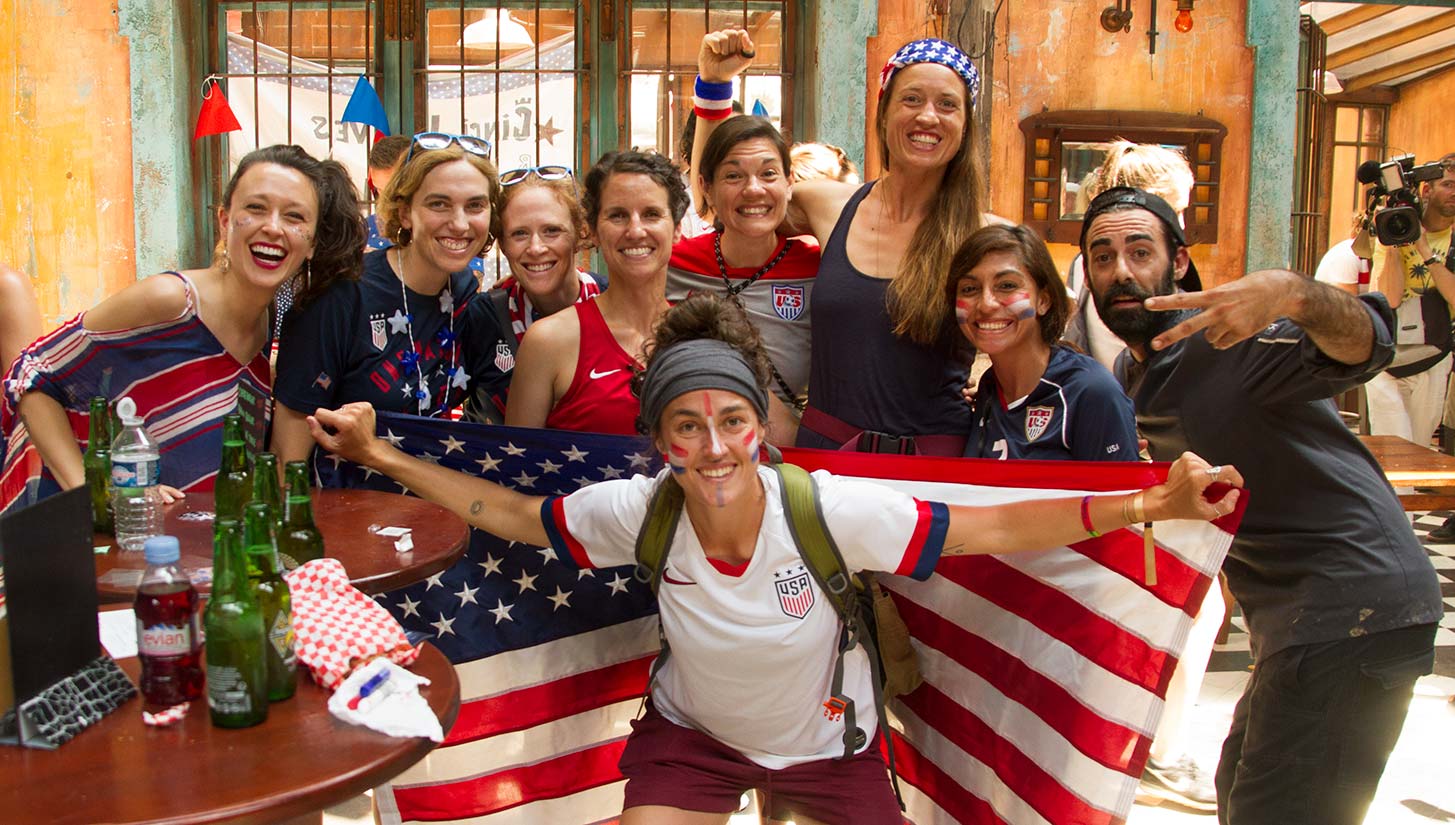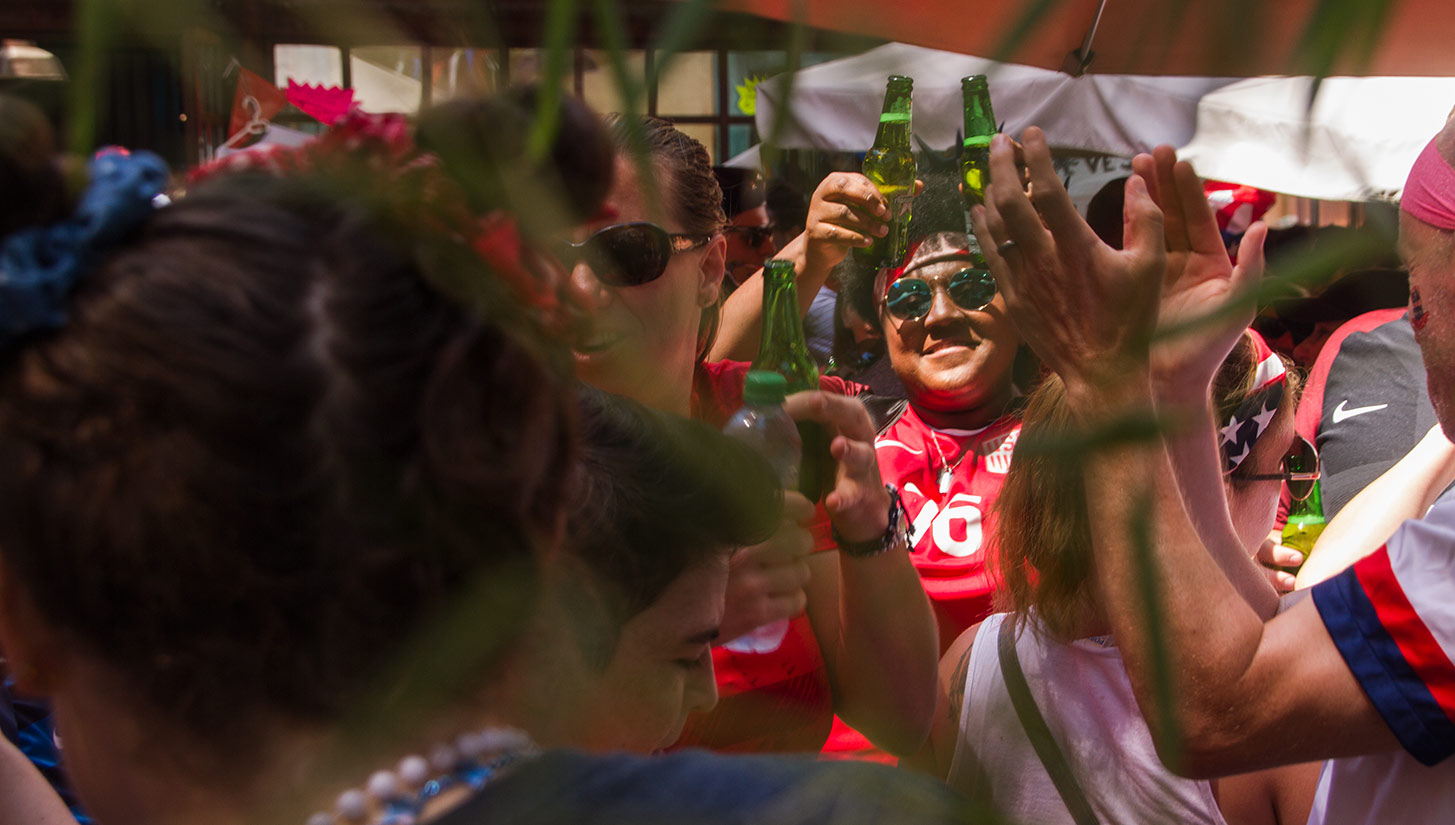 How are you going to celebrate if the U.S. pull the victory off, and how long will the celebration last?
Clayton: Well this guy's getting laid if they win tonight (points to Ryan). We met some French girls the other night and we're all going out tonight. My hope is that for this guy's sake, we get a big W tonight, go out to the bars drinking, do a lot of dancing, this guy goes to get some fornication out of his system, and we meet up at the airport for our 7 a.m. flight to Biarritz.
Ryan: I'm not going to answer like he did (laughs). Drinking and dancing. We're going to eat a lot of W's, I'm really confident about that and I'm so excited.
Francis: The celebration is going to be chanting very loudly and being happy with my nieces. It's going to last about five days, until we get back to the U.S., where it'll be another week-long celebration.
Wilson: I'll probably be riding that for the next four years. As for the specifics, we'll just have to see about that. Probably won't be going to Disney World though.
Carly: It's going to last right up until the Olympics, where it's going to start all over again. And I think we'll go out to dinner and have some champagne — real champagne — and then maybe find the Outlaws and grab a drink with them. The real party starts when we get back to New York though.
Lianne: We'll probably follow the crowd, see what everybody else is getting into. And it'll last until we fall asleep at the table I guess!
Tito: Yeah — I'll probably drink anywhere from six to eight light beers and see what happens from there (laughs).