Perhaps the most underrated destination in Italy, we get a glimpse of Genoa and the two clubs that call it home: UC Sampdoria and Genoa CFC.
It's approaching midday on a damp spring morning and I'm café-hopping in Genoa's historical center. I've spent the last few hours upping my caffeine intake, downing one espresso after another as I desperately attempt to combat the effects of a red-eye flight. My strategy has limited success, but as I stumble around one of the oldest cities in the world, a nagging question manages to worm its way into my sleep-deprived brain: Why have I never been here before?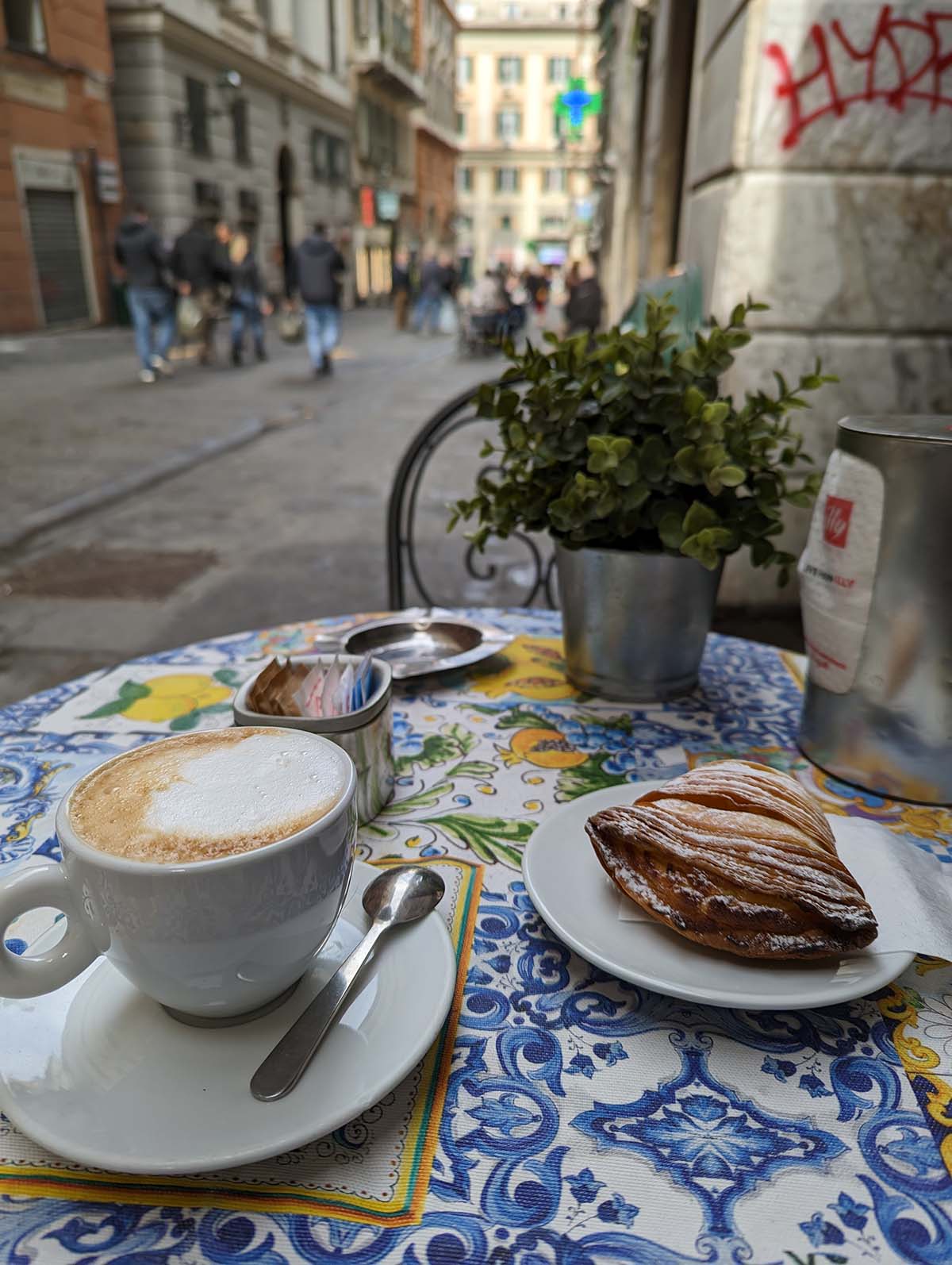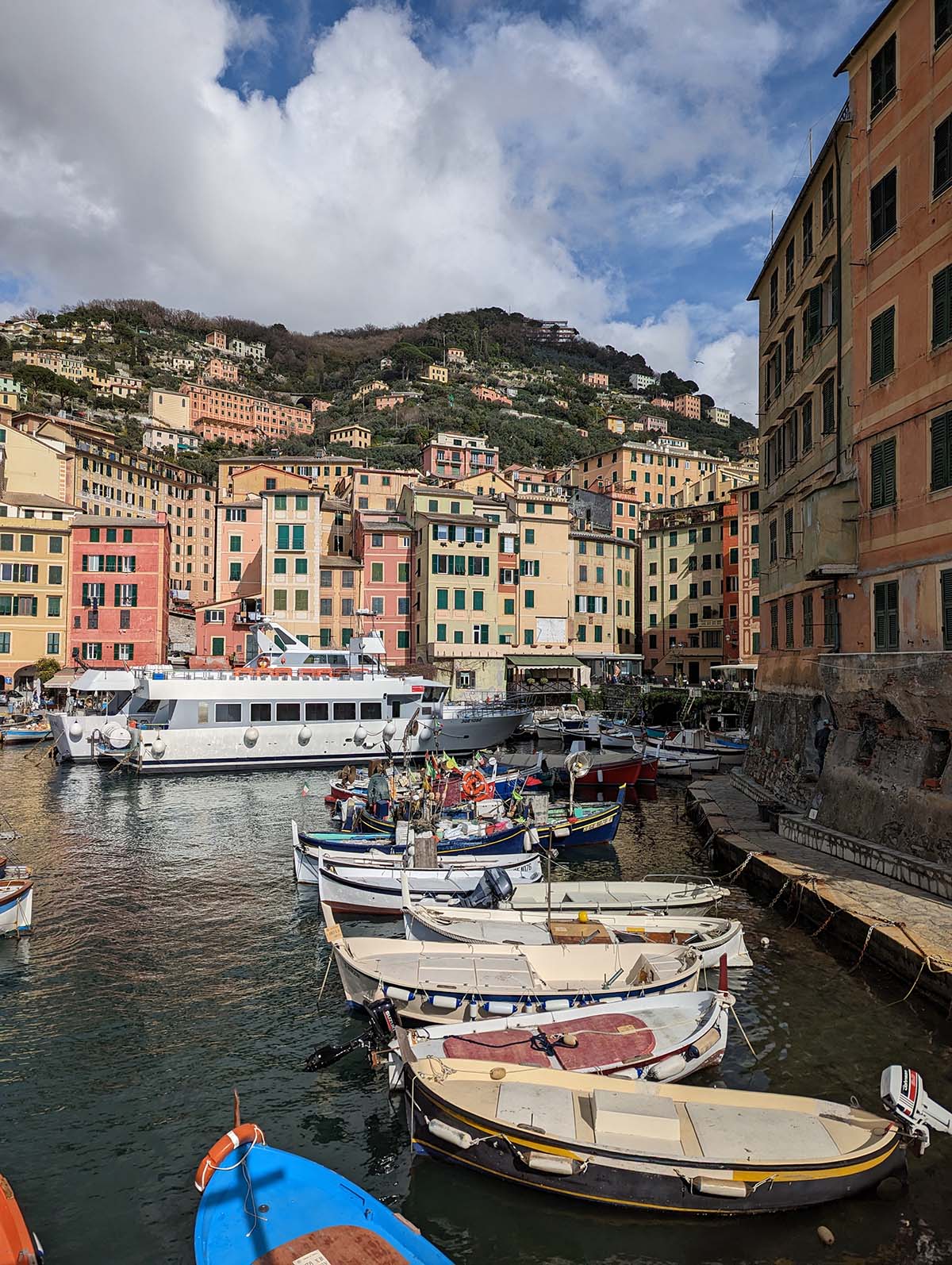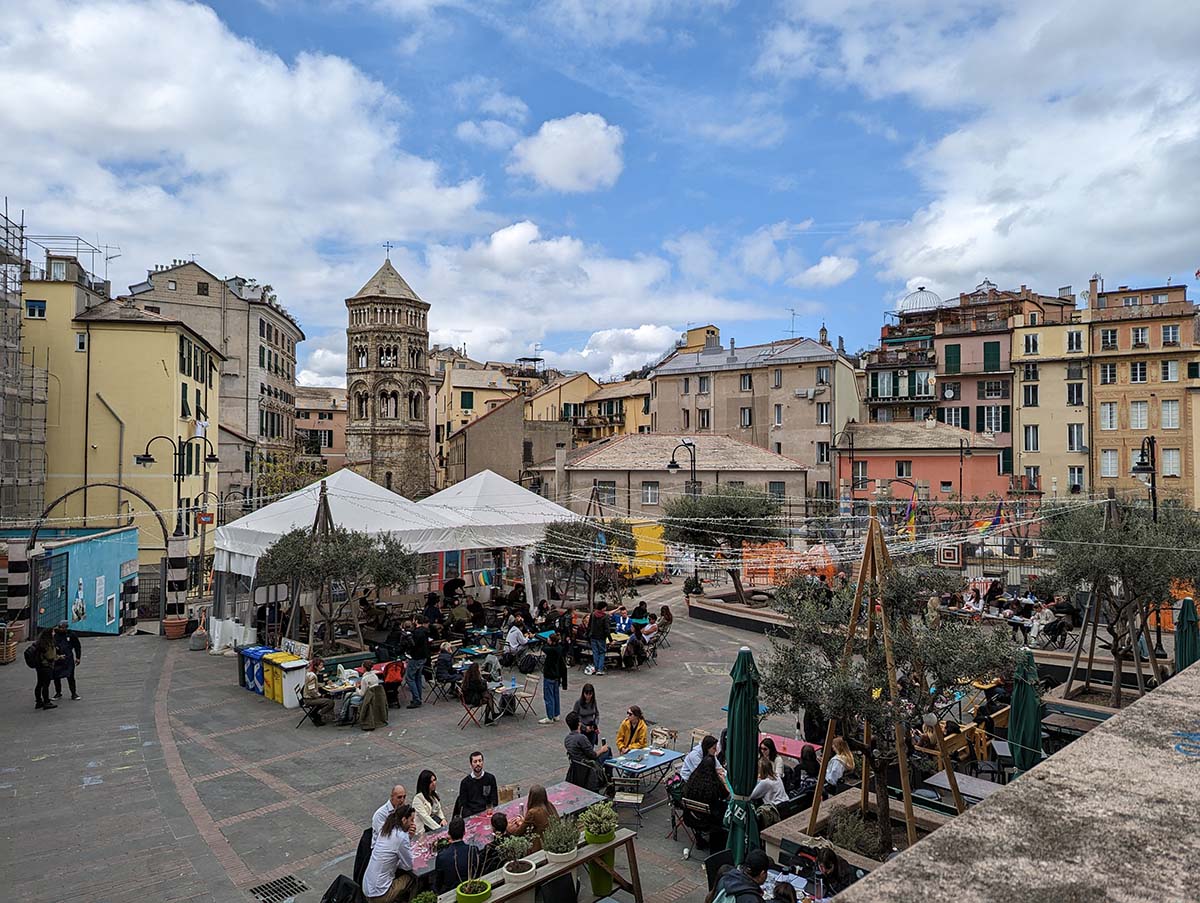 We think we know Italy, don't we? For whatever reason, most of us have a clear image in our minds of what Italy is like and what a trip to the peninsula should entail. Pizza. Pasta. Wine. Gelato. Vespas. The imposing Coliseum and the idyllic Amalfi Coast. All those things are great and are perfectly valid reasons to visit Italy, but they give just a small flavor of a beautifully diverse and chaotic country.
Away from the Italian cliche, Genoa never seems to make it into the conversation. Admittedly, had I not found a one-way flight ticket for £16 then it wouldn't have entered this one either.
Genoa has the history and beauty to match Europe's most famous cities, which makes it baffling that nobody seems to want to come here. It has been one of the Mediterranean's most important ports for over 2,000 years, and it's one of oldest continually inhabited cities on Earth, which helps to explain why gloomy, winding alleyways lead to grand renaissance palaces, and why there's a distinctly chaotic feel to the place that you don't get in Milan or other Northern cities.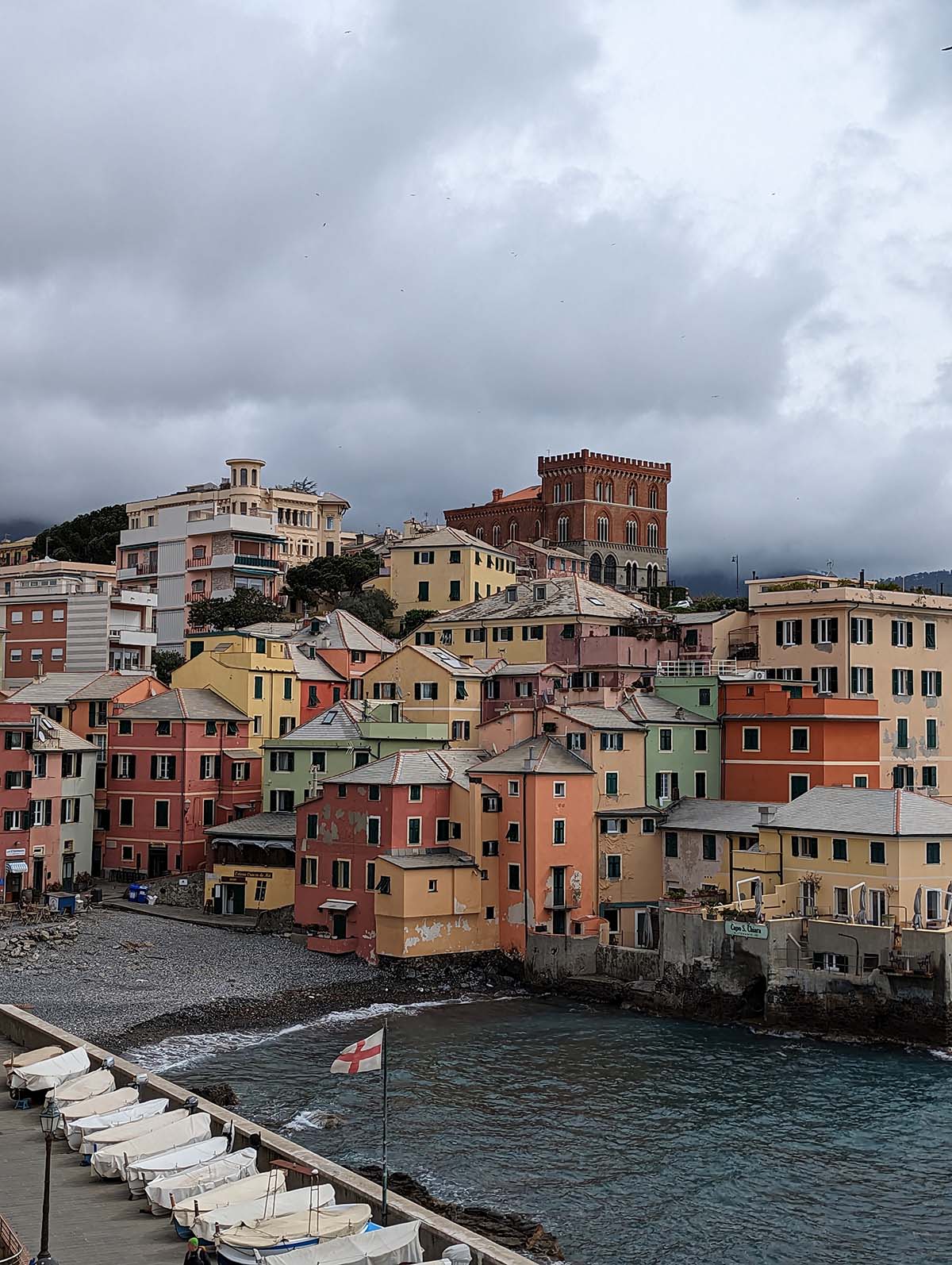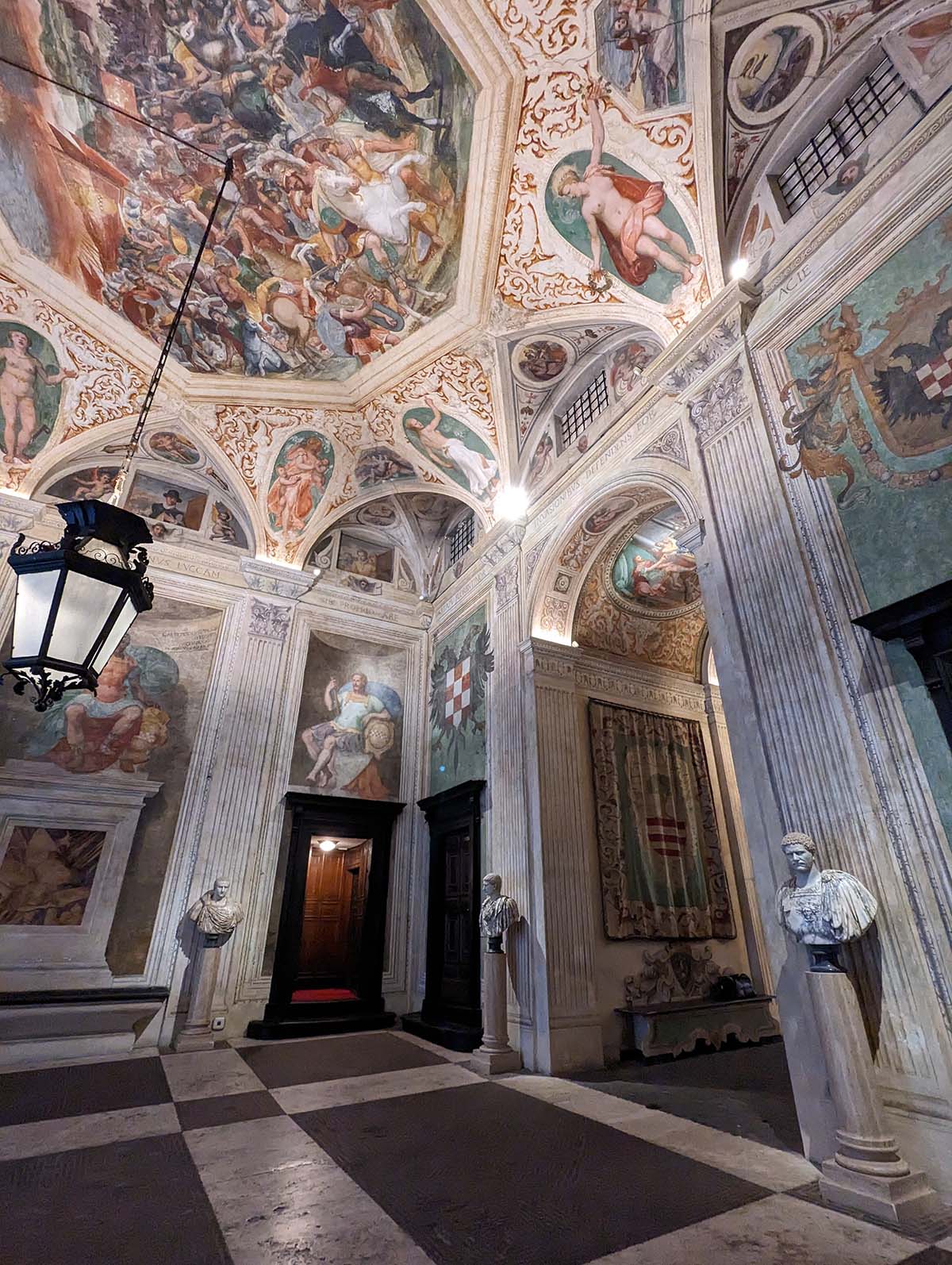 The historical center, to the untrained eye, resembles other old Italian cities, until its creep up the hill from the docks is halted by the Strade Nuove. Built by the Genoese aristocracy during the height of the Republic of Genoa in the 16th and 17th centuries, the UNESCO World Heritage Site is a collection of streets jam-packed with late-Renaissance palaces, baroque architecture, and museums full of priceless artwork. The main palaces along the Via Giuseppe Garibaldi, once inhabited by the five ruling families of Genoa, are now museums, although one is now bizarrely a branch of Deutsche Bank. Shielding my PIN from a watchful marble cherub is not something I've ever experienced at my local Halifax.
Below the grandeur of the Strade Nuove is what locals call the carruggi, a labyrinth of dark and twisting alleyways hiding shops and bars hemmed in by residential buildings. For centuries, the neighborhood was a hotbed of disorder, with sailors drawn to the abundant watering holes and brothels. Even today, you can channel your vices in the more secluded streets.
Genoa is a city that's seen it all, something which can also be said of its two major football clubs. Genoa CFC and UC Sampdoria have both experienced the dizziest highs that football has to offer, but for much of their histories, it's been the crushing lows that fans have become accustomed to.
Genoa played a pivotal role in the uptake of football in Italy, and is the oldest Italian team still active. Founded in 1893 as Genoa Cricket and Athletic Club by English sailors, a few years later football became the club's primary sport thanks to English doctor James Richardson Spensley (not he of Football Italia fame). The English heritage of the club is still felt today, although the appearance of the St. George's cross on the club badge is unrelated. St. George was the patron saint of the old Republic of Genoa, and the flag was in use long before England adopted it.
Neighbors Sampdoria were founded some five decades later in 1946, following a merger of local teams Sampierdarenese and Andre Doria. Despite arriving late to the party, Il Doria are arguably better known than their older sibling outside of Italy thanks to an iconic kit and a Gianluca Vialli and Roberto Mancini-inspired Scudetto triumph in 1991.
The relative recency of that success has helped too.
Genoa are the fourth-most successful team in Italian football history with nine league titles, although the last of those came in 1924. Samp came agonizingly close to winning the European Cup in 1992, losing 1-0 to Barcelona in the final at Wembley, while the Coppa Italia they won in 1994 was the last trophy that made its home in Genoa.
Last season, half of the shared Stadio Luigi Ferraris rejoiced while the other half mourned. Genoa, playing in Serie B for the first time since 2007, secured a return to the top flight under the guidance of former Italy striker Alberto Gilardino. Meanwhile, Sampdoria passed them on the way down after finishing rock bottom of Serie A with just 19 points from 38 games.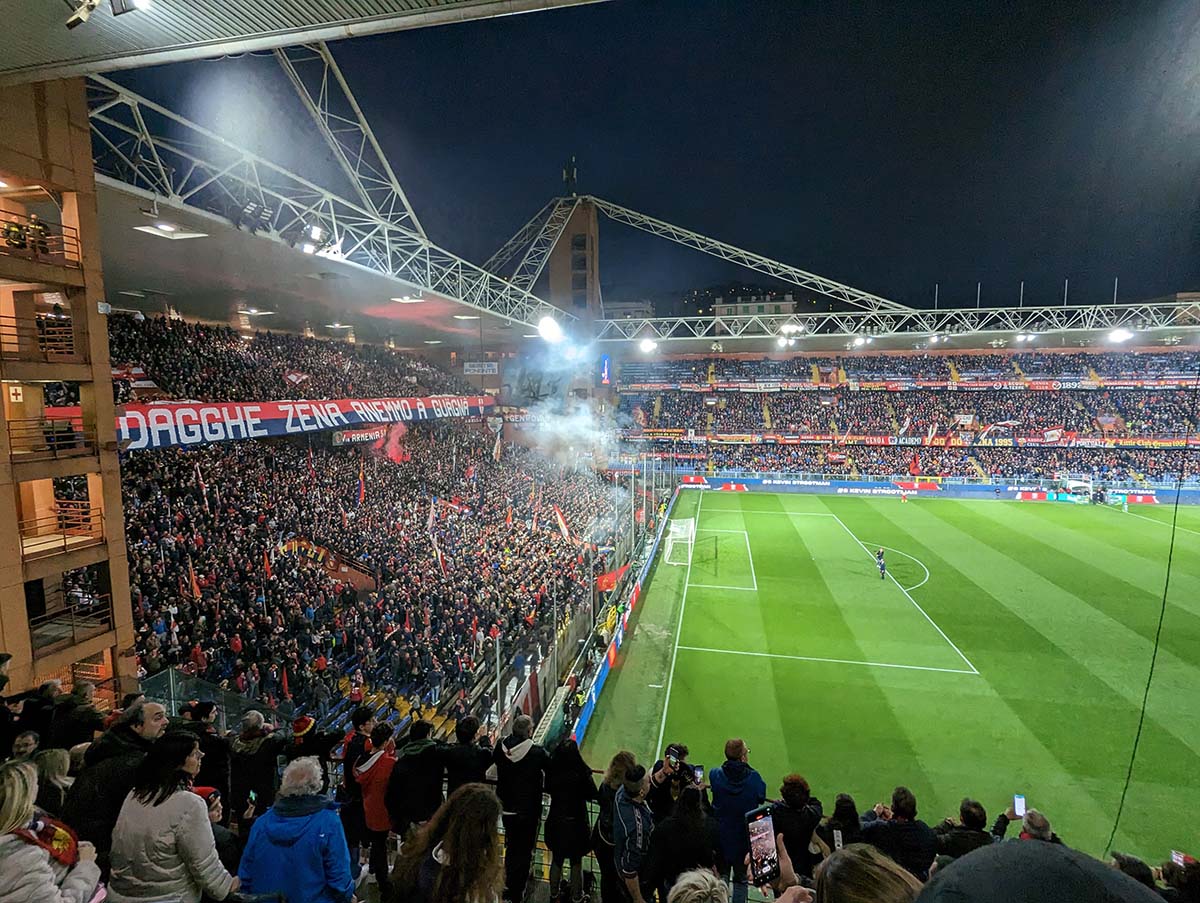 While Genoa's resurgence wasn't entirely a surprise – early on in the season supporters adopted the #onlyoneyear hashtag in reference to their promotion aspirations – their exploits created a feeling of optimism and excitement rarely witnessed at the Stadio Luigi Ferraris in recent years. That was evident when I was in town for promotion-chasing Genoa's home match against Reggina in late March.
I didn't think my trip to Genoa could get much better. I'd spent three days losing myself in labyrinthian streets, my jaw dropping with each architectural delight I stumbled across. I'd caught the train to Camogli, an idyllic seaside town whose multicolored houses and staggering views make it hard to believe you're not seeing life through an Instagram filter. I'd made an admirable dent in my book-it list of local cuisine — fresh pesto, cuttlefish and peas, freshly caught calamari, Ligurian rabbit, tripe stew, focaccia. But then I saw the Gradinata Nord.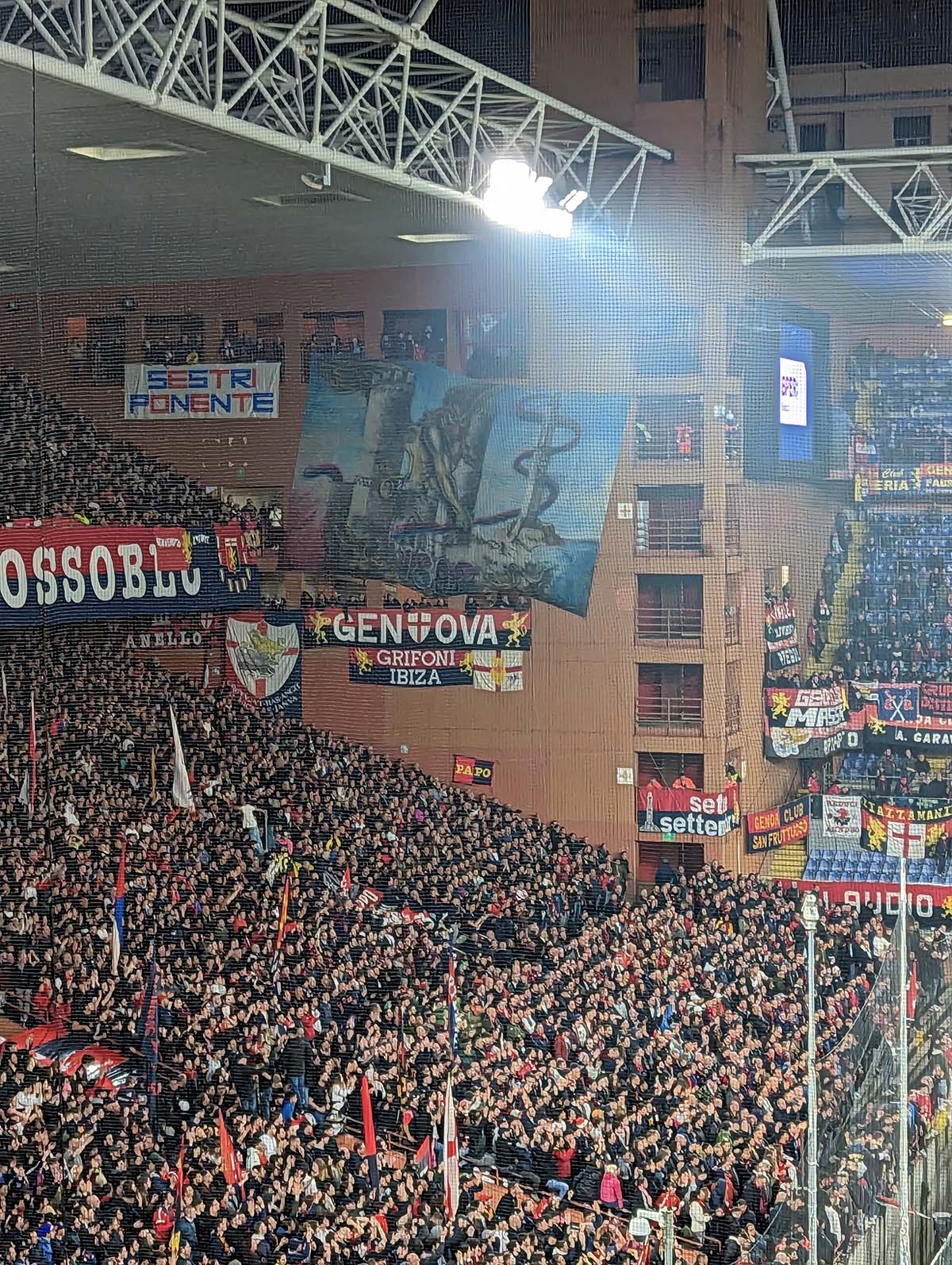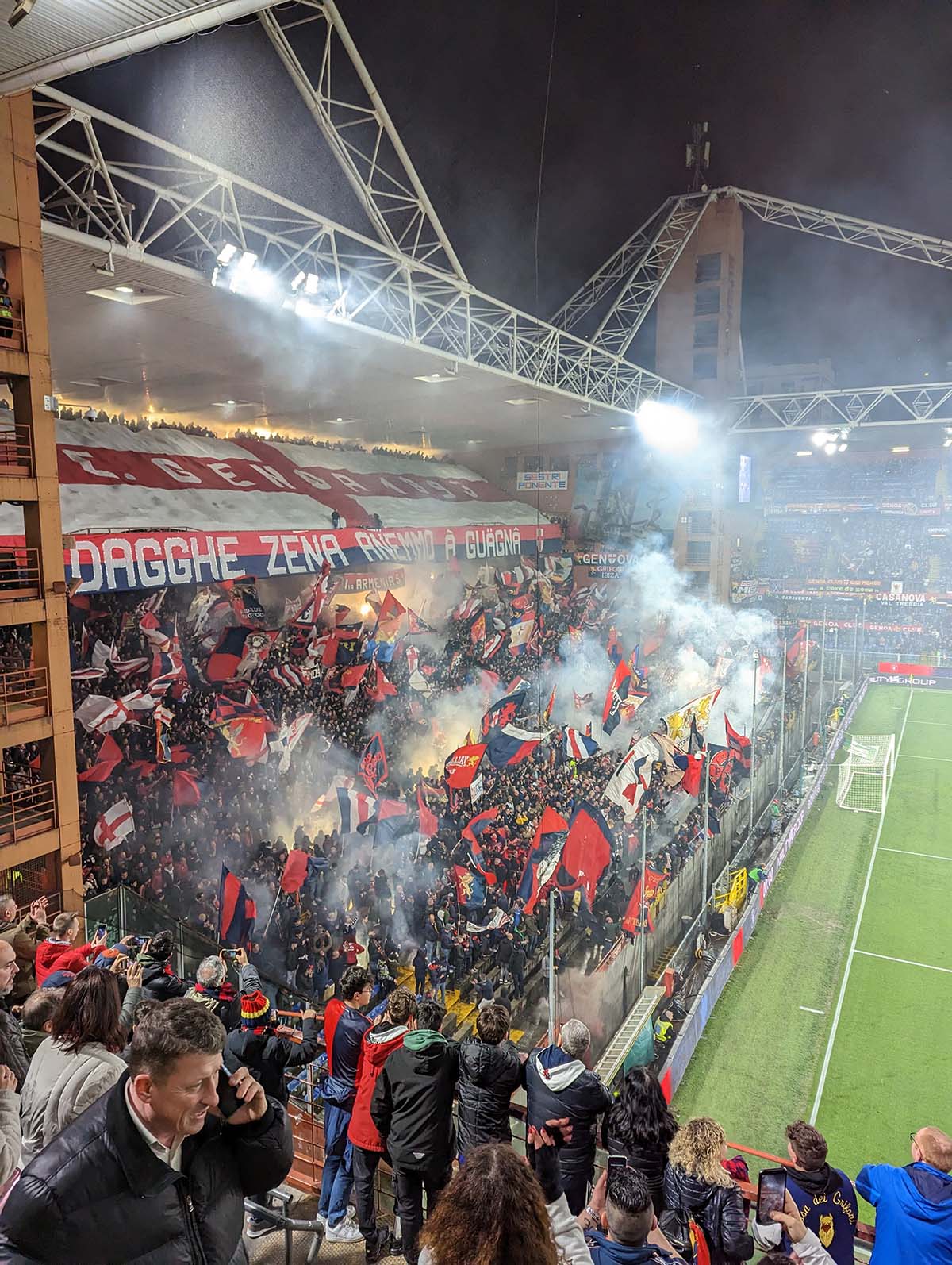 Well, I heard it first. The iconic turret-like stairwells in each corner of the Luigi Ferraris vibrated with each drum beat, each explosion, each clap, and each syllable that bellowed out from Genoa's most vocal fans. When I reached my seat above them, I spent a good 10 minutes watching the scene unfold, thousands of arms raised above heads, hundreds of flags waving to create a moving sea of blue and red.
When eventually I remembered to snap a few photos, there was still 45 minutes until kick-off. Just before the teams came out there was a rendition of "You'll Never Walk Alone" that would give Liverpool fans a run for their money. More flags, more pyro and more deafeningly loud explosions. With the rectangular shape of the stadium — as opposed to the classic Italian bowl — putting fans right on top of the action, you'd do well to find a better atmosphere anywhere in Italy.
Veteran journeyman striker Massimo Coda, back in the side after a month-long injury layoff, scored the game's only goal just before halftime, sparking wild celebrations as the promotion dream edged just that little bit closer. Genoa spurned several chances to wrap up the points in the second half, and inevitably the visitors threatened to punish them. Finally, the referee put the home fans out of their misery and Genoa had earned three huge points against a promotion rival. My ears ringing, I set off on the 30-minute walk back to the city center, weaving through the throngs of revellers and swarms of scooters.
Under the management of Gilardino, the future certainly looks bright for Genoa. The former striker only took charge in December when he was promoted from the Primavera side, but the way he was able to harmonize a squad containing youth and experience — former Netherlands midfielder Kevin Strootman was key — was impressive. According to Fabrizio Cardone, co-host of La Lanterna Podcast, Gila could be Italy's next coaching success story.
"He's been the true surprise of Serie B," Cardone tells me. "He's a mastermind of tactical solutions, which many have started to compare to [Atalanta coach Gian Piero] Gasperini at the start of his career at Genoa. Both promoted Genoa to Serie A."
But as often is the case in Italian football, off-field issues are threatening to bring everything tumbling down.
Much has been made of Sampdoria's ownership issues, with the club in a state of flux since the arrest of club president Massimo Ferrero on financial charges in 2021.
Despite Genoa's promotion, a calm surface belies a vicious undercurrent. United States-based private investment firm 777 Partners bought the club in 2021, and by all accounts have done a decent job. Less encouraging is that the firm's co-founder, Josh Wander, stands accused of controlling another enterprise that conducted a pattern of racketeering activities, including kidnapping, bribery, extortion, and dealing in a controlled substance. None of the allegations have yet been proven in court.
As seems to be the way in modern football, unsavory characters and ulterior motives cast an ominous shadow. But without wishing to sound flippant, nothing will dent the optimism and excitement that will inevitably grip both sides of Genoa when the first weekend of the season comes around. Genoa is a fantastic city home to two sleeping giants of Italian football – next time you decide to get your calcio fix, you could do a lot worse than head to La Superba: The Proud One.
Photography by Alex Brotherton for Urban Pitch.