Though the United States men's national team boasts a bevy of rising talent hitting their athletic primes, there has been one glaring spot left to fill — a striker. With Folarin Balogun committing to the U.S. last month, the young Americans could have very well found their missing piece. 
Following the 2022 World Cup, the overarching feeling that the United States men's national team and their fans gave off from a neutral's point of view was pride with an air of frustration.
The young squad showed glimmers of promise throughout the tournament, making it out of the group stage before ultimately falling to the Netherlands in the round of 16. Despite the solid run, there was an underlying feeling from fans and players alike that the team could've gone further.
The Case for a Striker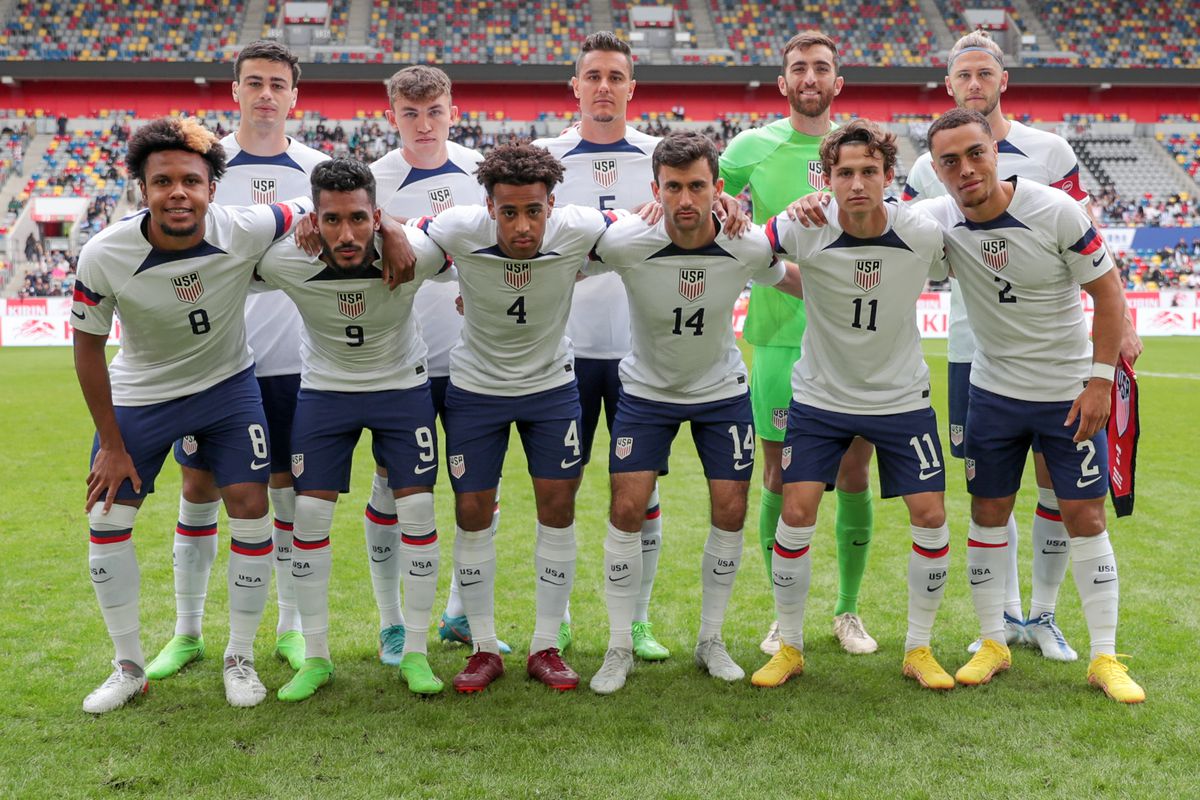 The U.S. boasted one of the best midfield trios in the tournament — a young, energetic, and aggressive combination of Yunus Musah, Weston McKennie, and captain Tyler Adams. Furthermore, with their stellar defensive performance, anchored by Fulham standout Tim Ream, the Americans earned a 0-0 draw against England in the group stage.
However, their attacking play was painfully underwhelming, with only three goals in their campaign. Having dominated possession in three of their four games, the final product, that last bit of cutting edge, seemed to evade them.
Their lack of attacking thrust came from a mixture of manager Gregg Berhalter's system, which seemed unable to bring the best out of the players at his disposal, and the lack of a true top-class striker.
Timothy Weah and Josh Sargent were the main No. 9s in the squad. Both 23-year-olds ply their trade in Europe and have shown promise, but neither has produced a season which has earmarked them for that next level of strikers. Weah, naturally a winger, has even made a transition to outside back for his club Lille.
The center forward position has been arguably the weakest for the USMNT in recent years, but a new name is poised to put an end to that drought — Folarin Balogun.
Balogun's Profile
Now 21 years old, Balogun has represented England at the U21 level and starred this season for Reims on loan from Arsenal in the French top flight. He has bagged 20 league goals, outscoring big names like Wissam Ben Yedder and…oh yeah, Lionel Messi.
Balogun has always been a striker that gets shots off. While that seems like this should be the bare minimum requirement of a striker, many can find it difficult with the way modern defenses are evolving.
This season, Balogun has averaged just under four shots a game in Ligue 1, landing him in the top 9% of strikers in Europe's top five leagues. What's more is that even when playing for Middlesborough on loan last season, in a system that typically didn't provide its striker with an abundance of chances, he was still able to put himself in positions to get shots away and score goals.
For Reims, Balogun has the freedom to drift into wide areas and take players on, something he does at an exceptional rate. His powerful dribbling and silky smooth skills gives him the platform to breeze by defenders and leave them on their backside.
Balogun's MO for his goals this season has been his movement behind the defensive lines and in the box. His energy and desire to get on the end of passes, combined with his intelligence on when to make his runs, has put him in great positions to score goals.
This isn't to say that's all there is to his game. He is more than capable of dropping in between the opposition's midfield and defense and linking up with his teammates. His polished technique, typical of an Arsenal academy graduate, means he's difficult to dispossess on the turn and allows him to execute flicks and quick passes under pressure.
Another dangerous aspect of his game is his ability with both feet. His weaker left foot is a real threat and adds to his overall game by opening up more avenues in his runs. Balogun is also adept when taking on shooting opportunities with his first touch. His catalogue of goals is a sight for sore eyes, with some beautiful finishing on display, including more than a handful of volleys.
If there's one glaring area Balogun can improve in, it's in the air. He has struggled at times to win aerial duels and does not score enough goals from headers, with only two of his 21 goals in all competitions this season coming with his head.
Balogun is already, in my opinion, a top-class striker. Hitting 20 league goals in a season takes some doing, and the way he's gone about his business has been sensational. While there are still things in his game that can be ironed out, his mix of pace, technique, intelligent movement, finishing ability, and desire make him a mouth-watering prospect for any manager.
Looking Forward
Balogun officially committed to the USMNT a few weeks ago and has since been named in the CONCACAF Nations League squad for the upcoming semifinal against Mexico. His commitment in the immediate future solidifies the U.S. as favorites to retain both their Nations League and CONCACAF Gold Cup crowns this summer.
If we take it a step further,  Balogun and the USMNT have three years to gel and build their chemistry in anticipation of their 2026 FIFA World Cup campaign. His off-ball movement and desire to get on the ball makes him a wonderful asset, and his proven record of getting shots away and creating chances of his own earmarks him for success.
Building around Balogun has to be the way forward for the U.S. With their talent in midfield, and with Christian Pulisic and Giovanni Reyna as options to play off the striker, Balogun can and will be the final piece of the U.S.'s attacking puzzle.