The most anticipated feature of FIFA 20, the Volta game mode brings back the beloved FIFA Street series, albeit not its own separate game. Featuring some of the most iconic street ballers of all time and plenty of skills to master, Volta makes a solid debut — though it does have some room for improvement. 
It's that time of year once again as we dust off those controllers and get stuck into the latest release in the FIFA gaming franchise. With the build-up and hype increasing annually, FIFA 20 is the latest installment to leave you basking in the fun or tearing your hair out.
Often criticized for being too repetitive, this edition is certainly making waves with some new features and game modes that set it apart from previous FIFA titles, most notably the hotly anticipated Volta Football.
For anyone who is a freestyler, panna player, or street soccer connoisseur, this is sure to be your cup of tea as the focus is on small-sided games that utilize the most audacious skills and tricks. With the rise in popularity of freestyle and panna, it is no surprise that a major game like FIFA has jumped back on this bandwagon and returned the spotlight to this side of the beautiful game.
It's clear to see the obvious inspiration and comparisons to the timeless FIFA Street titles. Fun, fast-paced and a world of their own, I hope everyone has as fond a memory of them as me. I always felt like something like this was on the cards, especially as their reboot fourth edition in 2012 (also known as FIFA Street 4) was a big flop.
Story Mode (Spoilers Ahead)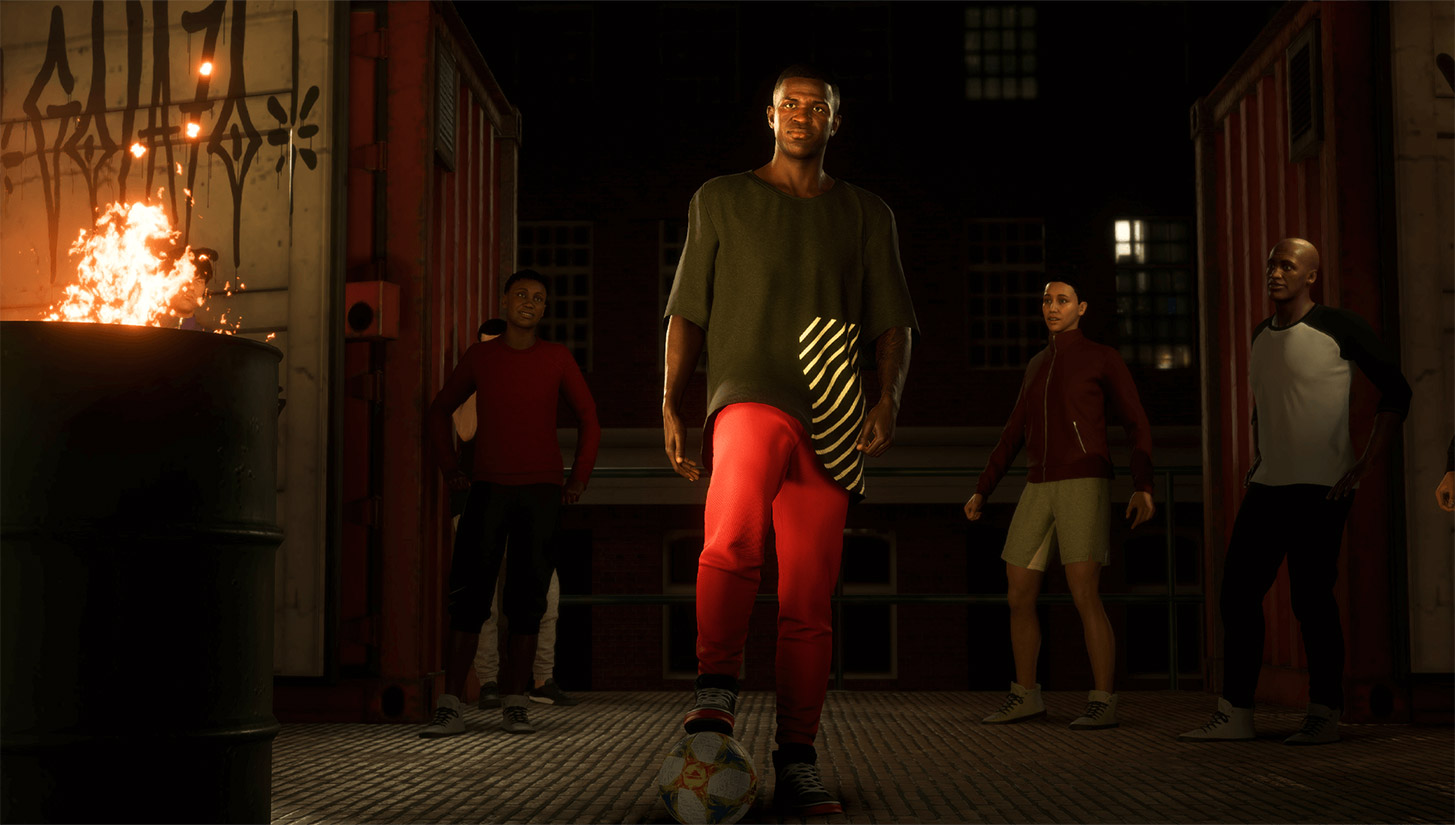 FIFA players will probably come to expect big things from any kind of story mode within their game after the breakout "Journey" mode that follows the trials and tribulations of fictitious rising star Alex Hunter. While fairly repetitive, it has a decent storyline and we can clearly see the level of detail and effort that EA put into it, so what can we expect from Volta?
While you can still take control of the whole squad it mainly revolves around your own created character who goes by "Revvy" and for some reason speaks with a ridiculously strong North London accent (that doesn't fit my character's appearance at all).
Revvy joins a street football crew run by icon Jayzinho before quickly finding himself in the thick of competing in street football and futsal tournaments in crazy locations around the world. You also recruit players to join your team as you progress throughout the game.
The story mode also features many big real life names from the urban world of ball skills including former world freestyle champion Tokura, legendary street ballers Issy Hitman, Edward van Gils, Rocky Hehakaija, and more.
While it was nice to see these players featured, some were a bit disappointed to see the exclusion of street football mainstays from Copenhagen Panna House — but then again you can't please everyone.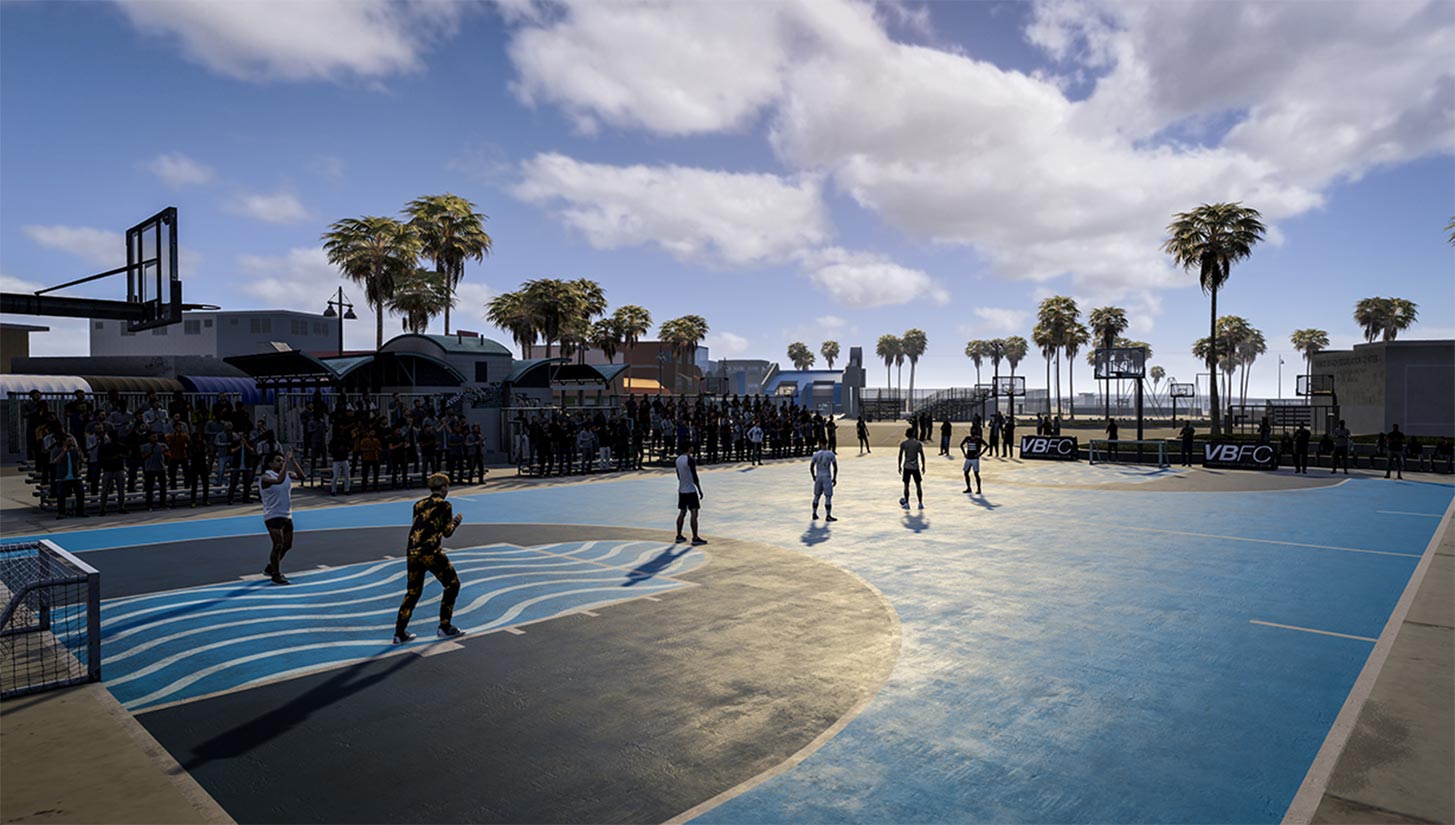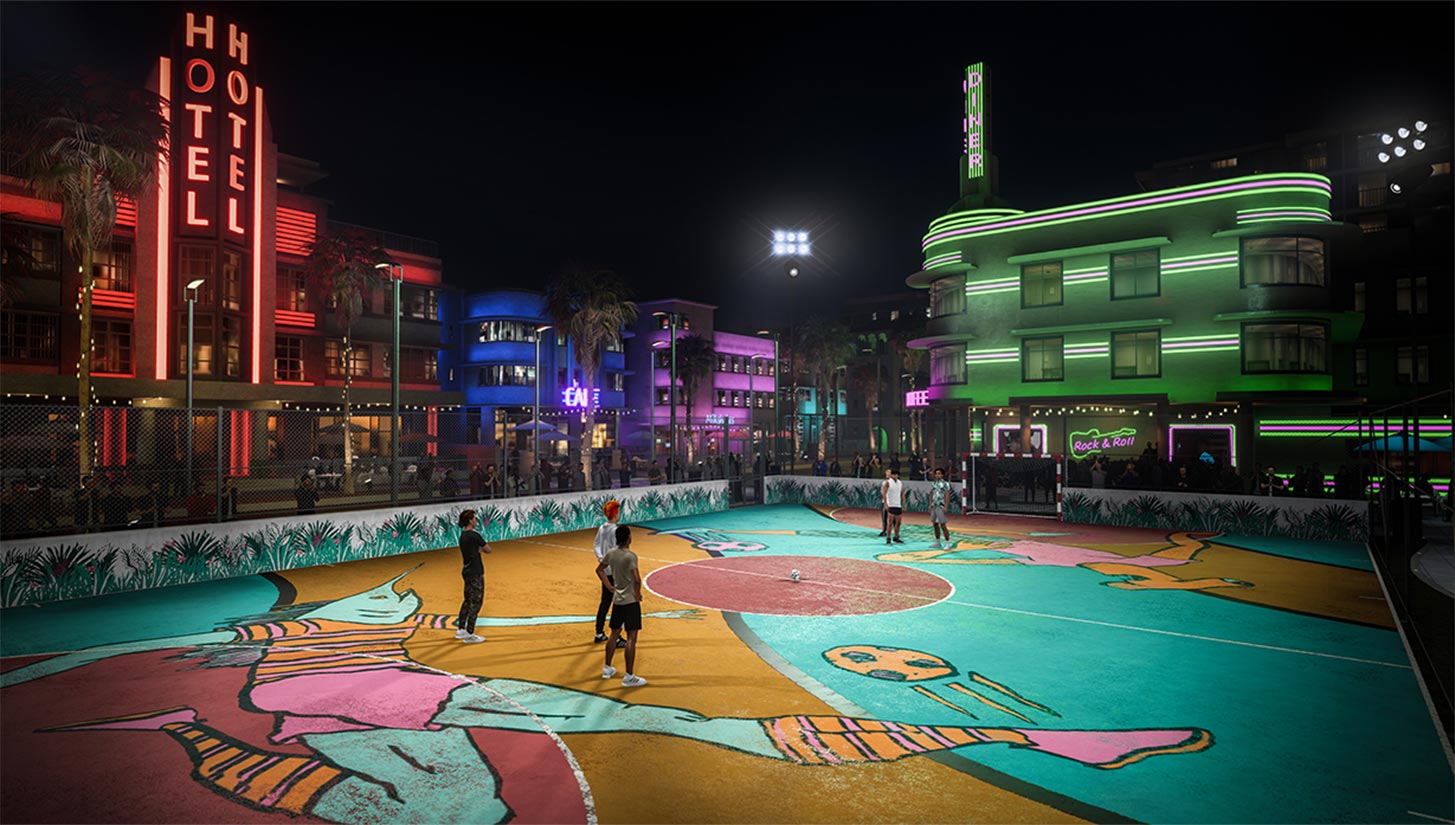 Another notable aspect to the game is the numerous pitch locations from across the globe. From Venice Beach FC's setup in Los Angeles to the Geoff Gouveia-designed court in Miami to a rooftop adidas Tango League pitch in Tokyo, the 17 locales are incredibly detailed and unique.
Gameplay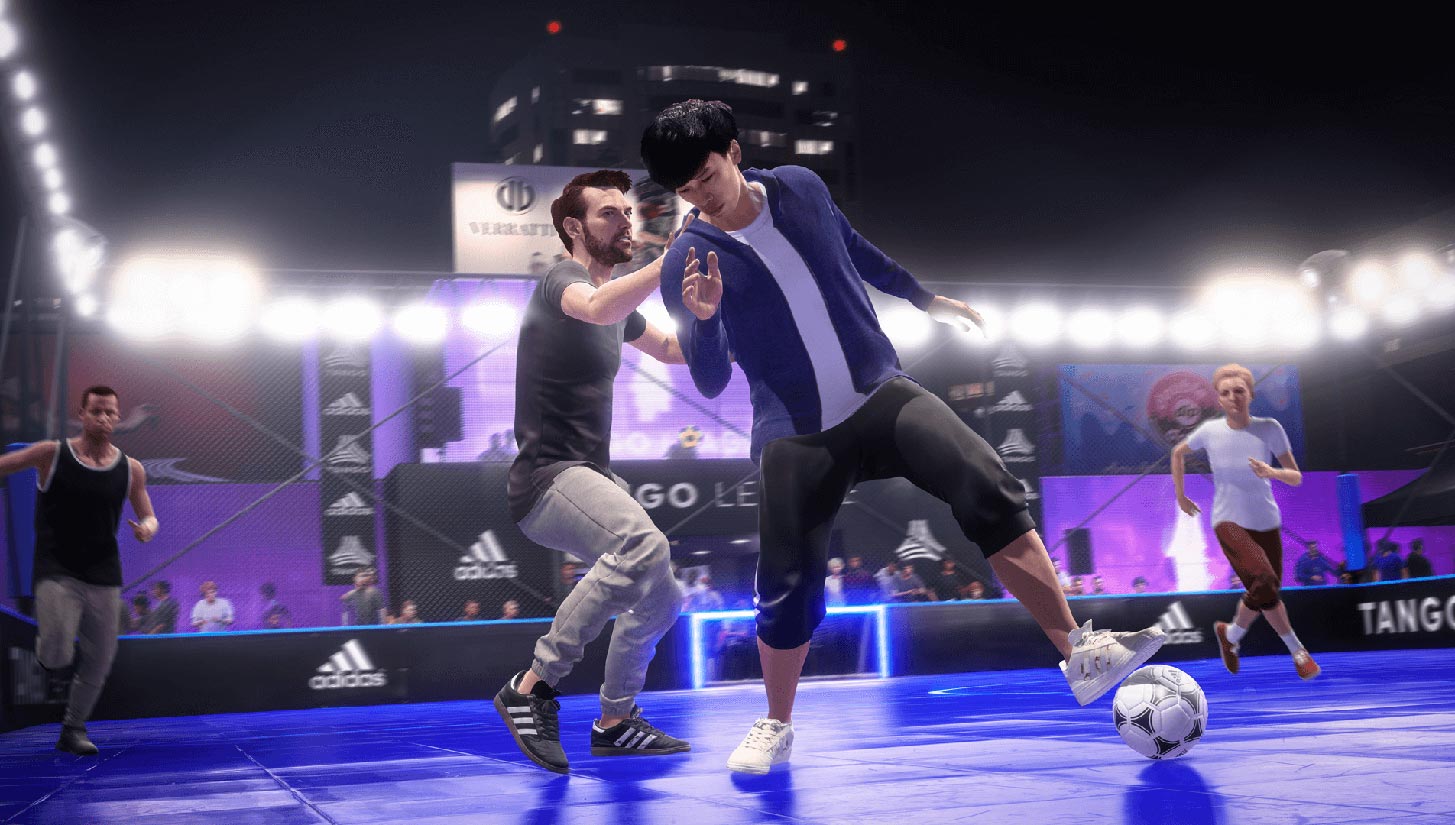 Fortunately, Volta Football meets one of the big objectives that concerned me most. This game mode does feel significantly different from your standard 11v11 on FIFA. It's good fun although nowhere near as much freedom or simplicity as the original FIFA Street games which had quite an arcade feel to them. Nonetheless if you're sick of coming up against kids who raided their parents' credit card to buy packs on Ultimate Team then I'd advise hopping on Volta for a breath of fresh air.
It's good that things like skill moves and weak foot ratings actually have a bearing on this game. It isn't just a case of pressing a button to do a crazy flick up and beat an opponent, everything is a bit more methodical despite the small-sided and fast-paced intensity. Button-bashing won't get you too far.
The variety of match conditions keeps you on your toes, some with rush keepers is very interesting and hard to get to grips with at first. The games can range between 3v3, 4v4, and 5v5, and can alternate between walled and unwalled.
Sliding tackles aren't a thing, instead we have a very assertive and committed lunge, effective as a last-ditch attempt to tackle or block a shot. The graphics and animations are pretty much what you would expect, in fact I have to give some serious praise for how well they've captured the movement of some of the freestyle tricks as seen during the loading screen before a match.
There are a lot more tactics and strategy utilized in this game than I ever would have anticipated. We're talking setting formations and set pieces even when there are only three players on your team. The skill tree system, as used for your virtual pro in the Pro Clubs game mode is a nice addition as well, so this encourages plenty of game time to make your character better at the skills you choose over time. You can boost this by smashing the training drills too.
Online you can still pit your wits against players from around the world to work your way up the divisions (like your classic standard ranked matches in "Seasons"). Of course you can play with real life pro footballers as well so the star appeal carries over from the previous FIFA Streets.
Customization
An incredibly healthy amount of cosmetic and skill-based options to choose from certainly helps to give this game mode a lot more personality. I'm not into it hugely but there are loads of outfits, hairstyles, tattoos, and shoes to choose from, with even more unlockables throughout the game that can also be purchased using Volta coins. This even extends to branded stuff too such as adidas gear.
One major downside though is how time consuming it is to go through customizing each individual in your squad. The game also should really have some sort of option for overall team colors. There are even instances where you will find yourself playing against opposing defenders who are identical in appearance to your own and that's not the confusion one needs when trying to score outrageously humiliating goals.
Overall the game is good fun and worth a bash at, but it is likely it'll feel weird if you have never played FIFA Street before. Prepare yourself to invest a fair bit of time into it if you want to allow your player to pull off some of the sickest moves and still be able to win games.
The game does a great job of capturing the urban and raw feel of street football and the culture that comes with it. Even with the dialogue between characters in the story mode I think they have done an excellent job of transcribing a footballing world away from the pitch. Little details like how it goes hand-in-hand with social media showing action replays on phone cameras are just that extra nice attention to detail to make it stand out and worthy of playing despite its minor flaws.
What is your experience with FIFA 20 and Volta Football so far? Drop us a line in the comments below.